Frozen Yoghurt Bark is a great after-school snack or after-dinner dessert. It takes minutes to prepare and is ready after 2-4 hours of freezing. Store pieces in a ziplock bag for an instant frozen snack.  
My boys have always loved Frozen Yoghurt Bark and although it can get messy, I like the fact they are getting a healthy snack yet they think they are getting a "treat". I'm not sure what it is about frozen snacks but my boys certainly think they are something special!
Last month Papaya Australia sent me a delicious hamper of papayas and the ingredients to make this yummy Papaya, Raspberry and Pistachio Yoghurt Bark. It truly is delicious and I knew I had to share the recipe with you all.
*Disclosure: Although I was sent a hamper from Papaya Australia, all thoughts and opinions are honest and my own. This recipe was created by Papaya Australia, check out their site for more delicious Papaya recipes. 
What Is Frozen Yoghurt Bark?
Frozen yoghurt bark is simply yoghurt frozen on a tray with lots of different foods stirred through and/or added to the top of the yoghurt. It is very simple to make and can be easily customized to suit taste.
What Yoghurt Should You Use?
Any yoghurt will work but I prefer to use natural greek yoghurt. I never buy flavoured yoghurt as often the ingredient list puts me off them. Instead, I like to use natural yoghurt and sweetened it with fruit.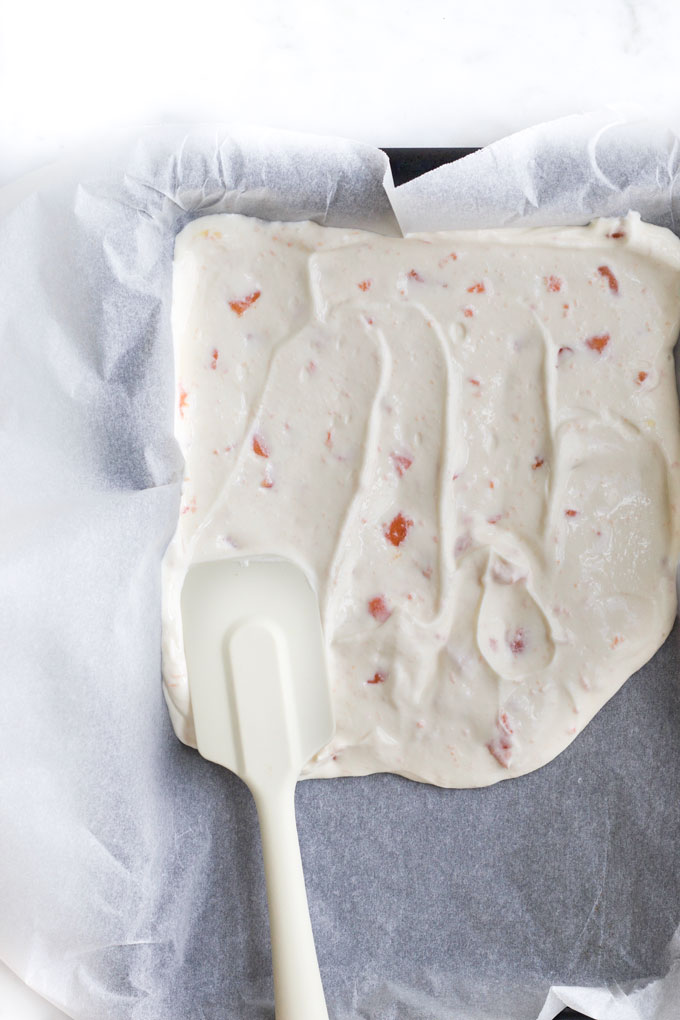 Is Frozen Yoghurt Bark Healthy?
Like most foods, not all frozen yoghurt bark is created equally. It will all depend on the yoghurt used and the toppings/stir-ins that you choose to add.
If your bark is made from an added sugar yoghurt with toppings such as candy, chocolate etc then obviously it is not a healthy treat.
If, however, you use plain yoghurt, avoid too much sweetener and add healthy toppings, such as fruit and nuts, then you have yourself a healthy snack.
Can I give Frozen Yoghurt Bark to a Baby?
Once your baby has started solid foods then YES you can offer it. One word of warning though, prepare for a lot of mess! The yoghurt melts fast and tends to go everywhere!
Things to consider when making yoghurt bark for a baby:-
Do not add honey to sweeten the yoghurt. Babies under one should not consume honey. If you wish, you can use a different sweetener, such as maple syrup, but I don't encourage adding sweeteners to babies food. I'm sure they will be more than happy with this snack unsweetened.
Do not add whole nuts or big pieces of nuts to the bark, they can get lodged in babies windpipes. I recommend missing out the pistachios in this recipe.
Cut fruit into small pieces, to the size that your baby is used to eating. If adding grapes ensure to cut them lengthways.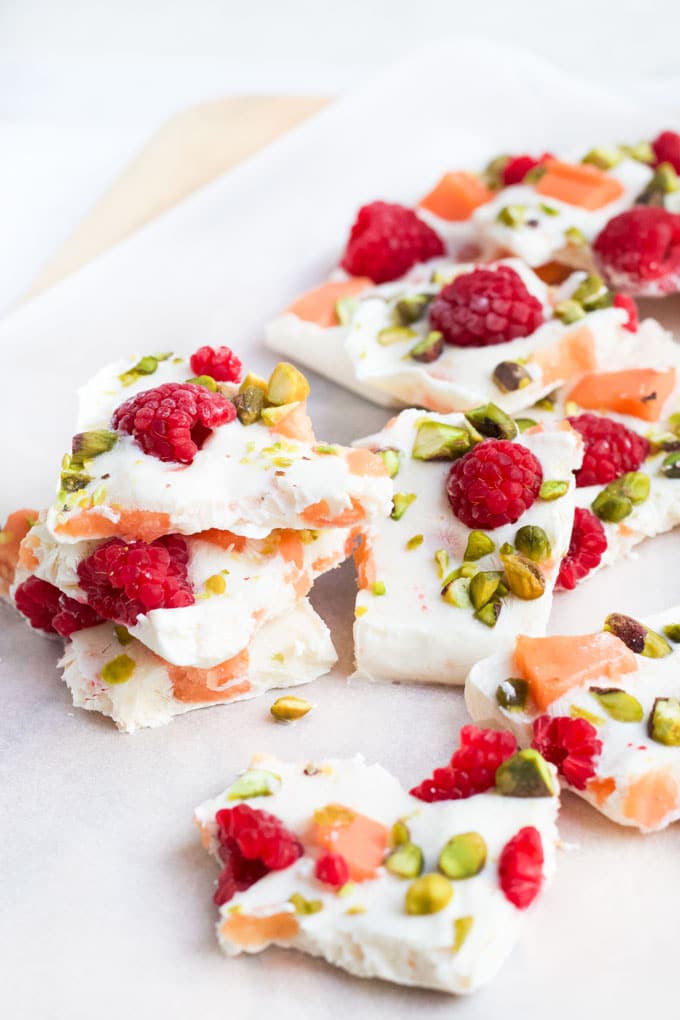 You may also like
Have you tried this recipe? I'd love for you to leave a comment below or to tag me in your creations on Instagram or Facebook.
Looking for more healthy kid recipes?Sign up for my free recipe newsletter to get new family friendly recipes in your inbox each week! Find me sharing more kid-friendly inspiration on Pinterest and Instagram.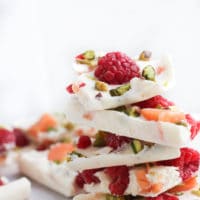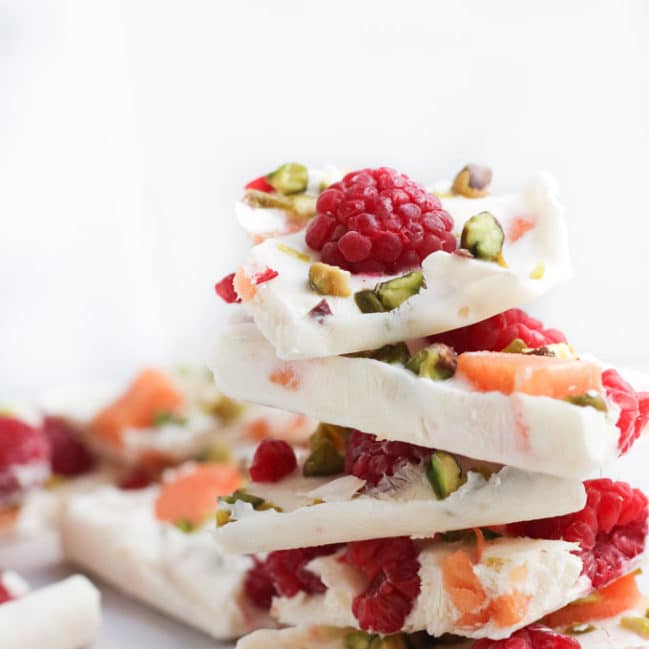 Papaya Frozen Yoghurt Bark Recipe
A delicious frozen yoghurt bark with papaya, raspberry and pistachio. 
Prep Time: 8 minutes
Cook Time: 4 hours
Total Time: 4 hours 8 minutes
Serves:8
Hover over "serves" value to reveal recipe scaler
Ingredients
2 cups Greek Yoghurt
½ tsp Vanilla Paste or Extract
1 tbsp Honey (SEE NOTE 1)
300g Papaya (peeled)
135g (1 cup) Raspberries
35g (¼ cup) Chopped Pistachios (SEE NOTE 2)
Instructions
Line a baking tray with baking paper.

Dice the papaya, chopping half finely (1cm pieces) and the other half roughly (2-3cm pieces)

Mix the yoghurt and vanilla in a bowl, add the honey (if using) and then stir through the finely chopped papaya.

Pour the yoghurt mixture into the baking tray and spread in an even layer. Top with the remaining papaya, raspberries and pistachio.

Freeze for 4 hours (until firm). Break the yoghurt bark into pieces and transfer to a freezer bag.
Recipe Notes
Honey is optional and is only there for added sweetness. I usually make yoghurt bark without it. You can miss it out, reduce/increase the amount, or replace it with another liquid sweetener such as maple syrup. Do not add honey if you are making this for a baby. 
Be careful with nuts. Large pieces of nuts should be avoided if making for children 3 and under. Finely chop or miss out. 
Nutritional information is an ESTIMATE only, calculated using an online calculator. Facts will vary with the use of different brands and should be used as a rough guide only. 
Nutritional facts
Calories: 101kcal | Carbohydrates: 11g | Protein: 6g | Fat: 3g | Saturated Fat: 0g | Cholesterol: 3mg | Sodium: 26mg | Potassium: 138mg | Fiber: 2g | Sugar: 8g | Vitamin A: 405IU | Vitamin C: 27.5mg | Calcium: 82mg | Iron: 0.4mg