This recipe for baby scrambled eggs could not be easier. Follow the tips to make soft and fluffy eggs, that the whole family will love.
5 Reasons to Make These Eggs...
NUTRITIOUS - Eggs are a good source of key nutrients that babies need, including iron, folate, omega 3 fatty acids, and protein.
EASY - 5 mins and you have breakfast, lunch or an easy dinner ready. Not just for babies, perfect for the whole family.
ADAPTABLE - Make them plain or add some herbs, spices or/and veggies to boost flavour and nutrition.
SOFT AND FLUFFY - Fully cooked for baby but not dried up and brown.
EASY TO PICK UP - For baby-led weaning but equally good for spoon-feeding.
Ingredient Information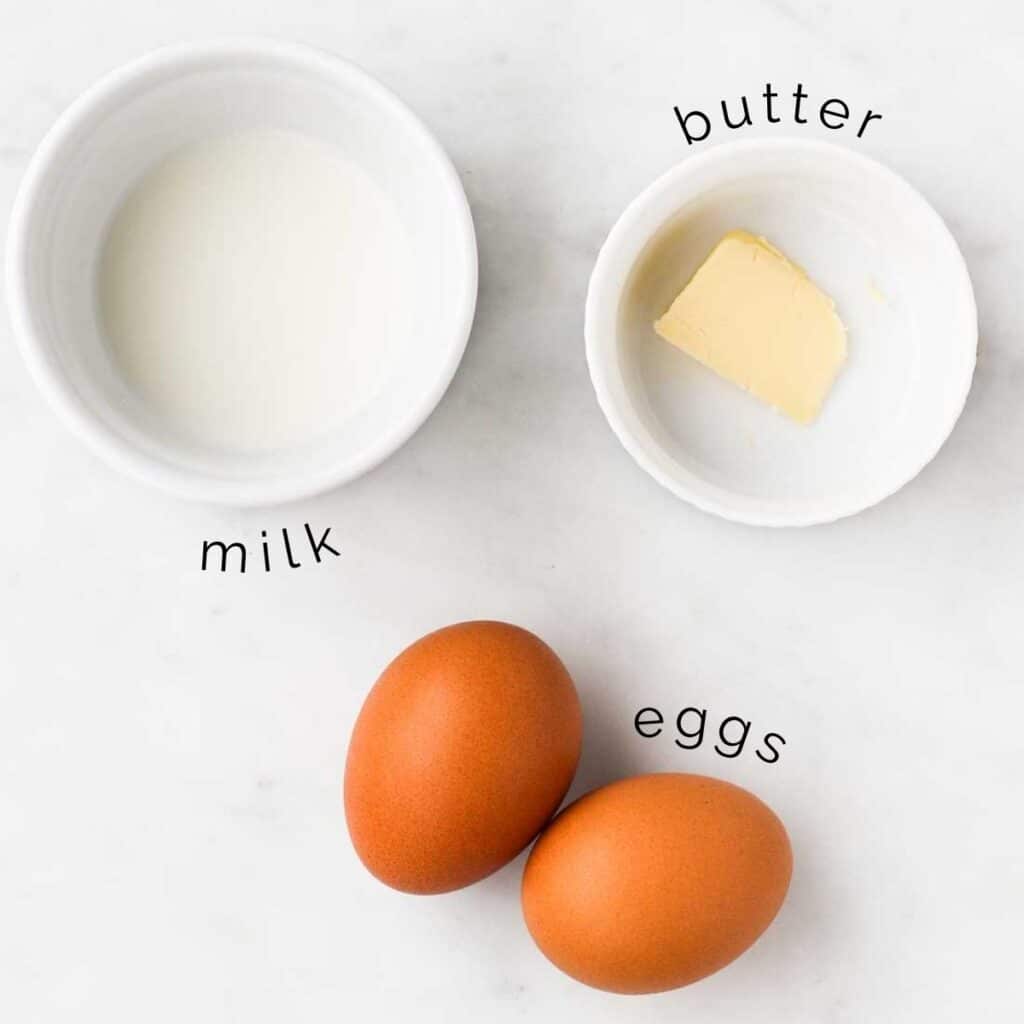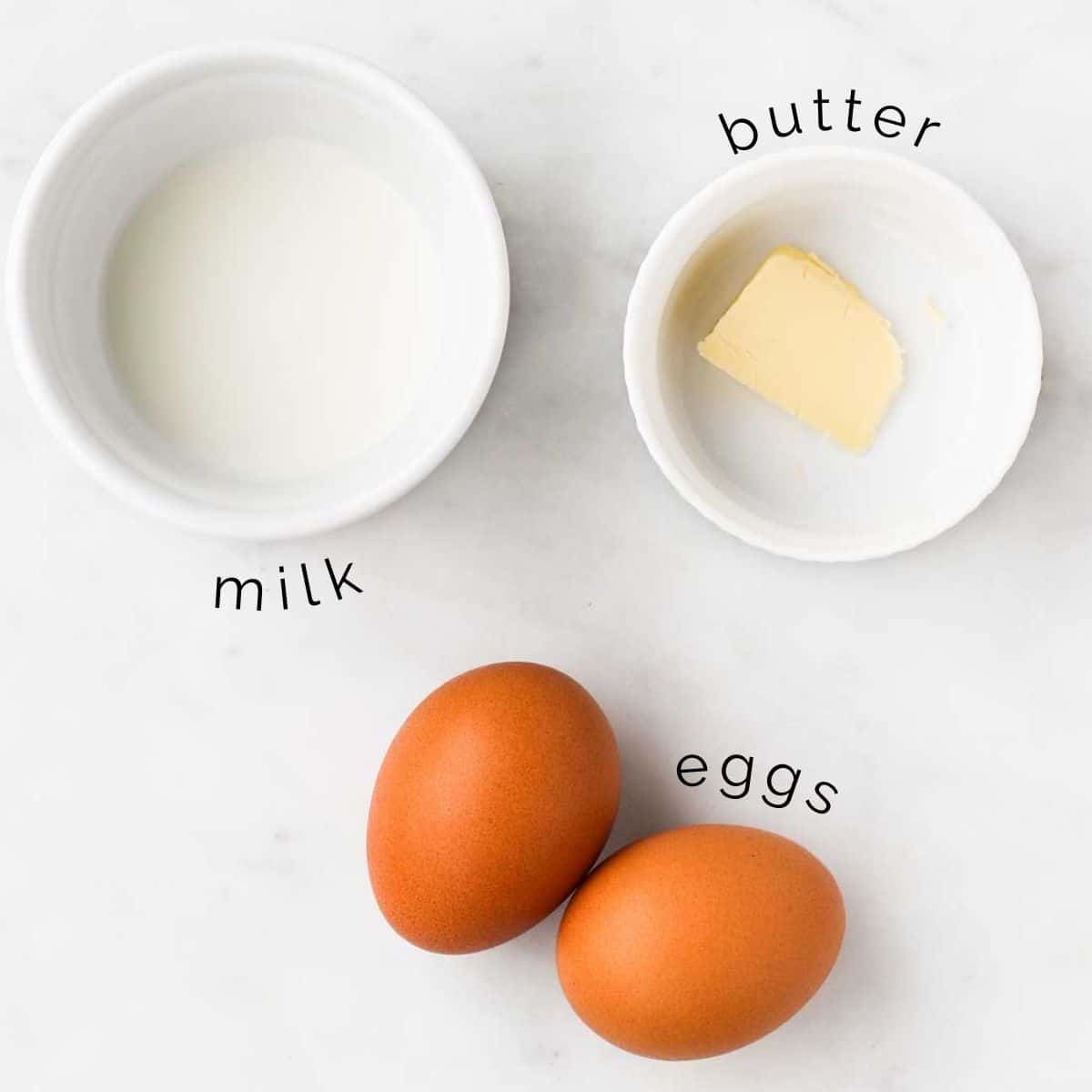 Eggs - the fresher the better.
Milk - makes the eggs moist and creamy. Use ½ tablespoon per egg – add too much and they will be too runny. You can use breast, formula or cows milk.
Butter - for greasing the skillet and added flavour. If your baby/toddler has a dairy intolerance then you can replace it with olive oil.
Process Steps and Cooking Tips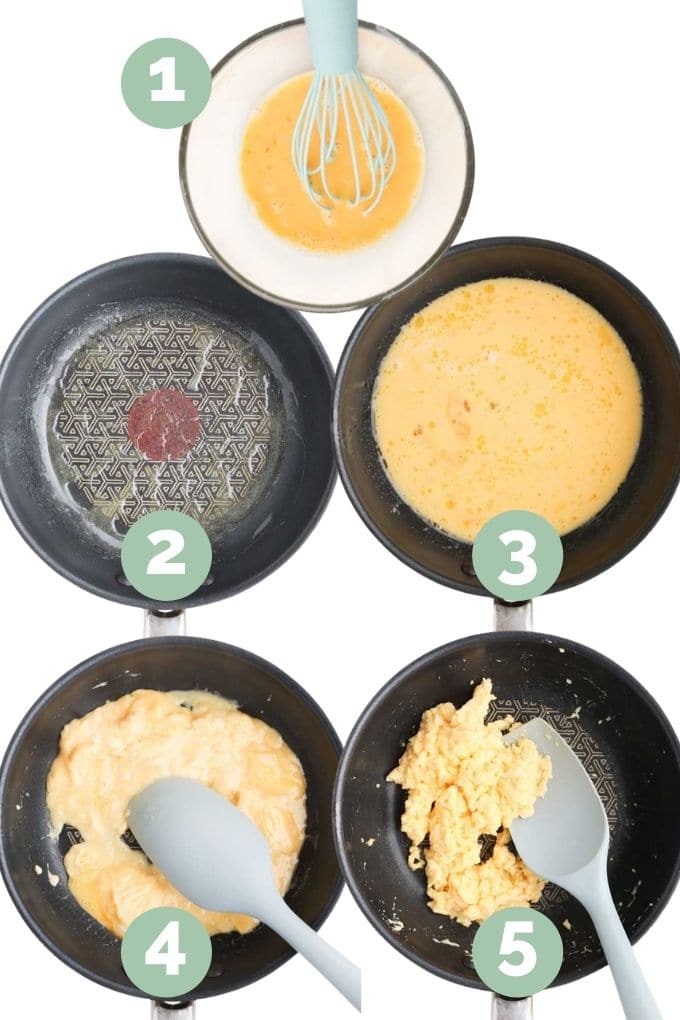 Whisk the eggs and the milk together.
Melt butter in a small non-stick pan or well-seasoned skillet over low heat.
Add egg mixture and allow eggs to cook for around 10 seconds.
Slowly run a silicone spatula/spoon back and forth and around the edges of the pan. Doing this pushes the cooked egg off the base and lets the raw egg spread out into the pan to cook.
Cook until you have a pile of soft, scrambled egg curds and no raw egg leaking on the edges of the pile. Take it off the stove as soon as it is cooked, leave for a few seconds and then give a final stir before serving.
TOP TIP 1: Use Low Heat — You want to make sure your eggs are fully cooked but that doesn't mean they need to be dry. The trick to making the eggs soft and fluffy is to use low (or medium/low depending on the stovetop) heat. Cooking them low and slow will achieve perfect scrambled eggs for babies every time.
TOP TIP 2: Be gentle - Use gentle strokes to create soft scrambled eggs, going too fast / hard will result in chopped up, dry scrambled eggs.
TOP TIP 3: Use the right skillet - As this recipe is only for 2 eggs, you should use a smaller skillet (around 20cm/8" or less) Non-stick or well-seasoned cast-iron skillet works best - eggs love to stick!
Add-In Suggestions
Scrambled eggs are great plain but don't be afraid to liven up the eggs - adding herbs and spices to baby food is a great way to expand your baby's palate. Why not try adding...
Finely chopped fresh herbs such as basil, chives, cilantro (coriander) dill, parsley, thyme or oregano.
A pinch of cumin, garam masala, turmeric or curry powder.
A little grated cheese (add at the end of cooking, just before taking it off the heat)
Cooked and finely chopped veggies such as pepper (capsicum), mushrooms, leek, tomato.
Storage Instructions
Scrambled eggs are best eaten straight away and as they are so quick and easy to make, it is best to make when needed. If you do have leftovers, pop them in an airtight container and refrigerate for up to a day.
Frequently Asked Questions
When can babies eat scrambled eggs?
You can introduce scrambled eggs from 6 months of age. Experts no longer recommend delaying the introduction of eggs. In fact, introducing eggs early can actually help to lower your baby's chance of developing an egg allergy (1).
Are eggs safe for babies?
Egg allergies are one of the most common allergies in children so care should be taken when introducing eggs to babies. Start with small quantities and offer during the day rather than at night so that you can watch your baby and respond if they have an allergic reaction. (1)
Are eggs good for babies?
Yes! Eggs are a wonderful first food for babies. They are a good source of key nutrients that babies need, including iron, folate, omega 3 fatty acids, and protein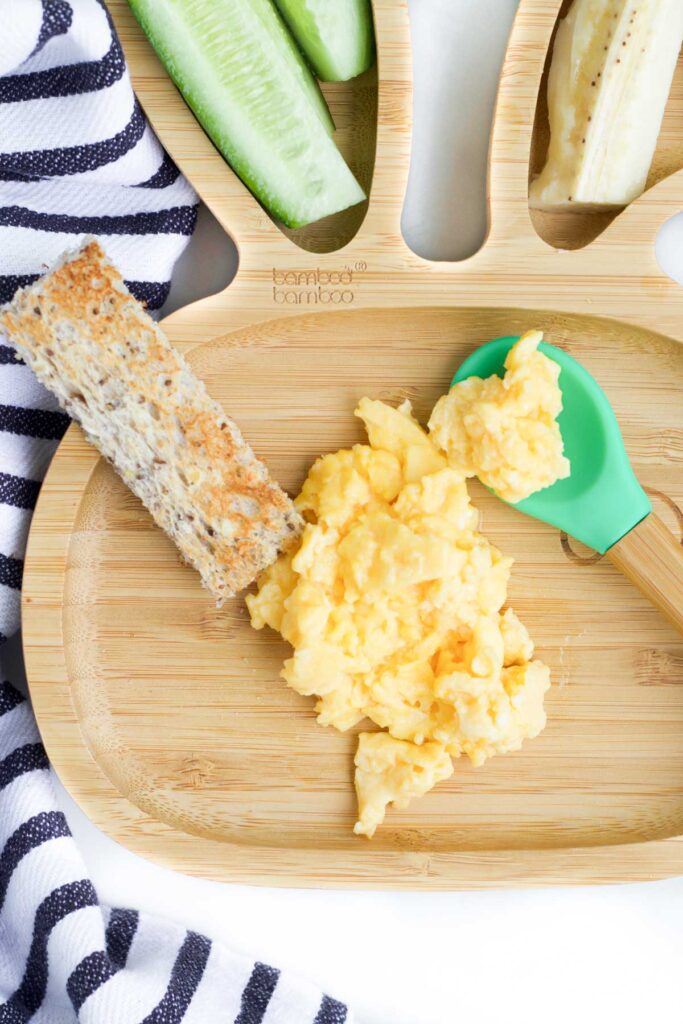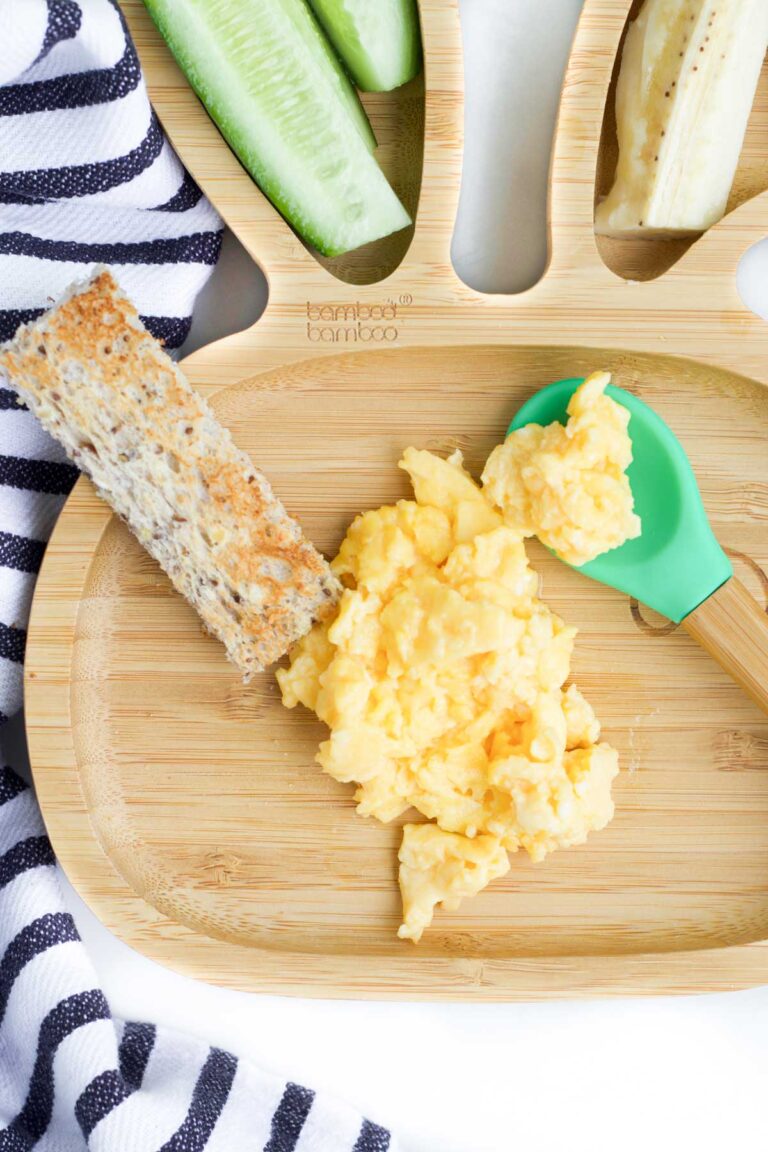 Looking for more information and baby-friendly egg recipes? Read this post on Eggs for Babies.
Looking for more healthy kid recipes?Sign up for my free recipe newsletter to get new family friendly recipes in your inbox each week! Find me sharing more kid-friendly inspiration on Pinterest and Instagram.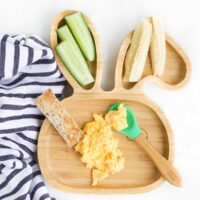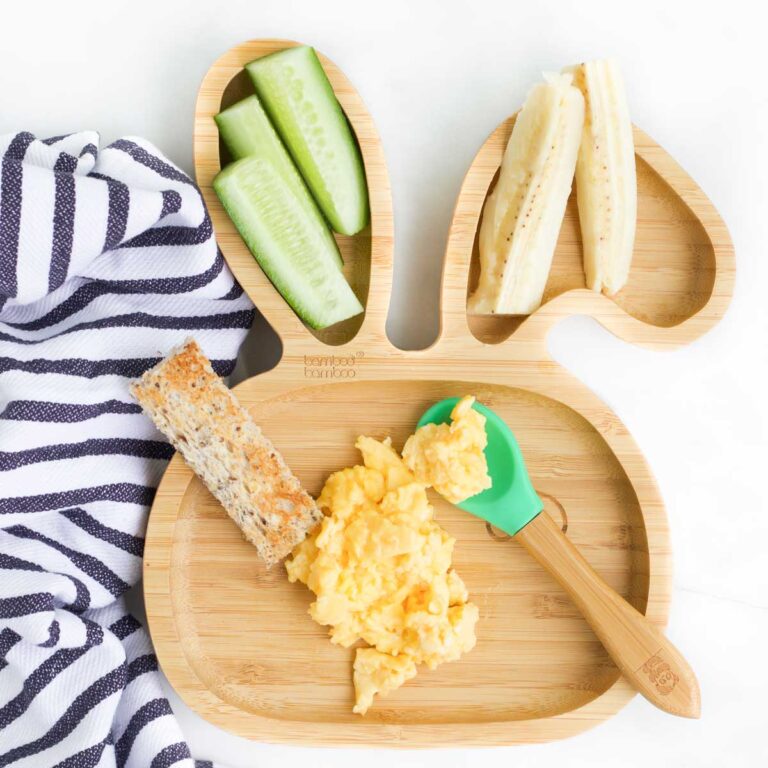 Baby Scrambled Eggs
This recipe for baby scrambled eggs could not be easier. Soft, fluffy eggs that the whole family will love.
Prep Time: 2 minutes
Cook Time: 3 minutes
Total Time: 5 minutes
Serves:2
Hover over "serves" value to reveal recipe scaler
Equipment
Small Skillet (around 20cm/8") Non-stick or well-seasoned cast-iron skillet works best
Ingredients
2 Eggs
1 tablespoon Milk
3g (½ tsp) Butter
Instructions
Whisk the egg and milk together in a small bowl

Melt butter in a small frying pan over medium heat. Reduce to low, add the egg mixture and stir until egg sets.
Recipe Notes
Milk: Can use breast milk, formula or cows milk.
Butter: Can be substituted with olive oil. 
Nutritional information is a ROUGH guide only, calculated using an online nutrition calculator. 
Nutritional facts
Calories: 78kcal | Carbohydrates: 1g | Protein: 6g | Fat: 6g | Saturated Fat: 2g | Trans Fat: 1g | Cholesterol: 168mg | Sodium: 76mg | Potassium: 71mg | Sugar: 1g | Vitamin A: 287IU | Calcium: 33mg | Iron: 1mg
References
ASCIA Introducing Foods and Allergy Prevention, https://www.allergy.org.au/patients/fast-facts/introducing-foods-and-allergy-prevention, Last accessed March 2021