These sautéed cinnamon apples are a delicious snack or healthy dessert for the whole family to enjoy. They are a great finger food for babies, taste delicious served with ice cream/yogurt and also make a great topping for oatmeal, pancakes or waffles.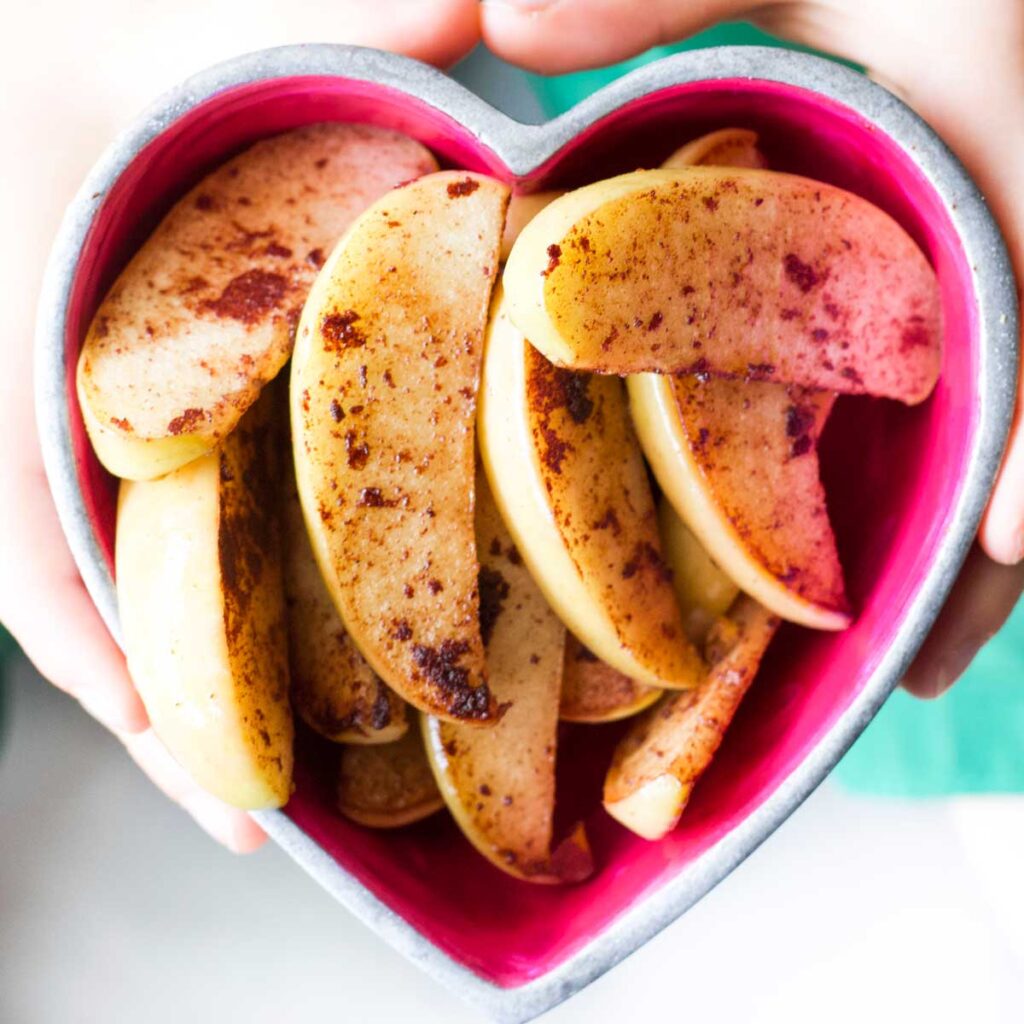 What's to Love About Cinnamon Apples...
TASTY – Sweet and cinnamony without the need for added sugar. (Pan-frying brings out the natural sweetness of the apple)
EXPOSURE – Allows young children to see different ways apples can be prepared and served.
NUTRITION – Serve these sauteed apples with some greek yogurt or peanut butter dip for a well-balanced snack.
VERSATILE – They're great on their own but also served with a range of foods. (serving suggestions below)
FAMILY FRIENDLY – Not just for kids, the whole family won't be able to resist these. Cook the apples until they are really soft so that toddlers and babies can enjoy them, without the same risk of choking that comes with raw apples.
Ingredient Information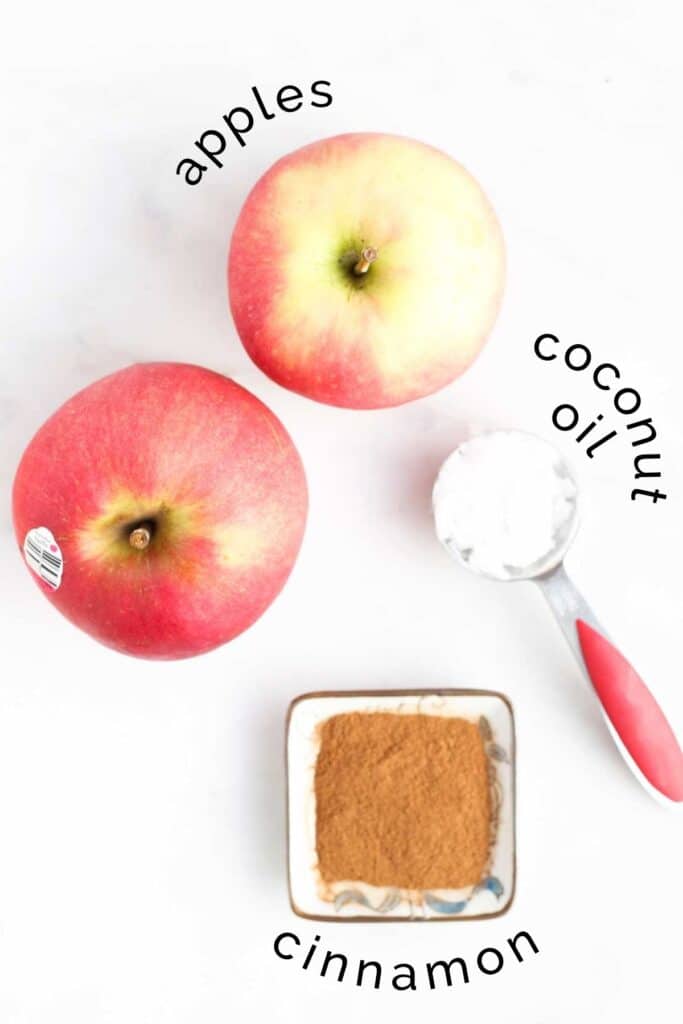 APPLES - In this recipe, the variety of apples used is down to personal choice. You are not cooking the apples for a long time and you don't need them to break down to perform in a certain way. Use your favourite variety, or one with plenty flavour. Different varieties will have different cooking times, just keep an eye on them as they cook.
COCONUT OIL - Butter also works great, the choice is yours!
CINNAMON - Because some food combinations are meant to go together.
Process Shots and Cooking Tips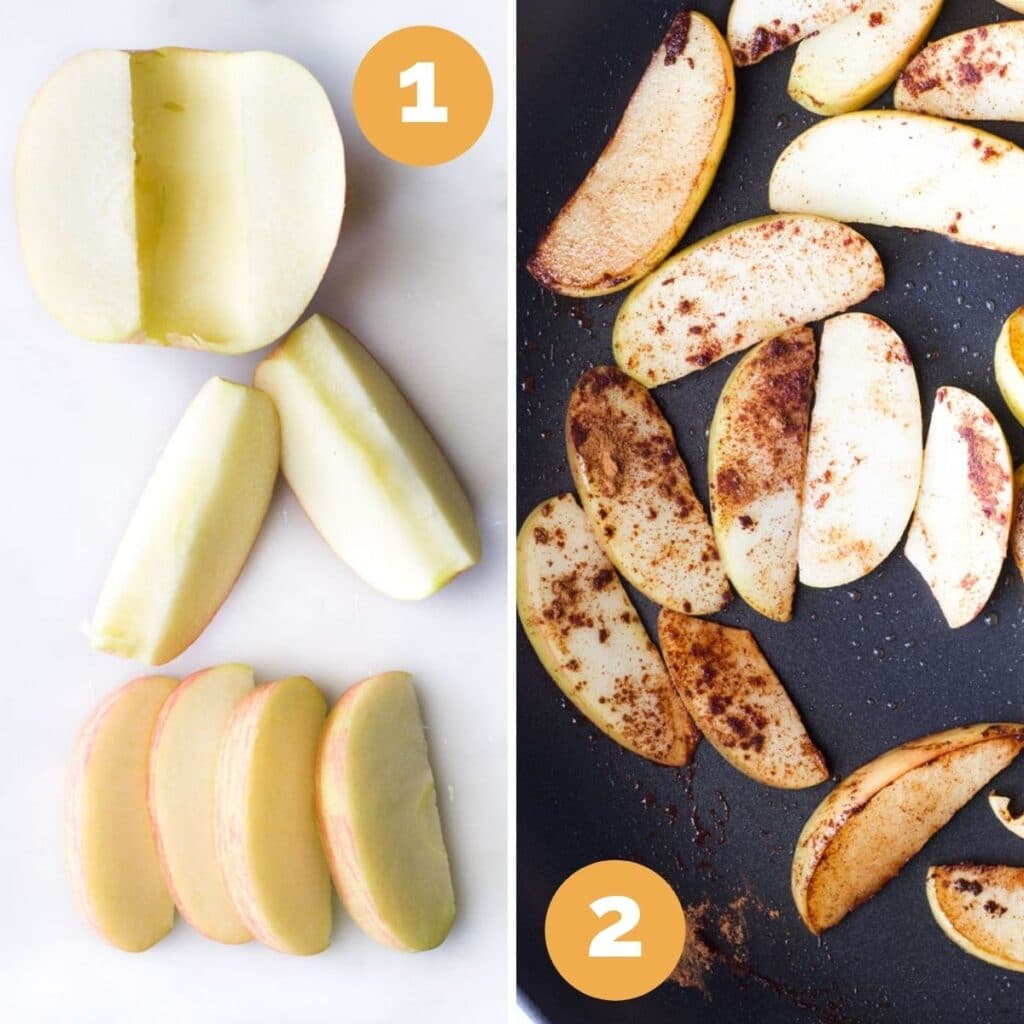 These cinnamon apples literally take minutes to make. We all know, as parents, that life is busy and we want easy, simple snacks to serve. This certainly fits the bill and within 10 minutes you can have a healthy and delicious snack or dessert.
Prepare Apples: Core and chop each apple into sixteen wedges. The easiest way to do this is to half the apple and then half each half three more times. (see above photo). You can, of course, chop them any way you wish. Small chunks/cubes work really well. The wedges do make it easier for babies/toddlers to handle. Peeling is optional.
Pan Fry: Heat the coconut oil until melted, add the apple slices and cinnamon and pan-fry, over low heat, until you achieve your desired softness. Add tbsps of water if and as needed. A nonstick skillet works best, you can use a cast-iron skillet but you may find that you need a little more oil and/or water.
Serving Suggestions
Cinnamon apples are a delicious dessert (served with ice cream) or snack served with yogurt. However, they can be used in a number of ways, why not try topping/ serving with…
oatmeal
custard
mashed onto toast
Serve warm or cold, depending on your preference.
Storage Instructions
Leftovers can be refrigerated, in an airtight container, for up to two days. Toss in some lime or lemon juice to prevent excess browning.
Frequently Asked Questions
Are these suitable for babies?
Yes, from 6 months + . Make sure that they are cooked until very soft as hard apple can be a choking hazard if bits break off. As with all foods, close observation is important when feeding a baby.
Do you have to leave the skin on?
No, you can peel the apples if preferred. The peel contains a lot of fibre and leaving the skin on makes it easier for little ones to grip.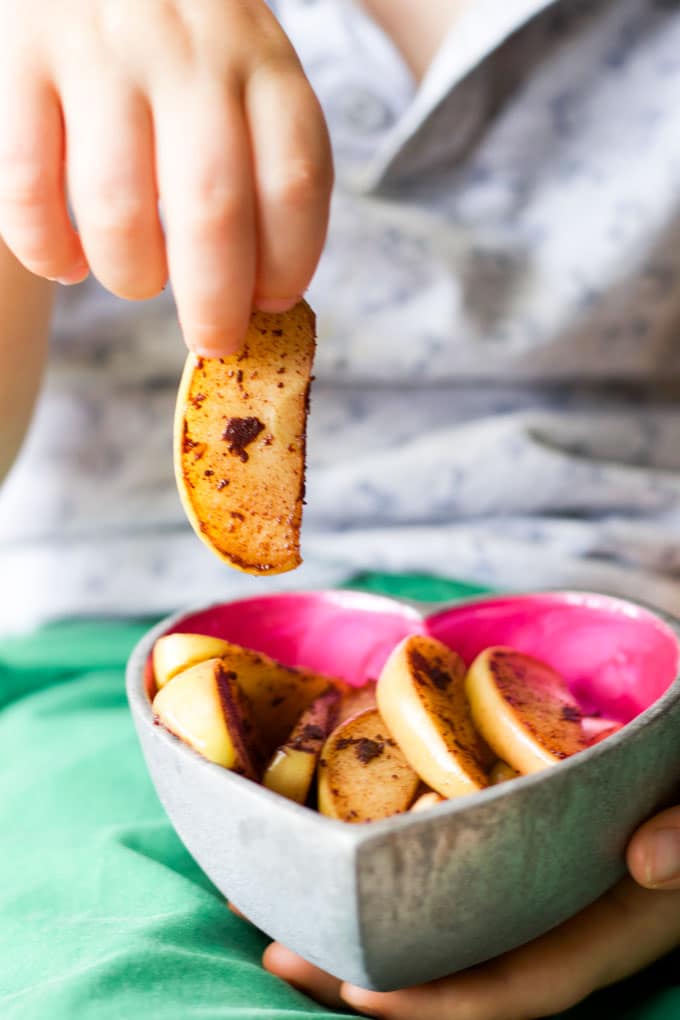 You may also like...
Have you tried this recipe? I'd love to know your thoughts and see your pictures. Please leave a comment below or tag me on Instagram
Looking for more healthy kid recipes?Sign up for my free recipe newsletter to get new family friendly recipes in your inbox each week! Find me sharing more kid-friendly inspiration on Pinterest and Instagram.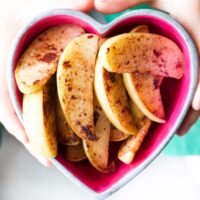 Cinnamon Apples
Apple wedges pan-fried in a little coconut oil and a good shake of cinnamon.
Prep Time: 5 minutes
Cook Time: 10 minutes
Total Time: 15 minutes
Serves:4
Hover over "serves" value to reveal recipe scaler
Ingredients
2 Apples *SEE NOTE 1
2 teaspoon Coconut Oil *SEE NOTE 2
1 teaspoon Cinnamon *SEE NOTE 3
Instructions
Core and cut apple into wedges. I cut them into 16ths (half apple then half again 3 more times)

Heat coconut oil in frying pan over a medium / low heat. Add the apple wedges and sprinkle with cinnamon

Lightly fry for 10-15 mins (depending on the firmness of the initial apple), stirring as necessary, until desired softness is achieved. Add tbsps of water as needed.
Recipe Notes
Use any apples you wish. As there is no added sweetener I find using a sweet apple works best. Pictured are Pink Lady apples. 
Coconut oil can be substituted with butter if preferred.
Adjust the amount of cinnamon you use to suit your taste. You can also omit it if you prefer.
If making for a baby you will want to cook the apples until they are really soft. Hard apple can be a choking hazard if bits break off. 
Nutritional information is a ROUGH guide only, calculated using an online nutrition calculator. 
Nutritional facts
Calories: 66kcal | Carbohydrates: 13g | Protein: 1g | Fat: 2g | Saturated Fat: 2g | Polyunsaturated Fat: 1g | Monounsaturated Fat: 1g | Sodium: 1mg | Potassium: 101mg | Fiber: 3g | Sugar: 9g | Vitamin A: 51IU | Vitamin C: 4mg | Calcium: 13mg | Iron: 1mg