With soft apple pieces in every bite, it is hard to stop at just one of these Apple Waffles. Sweetened only with fruit they are perfect for serving as a snack, at breakfast or popping in the lunchbox.
Waffles are a delight that the whole family can relish. They bring joy to the kids, simplicity to meal preparation, and are easy to make. If your children adore these apple waffles, don't miss out on our other delicious waffles. Try our banana BLW waffles, which are not just for babies, or savour the goodness of savoury waffles made with grated veggies.
Jump to:
Reasons to Love This Recipe
Fruit Sweetened: Naturally sweetened with apple and raisins.
Texture Experience: These waffles provide a great texture experience for baby-led weaning/toddlers. Soft with apple bits for little ones to explore.
Freezer Friendly: Double the batch and freeze in portions for a quick and easy breakfast/snack or lunchbox addition.
Video Tutorial
Ingredients Information (and alternative suggestions)
The full list of ingredients and amounts can be found on the printable recipe card at the bottom of the post. This section gives information on each ingredient and suggested alternatives if required.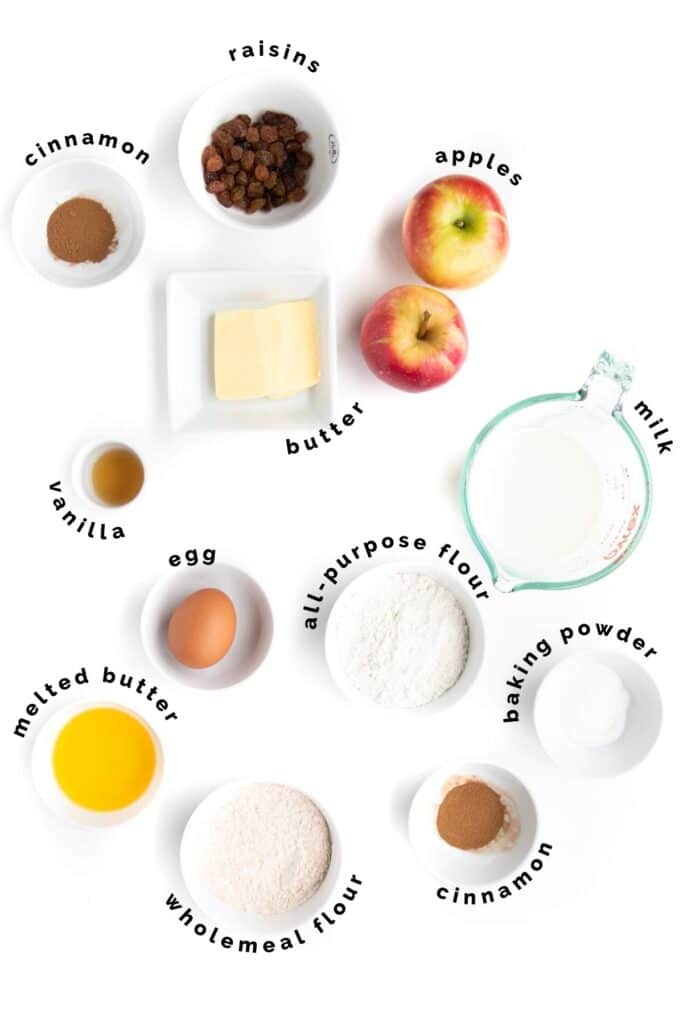 Apple: You can use any type of apple, choose your preferred eating variety. (I recommend a sweeter variety as there is no added sugar in this recipe)
Raisins: Optional, for added sweetness, texture and flavour.
Butter: Used for sautéing the apples and in the waffle batter. If dairy-free, you can replace it with a neutral-tasting oil, or for a coconut flavour, use melted coconut oil.
Cinnamon: For that apple cinnamon flavour we all love (adjust to taste or skip).
Vanilla: Enhances the flavor profile (adjust or omit based on preference).
Egg: Provides tenderness and structure. While no egg replacement has been tested, a flax egg could be an alternative.
Flour: A blend of whole wheat flour(wholemeal flour) and all-purpose flour(plain) flour in a 50:50 ratio. You can adjust this ratio to meet your family's taste and health preferences. Note that a higher ratio of whole wheat will yield a denser texture. No gluten-free flours have been tested.
Baking Powder: Help the waffles rise and brown.
Milk: Suitable for regular or non-dairy milk (e.g almond milk has been tested) based on your preference or dietary needs.
Step By Step Instructions (with photos) and Expert Tips
STEP 1 - Preparing the Apples
Begin by preparing the warm cinnamon apples. During the recipe development phase, various methods were tested, including grated apple, raw apple chunks, and sautéed apple pieces. Sautéed apples, with their deliciously soft texture, produced the best results.
To prepare the apples, simply core them and cut them into roughly 0.5cm (approximately ¼ inch) cubes. There's no need to peel them; the peel softens beautifully and adds valuable nutrition, as many antioxidants and nutrients are found in the skin.
Sauté the apple cubes in butter and cinnamon, over medium heat, until they become delightfully soft.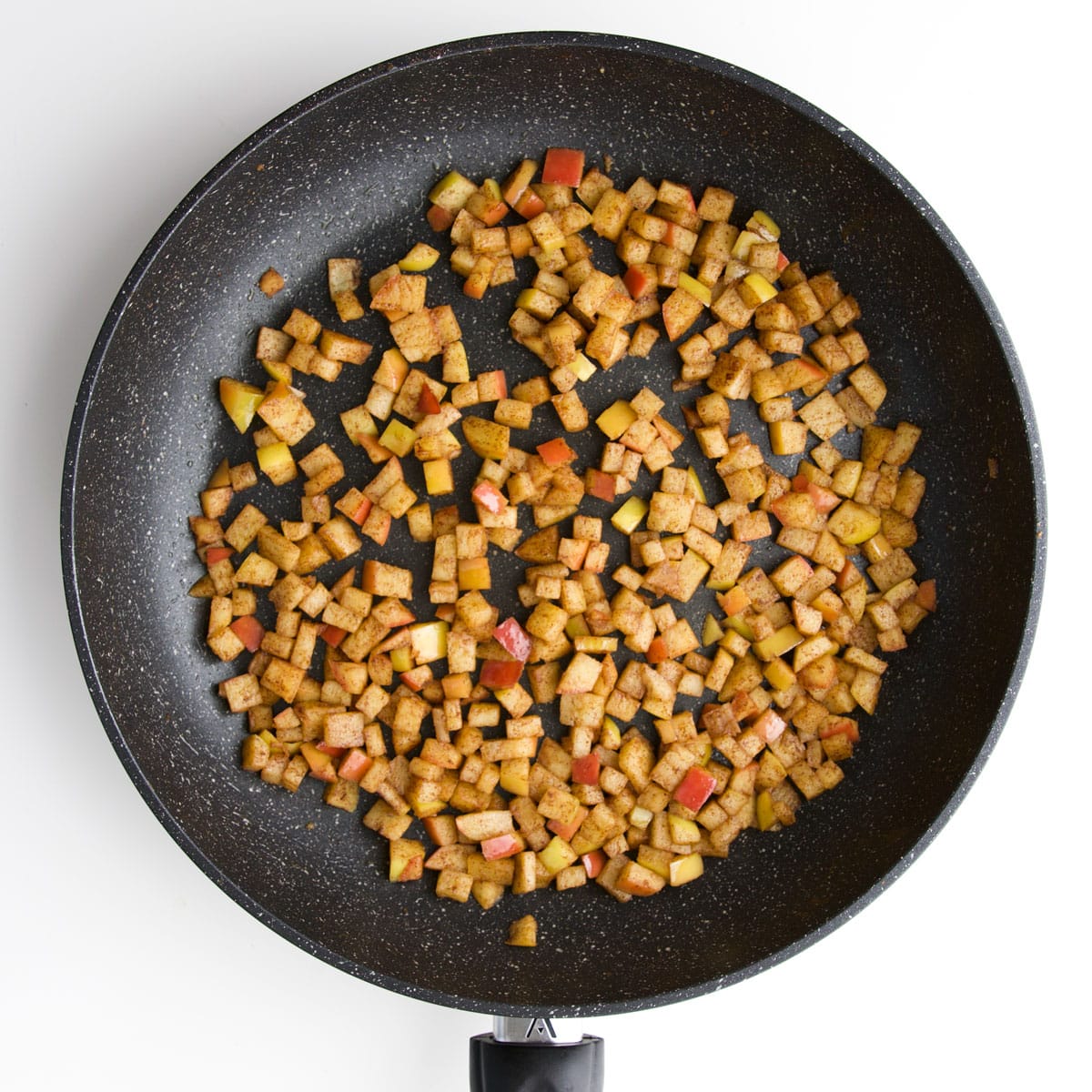 Step 2: Making the Waffle Batter
In this step, we'll create the waffle batter to ensure delightful and fluffy apple waffles.
Start by mixing the dry and wet ingredients separately. Combine the dry ingredients in a large bowl and the wet ingredients in a small bowl. Then, gently pour the wet mixture into the dry mixture.
It's crucial to "Just Barely Mix" at this stage, this will help you achieve fluffy waffles. The batter should have small and medium-sized lumps. Finally, add the sautéed apples and raisins, stirring until they are just incorporated. The resulting batter will be thick and generously filled with apple pieces.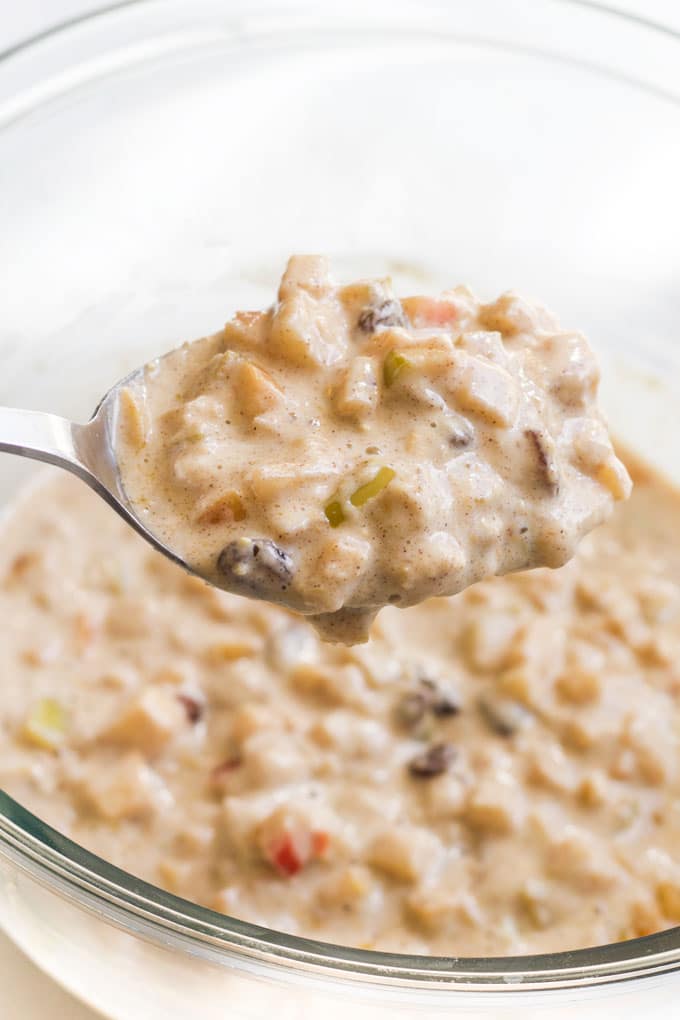 Step 3: Cooking the Waffles
Preheat your waffle iron.
Once you have a hot waffle iron, lightly grease it with oil (if required) and ladle in about a cup of batter (although the amount of batter will vary depending on your waffle iron's size.)
Follow the manufacturer's instructions for cooking, typically around 4-5 minutes.
Once golden brown and cooked, transfer the waffles to a cooling rack, and repeat the process until you've used all the batter.
Serving Suggestions
These apple waffles are delicious on their own, bursting with delicious apple and raisin goodness in every bite. For extra variety and flavour, consider pairing them with:
Light and Healthier Options
More Indulgent / Dessert-like Toppings
A dollop of ice-cream
A drizzle of maple syrup
Whipped cream
Storage Instructions
Refrigeration
If you plan to enjoy your cinnamon apple waffles within two days, you can store them in an airtight container in the refrigerator. 
Freezer Storage
Allow the cooked waffles to cool to room temperature.
Place them on a baking sheet, ensuring they are close together but not touching.
Pop the baking tray in the freezer for approximately 30 minutes until the waffles are frozen.
Transfer the frozen waffles to a freezable container or zip-lock bag.
Return the container or bag to the freezer, where the waffles can be stored for up to 3 months.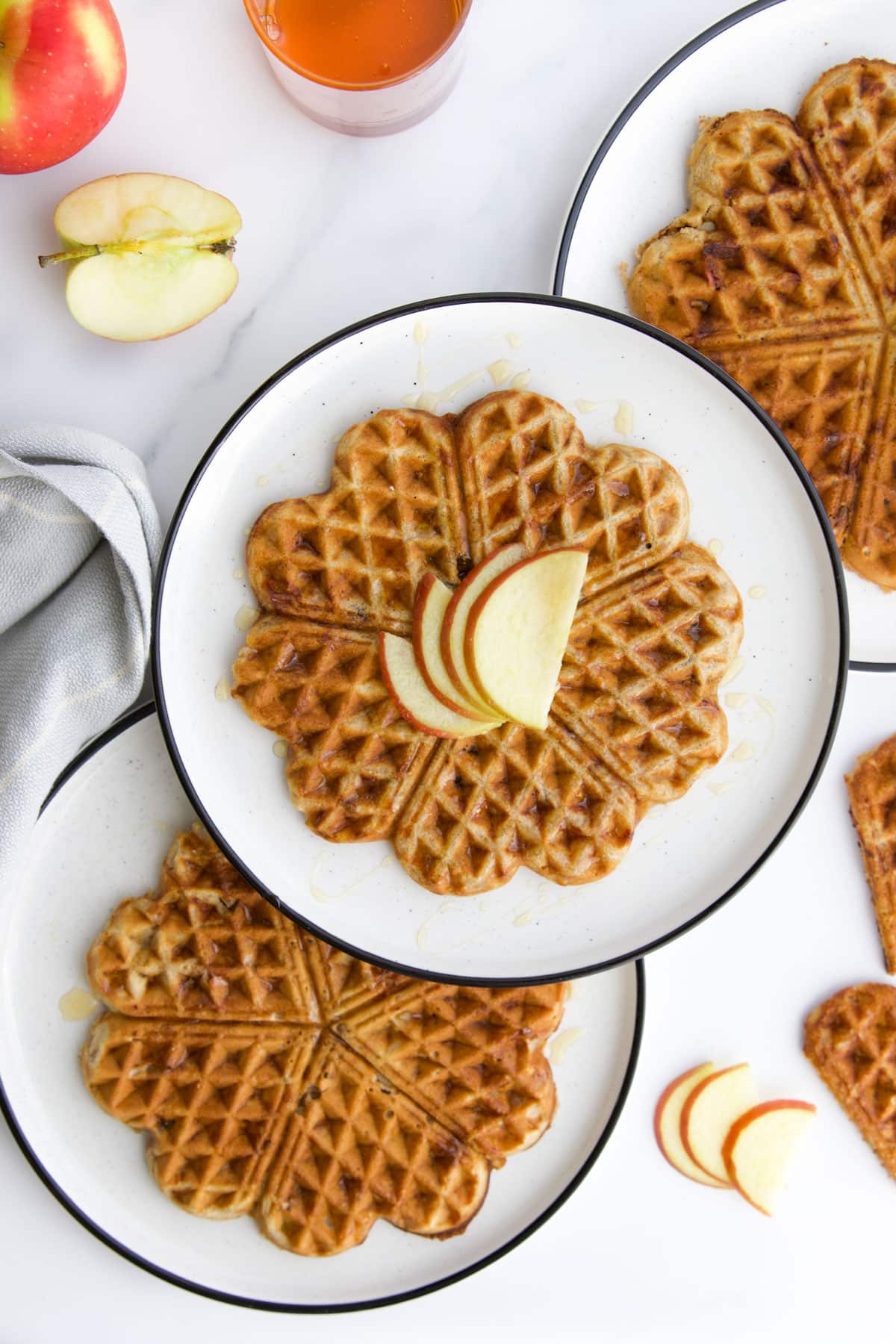 Frequently Asked Questions
Are apple pancakes suitable for babies?
These waffles can be a great snack or breakfast for babies. Cut them into fingers to make them easy to pick up. Once the pincer grasp is established you could cut them into small squares. (read more about serving baby waffles) They are great served with yoghurt which adds fat and protein for a more balanced snack.
These waffles do contain common allergens: dairy, egg and wheat. You should only serve this to a baby (6 months +) once these allergens have been introduced safely.
It is also important that you finely chop the apple and cook it until very soft, you may also wish to finely chop or skip the raisins.


Can I use this waffle recipe to make apple pancakes?
Waffle recipes generally have more fat in them than pancakes to help them crisp up and brown. I have an apple pancake recipe that is very similar to this one (but has no butter). I recommend using it.
What waffle iron do you recommend?
There is no brand of waffle iron that I would recommend. This recipe works well on both the mini-style waffle makers and larger ones. Any shape will work. 
More Apple Recipes You May Like
Looking for more healthy kid recipes?Sign up for my free recipe newsletter to get new family friendly recipes in your inbox each week! Find me sharing more kid-friendly inspiration on Pinterest and Instagram.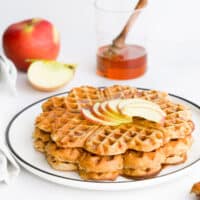 Apple Waffles
With soft apple pieces in every bite, it is hard to stop at just one of these Apple Waffles. Sweetened only with fruit they are perfect for serving as a snack, at breakfast or popping in the lunchbox.
Prep Time: 10 minutes
Cook Time: 15 minutes
Total Time: 25 minutes
Serves:3 Full sized Waffles (will vary depending on machine)
Hover over "serves" value to reveal recipe scaler
Ingredients
Add-Ins
2 Large (or 3 small) Apples, chopped into small chunks (roughly 0.5cm)
28g (2 tbsp) Butter
½ teaspoon Cinnamon
40g (¼ cup) Raisins/ Sultanas
Dry Ingredients
60g (½ cup) All-purpose (Plain) Flour
60g (½ cup) Wholemeal (Whole Wheat) Flour
2 teaspoons Baking Powder
½ teaspoon Cinnamon
Wet Ingredients
250ml (1 cup) Milk
1 egg
½ teaspoon Vanilla Extract
28g (2 tablespoons) Butter, melted
Instructions
Heat a non-stick frying pan over a medium heat and add 2 tablespoon of butter. Allow to melt and add the chopped apple and cinnamon. Reduce the heat, and sauté until soft (around 3 mins). Remove from the heat.


Place the sultanas in a small bowl and soak with boiling water. 

Pre-heat your waffle machine.

In a large mixing bowl combine the dry ingredients. In a separate bowl mix together the wet ingredients. Add the wet ingredient to the dry and stir. Be careful not to over mix, some lumps are fine.

Drain the sultanas and add to the waffle batter along with the sautéed apples. Stir until just combined.

Spray or lightly brush your waffle machine with oil on both sides. Scoop ⅓ of the mixture into the centre of your waffle machine.** Close and cook until the light indicates it is ready (this may vary depending on brand of waffle machine, cook to manufacturer instructions). 

Transfer to a cooling rack and repeat until mixture is finished.

Serve with topping of choice
Recipe Notes
**The amount of batter you need to add will be dependent on your waffle iron size.  Nutritional information is a rough guide only, calculated using an online nutrition calculator.
Nutritional facts
Serving: 1full waffle when it makes 3 | Calories: 487kcal | Carbohydrates: 71g | Protein: 10g | Fat: 20g | Saturated Fat: 11g | Cholesterol: 102mg | Sodium: 196mg | Potassium: 852mg | Fiber: 8g | Sugar: 31g | Vitamin A: 775IU | Vitamin C: 8.8mg | Calcium: 278mg | Iron: 2.6mg