Baby food doesn't have to be bland, liven up your babies' food and expand their palates by experimenting with a range of spices and herbs. Increasing babies' taste buds in this way helps to cultivate adventurous and healthy little foodies.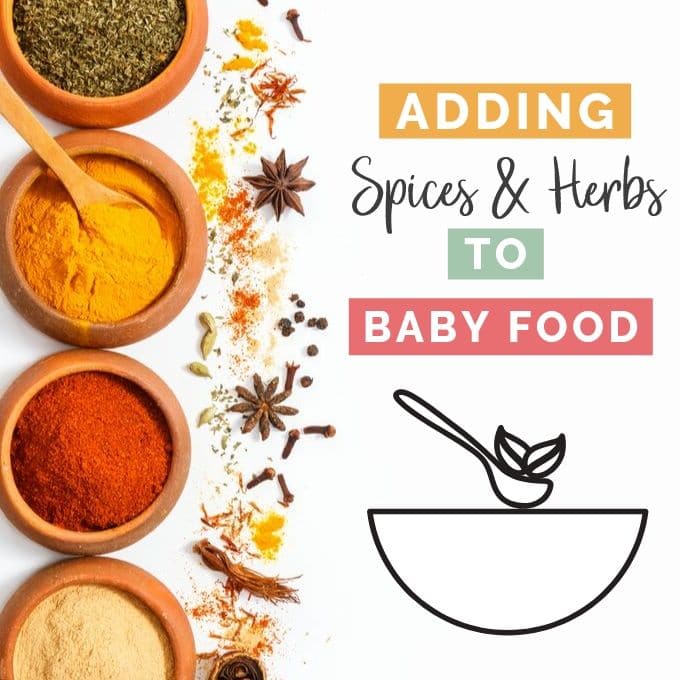 Herbs and spices provide our foods with a multitude of flavours, fragrances, and colours. However, many parents worry about adding flavour this way to their babies' food, believing that spices are hot and not suitable for little ones' taste buds.
There is a big difference, however, between hot spices and aromatic ones. Aromatic spices, along with a range of different herbs, are perfect for adding to baby food.
This guide explains when to start adding spices and herbs, the benefits of adding them and gives some ideas on how to start introducing them to your baby.
When to Introduce Herbs and Spices to Babies
I always encourage parents who are just starting weaning their babies, either by purees or baby-led, to experiment with herbs and spices from the beginning. As salt and sugar should be avoided before one, adding a little spice and/or herbs is a great way to add flavour to baby food.
Breastfed babies are often introduced to a variety of spices even before starting solids. Breast milk can change its flavour, depending on a mum's diet. If Mum enjoys spicy and flavoursome food, then her baby will be exposed to this through her milk, helping create and develop a taste for flavoured foods.
Benefits of Introducing Spices and Herbs at an Early Age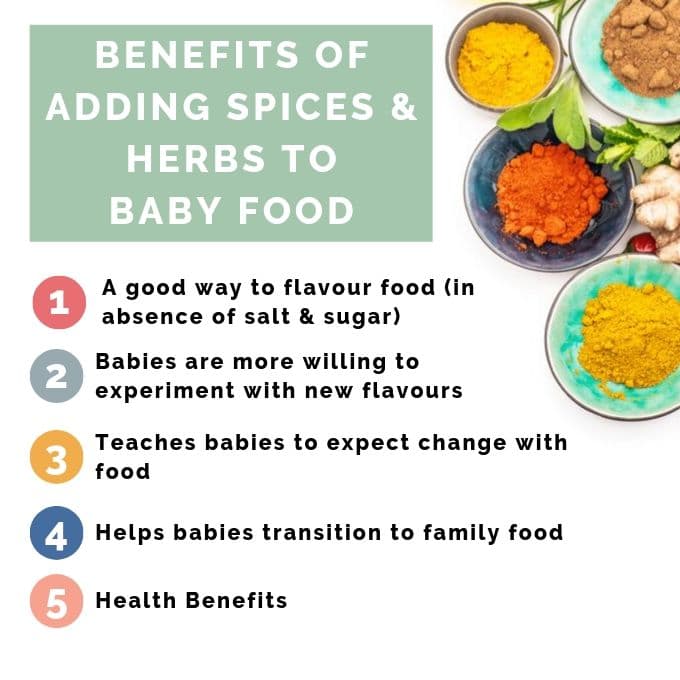 As salt should be limited in baby food, spices and herbs are a good way to flavour food.
Allows babies to get used to a range of flavours at a time when they are willing to experiment with taste.
Teaches babies to expect change with food.
Helps babies transition to family food, as your baby will be familiar with those tastes and more likely to accept them.
Provide certain health benefits.
Ideas to Get You Started
Begin with herbs and aromatic spices like cinnamon, turmeric, nutmeg, cardamom, cumin, coriander, clove, smoked paprika, mint, basil, dill and rosemary.
This is just a few ways to get you started spicing up your baby's food...
CINNAMON  - Cinnamon has warm, sweet and spicy notes and adds delicious flavour to sweet and savoury meals. Try adding it to apple puree, baked banana, sweet potato puree, fruit compote & yoghurt, sweet potato muffins, porridge and stews. 
SMOKED PAPRIKA - One of our favourites! Smoked paprika has a sweet rich smokey taste.  Try adding to sweet potato wedges, carrots fries, chicken, fish, lentils, paella, vegetarian chilli and eggs.
CARDAMOM - Green cardamom (our preferred choice) has a floral, minty, peppery taste and works well in both sweet and savoury dishes. Try adding it to pear puree, carrot puree, chicken, porridge, muffins, banana bread,
TURMERIC - Turmeric has a mild fragrance and warm slightly bitter notes. Try adding to lentils, eggs, porridge, cauliflower puree, curries and stews.
CUMIN - Cumin has a nutty, peppery, earthy flavour that pairs well with meats and vegetables. Try adding it to carrot puree, cauliflower puree, lamb, chicken, stews, chickpea curry and chilli. 
NUTMEG - Nutmeg has a warming sweet and peppery flavour. It is lovely in sweet baking but also with creamy savoury dishes. Try adding it to muffins, stewed fruit, bechamel sauce and pasta bakes.
MINT - Mint is aromatic and fresh with a sweet cooling flavour. Great for adding to both sweet and savour purees, combines well with many vegetables such as new potatoes, tomatoes, carrots and peas and adds fresh flavour to fruits.
OREGANO - Oregano is very aromatic with slight earthy, green bitter notes, it is very popular in Mediterranean cooking. Try adding it to veggie purees, roasted vegetables, eggs,  pasta sauces, or pizza sauce. 
ROSEMARY - Rosemary has a piney aroma and a distinctive sharp flavour. It is very strong and you only need a little. It gives a lovely flavour to purees, savoury dishes and even sweet baked goods. I love how it has been used in this roasted banana and rosemary puree.
BASIL - Basil has a light herbal bouquet that complements a wide variety of foods. Try it in baby purees, or puree it on its own for a fragrant, healthy sauce perfect for you and baby. It's one of the primary ingredients in pesto – so why not try our Homemade Basil Pesto recipe for a delicious finger food dip for your little one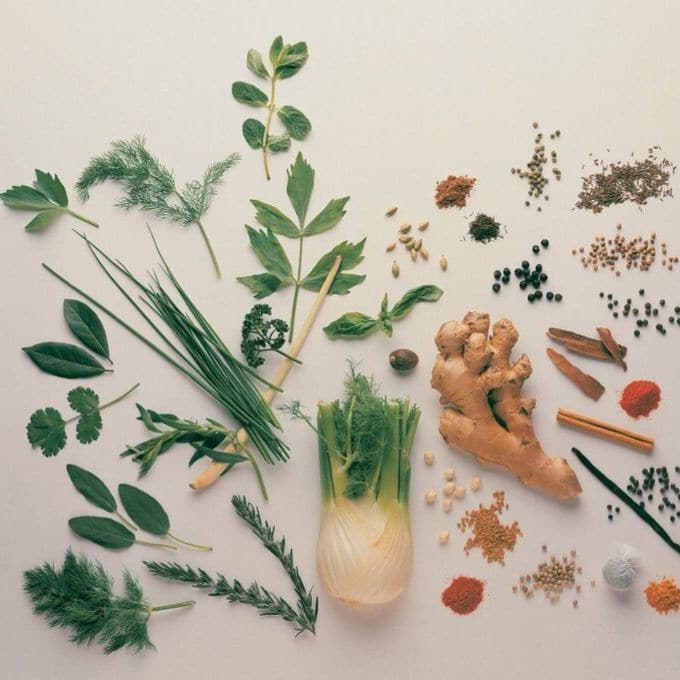 Tips for Using Spices and Herbs
Take Care of Your Spices - Store spices in airtight containers away from light and heat. Whole spices will keep for around 1-2 years but after around six months, ground spices will start to lose their aroma and flavour. So buy in small amounts and use often!
Dried herbs should also be stored in airtight containers in a cool, dark, and dry space.
Spice Blends - Always read the packaging when using spice blends (as they often have added sugar and salt), try making your own blends.
Start with small amounts - Use small amounts to start with to allow your baby to get used to different flavours. You don't want to overpower the food. Start out by adding just a pinch.
Prepare fresh leafy herbs properly - Wash fresh herbs and then puree or finely mince before adding to baby food.
Don't give up - if your baby rejects the flavour of the spices/herbs just remember that it can take up to 10-20 exposures for a new flavour to be accepted.
Recipes to Try
Spiced Meatballs
Lamb mince, spices & spinach are mixed together and then formed into balls to make theses deliciously spiced meatballs. 
Check out this recipe
Cinnamon Apples
Apple wedges pan-fried in a little coconut oil and a good shake of cinnamon.
Check out this recipe

Sweet Potato Chickpea Curry
A deliciously spiced vegetarian curry, ideal for kids. The sweet potato adds a delicious sweetness that complements the spices perfectly.
Check out this recipe

You May Also Like