Zucchini Bites, made from zucchini (courgette), cheese, eggs and oats are delicious hot or cold. A healthy lunchbox idea or snack for toddlers.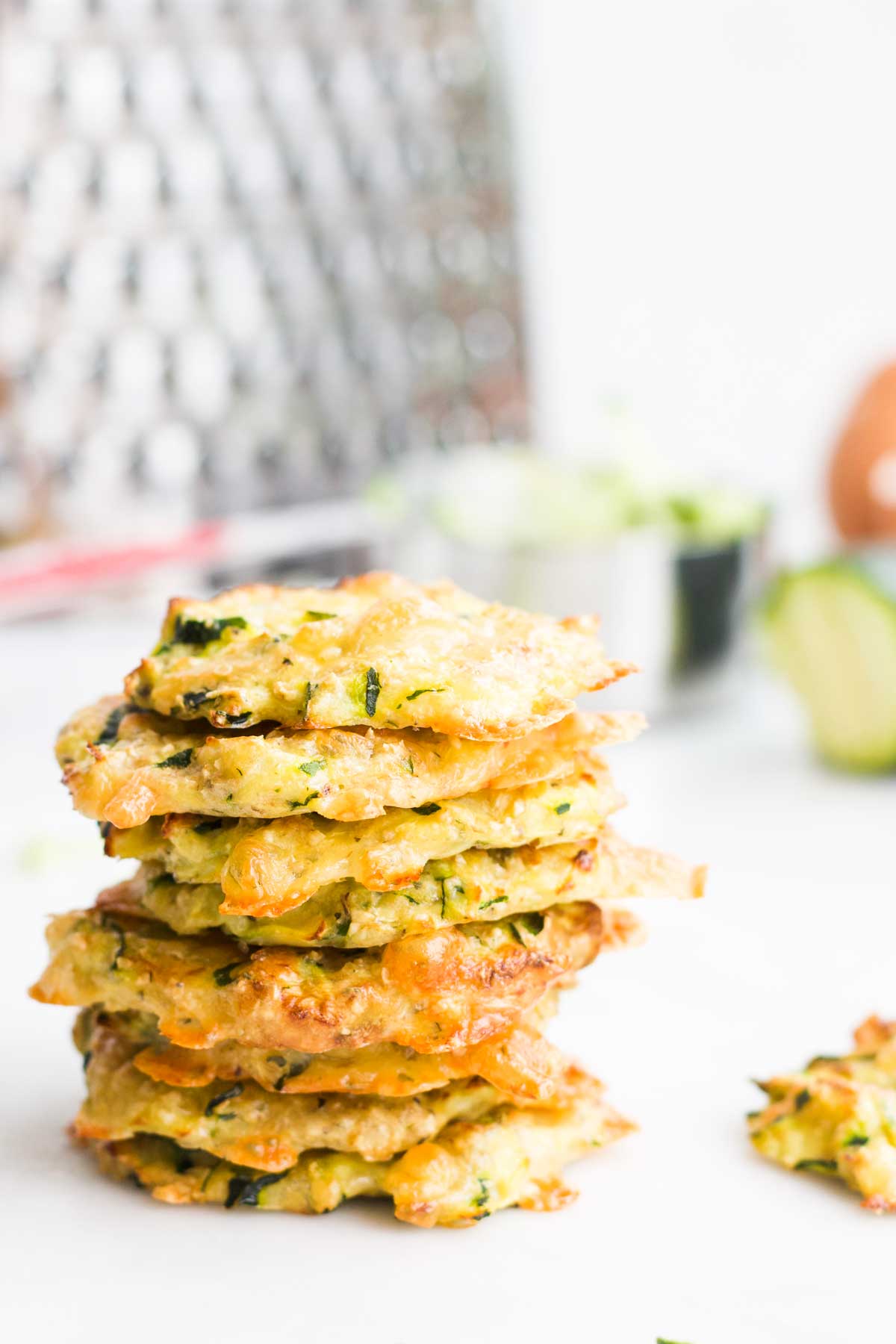 Why These are Great for Kids
A balanced snack – this simple snack contains veggies, carbs, protein and dairy to keep little tummies satisfied.
Vegetable Exposure – children often need to be exposed to vegetables a number of times before they start to enjoy them. If your child is still learning to like zucchini, this may be a good way of serving it.
Easy to Make - There are so many benefits to getting your kids involved in the kitchen, this recipe is perfect for little ones as it has few steps and is easy to make.
Great Hot or Cold - meaning they are perfect for taking out and about for snacks/lunchboxes.
What You Need
Grated Zucchini
Grated Cheese – a good melting cheese such as cheddar or mozzarella works well (or a mix).
Oat Flour - (blend oats in a food processor/blender until flour consistency) You can replace with all-purpose if you prefer.
Eggs
How to Make
REMOVE EXCESS LIQUID FROM ZUCCHINIS - To ensure these zucchini bites work, it is important to squeeze the water out of the zucchini. Skip this step and the mixture will be too wet. Place the grated zucchini onto a clean cloth and squeeze. Get your kids to help with this, they will love it!
MIX - Once the juice has been squeezed out of the zucchinis, mix it together with the remaining ingredients.
FORM - Make balls, around ½ tablespoon in size. On a prepared baking sheet, flatten each ball into rounds approx ½ cm thick / ¼ inch. If you make them too thick they won't cook the same and with have more of an omelette / soft doughy like texture.
BAKE - Until for around 13-15 mins, until browned and crispy on the outside.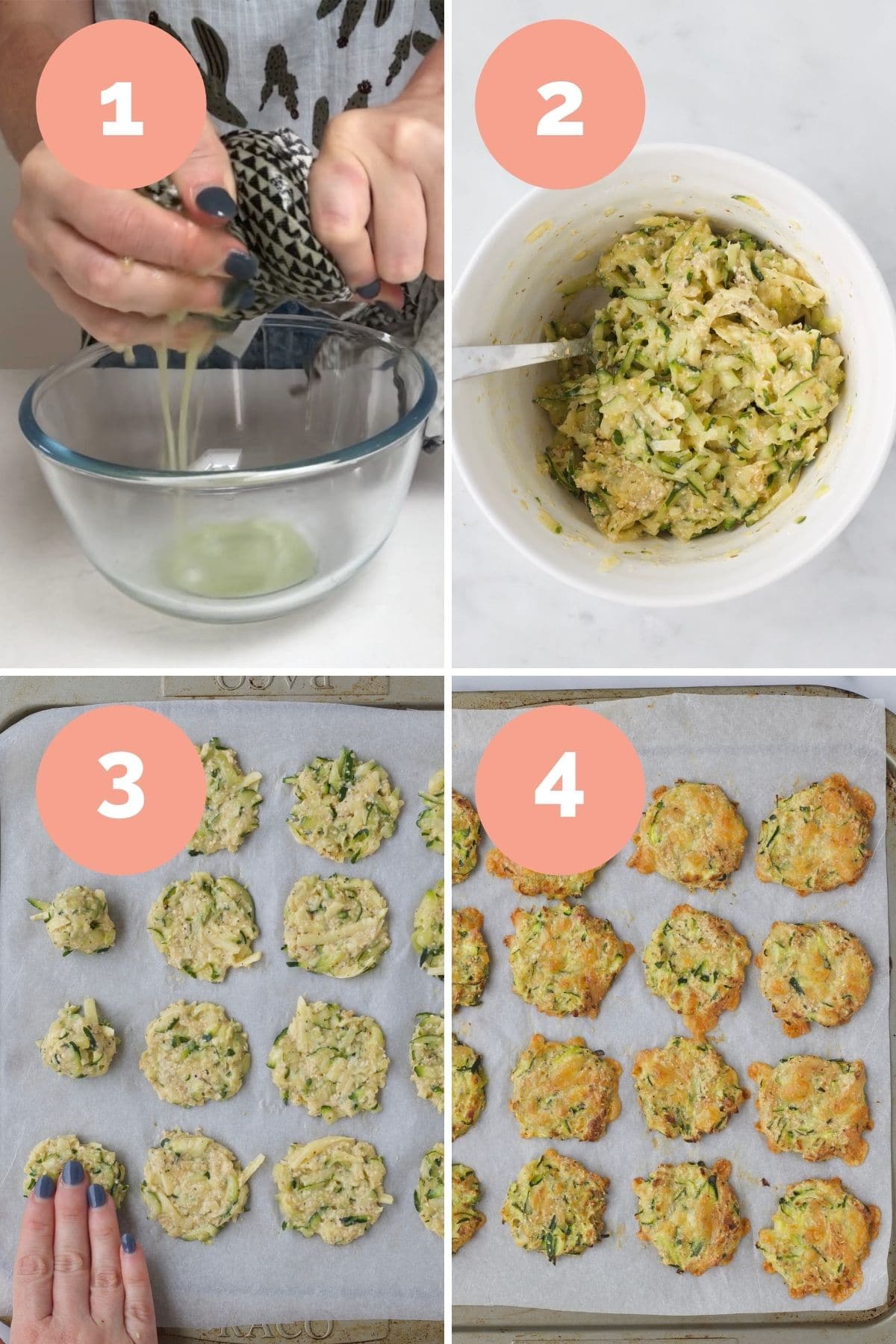 Video - Watch How to Make Them
Fussy Eater Tip
If your kids don't like seeing "green bits" in their food, peel the zucchinis before grating.
Storage Instructions
REFRIGERATE: Store in an airtight container for up to 2 days. Note: The bites will soften in texture when cold
FREEZE: Allow to cool and freeze on a baking sheet. Once hard transfer the bites to an airtight container or ziplock bag and freeze for up to 2 months
You May Also Like
Have you tried this recipe? I love receiving your feedback. Please rate and leave a comment below or tag me on Instagram @healthylittlefoodies
Looking for more healthy kid recipes?Sign up for my free recipe newsletter to get new family friendly recipes in your inbox each week! Find me sharing more kid-friendly inspiration on Pinterest and Instagram.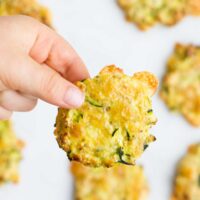 Zucchini Bites
Made from zucchini, cheese, eggs and oats, these zucchini bites are a fantastic toddler snack or lunchbox filler.
Prep Time: 10 minutes
Cook Time: 15 minutes
Total Time: 25 minutes
Serves:21
Hover over "serves" value to reveal recipe scaler
Ingredients
250g / 2 cups Zucchini (Courgette) Grated
70g (½ cup) Cheese Grated
2 Eggs
4 tablespoon Oat Flour
½ teaspoon Italian Mixed Herbs (optional add more or less to taste)
Instructions
Preheat oven to 180C / 350F / Gas 4 and prepare two baking sheets with parchment paper or a silicone baking sheet

Place the zucchini on a clean cloth and squeeze out the liquid into a bowl. (You need to get the zucchini quite dry for the recipe to work)

Place the zucchini back in the bowl and mix with the remaining ingredients

Form ½ tablespoon balls and flatten into rounds onto the baking sheet. (Mine were around ½ cm / ¼ inch thick and I made 21)

Bake for approx. 15 mins (until crispy on the sides)
Recipe Notes
Zucchini Liquid: Don't throw this goodness away - add it to smoothies or pasta sauces. Cheese: You can use any good melting cheese such as cheddar, mozzarella or tasty. Or you can use a mix. Flour: Oat flour can easily be made by blending / processing oats until a flour consistency. Alternatively you can replace with another flour (such as all-purpose or almond) Making for a Baby: To lower sodium levels you can reduce the cheese to ¼ cup. Nutritional Information is a ROUGH guide only, calculated using an online nutrition calculator.
Nutritional facts
Calories: 29kcal | Carbohydrates: 1g | Protein: 2g | Fat: 2g | Saturated Fat: 1g | Cholesterol: 20mg | Sodium: 29mg | Potassium: 48mg | Fiber: 1g | Sugar: 1g | Vitamin A: 85IU | Vitamin C: 2.2mg | Calcium: 31mg | Iron: 0.2mg
*Originally posted April 2016. Has been updated to include process shots, new photos and extra recipe information.