There is a lot to love about this Chocolate Avocado Mousse. It is quick to prepare, deliciously sweet, beautifully creamy and perfect for kids with food allergies (free from dairy, egg, nuts and gluten).
I first published this post on Sep 2014, when my eldest was three and was obsessed with a Julia Donaldson book called "Chocolate Mousse for Greedy Goose." After reading the book for what felt like the 100th time, we decided that we would make our own chocolate mousse.
At the time, my Pinterest feed was full of mousse made with avocado and so I decided to give it a try. It is a super easy recipe, perfect for getting kids involved in the kitchen.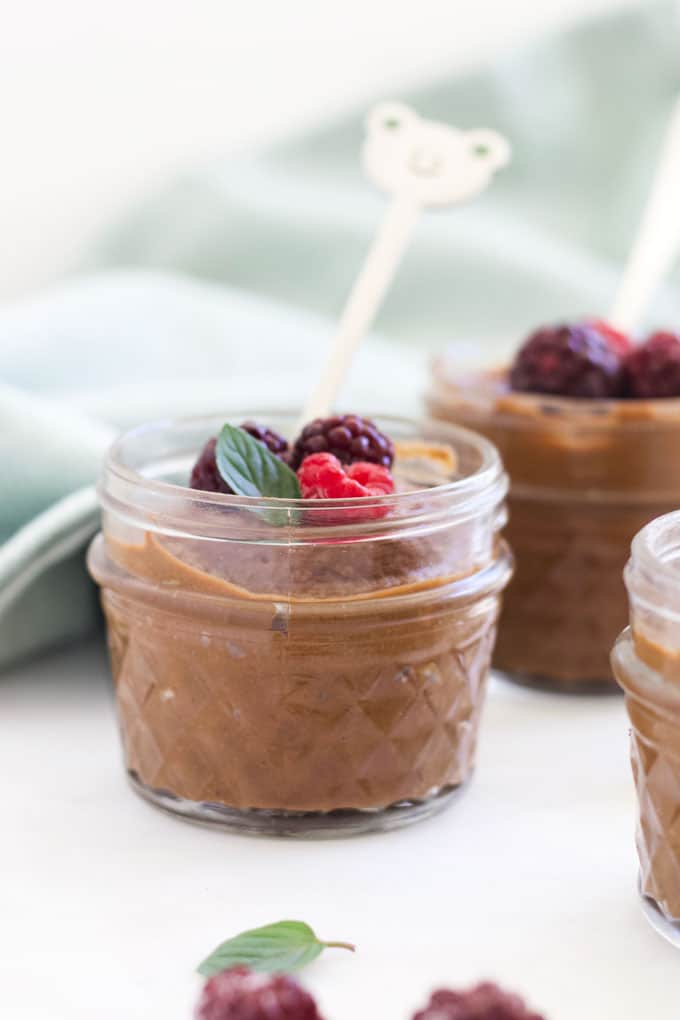 HOW TO MAKE CHOCOLATE AVOCADO MOUSSE
What I love most about this recipe is how easy it is to make and how quick it comes together. All you need to do is add the ingredients to a food processor and blend until smooth. You can't get much easier than that!
A few tips to make sure your mousse is creamy and deliciously sweet...
Avocado - Make sure your avocado is really ripe. If it is too hard it won't blend properly. I have made the mistake of using an unripe avocado before and ended up with chocolate flavoured blended banana with little chunks of avocado. Not great!
Banana - Ripe bananas make the mousse sweeter but do give it a stronger banana flavour.
Dates - If your dates are too hard they won't blend properly. Make sure to use plump, juicy dates or pop them in some boiling water before blending.
Cacao Powder - Start with three teaspoons and check the flavour once blended. Add more to suit taste.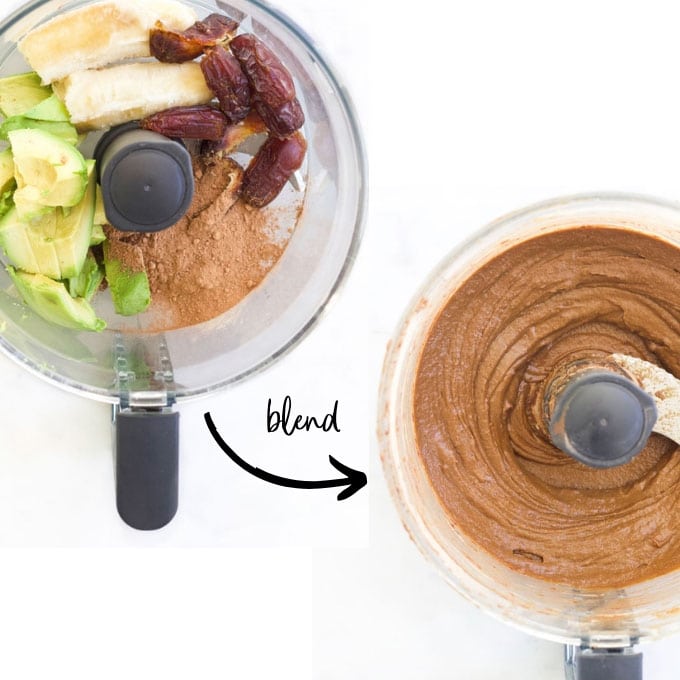 WHAT DOES CHOCOLATE AVOCADO MOUSSE TASTE LIKE?
I don't believe this mousse tastes anything like avocado, the avocado really just provides the creamy texture. I tested it on one of Finn's school friends and when I mentioned there was avocado in it, he looked at me as if I was crazy!
When I asked him to guess what was in it, he said he could taste chocolate and banana. I did, however, use particularly ripe bananas, if you use a less ripe banana, the banana flavour will not be as strong.
Adjusting the strength of the chocolate taste by adding more or less cacao.
IS IT HEALTHY?
Healthy is a vastly overused word these days and everybody's version of healthy is different. Although this dessert contains "healthy" ingredients it is still high in sugar (from the dates and banana). It is a high-calorie dessert and like all desserts, it should be enjoyed in moderation.
I often get e-mails from parents saying that they have been advised to add more healthy fats and calorie-dense foods to their underweight child's diet. I always recommend you follow the advice given to you by your doctor/dietician but adding avocado to a dessert is a great way to add some healthy fats to a sweet treat.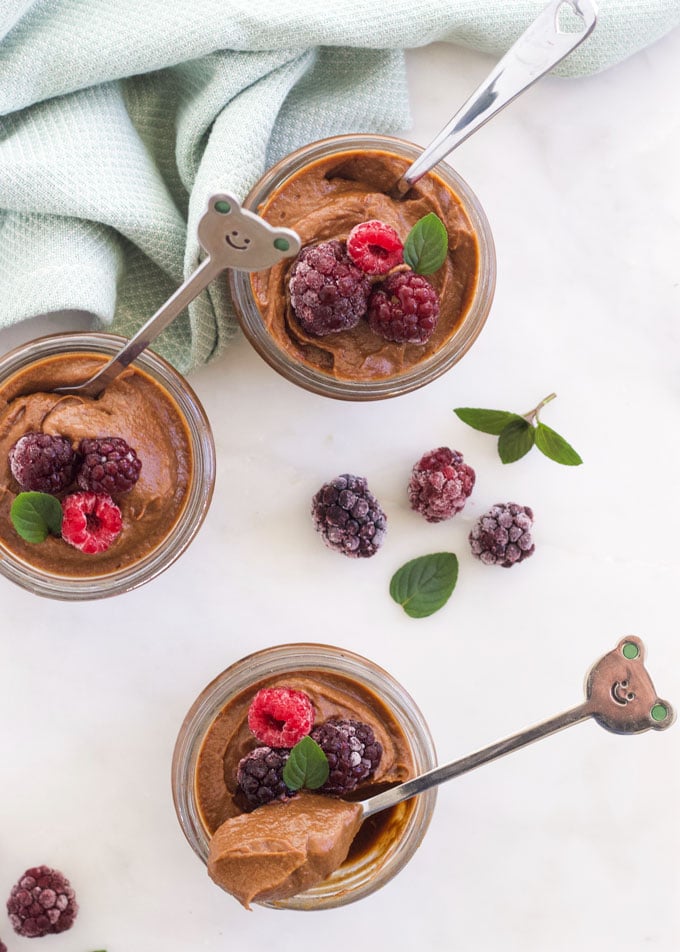 AVOCADO CHOCOLATE MOUSSE FOR BABIES / TODDLERS
I have received a few e-mails asking if this is suitable for babies. Personally, I tried to limit sugar when my kids were babies, they didn't know what they were missing out on so I saw no reason to add it into their diet. It is obviously a personal choice but I wouldn't really consider this a baby food. I did, however, often blend avocado and banana together for my boys, which they loved!
This is a fantastic recipe for making with young kids. It doesn't take long to make so they can probably stay focussed for the whole process. They can help peel the banana, remove the stones from the dates and push the button on the food processor (the best job!).
You May Also Like
Have you tried this recipe? I love receiving your feedback. Please rate and leave a comment below or tag me on Instagram @healthylittlefoodies
Looking for more healthy kid recipes?Sign up for my free recipe newsletter to get new family friendly recipes in your inbox each week! Find me sharing more kid-friendly inspiration on Pinterest and Instagram.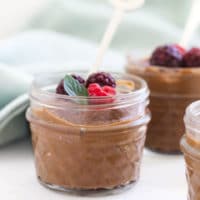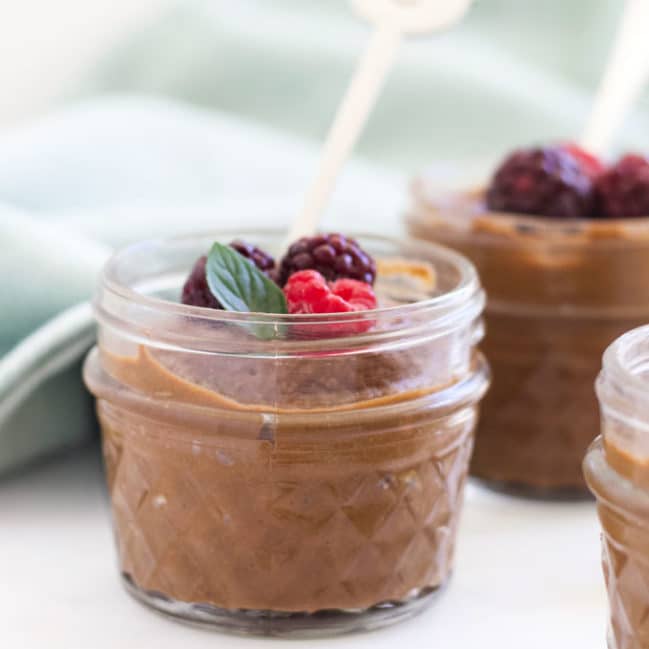 Chocolate Avocado Mousse
Delicious chocolate flavoured dessert made from fruit and cocoa powder.
Prep Time: 10 minutes
Total Time: 10 minutes
Serves:2 people
Hover over "serves" value to reveal recipe scaler
Ingredients
1 Banana (ripe)
4 Medjool dates (pitted)
1 Avocado (ripe)
3 teaspoon Cacao powder (add more depending on taste)
Instructions
Add all the ingredients to a food processor and blend until smooth and creamy.

Taste and add more cocoa powder to suit taste.
Recipe Notes
It is important that the avocado is really ripe so that it will blend smooth.  A ripe banana will produce a sweeter mousse but a stronger banana flavour.  Nutritional information is a rough guide only calculated using an online calculator. 
Nutritional facts
Calories: 349kcal | Carbohydrates: 58g | Protein: 3g | Fat: 15g | Saturated Fat: 2g | Cholesterol: 0mg | Sodium: 8mg | Potassium: 1055mg | Fiber: 11g | Sugar: 39g | Vitamin A: 255IU | Vitamin C: 15.2mg | Calcium: 43mg | Iron: 1.4mg