Roasted Courgette /Zucchini takes minutes to prepare and is super quick to cook. Cut into spears then toss in Olive oil, Italian herbs and Parmesan cheese. Roast at a high temperature to achieve tender, not mushy, courgette spears.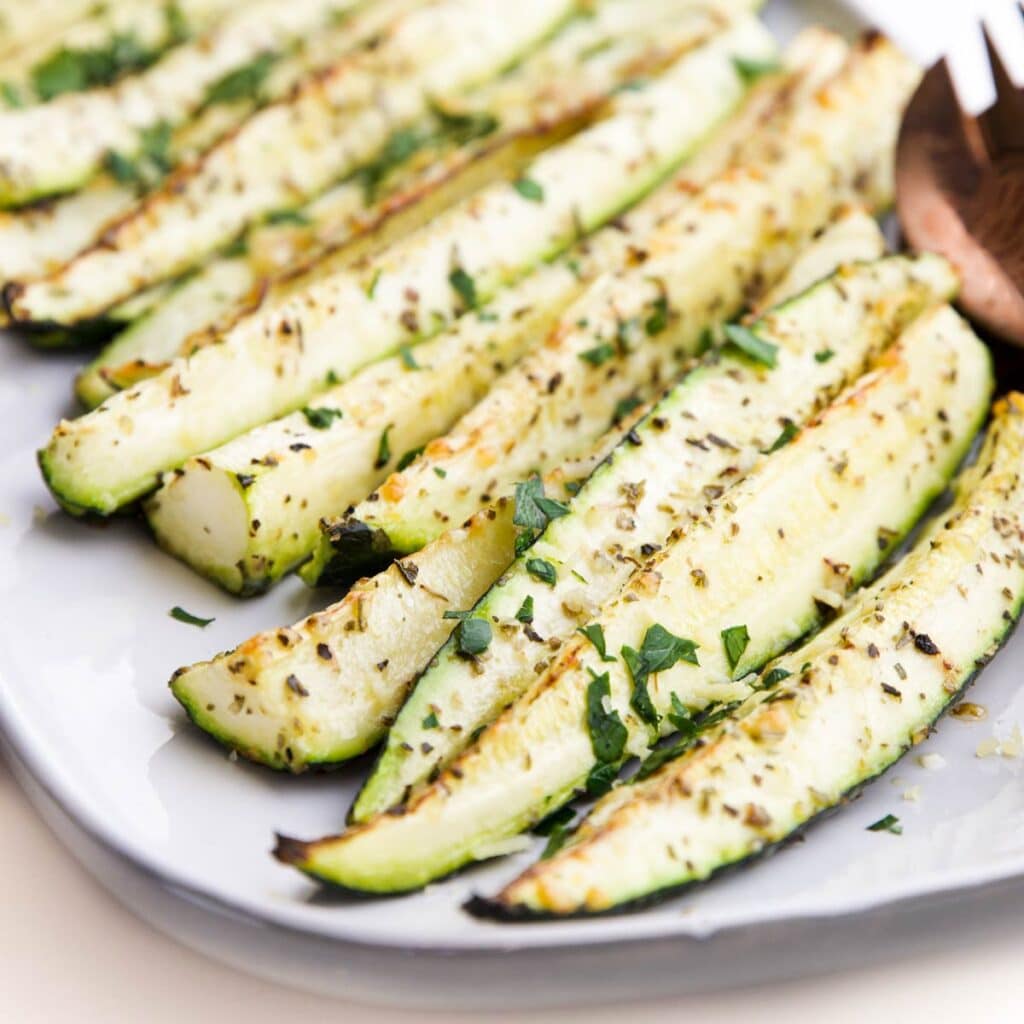 Reasons to Love this Recipe
When making a family side dish you want something that is quick to prep, healthy, goes well with a vairiety of dishes and something the kids can get on board with. I feel this roasted courgette recipe ticks all these boxes.
QUICK & EASY: Roasted courgettes only take a few minutes to prepare and twelve minutes in the oven. Once in the oven, it is hands-off, giving you the time to work on the rest of the meal.
HEALTHY: Courgettes are loaded with beta-carotene and offer plenty of vitamin C. They contain vitamin B6, folate, vitamin K, and copper.
PAIRS WELL WITH MANY MEALS: Courgettes are mild in flavour which means they are a versatile vegetable that can be served with a range of meals. Try serving as a side for chicken, fish, eggs, pasta or quinoa dishes.
FAMILY FRIENDLY: The olive oil, parmesan and salt really add to the courgette and makes it more appealing to kids and vegetable haters. If you have a baby that has just started solids then this is a great finger food, just skip the salt and cheese to keep sodium levels down.
Watch How to Make it (Video)
Ingredient Information
Here is what you need...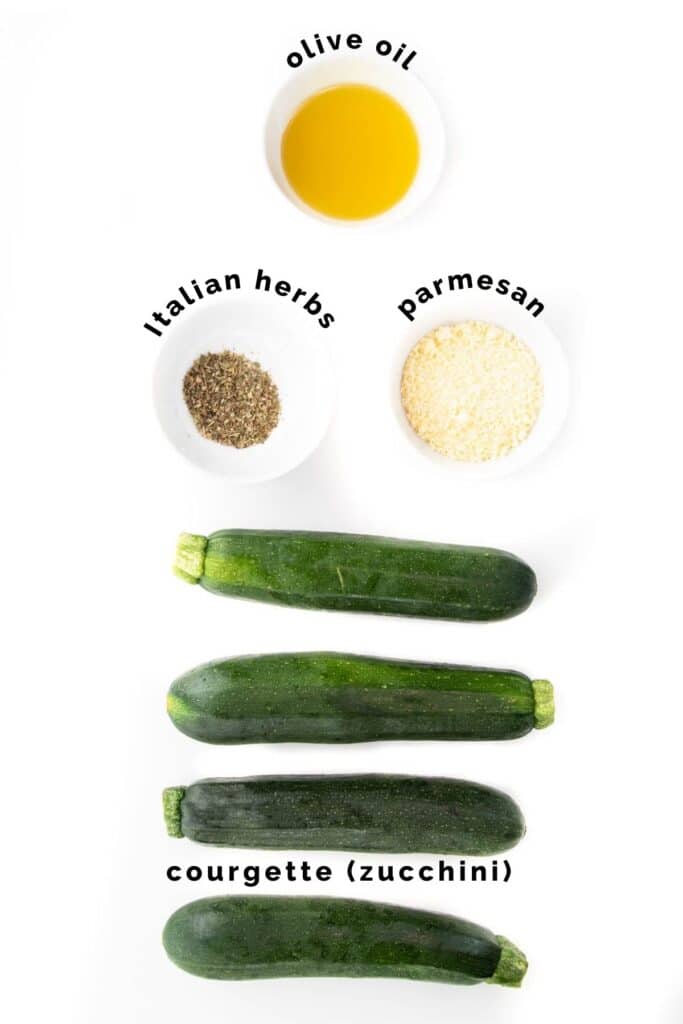 COURGETTE (ZUCCHINI): Use smaller courgettes. Choose ones with no cuts/bruises. They should be firm to the touch and shiny in appearance.
PARMESAN: Just a little parmesan adds amazing flavour. Freshly grate from a block or buy freshly grated from the store (the sandy texture rather than shredded). Make sure to buy from the fresh counter and not the ambient stuff you find in the pasta aisle.
SALT: Brings out the flavour, skip it if making for a baby or toddler.
ITALIAN HERBS (SEASONING): Added for flavour, can be skipped
Process Shots (and Cooking Tips)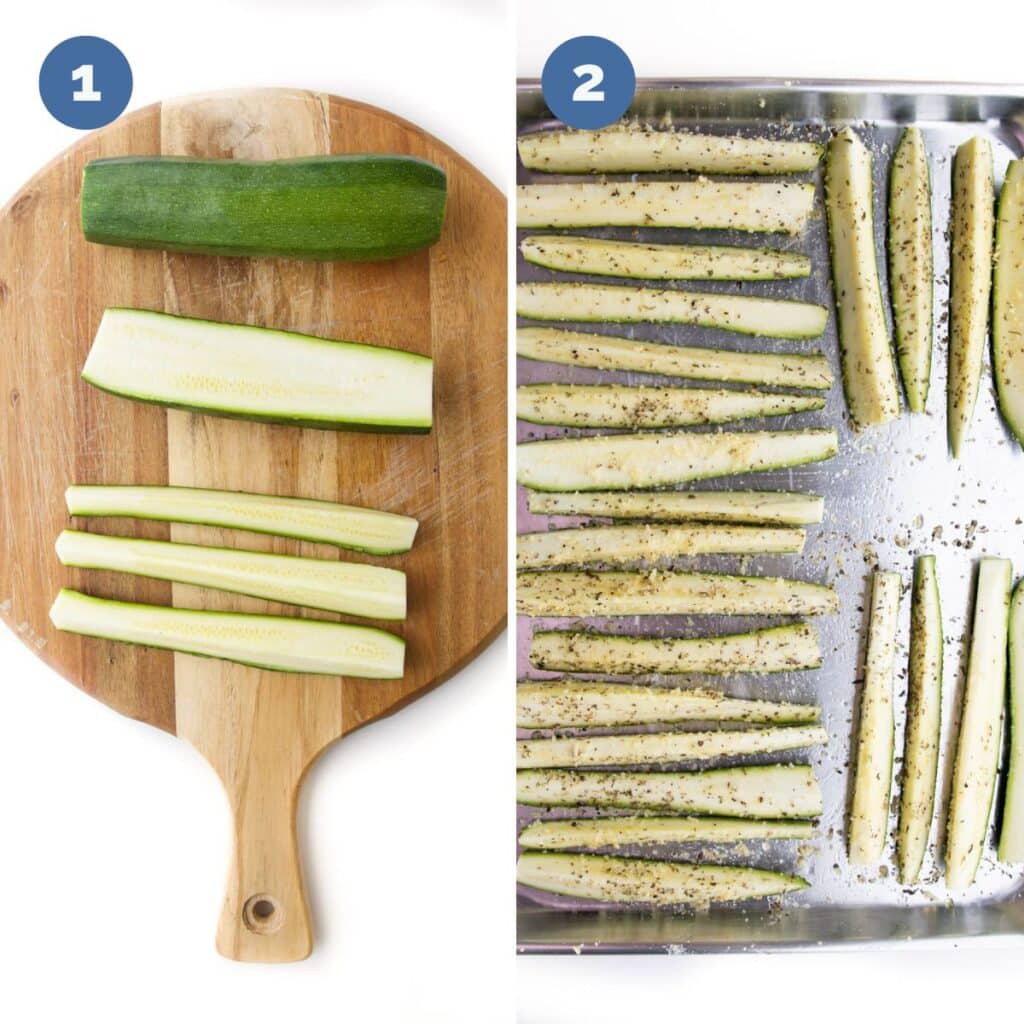 Cut into Spears: Trim the ends off the zucchini and then cut into sixths lengthways (halve lengthways then cut each half into 3 long wedges)
Coat in Olive oil, Italian Seasoning, Salt and Parmesan: Use your hands to make sure all spears are coated well and then turn skin side down, making sure there is plenty of space between the spears.
Roast: Use high heat and keep an eye on the cooking time so not to overcook your roasted courgettes.
Top Tips for Avoiding Mushy Courgettes
AVOID OVERCROWDING - Overcrowding will cause the courgette to steam rather than roast. If you have too many courgettes to fit on the baking tray comfortably then split them over two trays. Bake in the upper and lower racks of the oven and switch half way through the cooking time.
WATCH THE COOKING TIME - Courgettes have a high water content and so if you over cook, the water will seep out and the courgette will go soggy. If you cut the courgettes smaller then you will need to reduce the baking time.
ROAST DON'T BAKE: You want the oven temperature to be high so that the courgettes roast and develop some browning rather than turning soggy.
COOK SKIN SIDE DOWN: Cooking skin side down allows some of the water to cook out rather than getting trapped on the baking tray.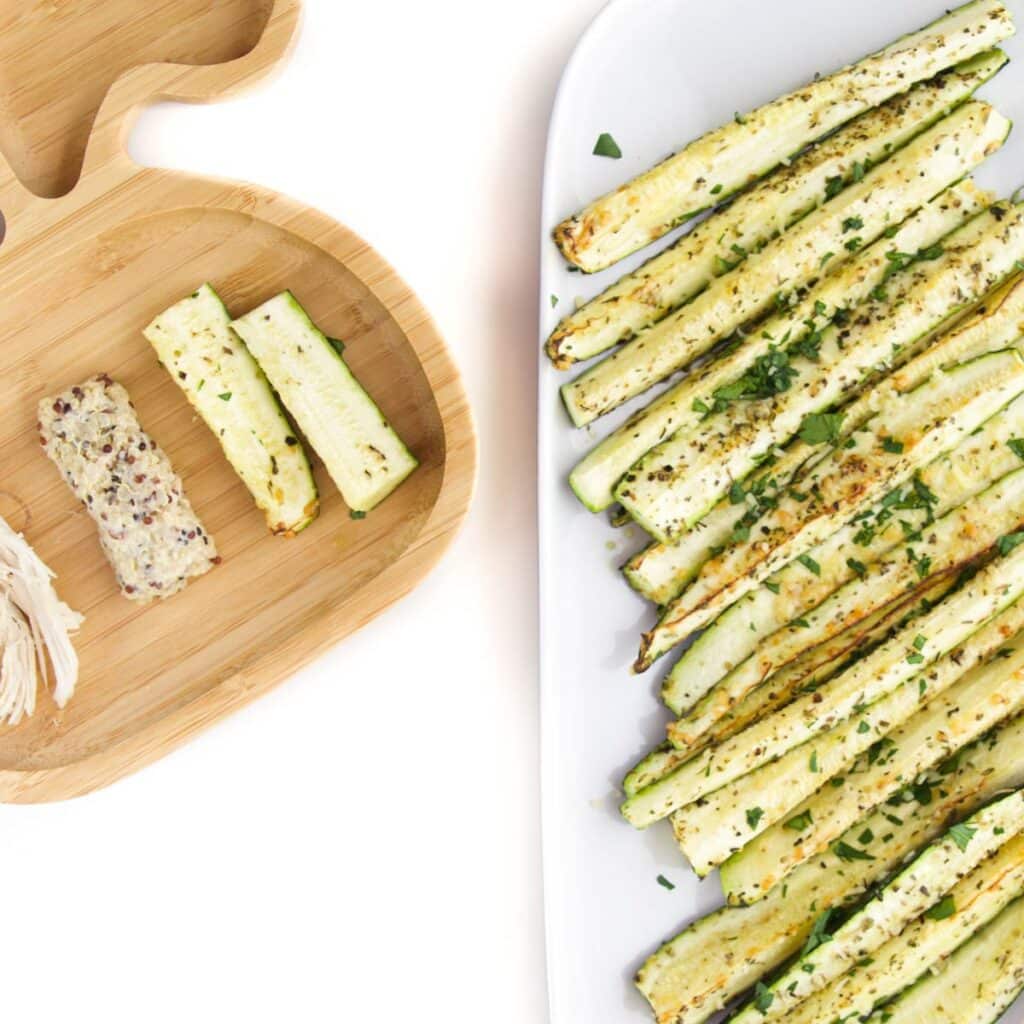 Roasted Courgettes for Babies
Courgettes are a great finger food for babies, suitable from 6 months +. Just skip the parmesan and salt to keep sodium levels down. You can prepare on the same baking tray as the rest of the family, just portion off a few spears before adding the cheese.
The spear shape is great for babies as it is easy for them to grasp and get to their mouth.
Courgette is a good source of vitamin C, which helps the body absorb iron (an essential mineral for babies) from foods. They also contain Vitamin B6, essential for brain development, and folate is vital for growth.
Storage Instructions
Roasted courgette is best served immediately. If you do have leftovers place in an airtight container and refrigerate for up to two days. Not suitable for freezing.
Got a Glut of Courgettes? Try these other Tasty Recipes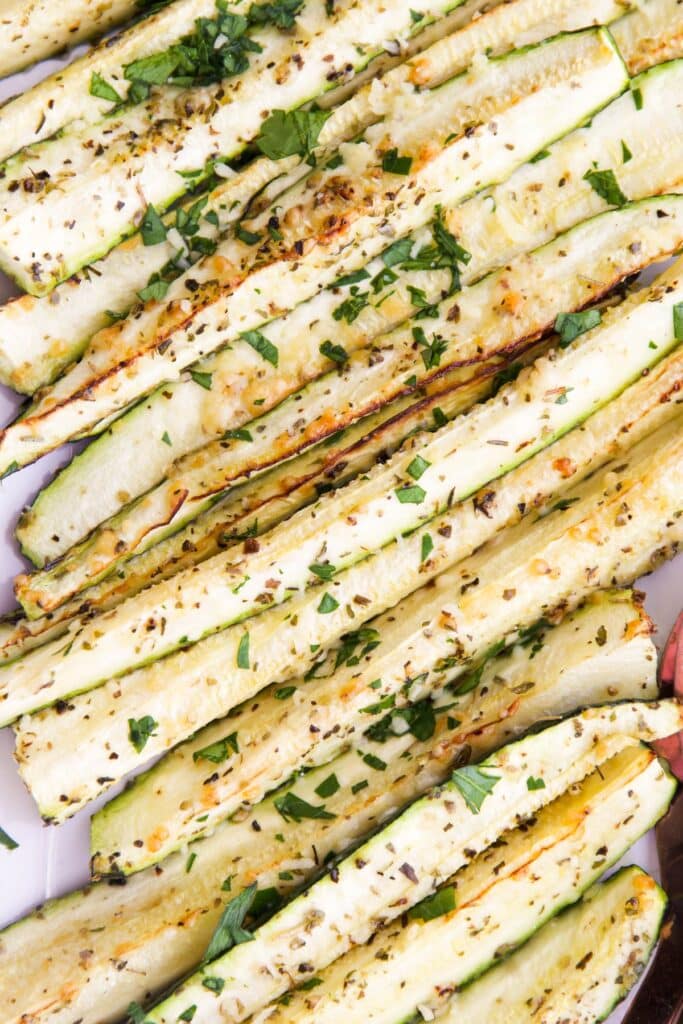 Looking for more healthy kid recipes?Sign up for my free recipe newsletter to get new family friendly recipes in your inbox each week! Find me sharing more kid-friendly inspiration on Pinterest and Instagram.
Roasted Courgette / Zucchini
A quick, easy and tasty way to serve courgette as a side dish. Roasting at a high temperature allows the courgette to get some browning before it turns mushy.
Prep Time: 3 minutes
Cook Time: 12 minutes
Total Time: 15 minutes
Serves:5
Hover over "serves" value to reveal recipe scaler
Ingredients
4 Zucchini
1½ tablespoon Olive Oil
1 teaspoon Italian Herbs (seasoning)
½ teaspoon Salt (skip if making for baby/toddler)
2½ tablespoons Parmesan Cheese
Instructions
Preheat oven to 240°C / 450°F (220°C fan)

Trim the ends off the courgette and cut into sixths lengthwise (halve lengthways then cut each half into 3 lengthwise spears).

Place courgettes on a large baking tray and coat in the olive oil, Italian herbs and parmesan cheese.

Arrange the zucchini, skin side down, on the baking sheet. Do not overcrowd and be careful not to overlap the spears. (Depending on the size of your baking tray you may have to split over two trays.)

Place in the oven and bake until the courgettes are tender and parmesan golden, about 12 minutes.

Remove the courgette from the oven and serve immediately
Recipe Notes
If making for a baby, skip the salt and parmesan to keep sodium levels down.  Nutritional information is a ROUGH guide only, calculated using an online nutrition calculator. 
Nutritional facts
Calories: 75kcal | Carbohydrates: 5g | Protein: 3g | Fat: 5g | Saturated Fat: 1g | Polyunsaturated Fat: 1g | Monounsaturated Fat: 3g | Cholesterol: 2mg | Sodium: 285mg | Potassium: 417mg | Fiber: 2g | Sugar: 4g | Vitamin A: 340IU | Vitamin C: 28mg | Calcium: 61mg | Iron: 1mg