This Vegetable Puree for babies is a delicious way to serve green vegetables to your little one. Broccoli, spinach and peas are blended along with sweet potato resulting in a nutrient-dense, tasty puree. Serve it smooth or chunky.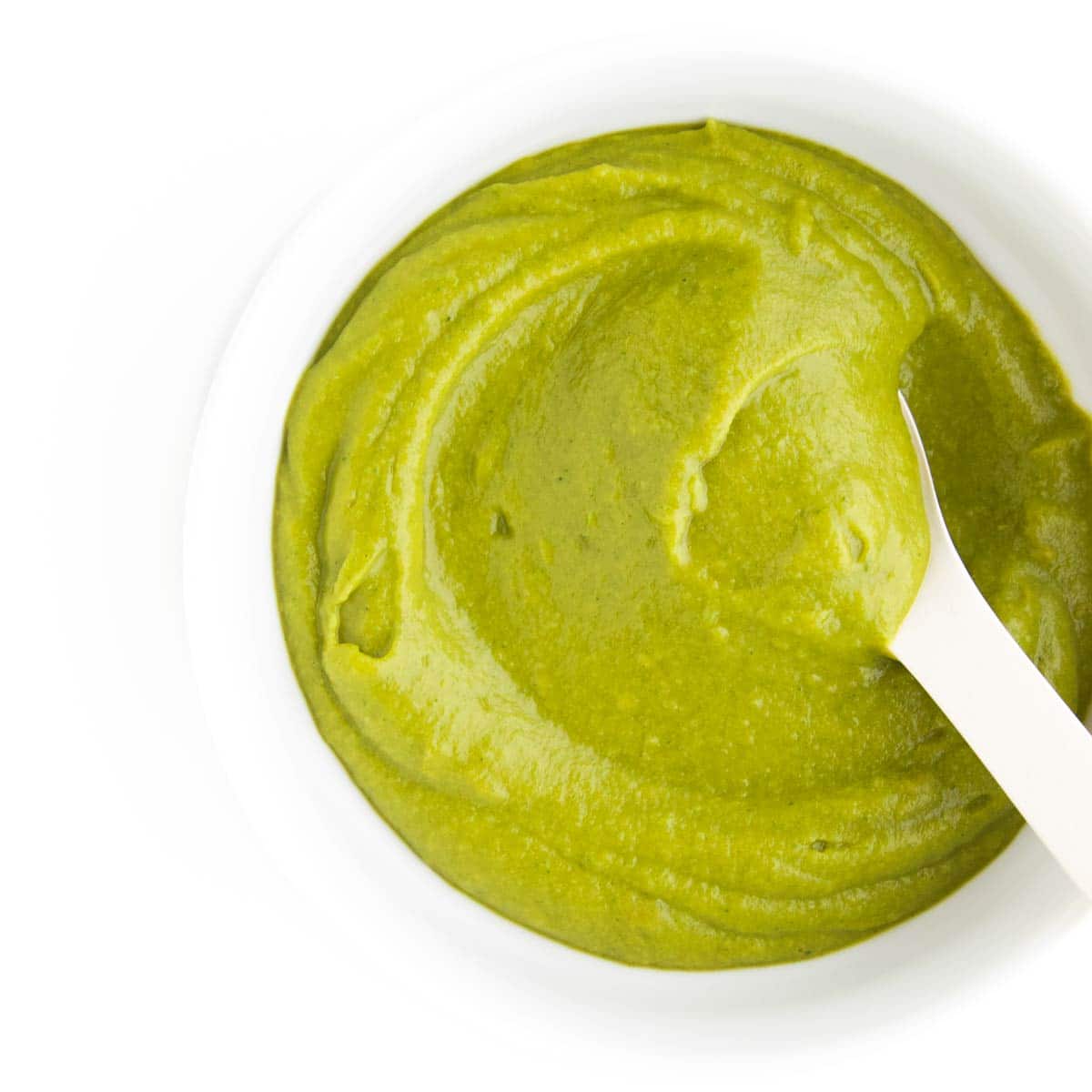 Single Vegetable Puree Recipes
Alternatively, you can cook a mixed vegetable puree. The main thing to consider when doing this is the cooking time of the vegetables and the texture you wish to achieve.
Jump to:
Video Tutorial
Ingredient Information
For the full recipe, with ingredient amounts, scroll to the recipe card at the bottom of the post.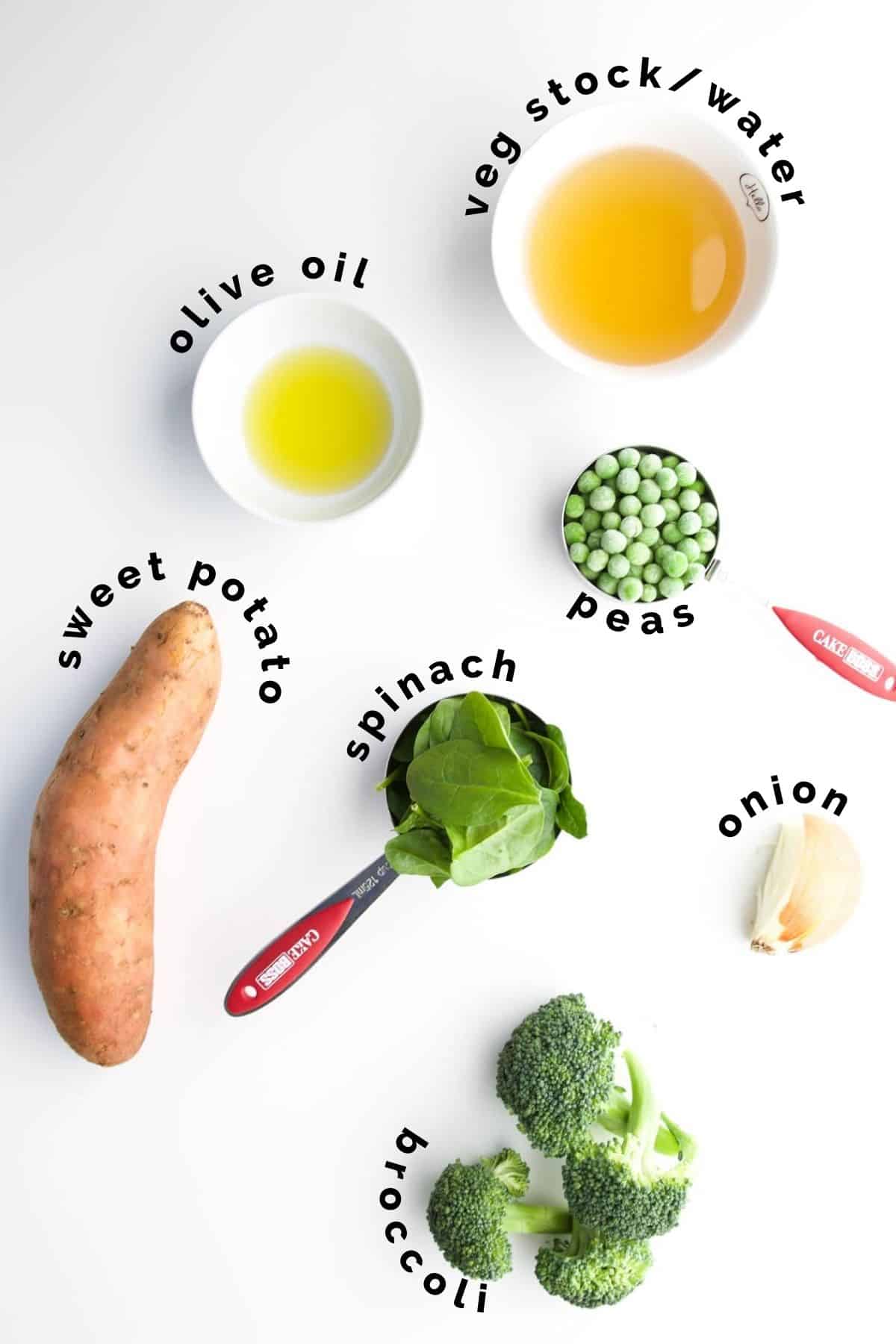 This recipe combines sweeter vegetables (sweet potato, sauteed onion and peas) with bitter vegetables (broccoli and spinach) to produce a delicious tasting puree. If your baby rejects bitter vegetables then you may find that combining them with sweeter vegetable results in a more appealing puree. (Remember to keep offering rejected foods, babies often need multiple offerings of certain foods before they are accepted)
This recipe does include some vegetable stock to help thin it out. You should use baby-friendly homemade vegetable stock (or chicken stock) to keep sodium levels low. Alternatively, you could just add some of the cooking water or miss it out for a chunkier puree.

Step by Step Instructions & Cooking Tips
Different vegetables take various lengths of time to cook and when making a mixed vegetable puree it is important to take this into consideration. You also want to chop the vegetables to a similar size to ensure even cooking.
Sweet Potato: Root vegetables take longer to cook so add the sweet potato to the steamer basket first. Cover and steam for 5 minutes. Try to chop the sweet potato to roughly the same size (1.5-2cm cubes. )
Broccoli Florets: Add the broccoli and steam for a further 4 minutes
Peas: Add to the steamer and steam for a further 2 mins.
Onion & Spinach: Saute the onion in a little oil until soft. This will release its natural sweetness and will add a lovely flavour to the puree. Add the spinach to wilt.
If you don't have a steamer/steamer basket then you can boil the vegetables. If you choose to boil the vegetables then reserve some of the cooking water to blend the vegetables with. This way you add back some of the nutrients that seep into the water during cooking.
Roasting some of the vegetables (sweet potato & onion) is another option, this helps with caramelisation and can add another depth of flavour.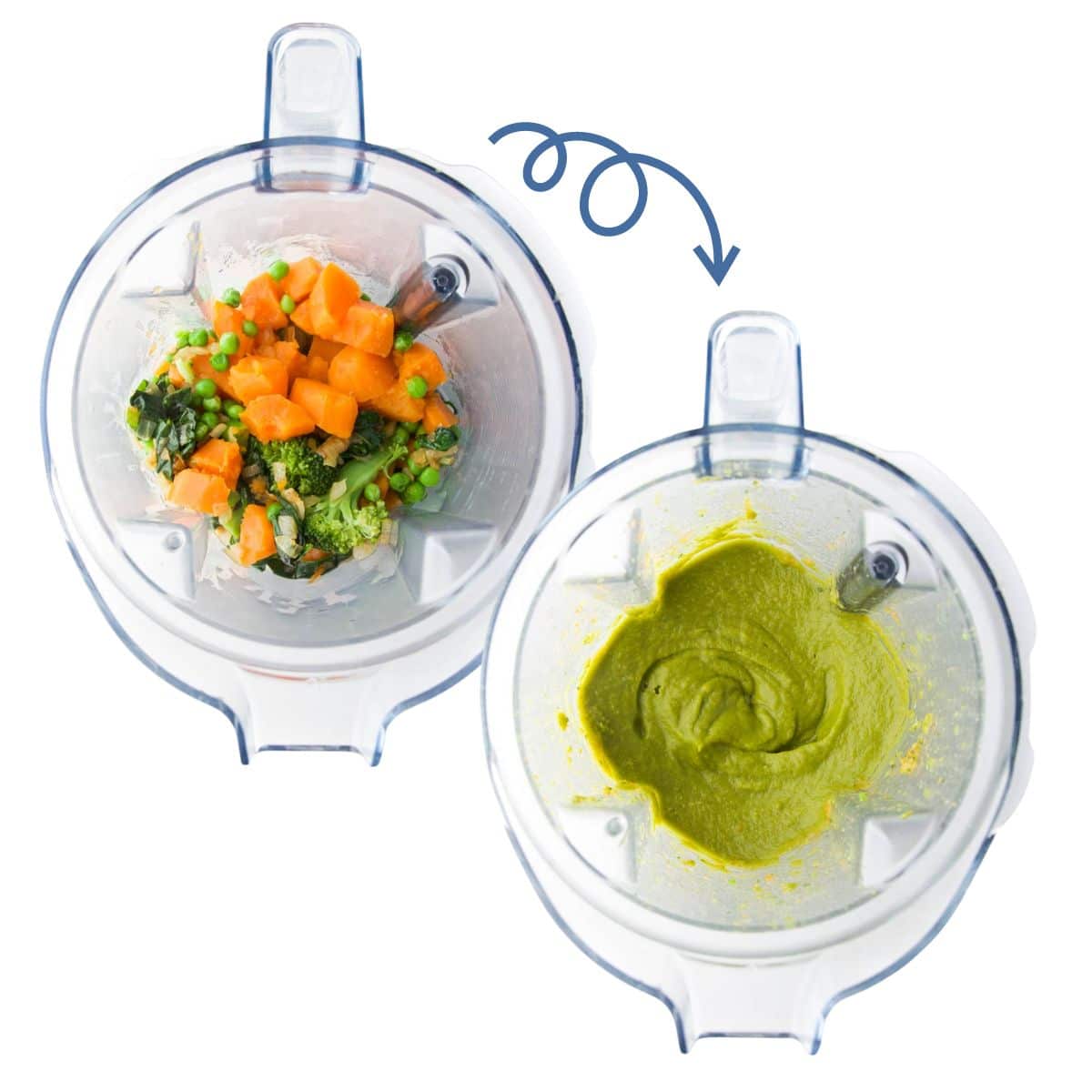 TEMPERATURE: Be careful that your vegetables aren't too hot and that steam doesn't build up. In some blenders, the steam will cause the lid to pop off causing an explosion all over your kitchen!
TEXTURE: Blend the puree to desired texture, adding more liquid if needed. Remember it is just as important to provide your baby with a variety of textures as it is to offer a variety of flavours. Try adding less liquid, mashing or pulsing in the blender to offer a textured puree.
NO BLENDER?: A food processor will also work and may even be better if making a thicker puree. You could also use a stick blender. The spinach and peas will be harder to puree smooth (if that is the consistency you are looking for) using a food processor/stick blender.
Vegetable Purees for Older Kids / Adults
My 11-year-old actually ate spoonfuls of this puree but I wouldn't really recommend this one to older kids/adults.
However, vegetable purees can be a great side dish for family meals. Cauliflower puree, pea puree, broccoli puree and carrot puree are some of our favourites.
Storage & Re-heating Instructions
Refrigerate: Allow to cool, place in an airtight container and refrigerate for up to two days.
Freeze: Allow to cool, spoon the puree into ice-cube trays and freeze until solid. Once they're fully frozen, quickly pop them out and place the frozen cubes into a freezer bag or container. Return to the freezer.
Re-heating: Thaw overnight in your refrigerator. Re-heat in the microwave or on the stove top until piping hot throughout and then allow to cool before serving your baby.
Read more about storing baby food.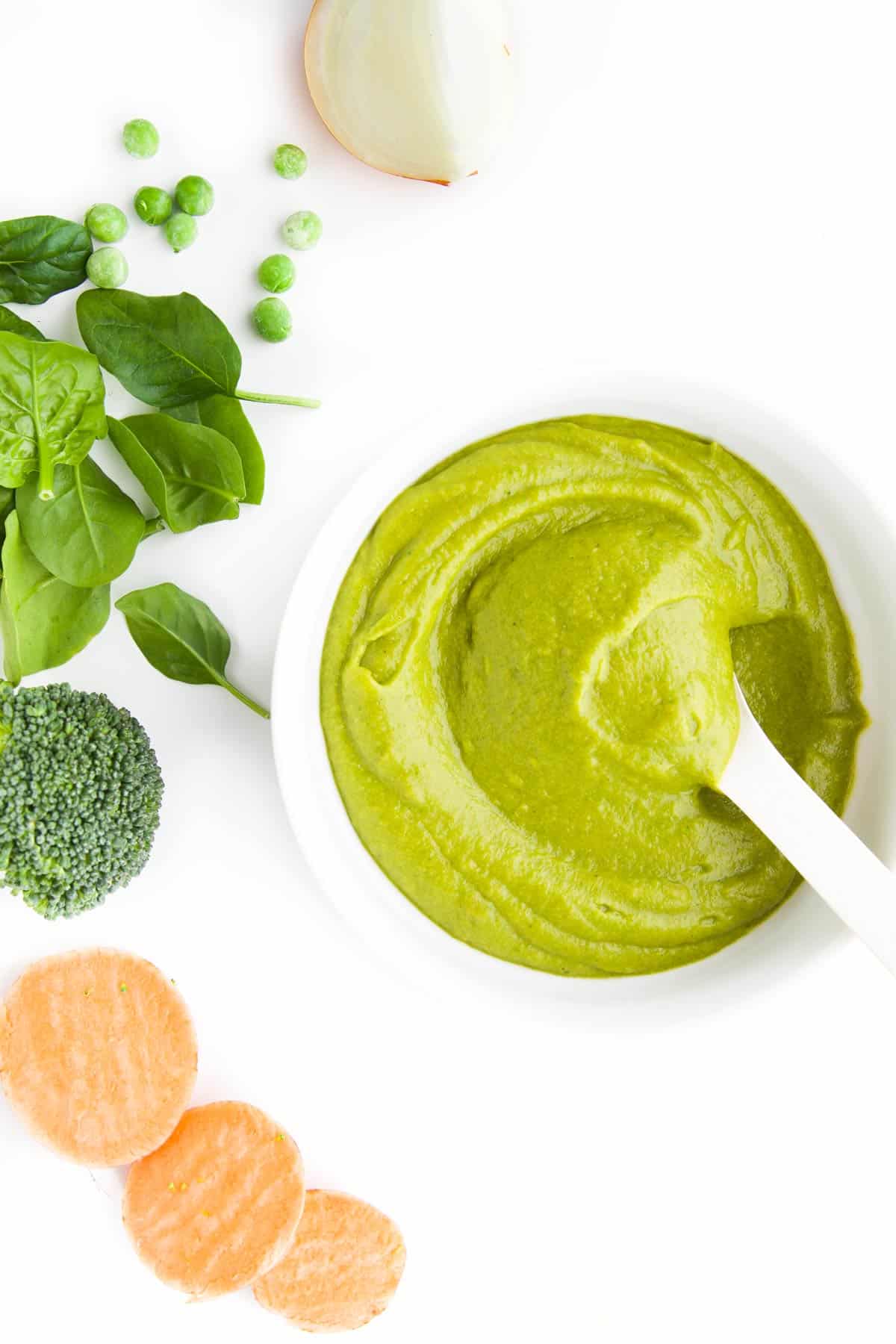 Other Puree Recipes
Looking for more healthy kid recipes?Sign up for my free recipe newsletter to get new family friendly recipes in your inbox each week! Find me sharing more kid-friendly inspiration on Pinterest and Instagram.
Vegetable Puree
Sweet potato and green vegetables are cooked and blended to produce a tasty and nutritious vegetable puree.
Prep Time: 5 minutes
Cook Time: 11 minutes
Total Time: 16 minutes
Serves:4
Hover over "serves" value to reveal recipe scaler
Equipment
High-speed blender, food processor or stick blender.
Ingredients
250g / ½ lb (2 cups chopped) Sweet Potato peeled and chopped into 1.5-2cm cubes.
1 teaspoon Olive Oil
¼ Onion finely chopped
75g (⅓ small broccoli) Broccoli, cut into small florets
45g (⅓ cup) Frozen Peas
15g (½ cup) Spinach
125ml (½ cup) Low Sodium Vegetable Stock (or Water) add more or less depending on desired consistency.
Instructions
Add water to a pot, ensuring the steamer basket sits just above the water. Bring to a boil and once boiling add the sweet potato to the basket, cover and allow to steam for 5 minutes.

Meanwhile, heat the olive oil in a skillet/fryingpan over medium heat. Add the onion and saute until softened, around 5 minutes.

Add the broccoli to the steamer (along with the sweet potato) and steam for 4 mins, add the peas and continue to steam for another 2 minutes until the vegetables are all soft.

Add the vegetables along with the vegetable stock (or water) to a blender or food processor and blend to make a puree. Add more liquid if necessary.
Recipe Notes
Use homemade vegetable stock or a low sodium stock suitable for babies. Alternatively use water. 
Allow the vegetables to cook slightly before blending. If too hot the steam can  cause the lid to pop. 
For a more textured puree/mash. Add all the vegetables to a bowl and mash together, adding a little stock if needed. Remember it is important to move through textures fairly quickly to allow your little one to develop the skills needed to manage more complex textures. 
Nutritional information is a rough guide only, calculated using an online nutrition calculator. 
Nutritional facts
Calories: 82kcal | Carbohydrates: 16g | Protein: 2g | Fat: 1g | Saturated Fat: 0.2g | Polyunsaturated Fat: 0.2g | Monounsaturated Fat: 1g | Sodium: 44mg | Potassium: 328mg | Fiber: 3g | Sugar: 4g | Vitamin A: 9422IU | Vitamin C: 24mg | Calcium: 36mg | Iron: 1mg