Pea Puree is so much more than a first food for babies. The vibrant colour, mild taste and the scent of fresh mint, makes it a fantastic accompaniment to so many dishes.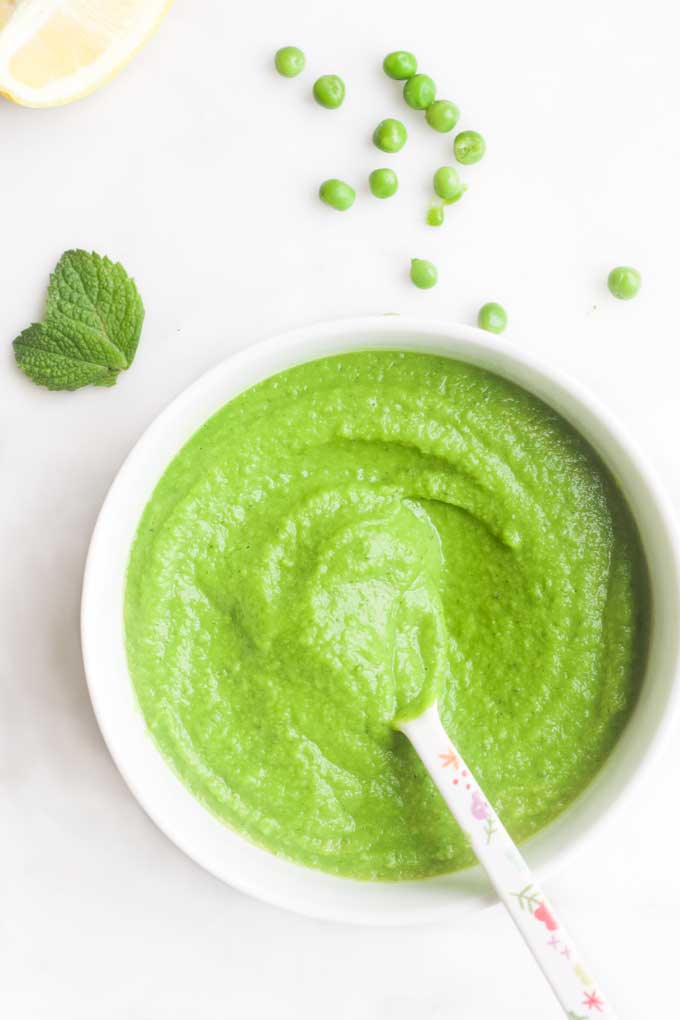 Many parents serve their babies purees but stop pureeing food once their little ones grow older. This is understandable as we want our little ones to get used to different textures.
However, purees can be a delicious way to add fruit or vegetable content to a meal. Even top restaurants serve mouth-watering plates of food that feature a puree of some sort. There are many reasons to love pea puree, it is:
Versatile: Perfect as a first puree for babies but also as an accompaniment to a range of dishes. Try serving it with fish, seafood, chicken or using it as a dip.
A Sensory Explosion: This puree hits all the senses, from the delicious taste, the minty fresh aroma to the vibrant green colour.
Quick and Easy to Make: Whip up the puree in under ten minutes.
Available All Year Round: Using frozen peas means your family can enjoy this puree regardless of season.
Freezable: Have frozen portions available at any time.
Jump to:
Ingredient Information
Peas: Frozen peas are used in this recipe, they are easy to use and available all year round. If you prefer, you can use fresh peas but give yourself a little more time for shelling.
Mint: Pea and mint is a classic combination but you can experiment with other herbs for a different flavour profile. Why not try parsley or tarragon.
Lemon Juice: Helps to balance the flavour profile of the puree and help keep the lovely vibrant colour.
Step By Step Instructions
Cook: Bring a pan of water to the boil, add the peas and simmer for approx 3-5 minutes. (Alternatively, you can steam the peas) Drain.
Blend: Add the peas and mint to a blender and blend until smooth. If you do not have a blender you can use a food processor.
Taste: Add lemon juice then taste and season accordingly (do not season if serving to baby/ young child).
Pea Puree for Babies
Peas have a naturally sweet taste that appeals to babies and young children. They can be combined with a range of foods to make delicious purees. Why not try:
Storage Instructions
Refrigerate: Place in an airtight container and refrigerate for up to two days, the puree may lose a little of its vibrancy.
Freeze: Spoon the puree into flexible ice-cube trays and freeze until solid. (Freezing in ice cube trays allows you to defrost the small amounts when you need it.) Once they're fully frozen, quickly pop them all out and place the frozen cubes into a freezer bag or container and return to the freezer. Thaw in the refrigerator.
Frequently Asked Questions
How do you get pea puree silky smooth
You can see from my pictures that the puree has a little texture. If you are wanting a silky smooth finish (usually wanted for fancy plating) then tip the puree into a fine sieve and use the back of a spoon to push it through. Some high spec blenders will give a smooth puree without having to do this step. 
How do you make pea puree bright green?
If the peas are exposed to heat for too long, the chlorophyll spills out of the vegetable. Make sure not to overcook the peas (you don't want the water to start turning green). You can also "shock" the peas by draining them and immediately adding them to a bowl of ice water. 
More Purees to Try...
Looking for more healthy kid recipes?Sign up for my free recipe newsletter to get new family friendly recipes in your inbox each week! Find me sharing more kid-friendly inspiration on Pinterest and Instagram.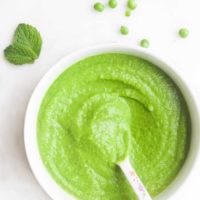 Pea Puree
Pea Puree is so much more than a first food for babies. The vibrant colour, mildly sweet taste and the scent of fresh mint, makes it a fantastic accompaniment to so many dishes. 
Prep Time: 5 minutes
Cook Time: 5 minutes
Total Time: 10 minutes
Serves:6
Hover over "serves" value to reveal recipe scaler
Ingredients
250g (1 & ¾ cups) Frozen Peas
5 Mint Leaves
4 tablespoon Water (add extra if needed)
1 teaspoon Lemon Juice (more if needed)
Instructions
Bring a pan of water to the boil, add the peas and simmer for 3-5 mins. (Alternatively, place peas in a steamer basket, and place over the pan of boiling water. Cover and steam for 3-5 minutes.)

Drain and add peas to a blender along with the water and mint. Blitz until smooth.

Add the lemon juice and stir. Taste and season as required (do not season if serving a baby)
Recipe Notes
For a silky smooth puree: Tip the puree into a fine sieve and use the back of a spoon to push it through.  Ensure Your Puree is Vibrant Green: If the peas are exposed to heat for too long, the chlorophyll spills out of the vegetable. Make sure not to overcook the peas (you don't want the water to start turning green). You can also "shock" the peas by draining them and immediately adding them to a bowl of ice water.   Store: Refrigerate for up to 2 days. Freeze in small portions for up to 3 months. (See above post for full storage instructions) 
Nutritional facts
Calories: 35kcal | Carbohydrates: 6g | Protein: 2g | Fat: 1g | Saturated Fat: 1g | Sodium: 3mg | Potassium: 102mg | Fiber: 2g | Sugar: 2g | Vitamin A: 354IU | Vitamin C: 17mg | Calcium: 12mg | Iron: 1mg