This Chicken Puree is a great way for a baby to first try chicken. The meat is cooked and blended with sweet potato carrot and onion for extra flavour and nutrition.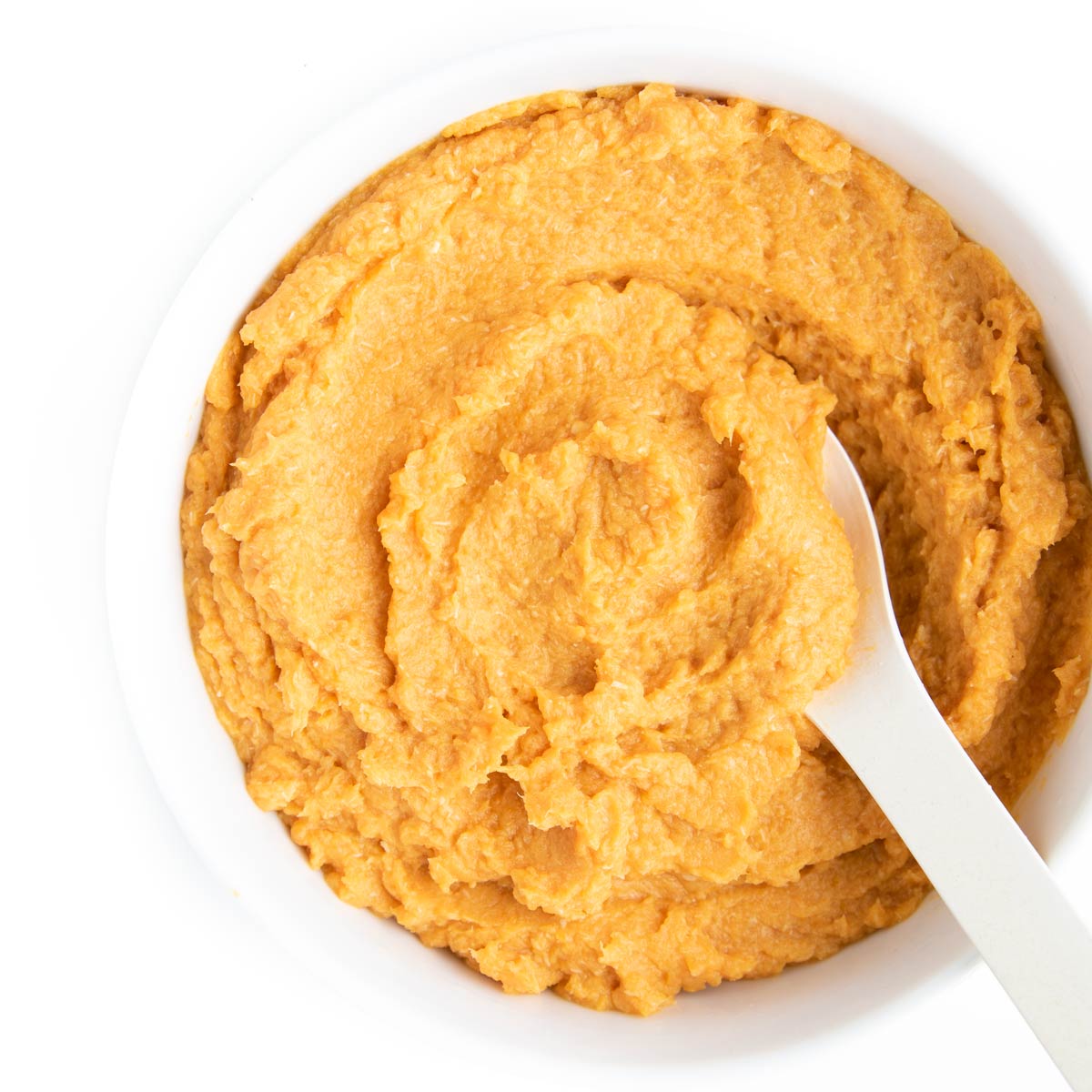 Jump to:
Reasons to Love this Puree
Nutrition: In general, for 6- to 12-month-old babies, you want to focus on foods that are nutrient-dense and packed with iron.
Chicken is a great source of protein and contains many nutrients that babies need to thrive. These include vitamins B3, B6 & B12, zinc, choline and selenium and iron.
Sweet potato is also a non-heme source of iron and contains vitamin C which aids the absorption of iron.
Read more on iron rich foods.
Texture: Chicken can be dry and gritty/chalky when blended unless you have a very powerful blender and add a good bit of liquid.
Cooking the chicken with some vegetables helps with the texture.
Taste: Not only do the vegetables help with texture, but they also provide lovely flavour. If your baby has previously enjoyed sweet potato puree or carrot puree then this is a good way to introduce chicken.
Freezer Friendly: Make a batch and freeze in small portions for busier days/evenings.
Video Tutorial
Ingredient Information
For the full recipe, with ingredient amounts, scroll to the recipe card at the bottom of the post.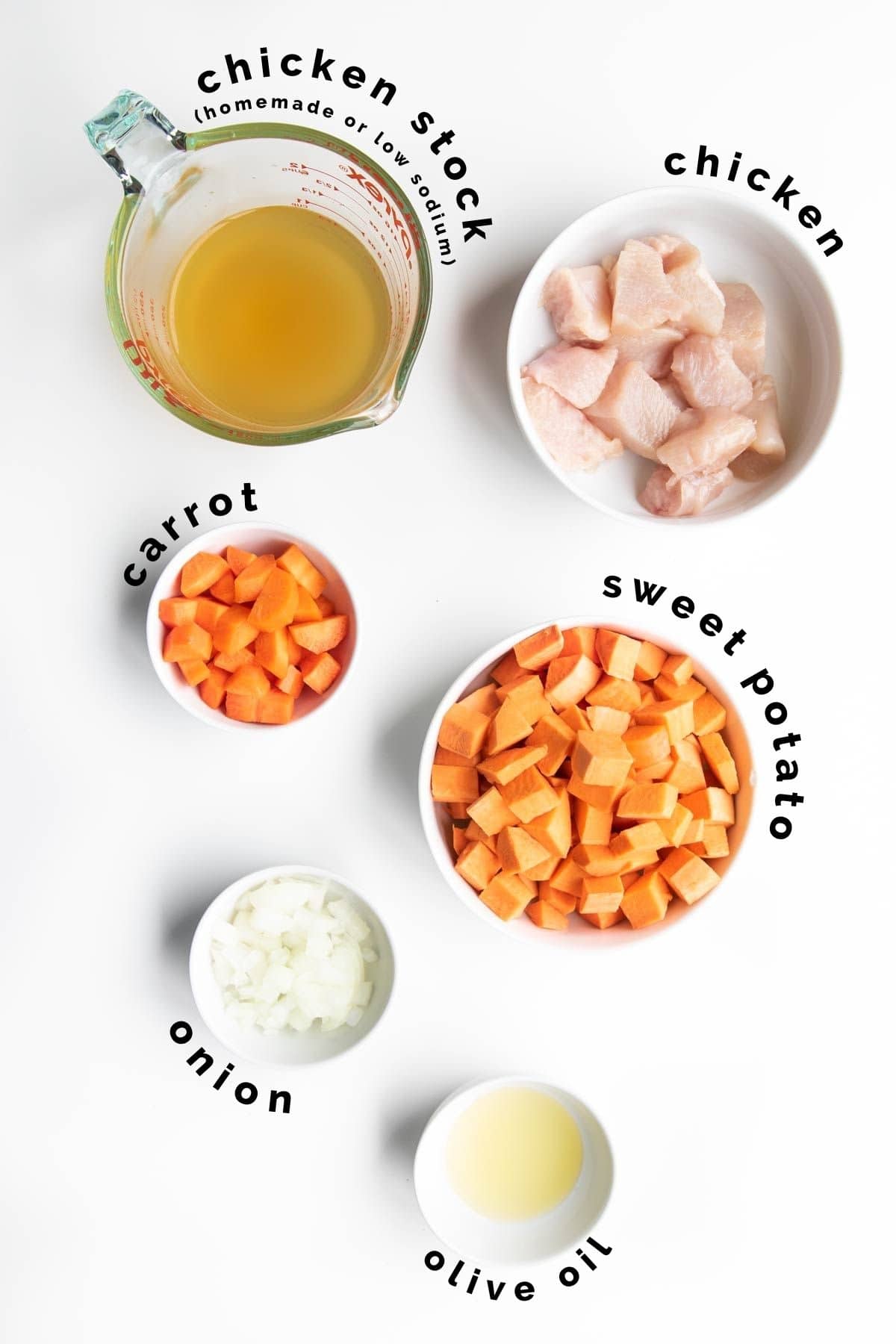 CHICKEN - Use skinless, boneless chicken breast or thigh meat.
CHICKEN STOCK / BROTH - Chicken stock/broth adds great flavour but most are unsuitable for babies as they are high in salt. You can make your own baby friendly chicken stock or hunt down some low sodium stocks/stock cubes. You can also water down the stock or simply replace it with water.
A baby under the age of 1 year can only have up to 1g of salt per day so read the label and check the salt levels. Food labels may sometimes write sodium instead of salt, to find the salt equivalent simply multiply the sodium number by 2.5.
Read more about salt for babies.
SWEET POTATO & CARROT - Added for flavour, texture and nutrition. Chicken puree can often be dry/chalky in texture. Adding the carrot and sweet potato helps with the texture and adds a lovely sweet flavour.
ONION - Added for flavour.
Process Shots (and Cooking Tips)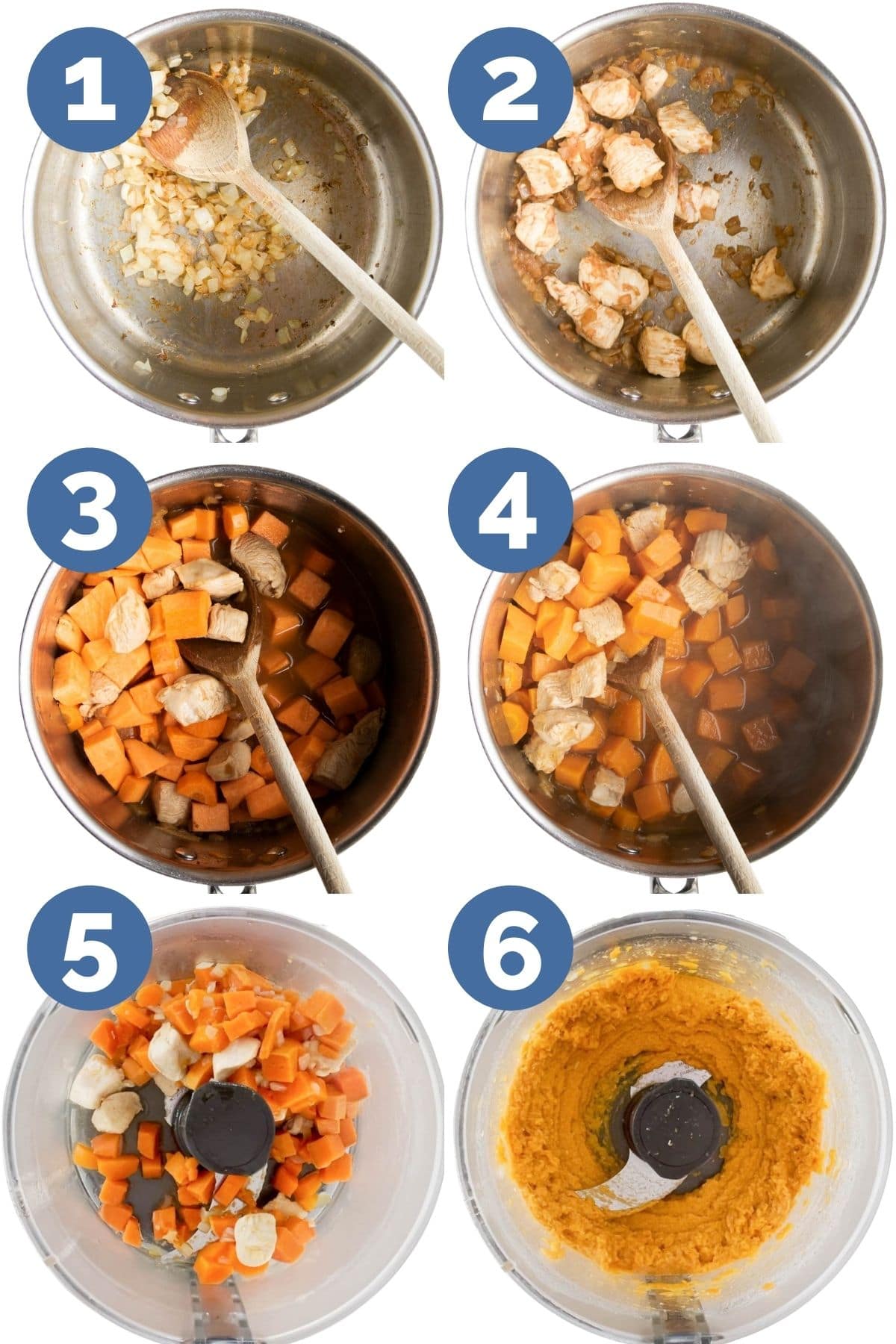 SAUTE ONION: This releases the natural sweetness of the onion and provides a lovely flavour base, take 2-3 minutes to do this over medium-low heat.
SAUTE CHICKEN: Add the chicken and stir for 30 seconds or so, just until the chicken turns opaque.
ADD CARROT, SWEET POTATO AND STOCK: Add the remaining ingredients. TIP: Make sure to chop your sweet potato and carrot small so that it cooks quicker.
SIMMER for 15 mins or until the vegetables are fork-tender.
ADD TO BLENDER/FOOD PROCESSOR: Use a slotted spoon to remove the chicken and vegetables from the cooking stock.
BLEND until desired consistency is reached. Add tablespoons of the stock to thin the puree. I find around 3-4 tablespoons a good amount.
Frequently Asked Questions
At what age can a baby have this chicken puree?
You can offer this puree from 6 months.
Storage & Reheating Instructions
Refrigerate
You can store this chicken puree, in an airtight container, in the refrigerator for up to 2 days.
Do not store food from a bowl you have previously given your baby. "Double Dipping" from the spoon-to mouth- to container can introduce bacteria from your baby's saliva which can grow and may cause food poisoning.
Throw away any leftover food from a bowl/container you have been using to feed your baby.
Freeze
Spoon the puree into ice cube trays or small containers. Cover and freeze until solid.
When ice cubes are frozen, remove cubes from the tray and store them in a resealable plastic freezer bag or freezer container.
Label package with contents and date. Use within 2 months.
The best way to defrost purees is to refrigerate overnight and use them within 24 hours. You can also reheat from frozen.
Re-heat
It is important that you reheat baby food until piping hot to kill off bacteria. Allow to cool and always test the temperature of the food before giving your baby.
You can reheat using a microwave or on the stovetop. Make sure to continually stir the food to ensure it is properly heated and to get rid of hot spots.
Only re-heat once and discard any leftover puree that has already been reheated.
Do you want to learn more about storing baby food? This guide to storing baby food covers how to safely store, refrigerate, freeze and reheat your baby's food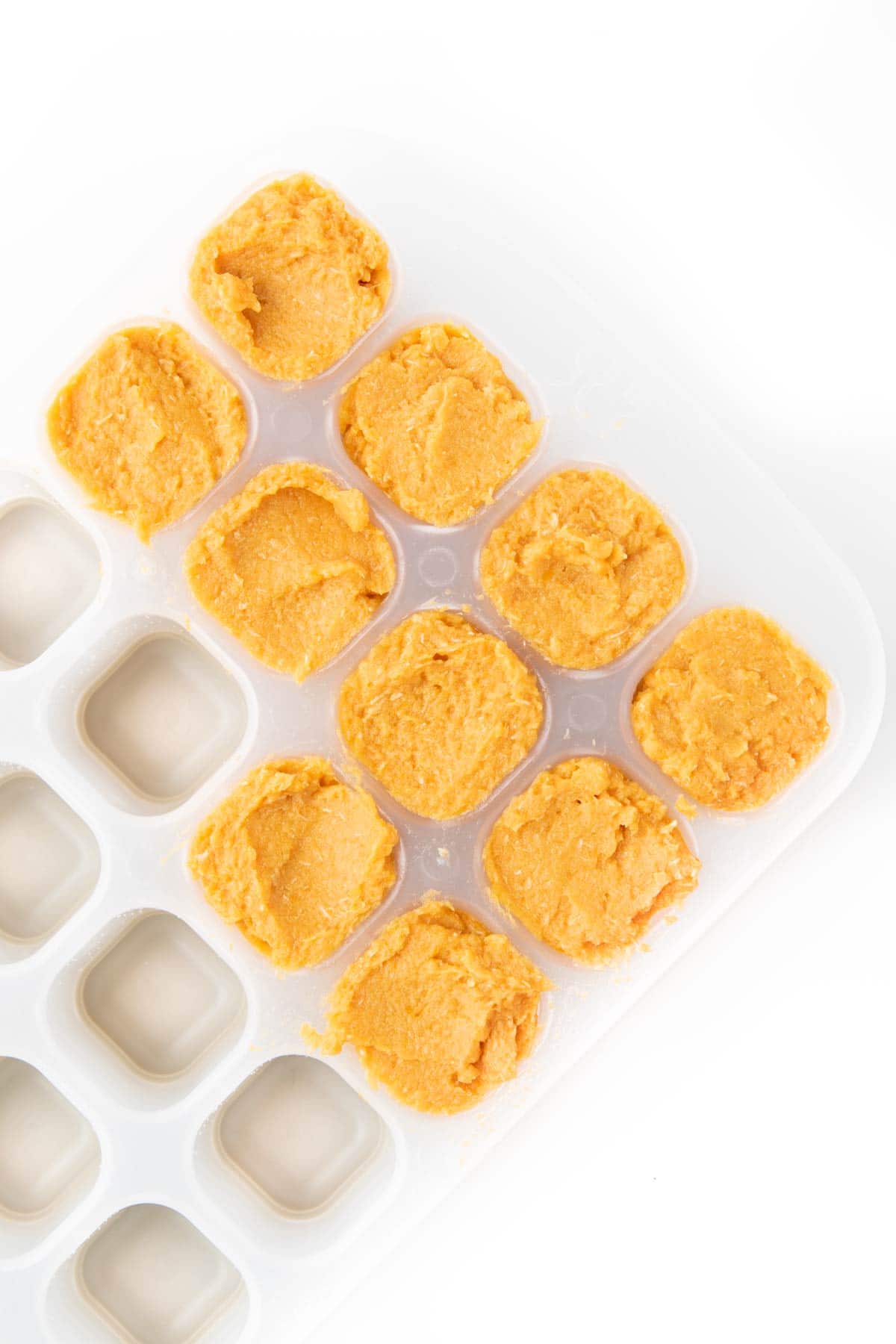 More Chicken Recipes?
Ready to try finger foods? Some chicken recipes you may wish to try...
Looking for more healthy kid recipes?Sign up for my free recipe newsletter to get new family friendly recipes in your inbox each week! Find me sharing more kid-friendly inspiration on Pinterest and Instagram.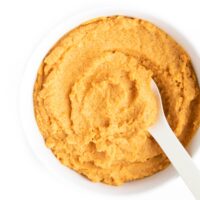 Chicken Puree
Chicken cooked with sweet potato, carrot and onion and then blended to make a delicious puree for babies.
Prep Time: 5 minutes
Cook Time: 20 minutes
Total Time: 25 minutes
Serves:4
Hover over "serves" value to reveal recipe scaler
Equipment
High Speed Blender or Food Processor
Ingredients
½ tablespoon Olive Oil
½ small Onion ,finely chopped
160g (1 cup chopped) Boneless Skinless Chicken Breast or Thighs ,chopped into approx. 2.5 - 3cm (1 inch) cubes
300g / 11oz (2 cups chopped) Sweet Potato ,peeled and chopped into approx. 1-1.5cm (½ inch) cubes
80g / ⅓ cup Carrot peeled and chopped into approx. 1- 1.5 cm (½ inch) cubes
250ml / 1 cup Chicken Stock homemade or baby friendly (see notes)
Instructions
Heat the oil in a medium saucepan over medium heat, add the onion and saute for 2-3 minutes.

Add the chicken and saute for around 30 seconds, until the chicken turns opaque.

Add the sweet potato, carrot and stock. Bring to a boil, cover and gently simmer for 15 mins or until the vegetables are fork tender.

Using a slotted spoon, transfer the chicken and vegetables to a blender or food processor, reserving the cooking liquid. Puree until desired consistency. Add tablespoons of the cooking broth to help achieve thinner, smoother texture.
Recipe Notes
Chicken stock / broth adds great flavour but most are unsuitable for babies as they are high in salt. You can make your own baby friendly chicken stock or hunt down some low sodium stocks / stock cubes. You can also water down the stock or simply replace it with water.
Nutritional information is a ROUGH guide only, calculated using an online nutrition calculator. 
Nutritional facts
Calories: 93kcal | Carbohydrates: 18g | Protein: 2g | Fat: 2g | Saturated Fat: 1g | Polyunsaturated Fat: 1g | Monounsaturated Fat: 1g | Sodium: 59mg | Potassium: 339mg | Fiber: 3g | Sugar: 4g | Vitamin A: 13982IU | Vitamin C: 4mg | Calcium: 32mg | Iron: 1mg