Chicken fajitas, a fun interactive meal for kids.
Chicken fajitas are a great fast food meal and kids seem to love the interactive nature of them. Finn loves filling his tortilla and then trying to wrap them up. (I wish I had captured a photo of his finished wrap – it was a classic!)
Have you ever taken a look at the ingredient list of a packet of fajita seasoning?  Both sugar and salt featured very high in all the packs I have looked at.  One pack even had sugar as the first ingredient. I make my own seasoning so I can omit any salt (to make it suitable for toddlers) and any sugars or other ingredient that I do not feel necessary.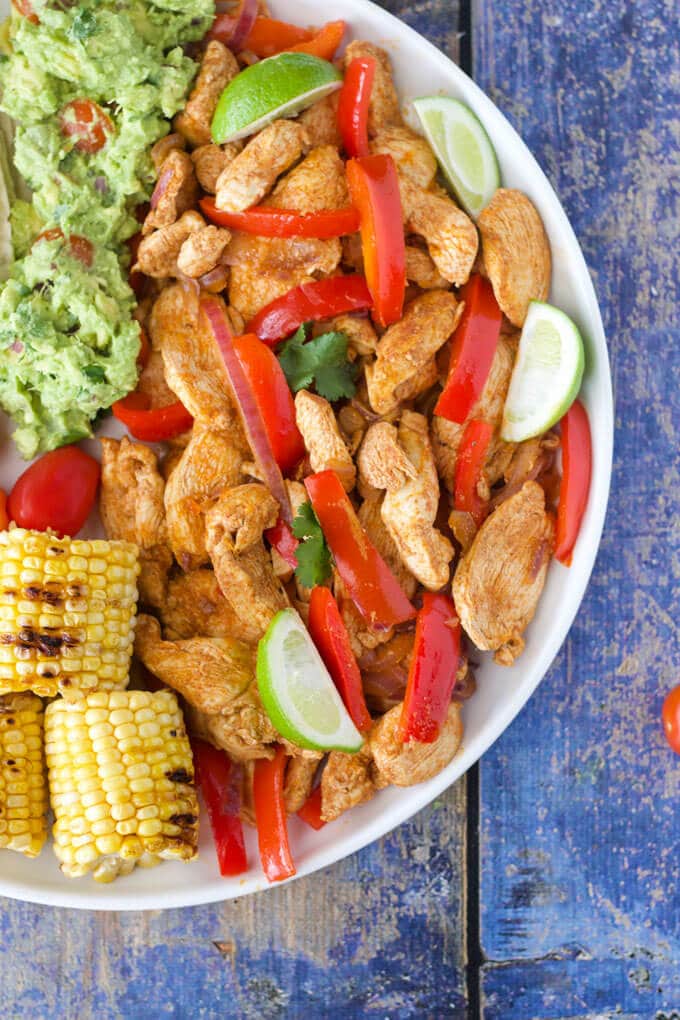 This recipe is so simple and quick to prepare. You can easily omit/ change/ add to the mixture to suit your families' taste buds.  Our family love the flavour profile of sweet smoked paprika so this is the main spice in the recipe. Using a different type of paprika will change the flavour of the seasoning.
I serve this with guacamole, corn, salsa and greek yogurt along with wholemeal tortilla wraps or on top of a salad. If you have any leftovers then why not try making a Mexican chicken tortilla pizza?
Looking for more healthy kid recipes?Sign up for my free recipe newsletter to get new family friendly recipes in your inbox each week! Find me sharing more kind-friendly inspiration on Pinterest and Instagram.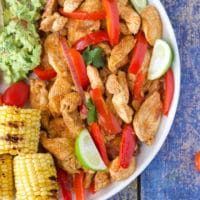 Chicken Fajitas
Chicken coated in delicious spices and cooked with onion and peppers.
Prep Time: 10 minutes
Cook Time: 10 minutes
Total Time: 20 minutes
Serves:4
Hover over "serves" value to reveal recipe scaler
Ingredients
2 tsp smoked paprika
1/2 tsp cumin
1 clove garlic - peeled and crushed
2 tbsp olive oil
2 large chicken breasts - cut into thin strips
1 onion - halved and thinly sliced
1 red pepper , deseeded and sliced
1 yellow pepper , deseeded and sliced
1 lime
Instructions
Mix together the paprika, cumin, garlic and 1tbsp of oil in a bowl. Add the chicken and coat with the mixture. Allow to marinade for 5 mins +.

Heat the remaining oil in a large frying pan and cook the chicken for a couple of mins before adding the onion and peppers. Cook for a further 5 mins (until the chicken is cooked through and the vegetables have softened.)

Squeeze the juice of the lime into the mixture and serve.
Recipe Notes
Delicious served with guacamole, salsa and some greek yogurt in wholemeal tortilla wraps.