Enhance your little one's meals with the goodness of this homemade Vegetable Stock for Babies. It allows you to add delicious flavour to their food, whilst avoiding the excessive salt content found in many store bought stocks.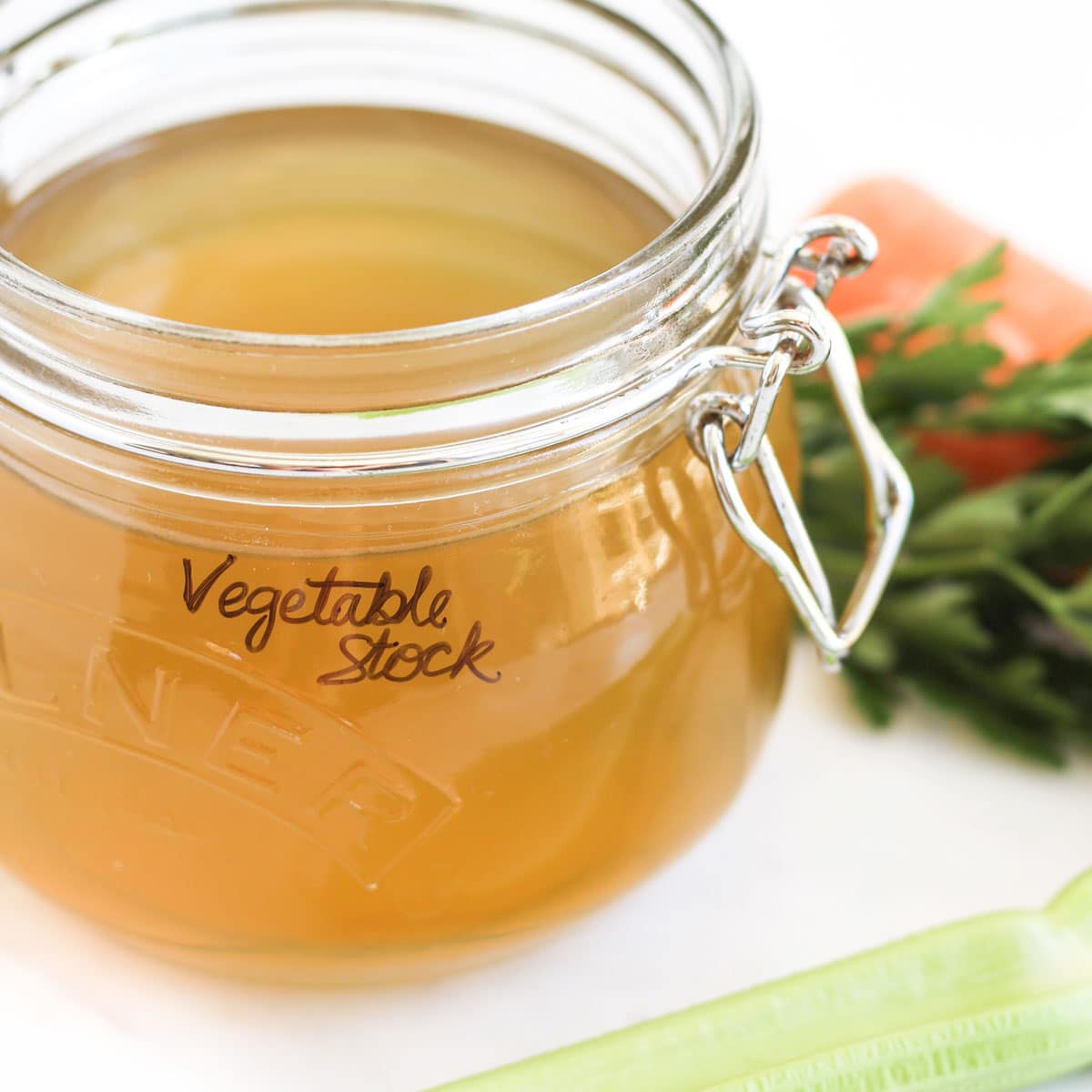 While I initially made vegetable stock to reduce the use of added salt when my eldest was a baby, I now continue to make it as a means to make use of vegetables that have seen better days. It is a versatile recipe that proves useful in reducing food waste and maximising the flavours of everyday ingredients.
Jump to:
What is Vegetables Stock and Why You Should Make Your Own
Although I call this stock, technically I should call it broth. This is because stock refers to a liquid that has had bones simmered in it. If there are no bones, it's not really stock, but rather a broth. However, I have grown up knowing it as stock so this is what I call it!
Vegetable stock (or technically broth) is a liquid made with vegetables, herbs and water. It is simmered for around an hour and is used as a basis for a tasty soup or as the liquid component in dishes such as stews, curries, sauces and risotto.
Making your own...
allows you to control ingredients to suit your family's age/stage and dietary requirements.
makes good use of leftover vegetable scraps or vegetables on the turn, which would otherwise be discarded.
It saves you buying boxed and cubed stock.
Ingredient Information (and Alternative Suggestions)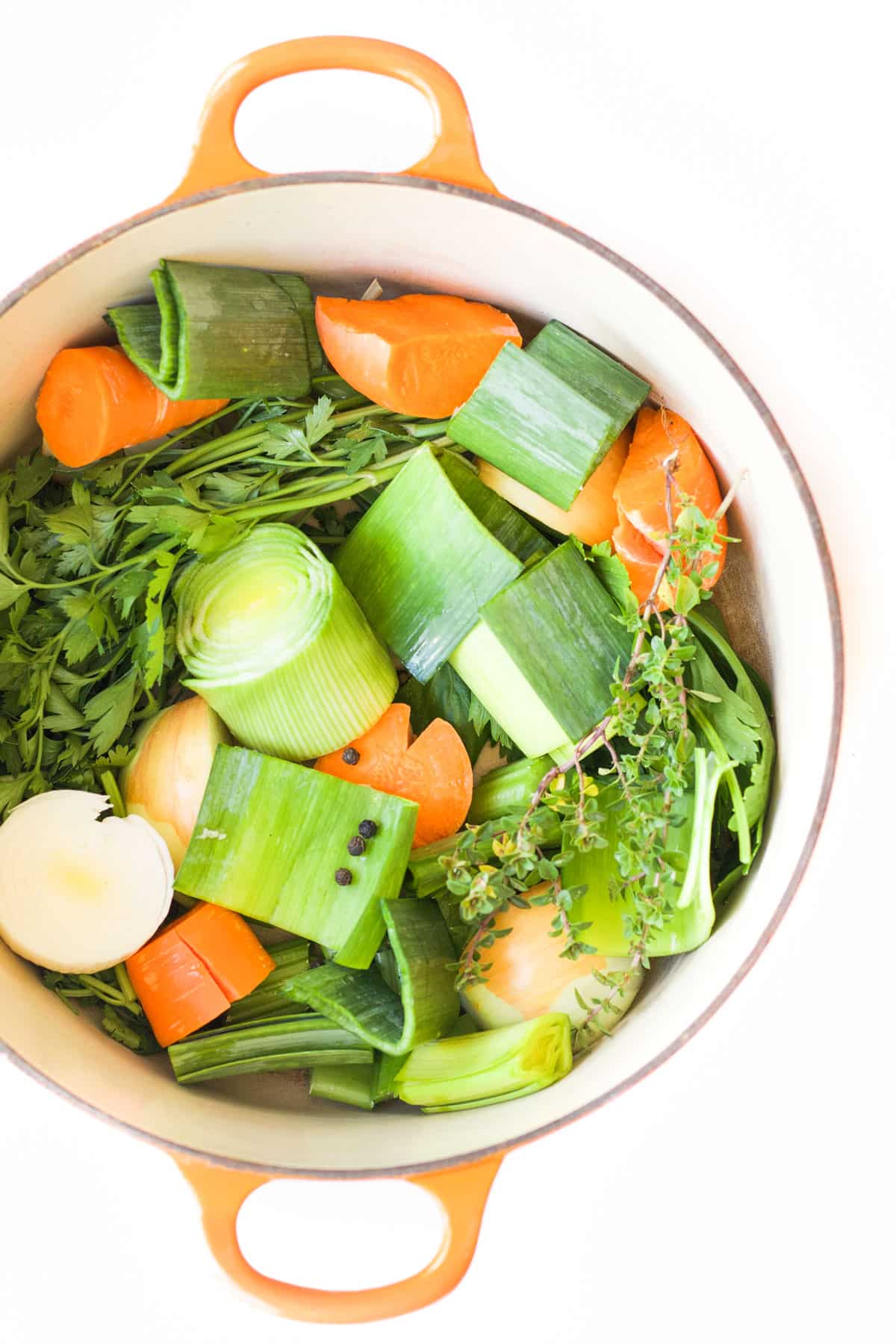 Vegetables that work well - Onions, carrots, and celery are staples in vegetable stock, but other vegetables, in smaller amounts, can add depth and extra flavour.
Leeks, spring onion, garlic, parsnips, squash, capsicum (bell peppers), mushrooms & corn cobs are all great. In addition, herbs, like parsley, can deepen the flavour.
Vegetables to avoid - Cruciferous veggies, like broccoli, cabbage, turnips and Brussels sprouts, should be avoided when making stock. They tend to give off a sour note when simmered for a long period of time.
Beetroots or purple carrots should also be avoided as they will discolour your stock.
Although stocks are a great way to use up vegetables that are starting to wilt, mouldy or rotten vegetables should be avoided.
Vegetable Scraps - Vegetable scraps are great for stock. Wash and save roots, stalks, leaves, ends, and peelings from a range of vegetables and herbs. Store in the freezer, in an airtight bag or container, until ready to use.
Herbs, Spices and Extra Flavours -Depending on what you plan to use your stock for, you can add various ingredients to add more flavour.
For Asian inspired dishes you may wish to throw in ginger, lemongrass, star anise and/or coriander.
Parmesan rinds and Italian (fresh) herbs are great for flavouring stock if you plan to use it in Italian dishes.
If you like a sweeter stock, sweet potato, parsnip, pumpkin and corn cobs will all add sweetness.
For extra depth try adding a range of herbs, tomato paste (will turn it red) or nutritional yeast.
Step By Step Instructions (and Cooking Tips)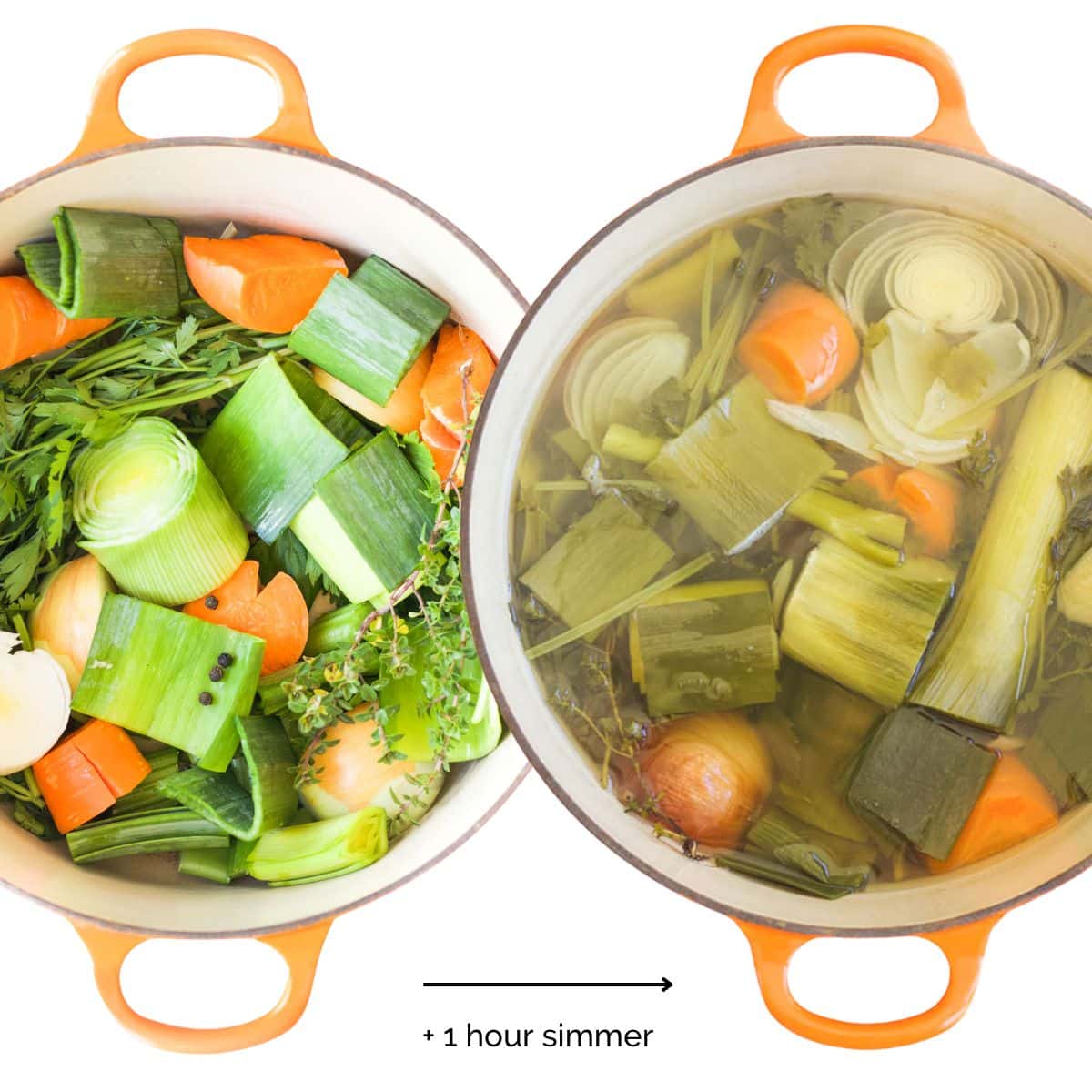 Add the vegetables along with the herbs and peppercorns to a large pot and fill with the water.
On medium heat, heat until it reaches a boil. Immediately reduce to a gentle simmer. Partially cover and simmer for around 1 hour.
TIP: It is important that you keep an eye on your stock, don't allow it to rapidly boil as it will destroy flavours.
Strain and discard the solids.
You can do this by pouring everything through a colander into a seperate pan and then pouring that liquid through a fine mesh sieve. (pictured). Alternatively, position the lid on the pot to hold back the vegetables, and pour the liquid through a fine mesh strainer into another pot or bowl.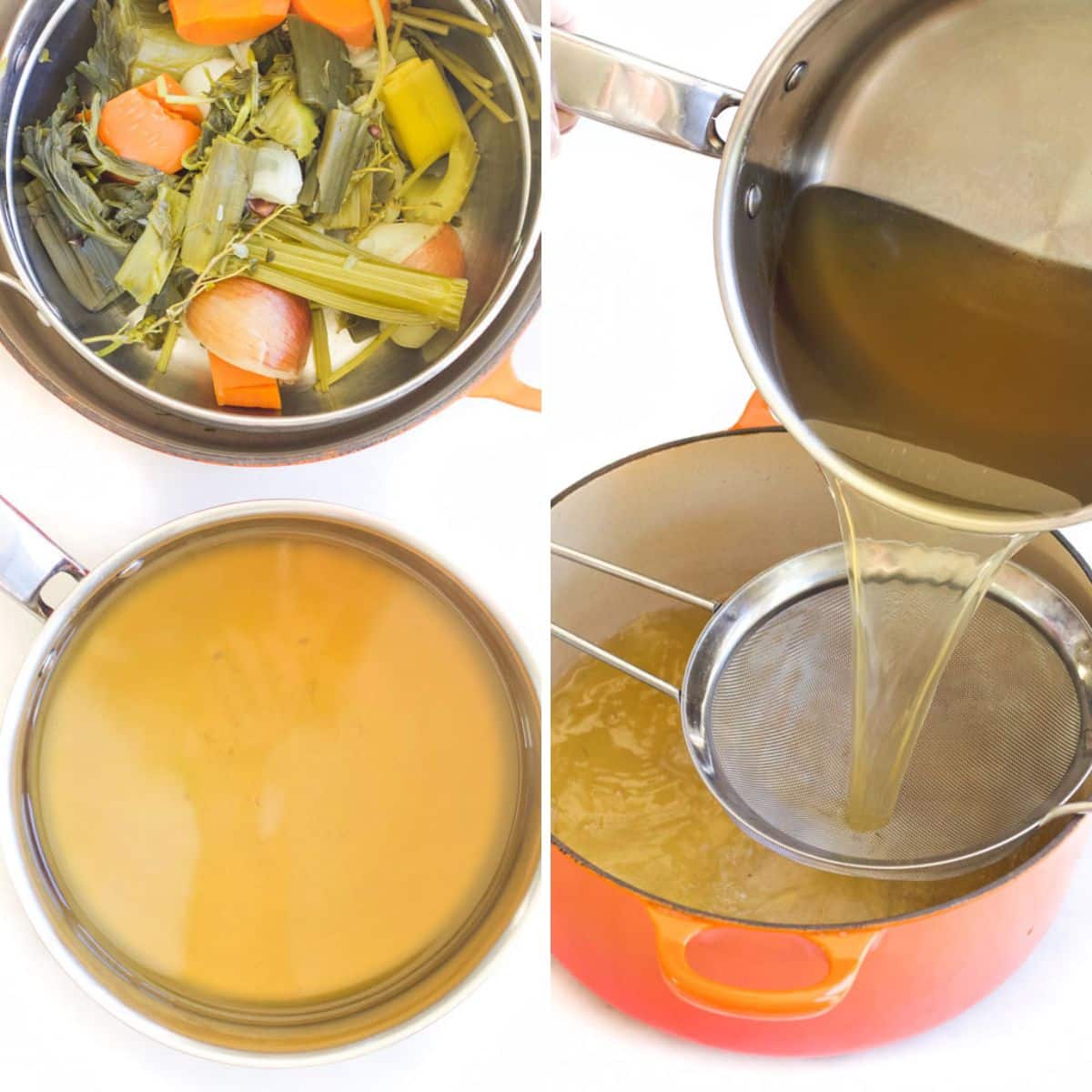 Great Uses for Vegetables Stock
This baby-friendly vegetable stock serves as an excellent choice for your little one's meals. It can be used in various recipes that call for stock, broth ore water. Here are some ideas to explore:
Recipe FAQs
When can I give my baby vegetable stock?
You can use this vegetable stock in baby food when you start introducing solids, typically at 6 months.
It should be used as an ingredient and not served as a replacement to solid foods. Never serve this as a replacement for formula or breastmilk.
How do I store vegetable stock?
Cool the stock and transfer it to airtight containers. Refrigerate and keep for up to 4 days.

Alternatively, cool then transfer to airtight, freezable containers. The stock will last 4-6 months in the freezer.

Once thawed you can not refreeze, it is, therefore, a good idea to freeze in small amounts. This way you can just take what you need from the freezer.

If cooking for a baby it is a good idea to freeze in ice cube trays. You only need small amounts so doing this allows for very little wastage. Once frozen in the ice-cube trays, transfer to a freezable container/ziplock bag.

If cooking for a family, you may wish to freeze in larger amounts. Around 500ml (2 cups) is a useful amount to freeze per container.
Is this stock just for babies?
No! Everybody in the family can enjoy it. You may need to add a little seasoning for older members of the family.
Could I make this vegetable stock in the slow cooker?
I haven't personally haven't tried this recipe in the slow cooker but I don't see why not. I would try cooking in on low for 6 hours.
You may also like...
Looking for more healthy kid recipes?Sign up for my free recipe newsletter to get new family friendly recipes in your inbox each week! Find me sharing more kid-friendly inspiration on Pinterest and Instagram.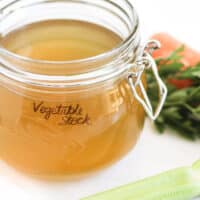 Vegetable Stock
An easy one-pot vegetable stock recipe. Great for using when cooking for babies.
Prep Time: 10 minutes
Cook Time: 1 hour 10 minutes
Total Time: 1 hour 20 minutes
Serves:4 cups (1 litre)
Hover over "serves" value to reveal recipe scaler
Ingredients
1 onion you can include the skin
1 leek
2 large carrots unpeeled
2 celery stalks (and leaves)
1 bunch parsley
2 sprigs thyme
10 peppercorns
1.5 litres (6 cups) water
Instructions
Wash and roughly chop all the vegetables

Add the vegetables along with the herbs and peppercorns to a large pot and fill with the water.

On medium heat, heat until it reaches a boil. Immediately reduce to a gentle simmer. Partially cover and simmer for around 1 hour. (SEE NOTE 2)

Strain, season to taste (SEE NOTE 3), and discard the solids.
Recipe Notes
These ingredients are a rough guide. You can add other veggies / herbs to change the flavour profile. (See above post for recommendations)
It is important that you keep an eye on your stock, don't allow it to rapidly boil as it will destroy flavours. 
Remember stock is an ingredient, not a finished product.  It should have a vegetable taste but shouldn't be overpowering. It is not a soup. A little seasoning can bring out flavour but think about the dishes you are using it in. Do not season if using to make baby food.
Nutritional information is a very rough guide only, calculated using an online nutrition calculator. As vegetables are discarded, facts are very much an estimate.
Nutritional facts
Calories: 46kcal | Carbohydrates: 10g | Protein: 1g | Fat: 0.3g | Saturated Fat: 0.1g | Polyunsaturated Fat: 0.1g | Monounsaturated Fat: 0.1g | Sodium: 42mg | Potassium: 286mg | Fiber: 3g | Sugar: 4g | Vitamin A: 7620IU | Vitamin C: 27mg | Calcium: 56mg | Iron: 2mg