This homemade Chicken Stock for Babies allows you to enhance your little one's food with delicious flavours, while avoiding the high salt content found in many commercial stocks. Plus, it's a convenient ingredient that you can make and sore in the freezer for easy use whenever needed.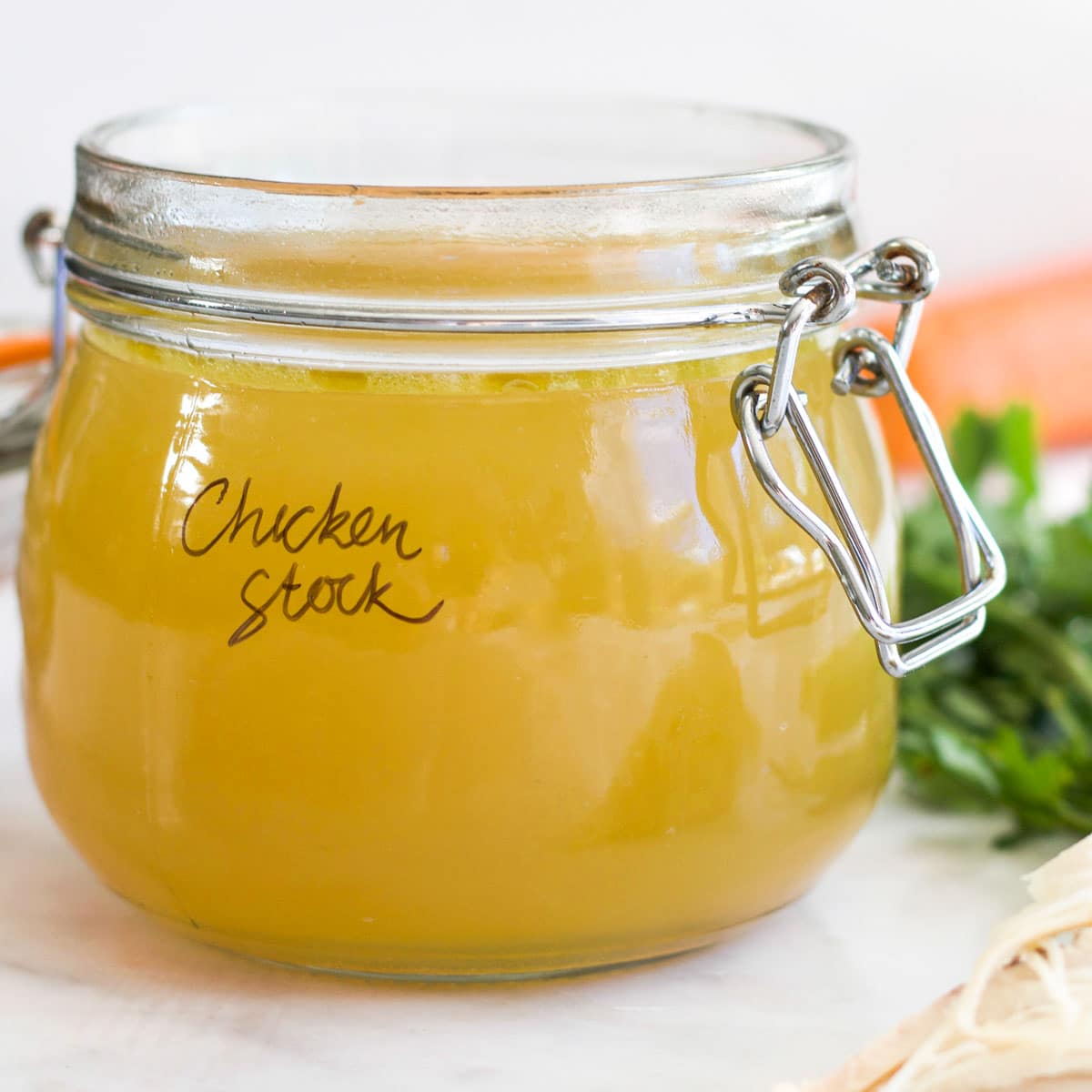 When my children were babies, I learned how to make chicken stock so that I could make meals that were free from salt and additives. Because it is so easy, I still make batches regularly.
Jump to:
What is Chicken Stock and Why Make Your Own?
Chicken stock is a liquid made with chicken bones, meat, vegetables and water. It is cooked slowly for a number of hours and is used as a basis for a tasty soup or as the liquid component in dishes such as stews, curries, sauces and risotto.
Making your own
allows you to control ingredients to suit your family's age/stage and dietary requirements.
makes good use of a carcass and leftover scraps from your roast chicken as well as vegetable scraps which would otherwise be discarded.
It saves you buying boxed and cubed stock.
Ingredient Information
Chicken - I usually make homemade chicken stock with a carcass and the leftover scraps from a roast chicken.
You can also make stock from a raw chicken carcass (the skeletal remains, including the bones and cartilage, once all the meat from the chicken has been removed) or chicken pieces such as legs, thighs and wings.
Vegetables & Herbs - Vegetables and herbs add to the flavour and nutrition of the stock. It is a great way to use up vegetable scraps or vegetables that are coming to the end of their life. I usually use...
Carrots (including the peel and ends)
Onions
Celery  (including the leaves)
Leek (green and white parts)
Parsley
Bay leaves
How to Make Chicken Stock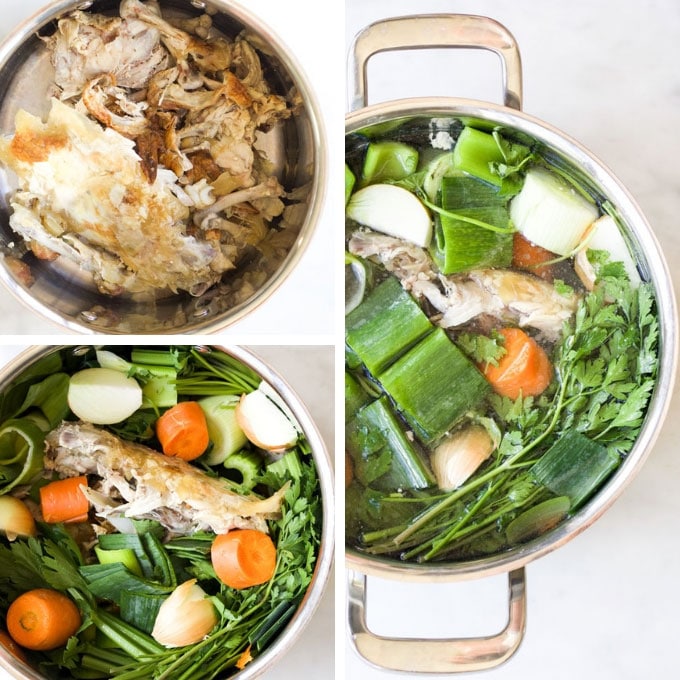 Great Uses For Homemade Chicken Stock
This baby friendly chicken stock in an excellent choice for your little one's meals. It is perfect for recipes that call for chicken stock or water, as it enhances the flavours without the need for salt, which is not recommended for baby food. Some ideas include: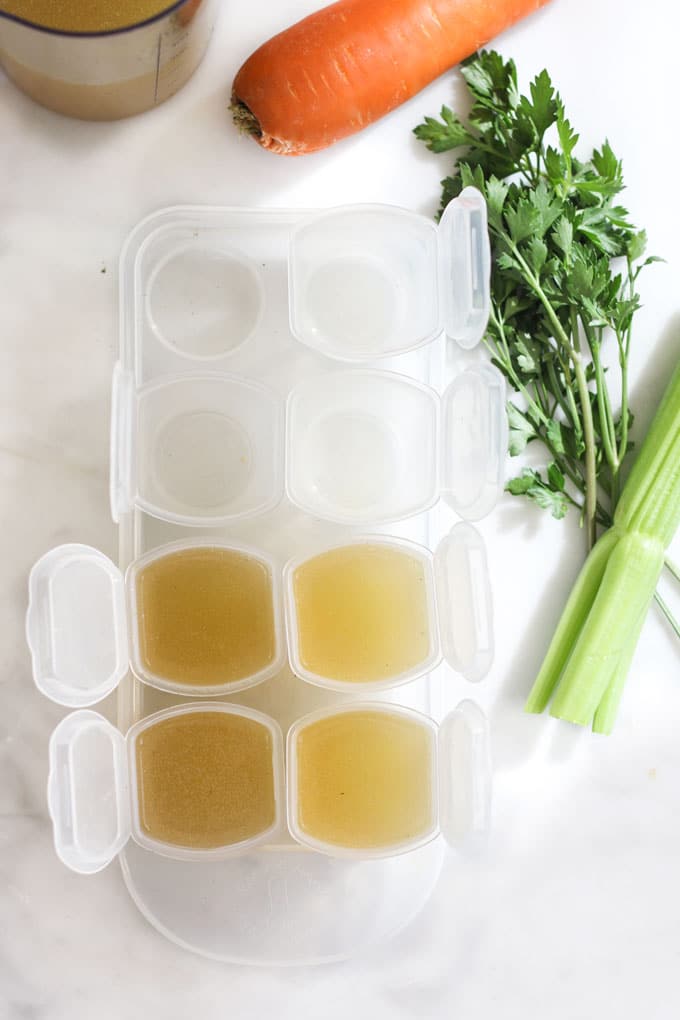 Recipe FAQs
Is homemade chicken stock good for you?
All the goodness from the long slow cooking of bones, meat and vegetables makes for a nutritious ingredient in your cooking. Because you are making the stock yourself you can control the sodium content which is essential when cooking for babies.
My chicken stock is greasy / gelatinous, is this ok?
Homemade chicken stock can appear greasy but the fat contained in the stock provides great flavour and enriches soups, gravy and sauces.
If you wish to remove some of the fat, cool the stock quickly and it will be easy to remove from the surface before use.
When you simmer a chicken carcass for long enough, you extract the collagen from the bones. This collagen in the bones is what causes the cooled down stock to gel. It is completely natural and will only happen in well-made stock. Once you reheat it, it will melt and return to a liquid.
When can I give my baby chicken stock
You can use this chicken stock in baby food starting from 6 months.
How do I store chicken stock?
Refrigerating - Cool the stock and transfer it to airtight containers. Refrigerate immediately and keep for up to 4 days.
Freezing - Cool then transfer to airtight, freezable containers. The stock will last for up to 6 months in the freezer.
Once thawed you can not refreeze, it is, therefore, a good idea to freeze in small amounts. This way you can just take what you need from the freezer.
If cooking for a baby it is a good idea to freeze in ice cube trays or small baby food containers (pictured below). You only need small amounts so doing this allows for very little wastage. Once frozen in the ice-cube trays, transfer to a freezable container/ziplock bag.
If cooking for a family, you may wish to freeze in larger amounts. Around 500ml (2 cups) is a useful amount to freeze per container.
You may also like
Looking for more healthy kid recipes?Sign up for my free recipe newsletter to get new family friendly recipes in your inbox each week! Find me sharing more kid-friendly inspiration on Pinterest and Instagram.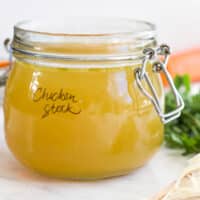 Chicken Stock
Used as a basis for a tasty soup or as the liquid component in dishes such as stews, curries, sauces and risotto.
Prep Time: 10 minutes
Cook Time: 4 hours 10 minutes
Total Time: 4 hours 20 minutes
Serves:3 Litres
Hover over "serves" value to reveal recipe scaler
Ingredients
1 Large Chicken Carcass *SEE NOTE 1
1 Large Onion, quartered *SEE NOTE 2
1 Leek, cut into large chunks
2 Celery Stalks & celery leaves
1 Carrot
1 Small Bunch Parsley
2 Bay Leaves
Water to cover (I used 3 litres)
Instructions
Place leftover bones and skin from a chicken carcass into a large stock pot. *SEE NOTE 3

Add vegetables and parsley and cover with water.

Bring to a boil and then immediately reduce heat to bring the stock to a low simmer.

Simmer, partially covered, for at least 4 hours. For a clearer stock, skim off any foam that comes to the surface.

Strain the stock to separate out the solid pieces. Discard the solids. (I use a colander to do this and then strain it again through a sieve.)

Season to taste (*SEE NOTE 4)

Allow to cool and store in the refrigerator or freezer. (See above post for storage guidelines.)
Recipe Notes
Use one large chicken carcass or two smaller ones left over from roast chickens. You can also use chicken pieces, such as legs, thighs, wings and feet.
Stock is great for using up vegetables that are coming to the end of their life or vegetable scraps (e.g carrot tops, peelings etc) The above vegetable measurements are a guide only.
You will need a large stock pot (at least 5 litres /9 imperial pints/ 10.5 US Pints in size)
Remember Chicken Stock is an ingredient, not a finished product.  It should have a chicken taste but shouldn't be overpowering. It is not a soup. A little seasoning can bring out flavour. Do not season if using to make baby food.