This zucchini (courgette) baby puree is mild tasting and a great first-stage puree. Serve it as it is, mix it with other purees or add fresh herbs for flavour.
Jump to:
Reasons to Love this Puree
Texture - Zucchini (courgette) has a high water content which makes the puree nice and thin and easy for your baby to swallow. It is fantastic for thinning out thicker vegetable/meat purees.
Taste - Zucchini has a delicate flavour making it a great first taste food. It combines well with a range of vegetables, meats and is a good canvas for experimenting with different herbs and spices.
Nutrition - Zucchinis are a good source of vitamins and minerals including beta carotene (which converts to vitamin A), vitamin C, Vitamin B6, folate, vitamin K, potassium, phosphorus, magnesium and calcium.
Freezer Friendly - Prep ahead for busier nights.
Video Tutorial
Ingredient Information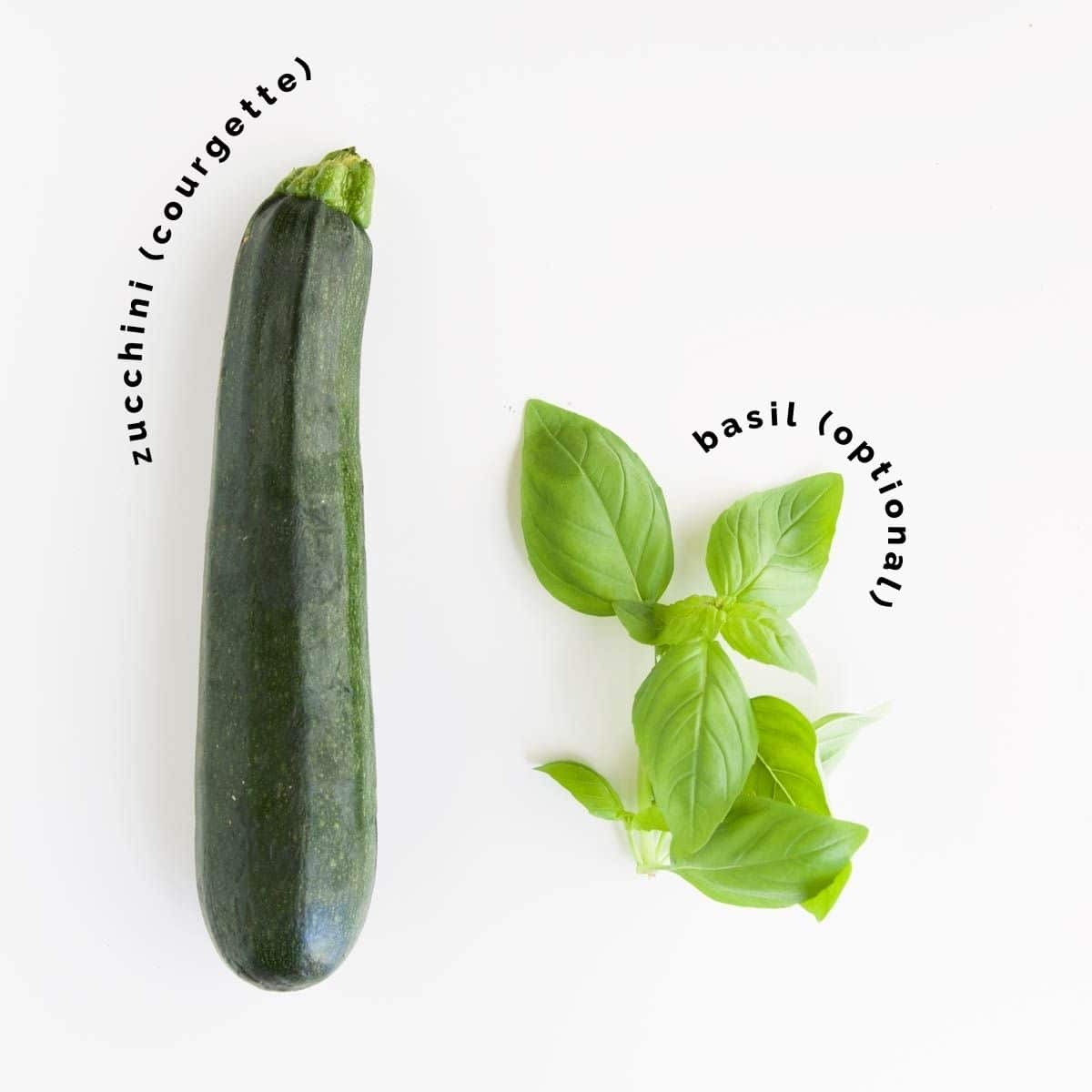 Zucchini is the only ingredient needed to make zucchini puree. Due to their high water content, no extra liquid is needed.
Basil (or herb of choice) adds flavour, try serving it with and without herbs to provide your baby with a variety of flavours.
How to Choose and Store Zucchini
Look for zucchinis that are small to medium-sized (no larger than 15 - 20cm (6 to 8 inches)), larger zucchinis tend to be more watery, flavourless and have larger seeds.
Choose zucchinis with vibrant, smooth skin free of nicks and cuts.
Ensure your zucchinis are dry and store them in the vegetable drawer of your refrigerator. Do not wash them until just before using. Avoid wrapping in plastic bags, as they can cause excess moisture and the zucchini can get soft/slimy.
Process Shots and Cooking Tips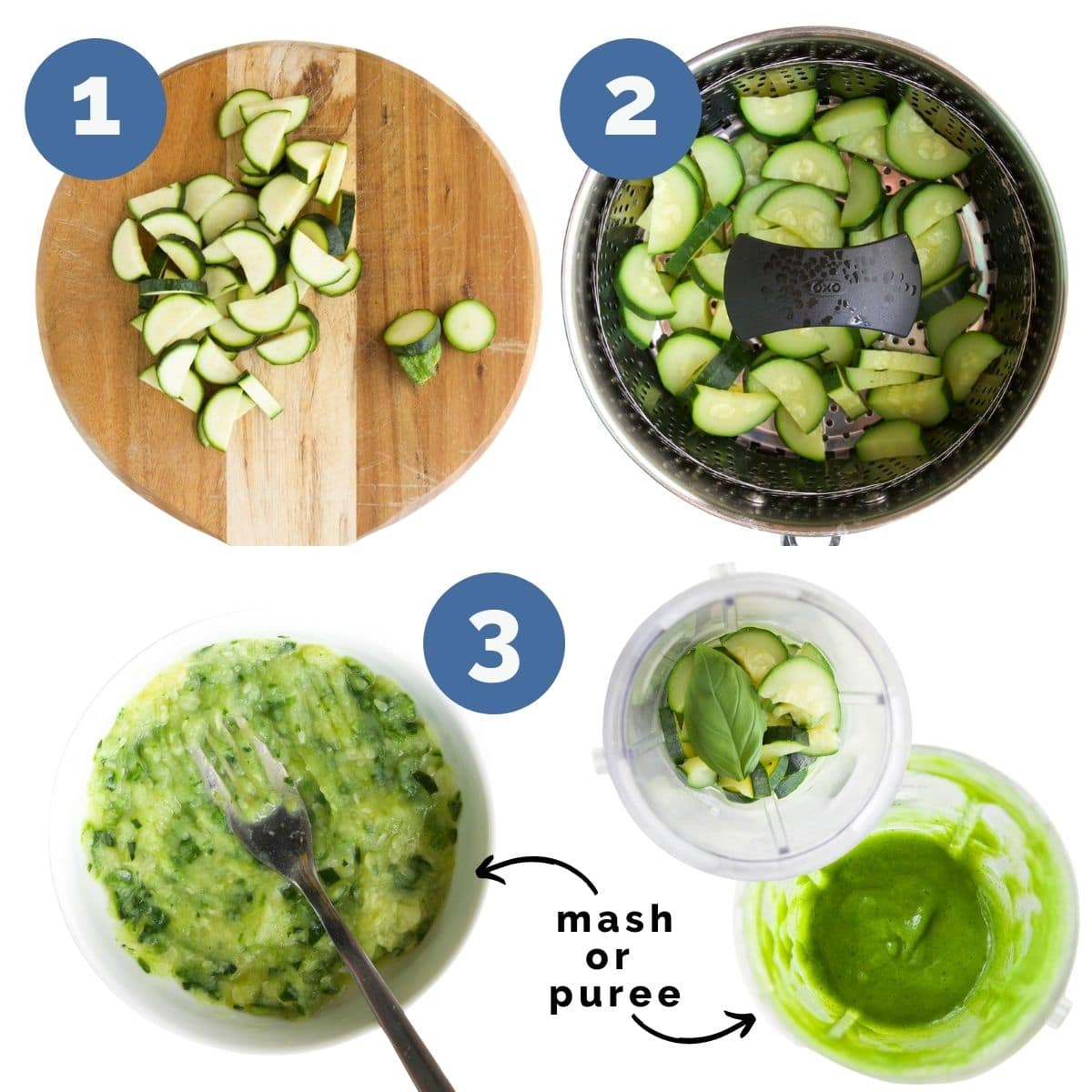 WASH & SLICE: Wash, top and tail the zucchini. Cut zucchini in half lengthwise and then slice.
STEAM: Steam for around 8-10 minutes or until soft and tender.
MASH / PUREE: Puree smooth or mash to offer your baby a more textured puree. It is always good to start adding texture and not only offer smooth purees.
Zucchini Baby Puree Combinations
Zucchini has quite a mild flavour and is a good canvas for adding other flavours. Good partners with zucchini include:
eggplant puree
bell pepper
lentil puree
eggs
mashed potato
Try changing up the flavour by adding...
basil
garlic
lemon
marjoram
onion
parsley
thyme
Storage Instructions
Store in the refrigerator for 2 days or freeze for up to two months. Read more on how to safely store baby food.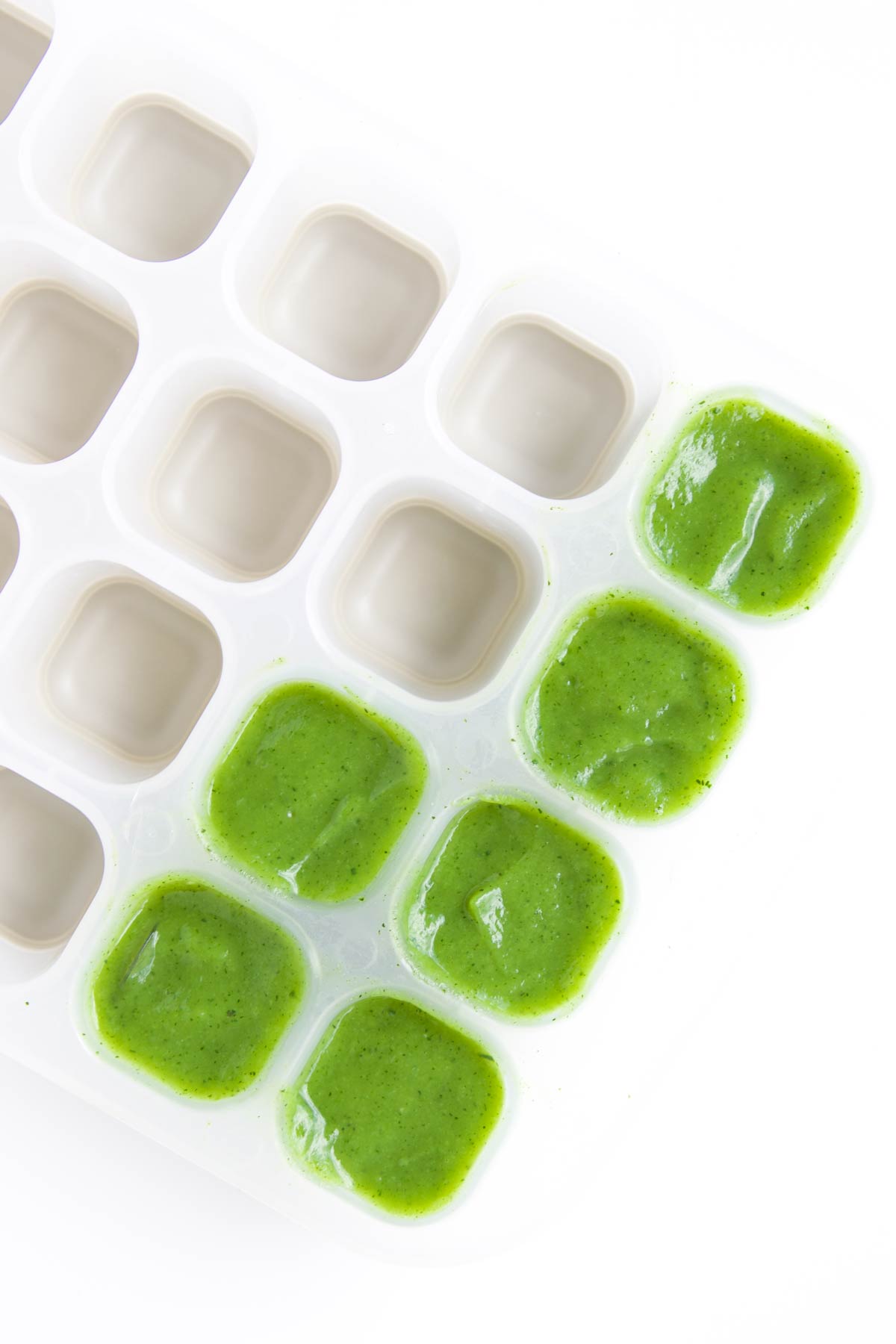 Frequently Asked Questions
Is zucchini a common food allergen?
Zucchini is not a common allergen although cases of zucchini allergy have been reported. (1)
What age is this puree suitable from?
Zucchini puree can be introduced once your baby is ready to start solids, which is generally around 6 months of age. It is a great stage one/first tastes puree.
Should I peel the zucchini skin?
No, there is no need to peel the skin. When zucchini is cooked the skin is soft and perfectly edible. Most of the nutrients in zucchini are contained in the peel so it is best to leave it on.  
Do I need to remove the seeds?
No, the seeds in zucchini are very soft and are easily pureed/mashed.
Other Zucchini Recipes to Try...
Looking for more healthy kid recipes?Sign up for my free recipe newsletter to get new family friendly recipes in your inbox each week! Find me sharing more kid-friendly inspiration on Pinterest and Instagram.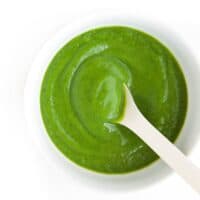 Zucchini (Courgette) Puree
Zucchini steamed and pureed. Delicious on its own or mixed with other purees.
Prep Time: 5 minutes
Cook Time: 10 minutes
Total Time: 15 minutes
Serves:10
Hover over "serves" value to reveal recipe scaler
Equipment
Food Processor or Blender
Ingredients
2 medium zucchinis
1 or 2 basil leaves (optional)
Instructions
Wash and remove the ends of the zucchinis. Slice into rounds.

Steam the zucchini for 8-10 minutes or until soft.

Add cooked slices to a blender along with the basil. Blend until smooth.
Recipe Notes
Basil is optional or can be replaced with a different herb such as parsley or thyme.  As babies age, you want to add more texture. This puree can be easily mashed for a chunkier texture.  I find you need 2 zucchinis for a larger blender to blend properly. If you have a smaller blender or plan to mash then you can half the recipe.  Nutritional information is a rough guide only, calculated using an online nutrition calculator. 
Nutritional facts
Calories: 7kcal | Carbohydrates: 1g | Protein: 1g | Fat: 1g | Saturated Fat: 1g | Polyunsaturated Fat: 1g | Monounsaturated Fat: 1g | Sodium: 3mg | Potassium: 103mg | Fiber: 1g | Sugar: 1g | Vitamin A: 83IU | Vitamin C: 7mg | Calcium: 6mg | Iron: 1mg
References
Reindl, J., Anliker, M. D., Karamloo, F., Vieths, S., & Wüthrich, B. (2000). Allergy caused by ingestion of zucchini (Cucurbita pepo): Characterization of allergens and cross-reactivity to pollen and other foods. Journal of Allergy and Clinical Immunology, 106(2), 379–38
Disclaimer: This guide is for informational purposes only. It is not intended to replace the personalised care and advice given to you by a health professional. You should never disregard professional medical advice or delay in seeking it because of something you have read or seen here. Please refer to our full disclaimer for more info.