This creamy white bean puree is one for the whole family to appreciate. Serve it as a dip with veggie sticks and pita chips, spread it onto sandwiches or toast fingers, dollop it onto salad bowls or simply spoon-feed your baby it.
Reasons to Love this Puree
NUTRITIOUS – Canellini beans are a great source of fibre and plant based protein. They are also a source of iron (a critical mineral for babies and growing kids. Onion is added for flavour but is also a source of vit C which helps with the absorption of iron from the beans.
EASY – Very little cooking is needed to make this puree. Spend a little time sauteing the onion and garlic to release their sweetness and then all you have to do is blend the ingredients together.
VERSATILE – From baby to grandparent, this puree can be enjoyed by all! Spoon feed your baby, spread it in your kid's sandwiches, use it as a dip or serve as a side with some grilled fish, chicken or pork.
Watch How to Make It
Ingredient Information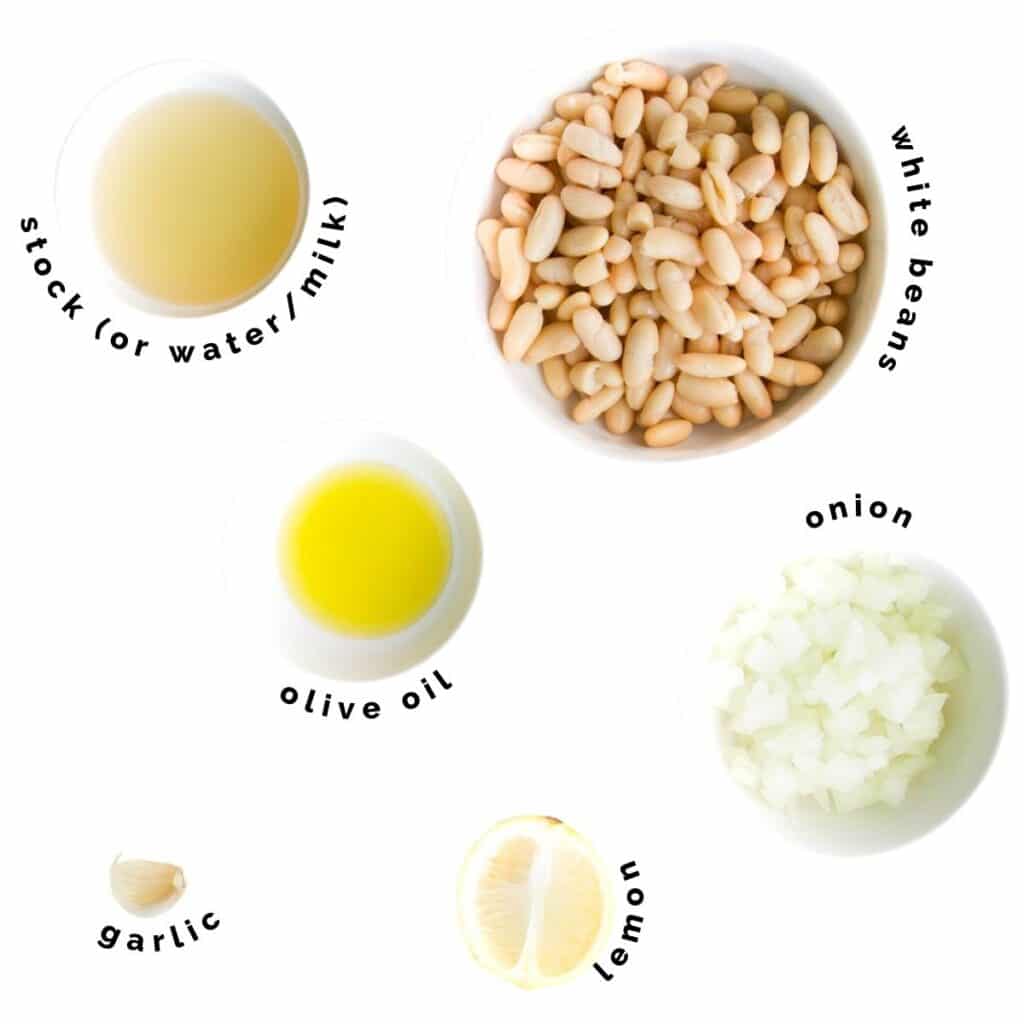 OLIVE OIL – Used for sauteeing the onion. Olive oil is a good source of healthy fats and the antioxidant vitamin E.
ONION – Adds flavour to the puree but is also a source of vitamin C which helps with the absorption of iron from the beans.
CANNELLINI BEANS (or white bean of choice) – You can use canned or dried. If using dried make sure to soak and cook until very soft (almost falling apart). Canned is very convenient but check the ingredients and look for unsalted, rinse them well before using.
CHICKEN /VEGETABLE STOCK (or water) – Adds flavour and thins the white bean dip. If making for a baby make sure to use homemade to keep sodium levels low. Alternatively, you can replace it with water, full fat yogurt or your baby's milk.
Process Shots (and Cooking Tips)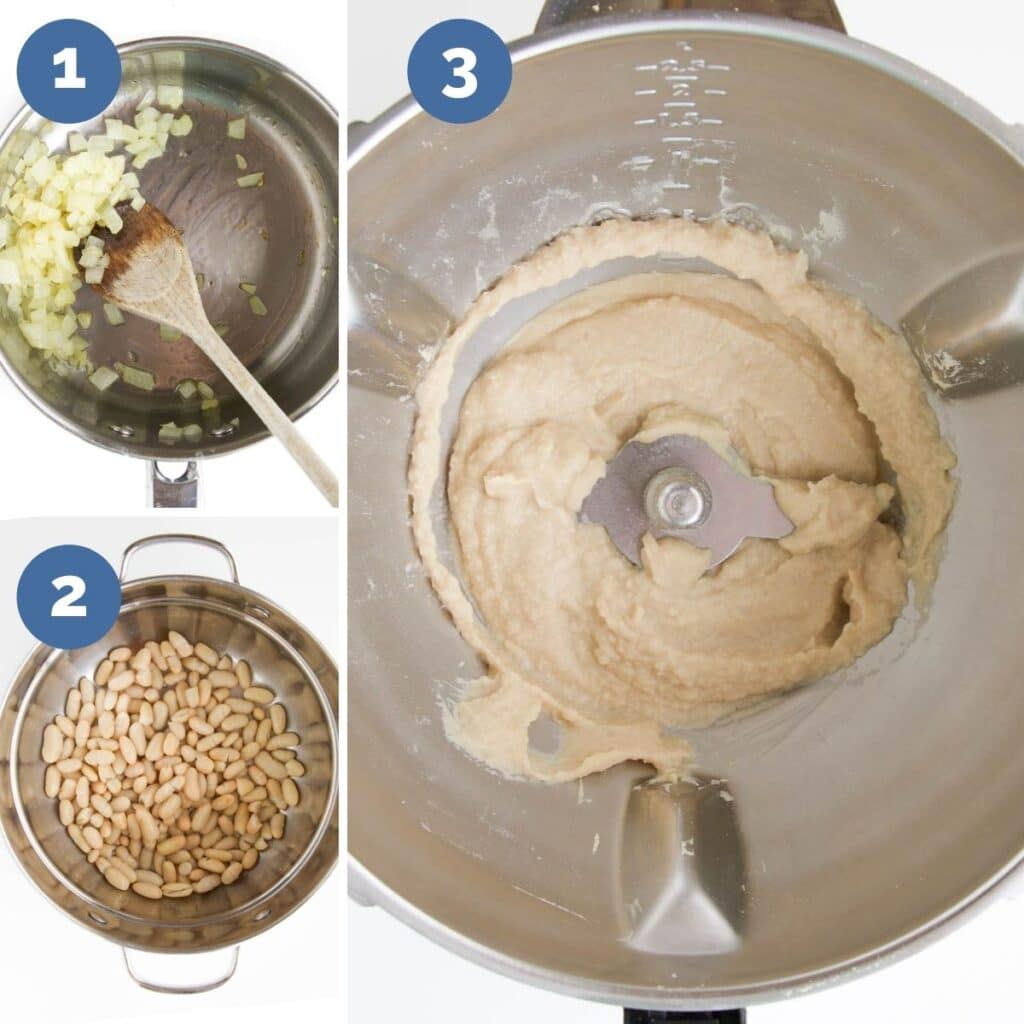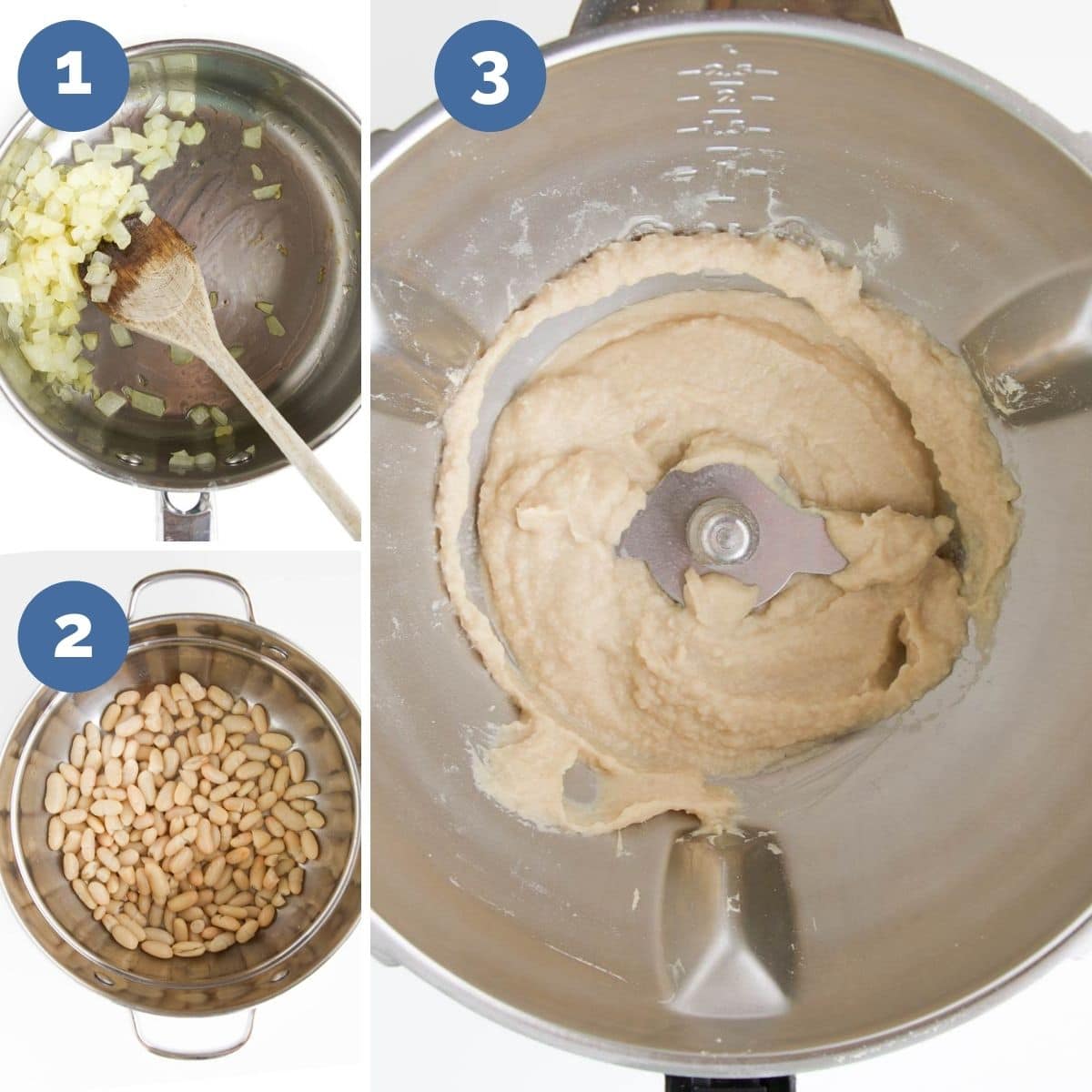 SAUTEE ONIONS – Take 5 minutes to suate the onions to allow them to soften and realease their natural sweetness. Add the garlic and saute for a further min.
RINSE BEANS – Rinse well to remove any excess sodium.
BLEND until smooth if you feel it needs more liquid add more stock, oil (or for baby water / baby milk)
Serving Suggestions
This white bean puree makes a great dip, spread or side.
DIP: Serve at snack time with some vegetable sticks. The dip is a source of protein and fibre and will help kids (and adults) feel satisfied for longer. Learn more about healthy snacks for kids.
SPREAD: Serve on crostini topped with chopped olives (a personal favourite), spread on a veggie sandwich or slather it on slices of toast topped with fresh tomato slices.
SIDE: Serve as a side with some grilled chicken, pork or fish. Alternatively, top a grain bowl with a spoonful or two.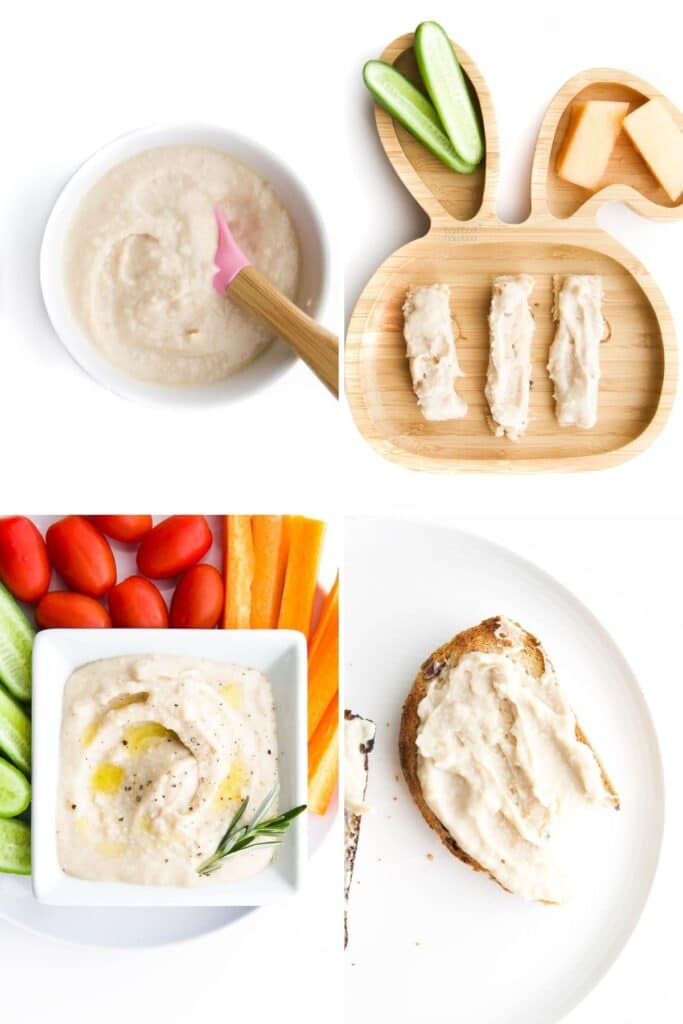 White Bean Puree for Babies
Cannellini beans can be introduced as soon as babies are ready to start solids, around 6 months. You can spoon-feed this puree or spread it on toast fingers/rice cakes/oatcakes for baby-led weaning.
As babies get older it is a good idea to introduce texture. So you can try mashing instead of pureeing smooth.
This bean puree can also be mixed with a range of vegetable purees for a different flavour experience. Why not try mixing with
NOTE: The stock is used to thin the puree and add flavour. However stock can be high in sodium so you should use homemade vegetable stock/chicken stock. Alternatively, thin it with a little water or your baby's milk.
Storage Instructions
REFRIGERATE – Store any leftovers in an airtight container and refrigerate for up to 2 days.
FREEZE – Fill an ice cube tray with the puree and freeze until solid. Once solid, transfer to a freezer storage bag, date and label, and freeze for up to 2 months. Thaw overnight in an airtight container in the fridge.
Read here for more information about how to safely store baby food.
Looking for more healthy kid recipes?Sign up for my free recipe newsletter to get new family friendly recipes in your inbox each week! Find me sharing more kid-friendly inspiration on Pinterest and Instagram.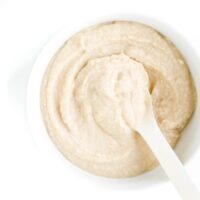 White Bean Puree
A creamy dip made from cannellini beans. Serve as a dip with veggie sticks, spread it onto sandwiches or toast fingers, dollop it onto salad bowls or simply spoon-feed your baby it.
Prep Time: 10 minutes
Cook Time: 5 minutes
Total Time: 15 minutes
Serves:8
Hover over "serves" value to reveal recipe scaler
Equipment
Food Processor or High Speed Blender
Ingredients
1 tablespoon olive oil (split)
½ onion ,finely chopped
1 garlic clove ,minced
1 400g/150z can cannellini beans , drained and rinsed well
60 ml (1/4 cup) vegetable stock
Squeeze fresh lemon juice
Instructions
Heat 1 teaspoon of the olive oil in a medium saucepan over medium heat. Add the onion and saute for around 5 minutes, until soft and translucent. Add the garlic and saute for a further minute.

Rinse the canned cannellini beans in a colander to remove any excess sodium. Add to a food processor/blender along with the onion, garlic, remaining olive oil, stock and lemon juice. (SEE NOTE 1)

Blend on high until the puree is smooth and creamy, adding additional stock as desired to create a smooth consistency.
Recipe Notes
NOTE 1: The more stock you use, the thinner the puree will be. Start with just a tablespoon or two and add more if needed. I found around 60 ml ( 1/4 cup) allowed my blender to blend best and resulted in a smooth and creamy puree. 
MAKING FOR A BABY: Look for lower sodium/no added salt canned beans. Rinse thoroughly to remove any excess sodium. Use homemade chicken stock or vegetable stock. Alternatively, replace stock with water, full-fat yogurt or your baby's milk.
IF MAKING FOR OLDER CHILD/ADULT: Once blended taste and season accordingly.
DRIED BEANS: If you prefer to use dried beans make sure to soak and cook until very soft.
Nutritional information is a ROUGH guide only, calculated using an online nutrition calculator. 
Nutrition Facts
White Bean Puree
Amount Per Serving
Calories 55 Calories from Fat 18
% Daily Value*
Fat 2g3%
Saturated Fat 1g5%
Polyunsaturated Fat 1g
Monounsaturated Fat 1g
Sodium 108mg5%
Potassium 12mg0%
Carbohydrates 8g3%
Fiber 3g12%
Sugar 1g1%
Protein 3g6%
Vitamin A 1IU0%
Vitamin C 1mg1%
Calcium 32mg3%
Iron 1mg6%
* Percent Daily Values are based on a 2000 calorie diet.