This guide covers the most common questions parents have when serving carrots to their babies. It illustrates how to prepare/serve carrots, provides flavour pairings and includes links to ten baby-friendly carrot recipes.
When Can Babies Eat Carrots?
Carrots can be introduced when your baby is ready to start solids, usually around six months.
Carrot Nutrition
Vitamin A: Carrots are a rich source of beta-carotene, which gets converted into Vitamin A in the body. Vitamin A is important for the eyes, skin, and immune system.
Fibre: A good source of fibre which can help prevent a baby from getting constipated.
Vitamin K: High in Vitamin K which is important for blood clotting.
Antioxidants: Rich in antioxidants to help strengthen immunity.
How to Prepare Carrots for a Baby
Carrots are a common choking hazard so when serving them to a baby they should be cooked until soft (soft enough to smash between your fingers) or, if offering raw, grated to reduce any choking potential.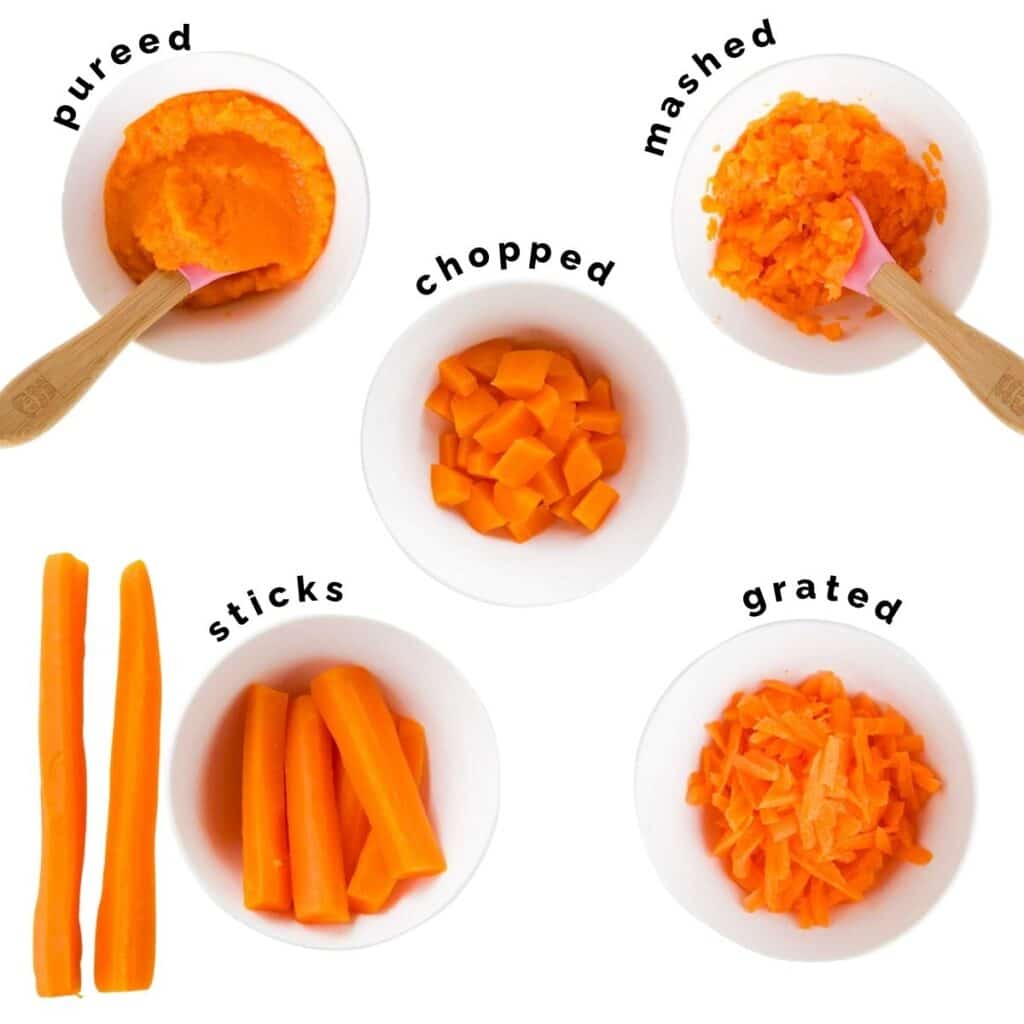 Pureed - Cook carrots until very soft and then puree. Add spices like cumin or coriander to introduce different flavours. (Suggestions given below in flavour pairings section) Serve as is, or mixed with other pureed fruit, vegetables and meats.
Mashed - Serve on loaded spoons or mixed with mashed potato and/or other vegetables.
Cooked sticks - Serve carrots in long finger-like sticks and either steam, boil, or roast until soft.
Cooked pieces - Smaller pieces of cooked carrot are good for babies who have developed the pincer grasp.
How to Steam Carrots for a Baby
Peel trim and chop carrots into sticks. Place in a steamer basketover a deep pan of boiling water. Steam, over medium heat, until soft, about 10-15 minutes. (Depending on size and thickness of sticks)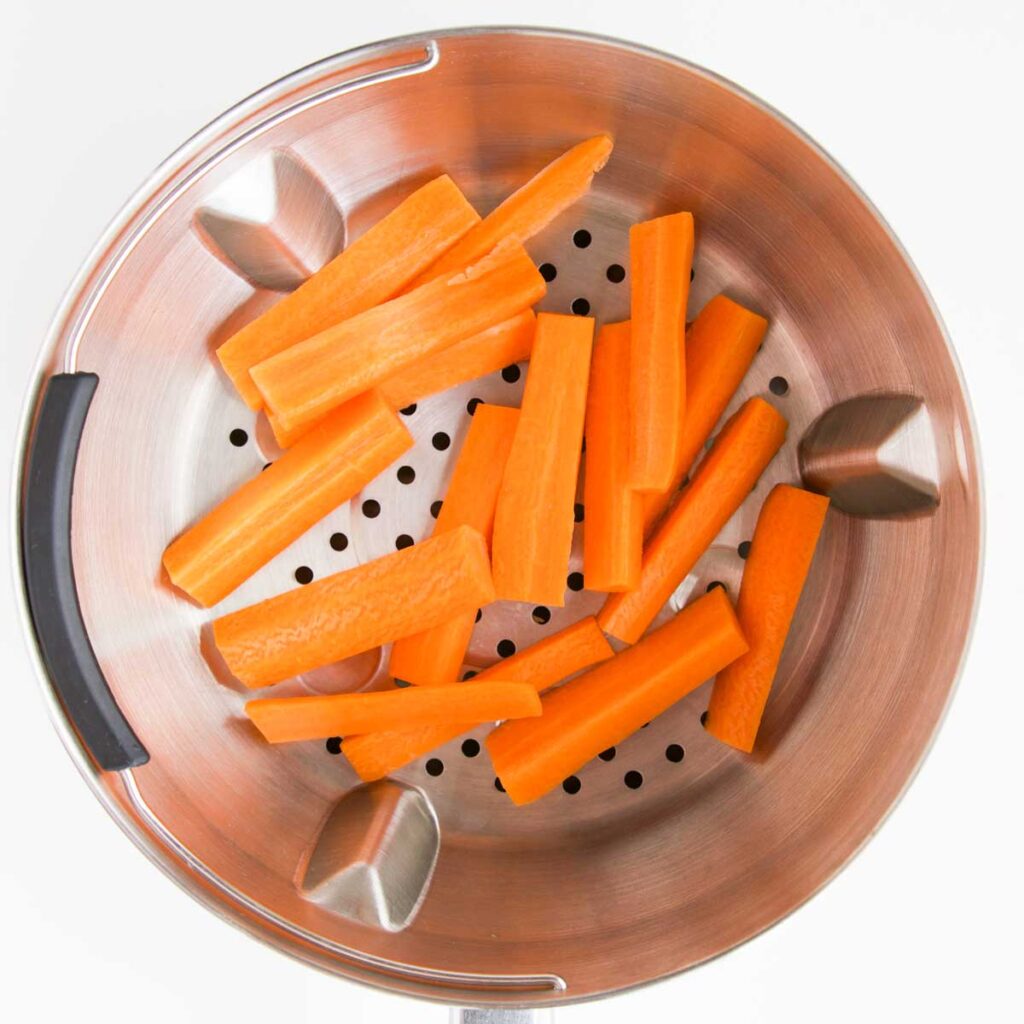 How to Roast Carrots for a Baby
Peel trim and chop carrots into sticks. Place in a mixing bowl and add just enough olive oil to lightly coat. Toss until coated and add a little spice if desired (cumin, smoked paprika, cinnamon etc). Place the carrots in a single layer on a baking tray lined with parchment paper. Roast in a preheated oven (425F/220C) for around 30 min, or until tender.
How to Boil Carrots for a Baby
Peel trim and chop carrots into sticks. Place in a saucepan of lightly boiling water, cover and simmer for 10-15 minutes or until soft.
Storage Instructions
If you have leftover cooked carrots then you can...
REFRIGERATE: Store leftovers in a airtight container and refrigerate for up to two days.
FREEZE: Place carrots in a single layer on a lined baking sheet. Transfer to the freezer for an hour or two until frozen solid. Transfeer to a zip lock bag and freeze for up to two months. Note, the carrots will retain their flavour and nutritional value, but the texture will be lost. Why not try lightly frying them in a pan with a little butter and some chopped herbs.
Flavour Pairings - What Goes Well With Carrots
Carrots are great combined with various fruits, vegetables and spices.
Spices and Herbs: Cinnamon, coriander, cumin, curry powder, dill, ginger, mint, parsley, tarragon, thyme
Fruits: Apple, orange, lime, lemon, sultanas/raisins
Vegetables: Celery, onions, parsnips, peas, potato, spinach, sweet potato
Other: Butter, beef, fish, chicken, olive oil, walnuts
Why not try...
Carrot puree with a touch of cumin, ginger and a squeeze of orange.
Sauteing cooked carrot sticks in butter and freshly chopped dill.
Roasting carrot sticks in olive oil, tossed in finely chopped parsley.
Frequently Asked Questions
Are carrots a common allergen?
No, carrots are not a common allergen. However raw carrots can trigger an itchy mouth, swollen lips and a scratchy throat in people with a condition known as oral allergy syndrome .

Are carrots a choking hazard?
Yes, raw carrots are a choking hazard. Cook carrots until soft (squishable between fingers) before serving to your baby and cut into matchsticks or square cuts rather than slicing into coin-shape pieces.
Baby Friendly Carrot Recipes
Carrot Puree
A delicious first puree for babies or a vibrant and nutritious side dish.
Check out this recipe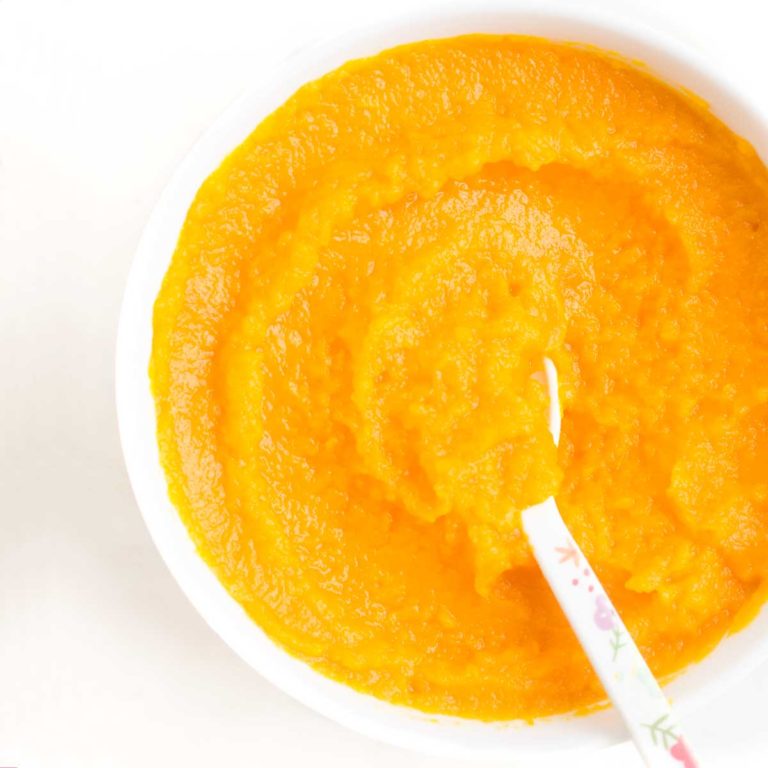 Lentil and Sweet Potato Croquettes
Easy to pick up with a soft texture they are perfect for babies and toddlers but are sure to be a hit with older kids too. 
Check out this recipe

Carrot Hummus
A twist on regular hummus, this chickpea dip includes carrots for a little sweetness and extra nutrition.
Check out this recipe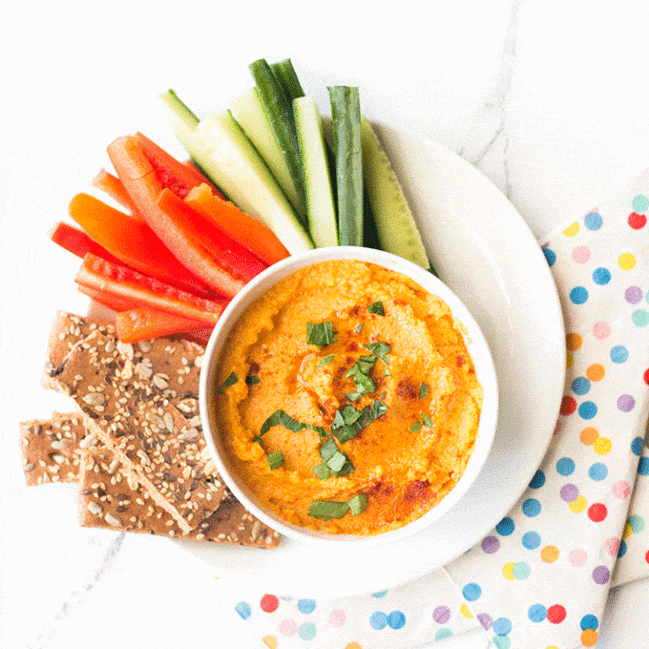 Carrot Stars
Made with only 4 ingredients this savoury snack is perfect for kids of all ages.
Check out this recipe
Carrot and Orange Soup
Carrot and orange combine beautifully in this smooth and tasty soup.
Check out this recipe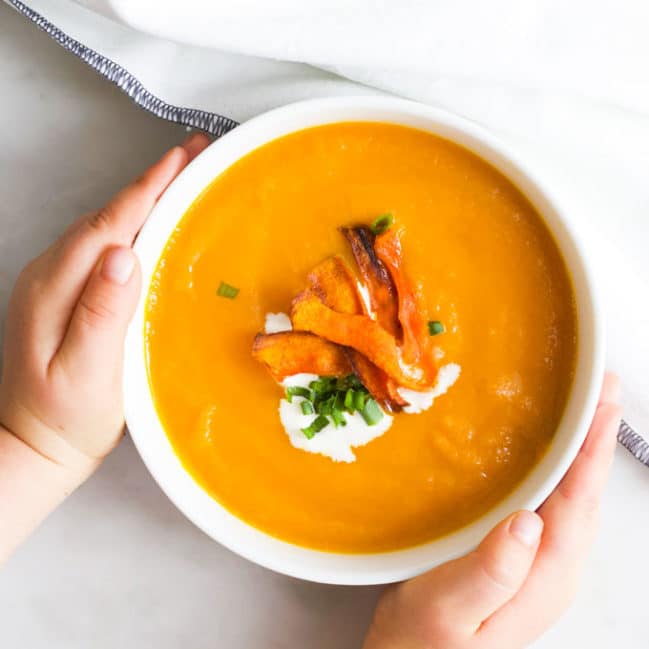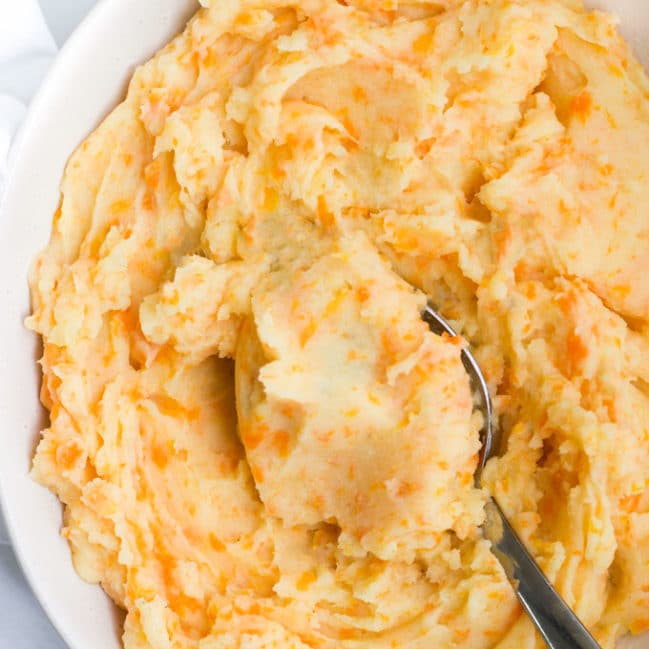 Carrot Fries
Carrots cut into sticks, tossed in olive oil and sweet paprika and then baked until tender.
Check out this recipe
Carrot and Apple Muffins
These Carrot and Apple Muffins are sweetened only with fruit. They are perfect for breakfast or as a healthy snack. 
Check out this recipe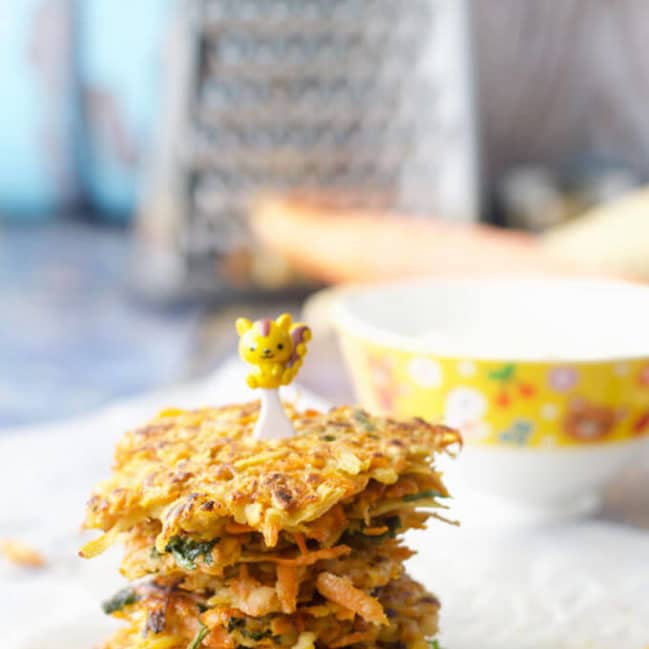 Carrot Rice
This carrot rice is flavoured with warming spices and has a delicate sweetness from the sultanas and carrots.
Check out this recipe

Summary
Whether they are served as a finger food or from a spoon, carrots are a delicious and nutritious veggie for babies. They should be cooked until soft or grated, to reduce the risk of choking. Carrots pair well with a range of spices, herbs, fruits and vegetables and can be used as an ingredient in a wide range of dishes.
Other posts you may be interested in
References & Further Reading
American College of Allergy, Asthma & Immunology, Pollen Food Allergy Syndrome, (website), Accessed July 6 2021