This easy tuna rice salad can be thrown together quickly for a light lunch or busy weeknight dinner.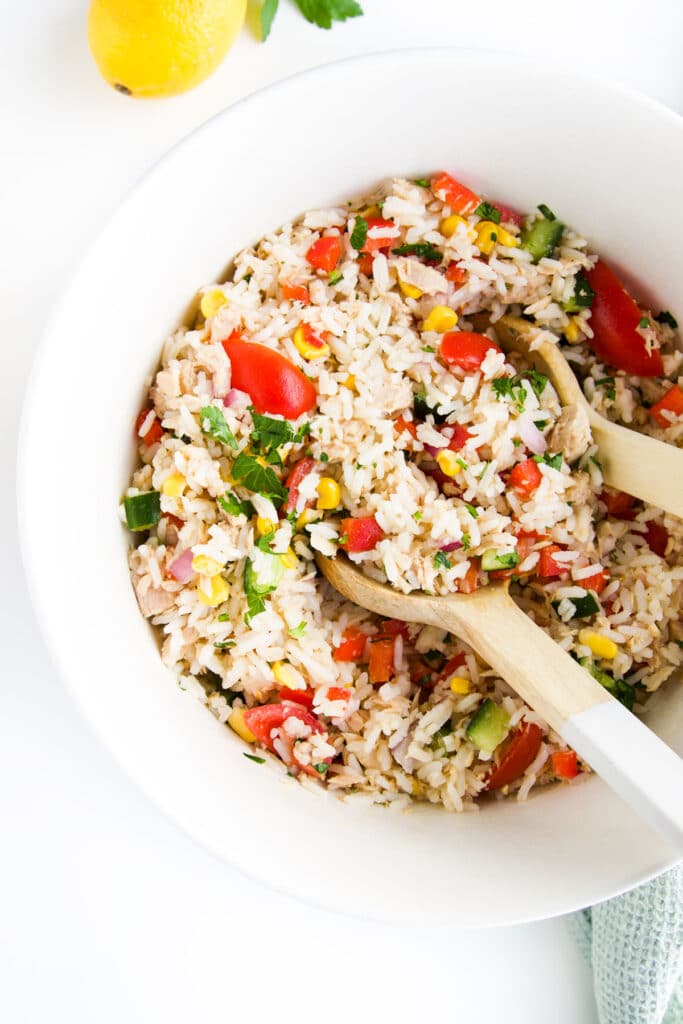 Jump to:
Reasons to Love this Tuna Rice Salad
Quick and Easy - A throw-together meal that can be made in advance.
Versatile - Tuna and rice are the fundamentals of this dish, the veggies can be mixed and matched to suit taste or to what you have available.
Pantry / Freezer Staples - Needing to get to the store? This dish can be made with pantry staples and frozen veg.
Ingredient Information (with alternative suggestions)
This recipe is very adaptable and you can really use whatever you can find in the fridge/pantry or freezer. Suggestions are given below, if you choose to add different vegetables try to keep the ratios the same.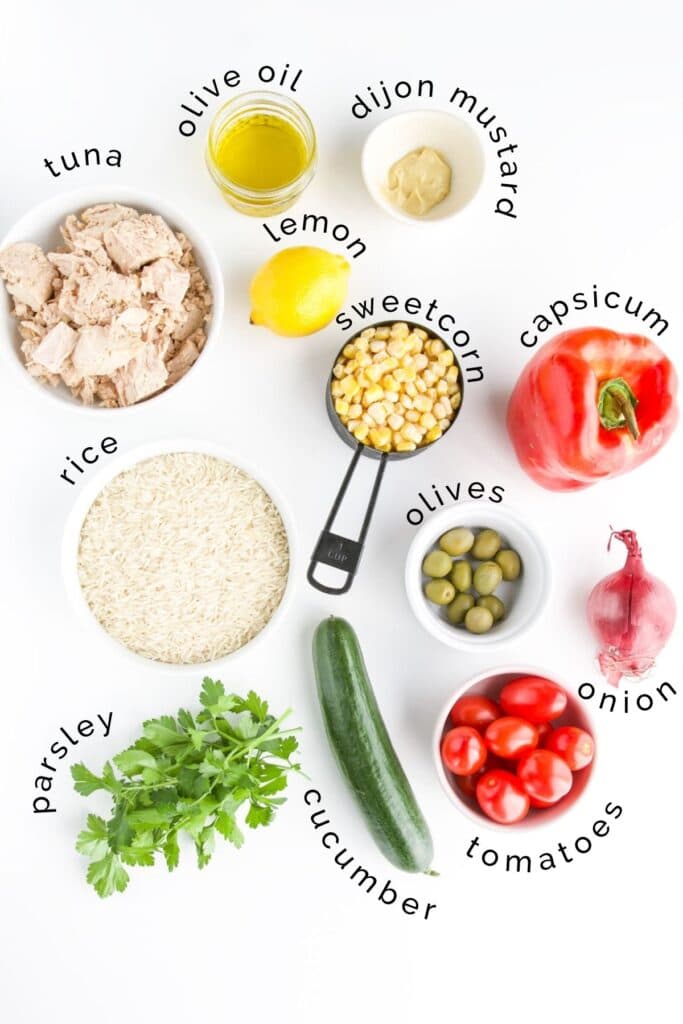 Rice - Long grain white rice is used in this recipe. You can replace with jasmine or basmati but they will add a fragrance to the dish. Brown rice also works well and adds a slight nutty flavour. Short grain rice, ruch as risotto or sushi, is too sticky for this dish.
Canned Tuna - I've use tuna in spring water. If serving young children avoid brine with high sodium levels. You can replace the tuna with prawn, chicken breast, salmon or just make it a meat free rice salad.
Veggies - This recipe uses corn, bell pepper (capsicum), cucumber, onion & tomato. Mix and match to suit tastes or to use what you have available. Other great vegetable options include green beans, peas, avocado and spring onion.
Dressing - This salad is coated in a fresh lemon and olive oil dressing. You can replace the lemon with white wine vinegar.
Process Shots and Cooking Tips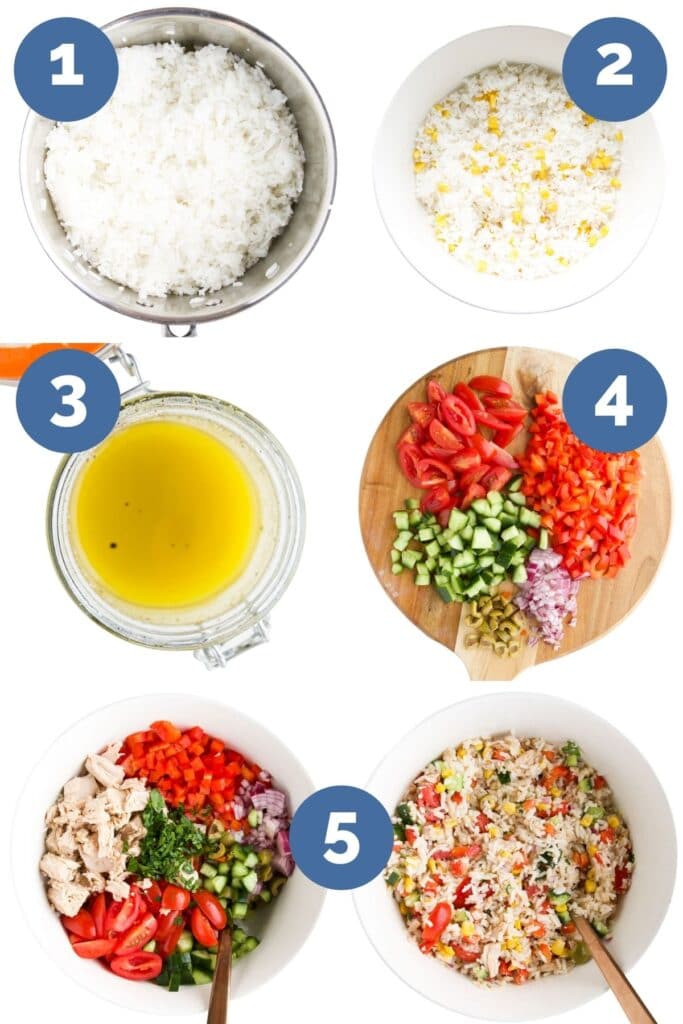 Cook Rice: I cook the rice on the stove stop, using the absorption method. You can cook the rice using your preferred method but you want to ensure the rice is light and fluffy and not sticky.
Quickly cool the rice: Rice should be cooled quickly and refrigerated for food saftey reasons (If cooked rice is left standing at room temperature for too long spores can grow into bacteria and multiply.) TOP TIP: Add the frozen corn at this stage to cool the rice quickly and to thaw the corn. Refrigerate until needed.
Chop vegetables: Chop the vegetables, keeping the pieces fairly small.
Prepare Dressing: Place the dressing ingredients in a jar and shake. Taste test and season /adjust to your preference.
Combine: Add the tuna, rice and vegetables to a large mixing bowl and gently mix. Add the dressing and stir through.
Storage Instructions
Store in an airtight container and refrigerate for up to one day. This dish does not freeze well, the vegetables change texture which is not desirable for the salad.
Frequently Asked Questions
Can young children/babies eat tuna?
There are concerns about feeding young children tuna as it is known to contain mercury, a heavy metal that can be toxic at high levels.
The Food Standards Australia New Zealand advise that in general, it is safe for all population groups, including pregnant women, to consume 2-3 serves of any type of tuna per week (canned or fresh).

You May Also Like...
Looking for more healthy kid recipes?Sign up for my free recipe newsletter to get new family friendly recipes in your inbox each week! Find me sharing more kid-friendly inspiration on Pinterest and Instagram.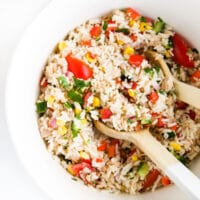 Tuna Rice Salad
Rice, tuna and vegetables mixed with a zesty lemon and oil dressing. Serves 4-6 as a main or 8-10 as a side dish.
Prep Time: 15 minutes
Cook Time: 15 minutes
Total Time: 30 minutes
Serves:6
Hover over "serves" value to reveal recipe scaler
Ingredients
1½ Cups (300g) White Long Grain Rice (equivalent of 4.5 cups of cooked rice)
2¼ Cups (560ml) Water
Dressing
3½ tablespoon Lemon juice ,freshly squeezed
⅓ Cup (80ml) Extra Virgin Olive Oil
3 teaspoon Dijon Mustard
¼ tsp Lemon Zest
Salt and pepper to taste
Salad
1 Red Capsicum / Bell Pepper ,finely diced
½ Small Red Onion ,finely chopped
1 cup (135g) Frozen Sweetcorn
10 Cherry Tomatoes ,quartered
1 Persian Cucumber (or ½ English Cucumber) ,seeded and diced
10 Olives ,pitted and chopped
3 tablespoon Parsley (fresh) ,finely chopped
2 x 145g - 185g (4-6oz) Canned Tuna ,drained *See Note 1
Instructions
Place the rice and water in a large sauce pan over medium high heat.

Once the water is bubbling gently, turn the heat down to low and cover with a lid. Simmer for 13 minutes (do not stir or remove the lid).

With the lid still on, remove the saucepan from the stove and allow to stand for 10 minutes, undisturbed. Fluff with a fork.

Add the frozen sweetcorn to the rice to help cool it down quickly. Refrigerate until needed.

Place dressing ingredients in a jar and shake. Taste test and adjust to your preference.

Place cooled rice, tuna and salad ingredients into a large mixing bowl. Drizzle with the dressing, toss and serve.
Recipe Notes
Canned tuna weights vary from country to country. This does not have to be exact. Use two cans roughly 140-185g / 4-6oz each.
Slice the cucumber in half lengthwise and dice. No need to peel or seed if using English or Persian cucumbers. For other types of cucumbers, do seed and peel.
Nutritional information is a rough guide only, calculated using an online nutrition calculator. 
Nutritional facts
Calories: 380kcal | Carbohydrates: 46g | Protein: 14g | Fat: 16g | Saturated Fat: 2g | Polyunsaturated Fat: 2g | Monounsaturated Fat: 11g | Trans Fat: 1g | Cholesterol: 17mg | Sodium: 260mg | Potassium: 346mg | Fiber: 2g | Sugar: 3g | Vitamin A: 1054IU | Vitamin C: 40mg | Calcium: 38mg | Iron: 2mg