This guide on Eggs for Babies includes a list of baby-friendly egg recipes and covers the most commonly asked questions when it comes to introducing eggs. Regardless of whether you are starting with purees, or are doing baby-led weaning, this guide has you covered
Benefits of Eggs
When babies first start solid foods, they generally eat very little. Therefore, it is important that they are fed nutrient-dense foods, such as eggs.
Eggs are an excellent source of key nutrients that babies need. These include iron, folate, omega 3 fatty acids, and protein. Eggs also provide some of the highest quantities of choline of any food. Choline helps brain cells function, and it is important for overall brain development and activity.
As well as being nutritious, eggs are affordable, easy/ quick to prepare and highly versatile.
When to Introduce Eggs
Guidance has changed in recent years and as a result, there is a lot of confusion around when it is best to first introduce eggs.
Current recommendations, from many professional bodies around the world (DGA, NHS, ASCIA), is to introduce eggs as soon as your baby is ready to start solids. (Usually around 6 months of age).
Egg and Allergies
Parents can be worried about introducing eggs as they are one of the most common allergy-causing foods for children. (ASCIA).
Symptoms of an egg allergy range from mild reactions to a severe allergic reaction (anaphylaxis). The most common symptoms are allergic skin reactions. Other symptoms include runny nose and itchy, watery eyes, cramps, nausea, or vomiting. (Better Health)
Only one common allergy-causing food (egg, dairy, peanut, dairy, tree nuts, soy, sesame, wheat, fish, and other seafood) should be introduced at each meal. This way, the problem food can be easily identified if there is an allergic reaction.
Most children allergic to egg will outgrow their food allergy. (ASCIA)
How to Cook and Serve Eggs to a Baby.
As eggs are a common food allergen you should start with small amounts of well-cooked egg and gradually increase the volume served.
One of the great things about eggs is that they can be served in so many different ways. Don't stick to serving your baby eggs cooked in just one way. Try a variety of different cooking methods so that your baby can get used to various textures and flavours.
You can serve eggs pureed, mashed, or as finger food. Try starting with pureed (or mashed) hard-boiled egg, mixed with avocado or breast milk for a more creamy consistency. Scrambled egg pieces are a fantastic finger food as are mini muffins, omelette strips and egg pancakes. See the recipe section below for ideas.
Egg Recipes for Babies
EGG PUREE / MASH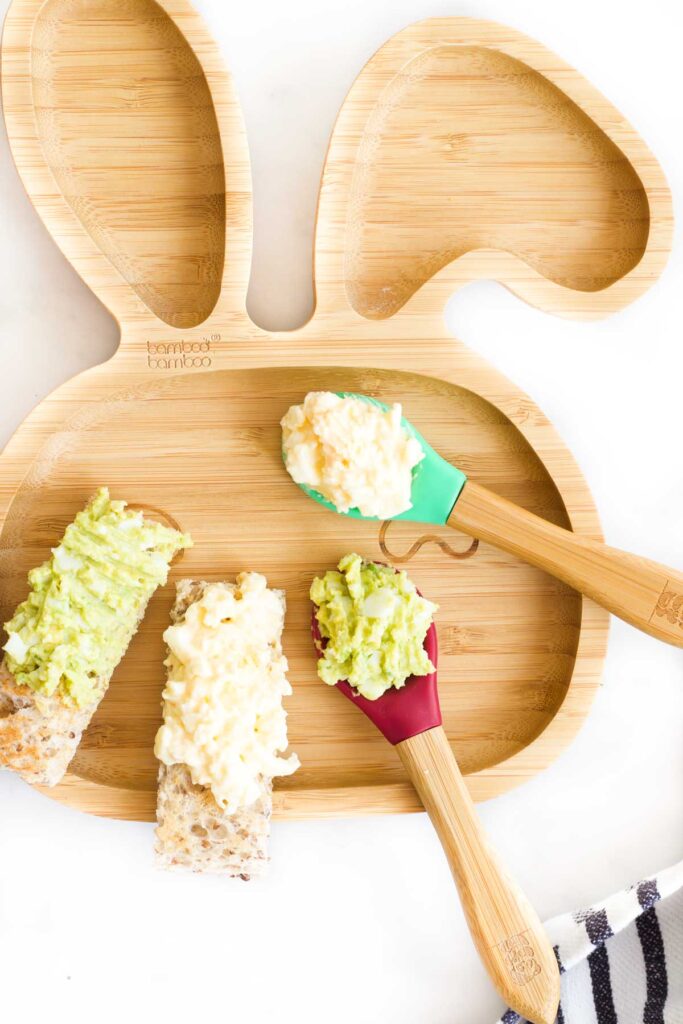 This is one of the easiest ways to serve egg to a baby. Simply hard boil an egg and mash together with a vegetable/fruit puree, baby milk or yoghurt. See the recipe card below for the full recipe.
This can be spoon-fed to the baby or offered to self-feeding babies on loaded spoons. Alternatively, spread the mixture on toast fingers.
SCRAMBLED EGG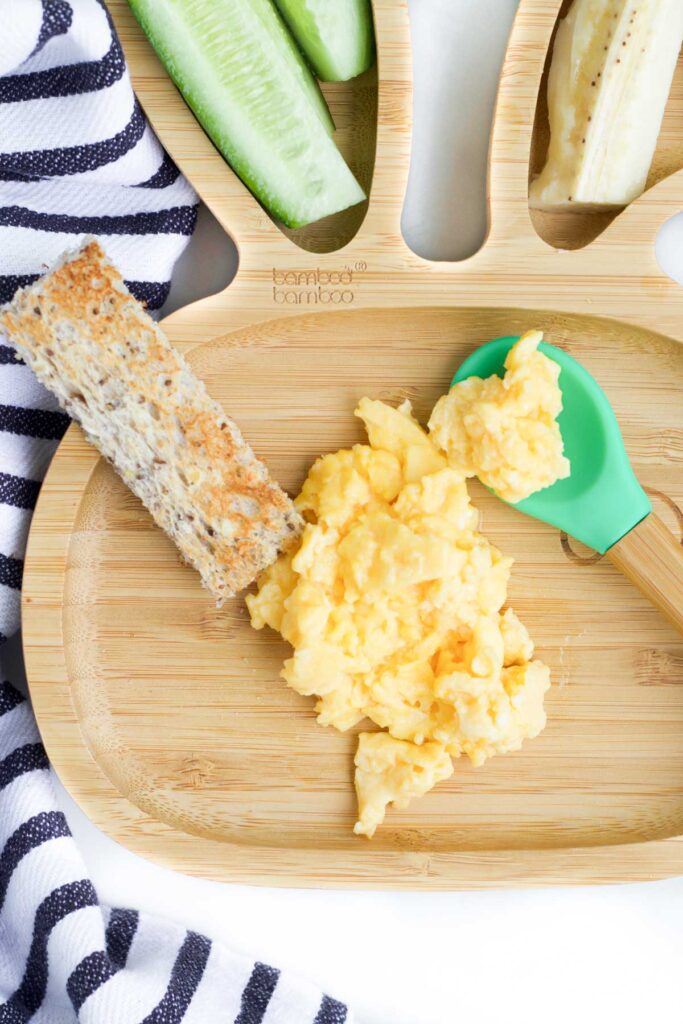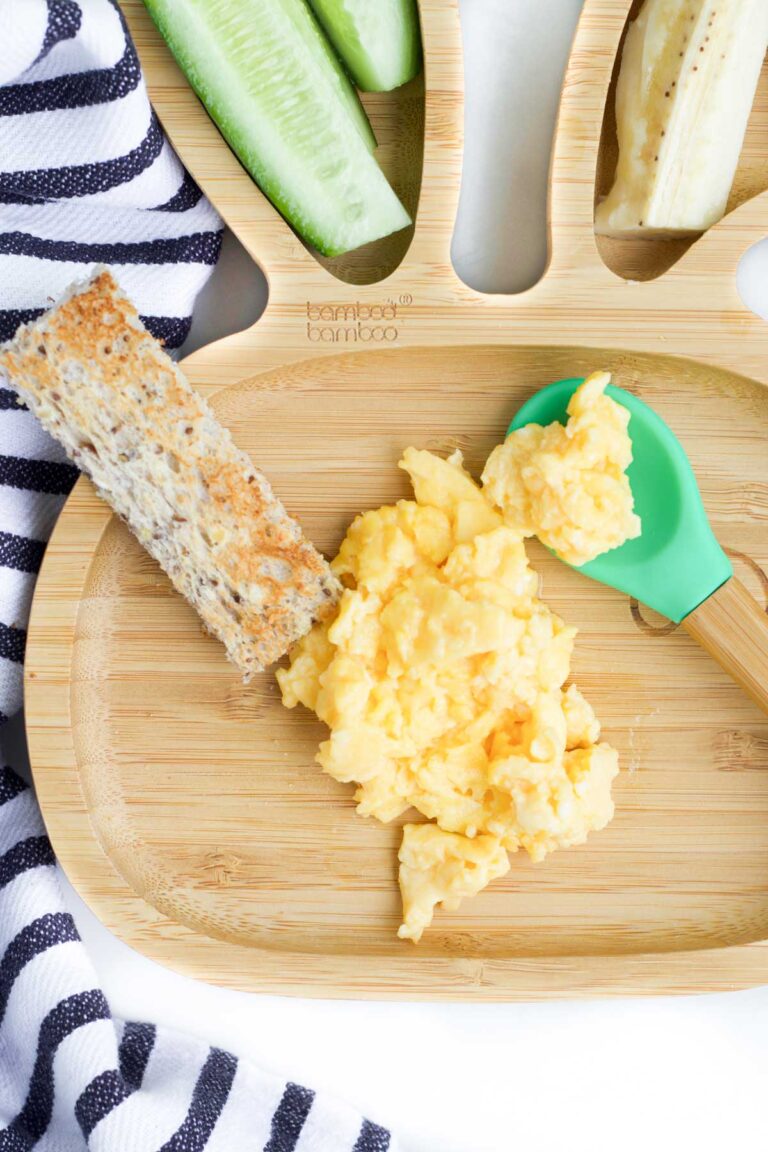 Scrambled eggs should always be fully cooked but you still want them to be soft and fluffy. Click here to get the full recipe and tips on how to cook scrambled eggs for a baby.
Scrambled eggs can be spoon-fed or served in big "clumps" to make it easy for babies to pick up.
OMELETTES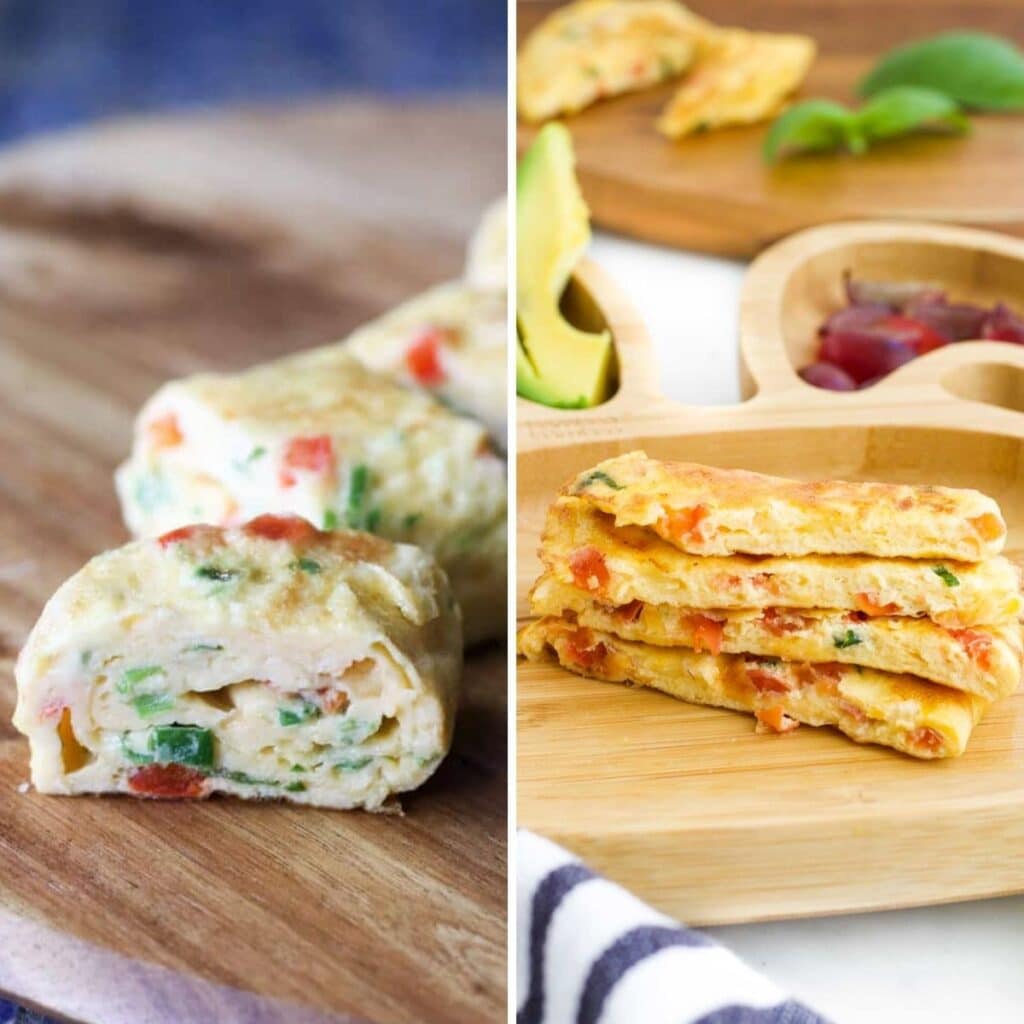 Omelettes are great for adding flavour and vegetables to eggs. Chop the vegetables very small and add them along with some herbs and/or cheese. Omelette fingers are great for little hands as they are easy to grasp and hold. Alternatively, roll the omelette and chop it into bite-size pieces.
Click here for the omelette fingers recipe and here for the omelette roll ups.
PANCAKES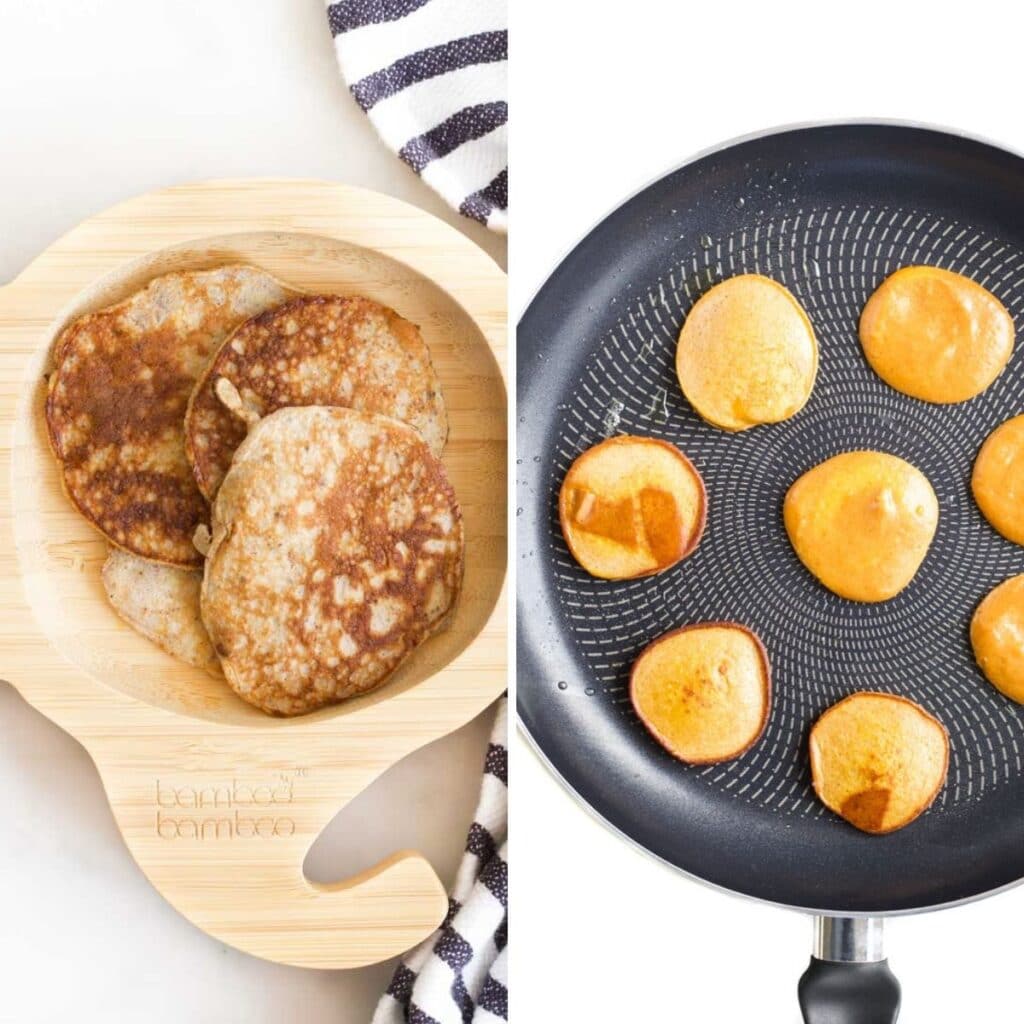 Most pancakes have eggs in them but what makes these "pancakes" different is that egg is one of only two ingredients. Mixing egg with some banana or sweet potato puree makes a very simple batter and can be formed into little pancakes, perfect for babies.
Click here for the banana egg pancake recipe and here for the sweet potato egg pancakes.
EGG MUFFINS
Similar to the banana pancakes above, these "muffins" or "sweet omelette bites" are made with just egg and banana. Optional fruit (raspberries / blueberries) are added to the bottom before cooking.
Click here for the fruity egg muffin recipe
Other Frequently Asked Questions
What foods do eggs pair best with?
Eggs taste great with a range of foods such as cheese or vegetables such as onion, capsicum, spinach, tomato, asparagus, mushrooms, leeks, and potato. Eggs are also great for introducing a range of herbs to your baby, such as basil, parsley, chives, tarragon & thyme.
Can you store cooked eggs?
Yes, add your cooked eggs / mashed egg purees to a covered container and refrigerate for up to two days.
Looking for more healthy kid recipes?Sign up for my free recipe newsletter to get new family friendly recipes in your inbox each week! Find me sharing more kid-friendly inspiration on Pinterest and Instagram.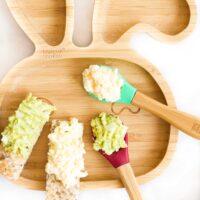 Egg Mash
A quick and easy egg mash recipe with ideas and links to other egg recipes suitable for babies.
Prep Time: 5 minutes
Cook Time: 1 hour 10 minutes
Total Time: 1 hour 15 minutes
Serves:2
Hover over "serves" value to reveal recipe scaler
Ingredients
½ Hard Boiled Egg
1 tablespoon Mashed Avocado See notes for alternatives
Instructions
Add the egg and avocado to a small mixing bowl and mash together until the desired consistency is achieved.
Recipe Notes
How to cook hard-boiled eggs:
Place eggs in a saucepan and cover with cold water. Place the pan over medium/high heat and when the water reaches a boil, start the timer so you can precisely time the cooking process. Reduce to a gentle simmer and cook the eggs in the saucepan for 10 mins.Use a large spoon to remove the eggs from the water.Cool the eggs by running them under cold tap water for 30-60 seconds or placing them in a bowl of iced water.Peel
The avocado needs to be ripe so it mashes easily. 
Alternatives to avocado: You can replace the avocado with any vegetable or fruit puree, yoghurt or a splash of baby milk. 
Nutritional information is a ROUGH guide only, calculated using an online nutrition calculator.
LINKS TO OTHER BABY FRIENDLY EGG RECIPES
Nutritional facts
Calories: 28kcal | Carbohydrates: 1g | Protein: 2g | Fat: 2g | Saturated Fat: 1g | Trans Fat: 1g | Cholesterol: 41mg | Sodium: 16mg | Potassium: 53mg | Fiber: 1g | Sugar: 1g | Vitamin A: 71IU | Vitamin C: 1mg | Calcium: 7mg | Iron: 1mg
Disclaimer: This information is intended for general use only. It is not medical advice and is not intended to replace the personalised care and advice given to you by your health professional. I am not a health professional and I do not know your baby. You should always discuss any concerns or questions about the health and well-being of your baby with a healthcare professional. Please refer to my full disclaimer for more info.
References