This guide covers the most common questions parents have when serving avocado to their babies. It illustrates how to prepare/serve avocado and includes links to avocado baby food recipes.
When Can Babies Eat Avocado?
Avocado is soft and nutritious, making it a fantastic first food choice. It can be introduced as soon as your baby starts solids (around 6 months), regardless if you're starting with purees or are doing baby-led weaning.
How to Prepare Avocado for a Baby
A ripe avocado requires no cooking and therefore is one of the easiest foods to serve your baby.
It has a smooth and creamy texture allowing it to easily be blended into a smooth puree or mashed as a chunky puree.
Alternatively, an avocado can be sliced and served as finger food for baby-led weaning. It can be slippery, so it is a good idea to provide some form of grip by using a crinkle cutter, coating or leaving the skin on.
Cut an avocado in half, remove the pit and, using a spoon, scoop the flesh out from the skin. Try serving the avocado...
PUREED - Blend in food processor/blender until smooth. Mix with a range of other vegetable, fruit and meat purees.
MASHED - Place on a chopping board and mash with a fork. Serve on a loaded spoon or on toast fingers.
COATED - Slice into spears or chunks (for oder babies with developed pincer grasp) and roll in something to make it less slippery. Suggestions include hemp seeds, unsweetened desiccated coconut, almond meal, nutritional yeast, bread crumbs. Alternatively spread with a little nutbutter to make it sticky.
SLICED WITH PEEL - Cut a slice with the peel still intact. Make a cut in the skin, half way down, and remove half of the peel. Observe, (as always with feeding), and make sure to remove the peel before baby tries to eat it.
Flavour Pairings - What Goes Well With Avocado.
Avocado is rich and creamy and has quite a neutral flavour. It adapts to different flavours easily and combines well with a range of foods.
FRUITS: Lemon, lime, mango, orange, pineapple, banana, tomato
VEGETABLES: Cucumber, onion, bell pepper (capsicum)
HERBS & SPICES: Coriander (cilantro), parsley, basil, chilli, fennel, garlic, cumin
MEATS & FISH: Fish, shellfish, chicken
Avocado Nutrition - Benefits for Baby
Avocado is a nutrient-dense fruit with vitamins, minerals, healthy fats and fibre, all of which are good for growing babies. It is naturally sodium, cholesterol and sugar-free. (1)
Healthy Fats - essential for growth and development. Young kids need enough of them in their diet to help the brain and nervous system develop normally. They also help the body absorb certain vitamins (vitamins A, D, E, and K are fat soluble, meaning they can only be absorbed if there's fat in the diet)
Fibre - Avocado fruit carbohydrates are composed of about 80% dietary fiber, consisting of 70% insoluble and 30% soluble fiber. Fibre can help infants maintain a healthy digestive system by preventing constipation.
Vitamins and Minerals - In addition to healthy fats and dietary fiber, avocados are also a great source of vitamins C, E, K, and B-6, as well as riboflavin, niacin, folate, pantothenic acid, magnesium, and potassium.
Storage Instructions
Determining how best to store an avocado depends on how ripe it is and whether it has been cut open or not.
WHOLE / UNCUT AVOCADOS - Ripe avocados should be stored in the refrigerator. If your avocado isn't quite ripe, leave it out on your countertop and check for ripeness daily.
CUT AVOCADOS - Avocados turn brown once they are exposed to the air. You can prolong this from happening by adding something acidic (lemon or lime juice) then covering tightly with plastic wrap. Cut avocados should be refrigerated.
Avocados can also be frozen but the texture of the fruit does change once thawed. It can become quite mushy and for that reason, it is best to serve your baby thawed avocado mashed or add it to smoothies/dips/sauces.
FREEZE - Start with just ripe avocados. Cut the avocado in half, remove the pit and, using a spoon, scoop the flesh out from the skin. Slice or cut into chunks. Brush or squeeze a little lemon juice over the fruit and freeze on a lined baking sheet until hardened (around 2 hours). Transfer to a ziplock bag or remove as much air before sealing the bag. You can also freeze mashed / pureed avocado, read more here.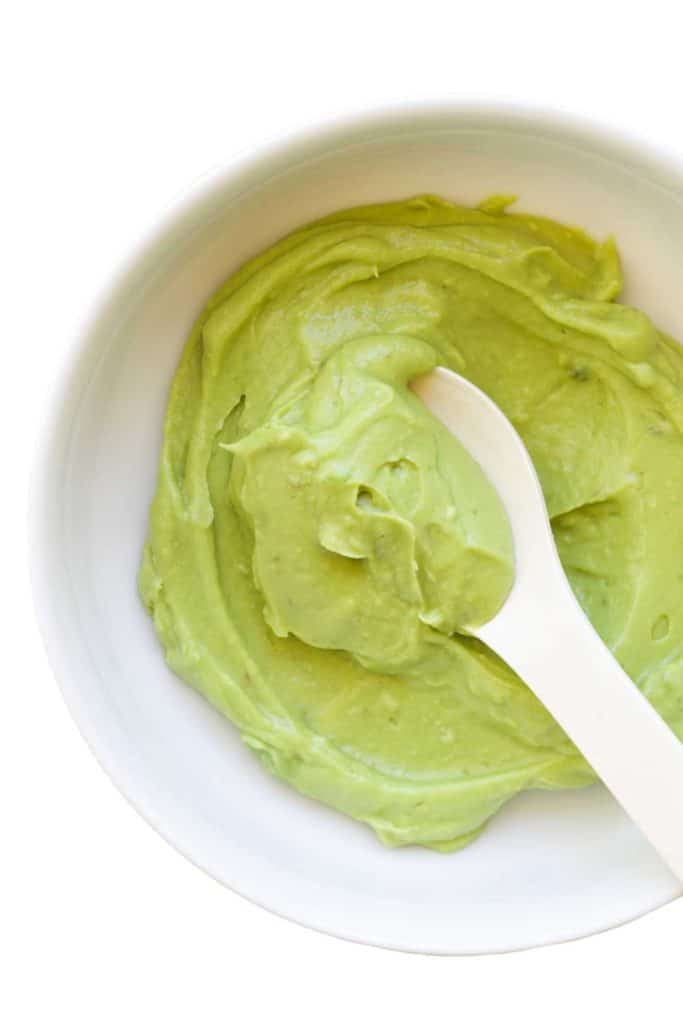 Other Frequently Asked Questions
Are avocados a common food allergen?
Avocado allergies are rare. They can occasionally trigger oral allergy syndrome — a condition caused by cross-reaction in allergens found in both pollen and raw fruits and vegetables. Those that are allergic to latex may also be allergic to avocado. (2)
Are avocados a choking hazard?
No, ripe avocados are not a common choking hazard for babies. However, if an avocado is not ripe the flesh will be harder and more of a risk. As with all foods, supervise and stay close while your baby is feeding and always provide a safe feeding environment.
What are the best avocados for babies?
You can use any variety. Look for fruit with a firm texture that give slightly when you squeeze it. Avoid any with bruises or soft spots, and those that are hollow between the flesh and skin. Only use ripe avocados, hard ones will not blend/mash easily and become grainy when pureed.
Baby-Friendly Avocado Recipes
Avocados are very versatile and can be combined with a range of fruit, vegetable and meat purees. They can be used to replace oil/butter in baking and can be an ideal substitute in dishes that use mayo, such as egg, chicken or tuna salad. Here are some great avocado recipes for your little one to try.
Avocado Puree
Avocado puree is one of the easiest purees to prepare with no cooking or special equipment needed. The buttery, creamy texture is perfect for babies and it combines great with a range of other sweet and savoury purees
Check out this recipe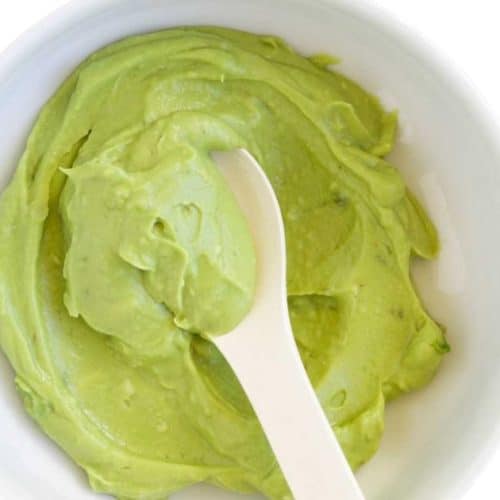 Avocado Egg Salad
This Avocado Egg Salad is a perfect sandwich filler, toast topping, baked potato filling or can just be enjoying eaten by the spoonful!
Check out this recipe

Avocado Fries
Sliced avocado, coated in breadcrumbs and baked until crispy. These avocado fries are easy to make, taste delicious and are perfect for baby-led weaning. 
Check out this recipe


Avocado Dip Recipe
This Avocado Dip recipe is quick and easy to make, super-smooth and creamy, and tastes so fresh and flavorful!
Check out this recipe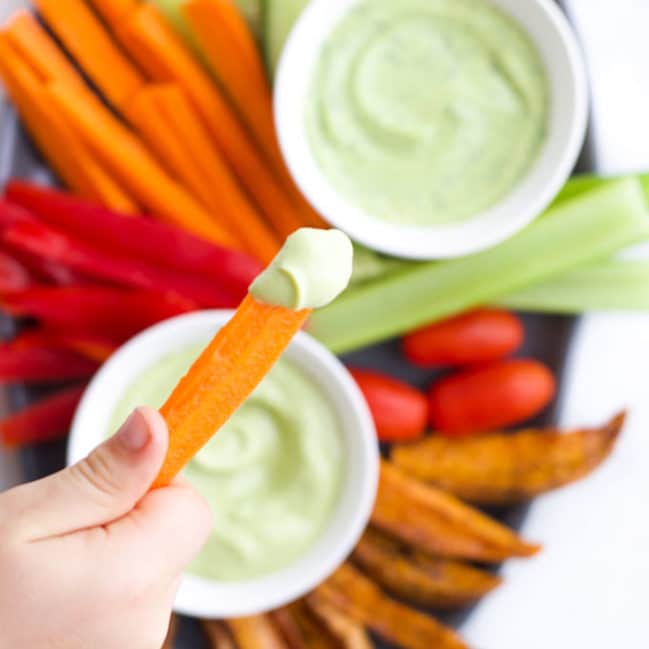 Avocado Quesadilla
Tortilla wraps filled with avocado and cheese and lightly pan-fried.
Check out this recipe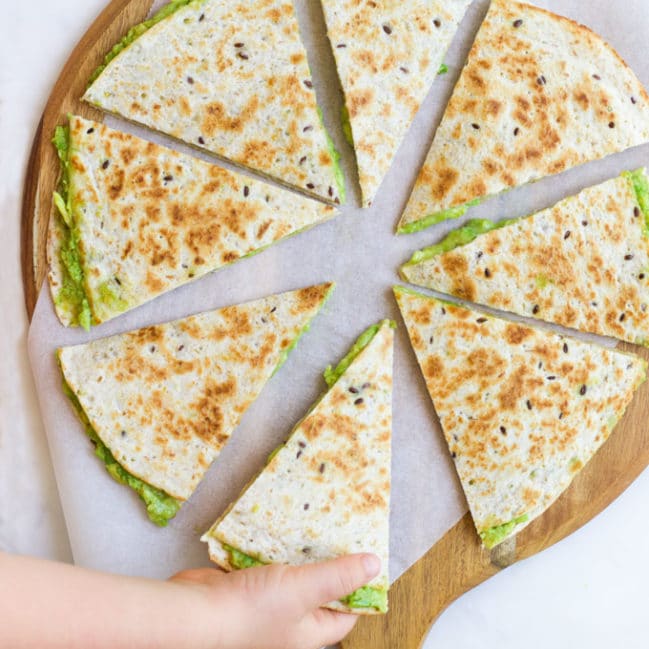 Summary
Avocados are an excellent food choice for your baby. Not only are they healthy, but they are also incredibly delicious and versatile. They require no cooking and their soft, creamy consistency make a delicious puree, mash or finger food.
References and Further Reading