Potato and Carrot Mash is a delicious replacement for regular mashed potatoes and a fantastic way to up vegetable intake. Great as a side dish or used to top pies. It also makes a great baby puree.
Reaching our daily vegetable intake goal can be hard for both children and adults. Although I do believe in exposing children to a range of vegetables, in their natural form, I am also a firm believer of adding "hidden" vegetables into as many meals as I can. I add them to pasta sauces, bolognese, pancakes, smoothies and so much more.
My kids help me to prepare a lot of our meals so when I say "hidden" I actually mean vegetables that are mashed, pureed or blended into a meal. They know they are there but they could easily not know too.
You can't really say that the carrots are "hidden" in this Potato and Carrot Mash, you can see the carrots, but they are in a different form. For potato lovers, this could be a great way to add some veggies
This Potato and Carrot Mash can be used in the same way as regular mashed potato. My Mum introduced it to me and I have actually featured it, on this blog, in one of her recipes "Granny's Five a Day Pie."
I recently received a message from a reader saying that she thought the pie was delicious and the potato and carrot mash was a genius idea. Her 3 yr old, who really isn't keen on his veggies but loves potatoes ate the mash with no issues.
She now mashes a range of vegetables into her mashed potato. Broccoli, cauliflower and avocado have all been mashed with potato with great success.
Messages like this really make my day and are the reason I keep slogging away on this blog!  After receiving the message I thought that perhaps this Potato and Carrot Mash deserved its very own post.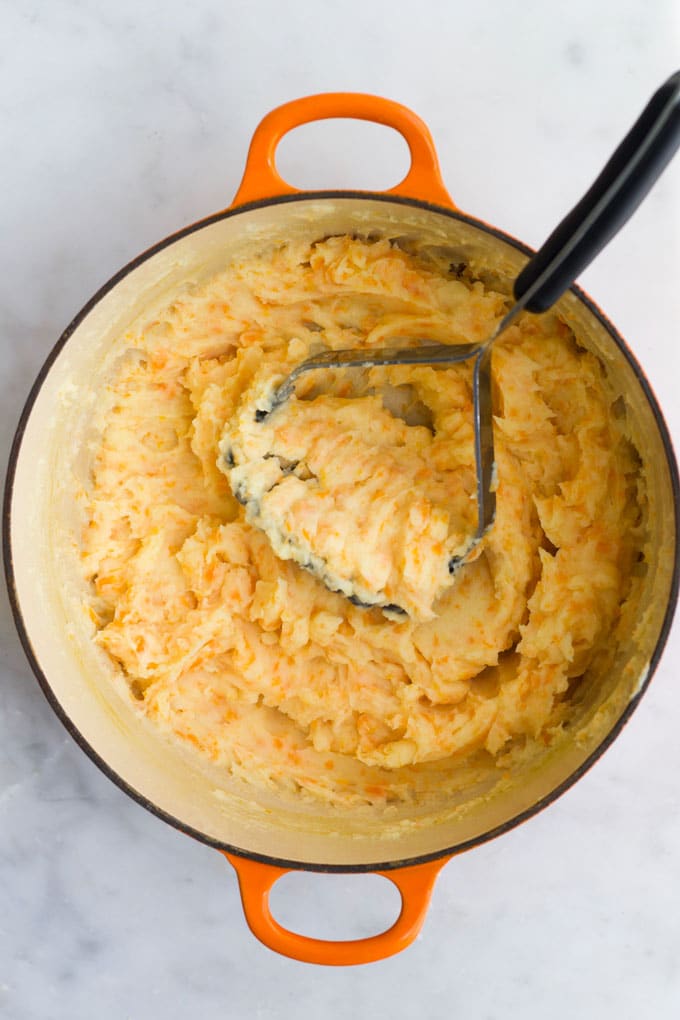 Potato and Carrot Mash - Cooking Tips.
Choosing the Correct Potato. 
Great mash starts with the correct potato. There is a huge range of potatoes available and they have different properties that suit different cooking methods. To achieve smooth, light and fluffy mash you first need to choose the correct potato.
Higher starch potatoes (such as Russet & King Edward) are the best choice for mash as they fall apart easily when cooked and they absorb flavouring more easily. Waxy potatoes, require more mashing to become creamy which can result in a "gummy" texture.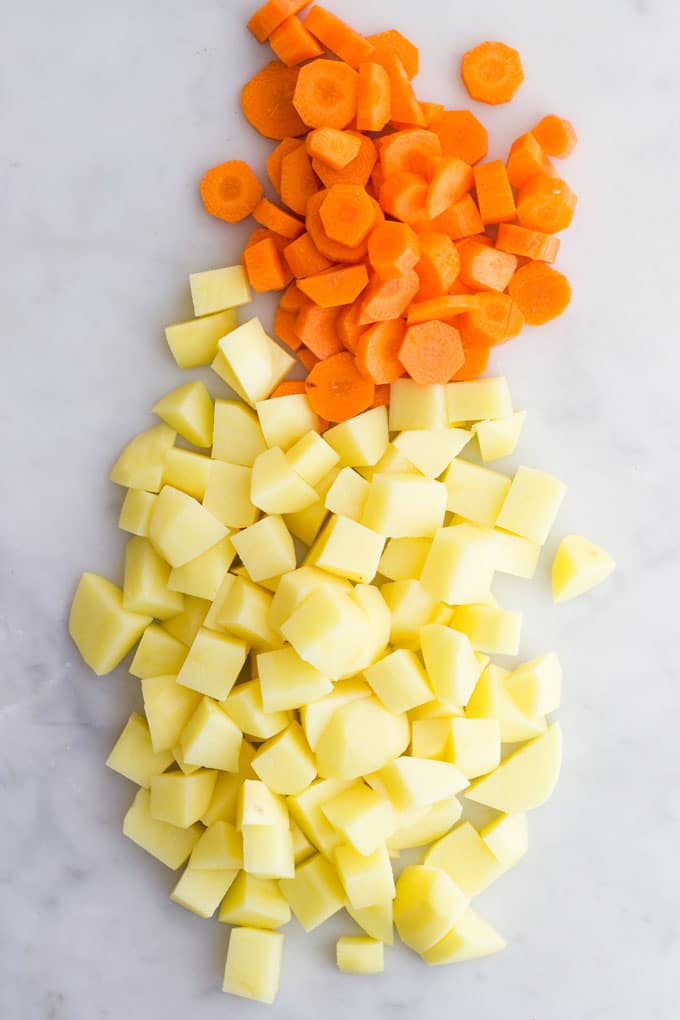 Cooking
You want to chop the carrots smaller than the potatoes so that they are nice and soft for mashing. The carrots don't mash as well as the potatoes and you will have small lumps (see images.) If you want a smoother consistency then you may wish to cook and blend the carrots separately and then combine with the potato when mashing.
Adding Dairy
Cold butter and milk don't absorb as well into the potatoes. Gently heat the butter with the milk on the stovetop before adding them to your potato and carrot mash. Or at the very least bring your butter and mash to room temperature.
Have you tried this recipe? I'd love to know what you think. Please rate and leave a comment below or tag me on Instagram or Facebook. 
Looking for more healthy kid recipes?Sign up for my free recipe newsletter to get new family friendly recipes in your inbox each week! Find me sharing more kid-friendly inspiration on Pinterest and Instagram.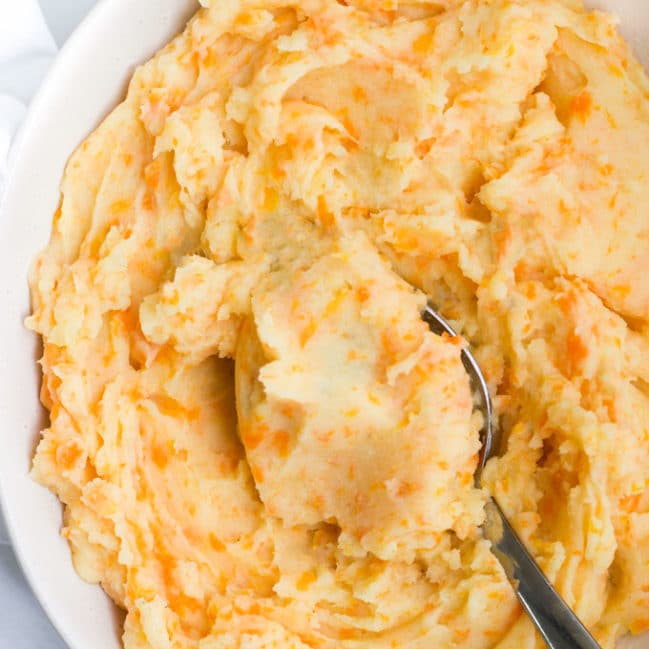 Potato and Carrot Mash
A delicious side dish, pie topper or baby puree.
Prep Time: 10 minutes
Cook Time: 30 minutes
Total Time: 40 minutes
Serves:4 people
Hover over "serves" value to reveal recipe scaler
Ingredients
200g (3 med carrots) Carrots, peeled and cut into 1cm chunks
650g (4 med carrots) Potato, peeled and cut into rough chunks approx 3-5cm cubed * See Note 1
60ml (¼ cup) Milk
20g (1 tbsp) Butter
Instructions
Place the carrot and potatoes in a large saucepan. Cover with water and bring to the boil. Cover and simmer until very tender (around 20 mins)

Drain the potato and carrots and return to the pan. * See note 2

In a small saucepan, melt the butter and milk together. *See note 3 Add to the potato and carrots and mash until smooth.* See note 4

Season to taste.
Recipe Notes
Choose a starchy potato that is good for mashing. See above post for more detail. 
Make sure to drain the carrots and potato well so that they aren't too watery when mashed. 
Warming the butter and milk will help keep the mash warm and absorbs better. 
The carrots do not mash as well as the potatoes and there will be lumps (as seen in the images).  If you wish, you can puree the carrot. Pureeing the potato is not recommended, it will result in a gloopy mash. Puree the carrot separately and add to the potato when mashing. 
Nutritional information is a rough estimate only, calculated using an online calculator. 
Nutritional facts
Calories: 193kcal | Carbohydrates: 34g | Protein: 4g | Fat: 4g | Saturated Fat: 2g | Cholesterol: 12mg | Sodium: 84mg | Potassium: 857mg | Fiber: 3g | Sugar: 4g | Vitamin A: 8500IU | Vitamin C: 12.2mg | Calcium: 55mg | Iron: 1.5mg