This guide covers the most common questions parents have when serving apples to their babies. It illustrates how to prepare/serve apples and includes links to 10 baby-friendly apple recipes.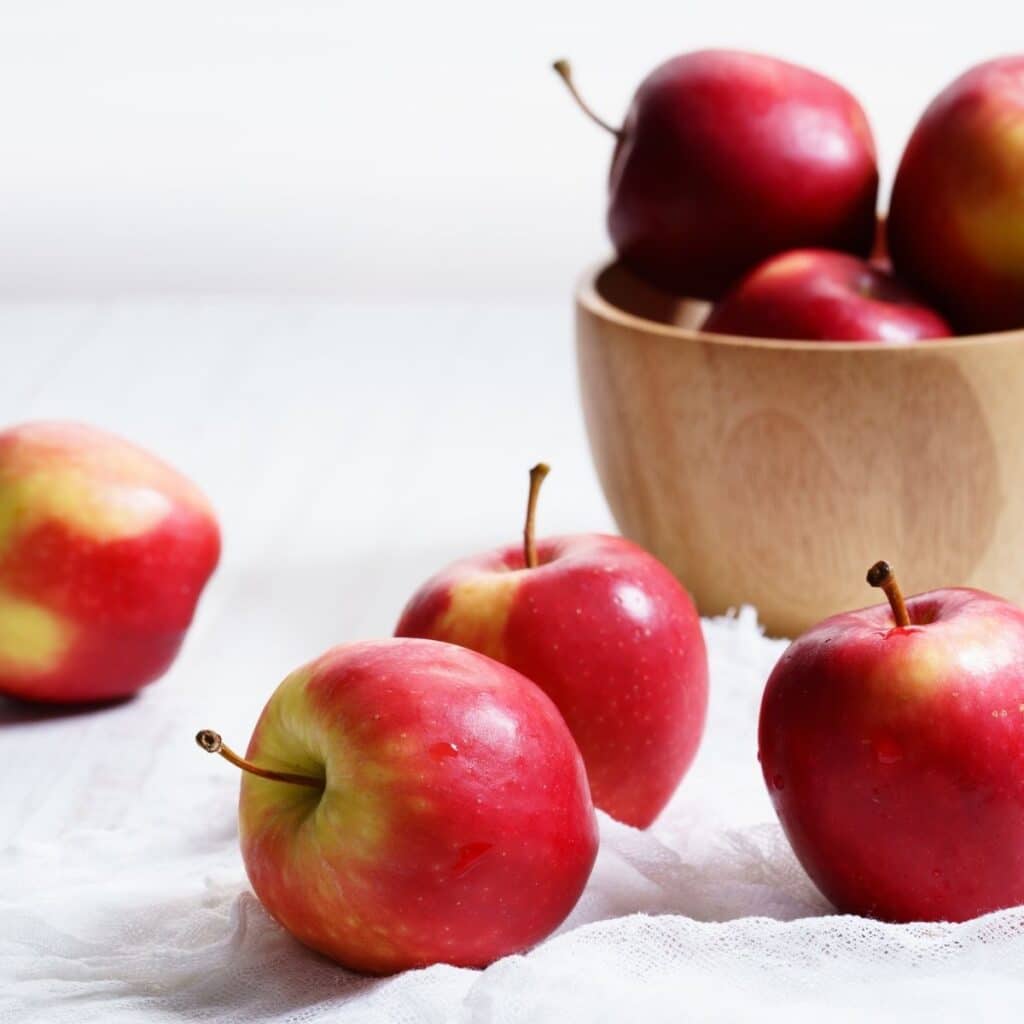 Disclaimer: This guide is for informational purposes only. It is not intended to replace the personalised care and advice given to you by a health professional. You should never disregard professional medical advice or delay in seeking it because of something you have read or seen here. Please refer to our full disclaimer for more info.
When Can Babies Eat Apples?
Apples can be introduced once your baby is ready to start solids, usually around 6 months old. However, care must be taken to ensure they are prepared and served in an age-appropriate way, to reduce the risk of choking.
How to Prepare Apples for Babies
Raw apples are one of the top choking hazards for children under 3 years of age. (1) When serving apples to a baby they should be cooked until soft or, if offering raw, grated/sliced paper-thin to reduce any choking potential.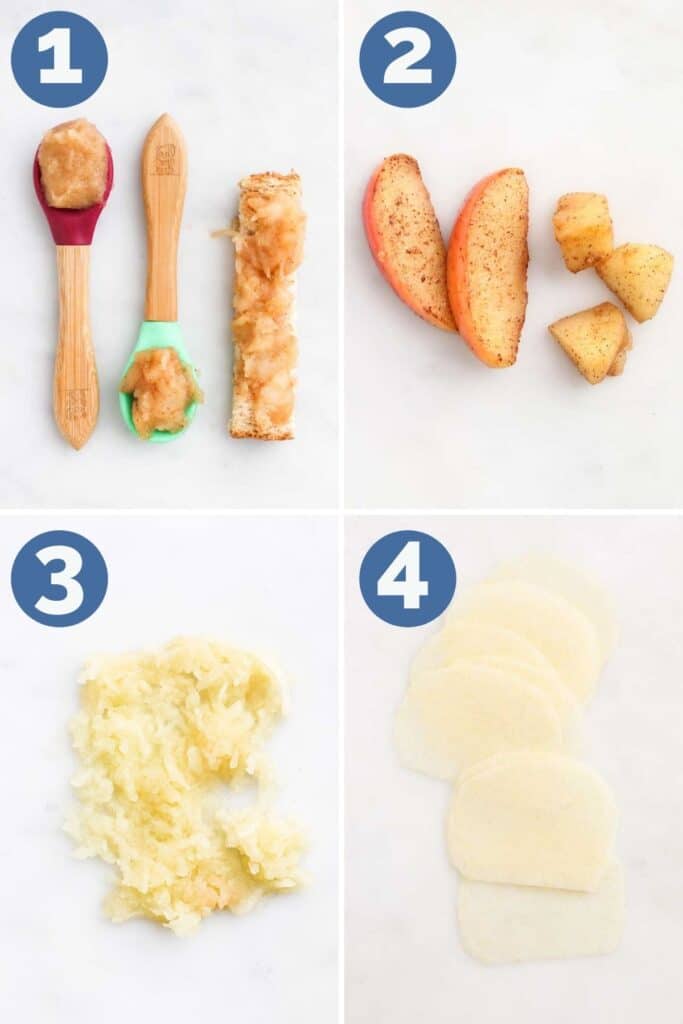 Puree / Mashed - Cook apples until very soft and then mash/puree. Add spices like cinnamon or cardamon to introduce different flavours. (Suggestions given below in flavour pairings section) Mix with other mashed fruit and vegetables or spread on toast fingers.
Cooked Wedges / Halves/ Chunks - Cook until very soft, see below for the different ways to soften apples. Again, play with spices and herbs for extra flavour.
Finely Grated - If you want to serve raw apple to a baby then grating is the safesty way. Serve in a bowl and allow baby to scoop up with their hands.
Paper Thin Slices - Use a mandolin to cut the apple paper-thin to reduced risk of choking 5
Julienne/ spiralize- You could also finely julienne using a julienne peeling like in this apple cucumber salad
At around 18months - 2 years, and once you think your little one is ready, you can try offering whole apples. (which can actually be safer than offering raw cut sections.
How to Soften Apples fo Babies
Steam - In a pot fitted with a steamer basket, add enough water to cover the bottom of the pan. Steam chopped apples until tender. This is a great method for preserving the taste and vitamins.
Boil/Simmer - Chop apples, add to a pot with a little water (you only around a couple of tbsps - ¼ cup), cover and simmer.
Baking - If you have the oven on to cook a family meal then why not also add a tray of halved/chopped apples . Bake until tender and mash or offer as chunks.
Sautee - Chop into wedges or chunks and sautee in a little coconut oil (or butter) until soft.
Microwave - Place the peeled and chopped apple in a microwavable dish. Add a couple tablespoon of water, cover leaving an air vent and cook until tender (checking and stirring every 20 seconds).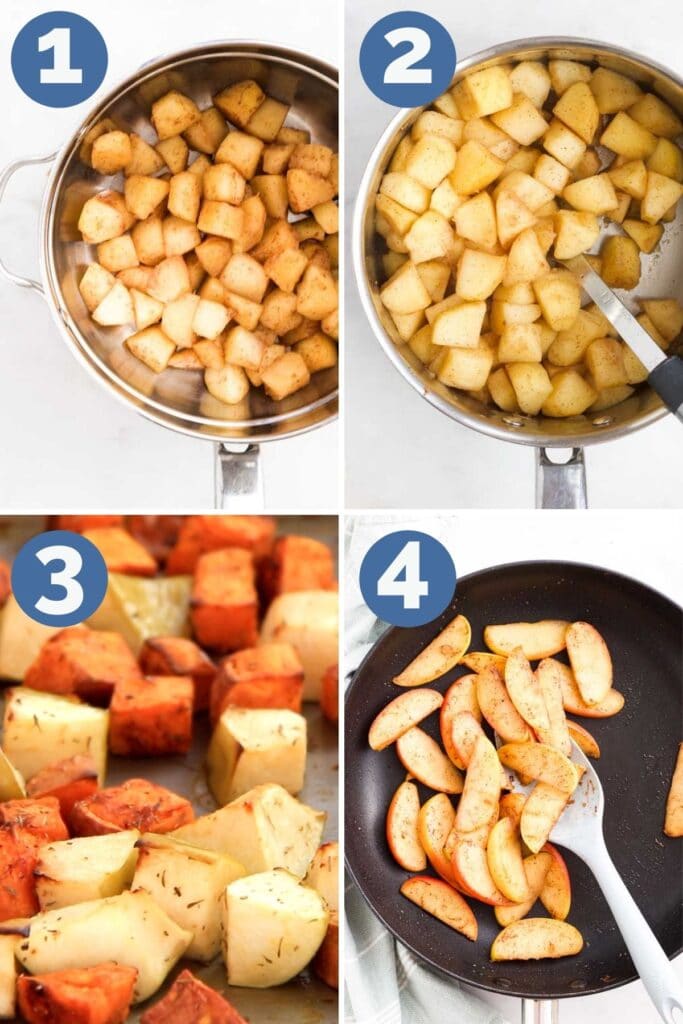 Flavour Pairings - What Goes Well With Apples
SPICES & HERBS: allspice, bay leaf, cardamom, chives, cinnamon, coriander, cumin, curry powder, ginger, nutmeg, parsley, rosemary, star anise, tarragon, thyme, vanilla
FRUITS: apricots, blackberries, cherries, cranberries, dates, lemon, lychee, orange, pears, plums, raisins
VEGETABLES: cabbage, celery, onion, pumpkin, sweet potato
MEATS: beef, chicken, pork
OTHER: cheese, nuts, oats, yogurt
Nutrition
Apples are a nutritious choice. They are low in sodium, fat and cholestorol and packed with minerals and vitamins. Apples are a good source of
fibre (soluble and insoluble) - important for digestion.
vitamin C - essential for maintaining a healthy immune system, enhancing iron absorption, and producing collagen (2)
various antioxidants - essential for overall health
Other Frequently Asked Questions
What are the best apples for babies?
Select apples that are fresh and of good quality; they should look crisp and not have any cuts or bruises. Try a range of varieties
Are apples a common allergen?
Apples are not a common allergen, however, allergic reactions to apples can occur. They can occasionally trigger oral allergy syndrome (More likely to affect older children and adults) and people can also be allergic to a protein in the apple (especially observed in the Mediterranean area). (3)
Do you need to peel apples for a baby?
Apple skins can be difficult for a baby to digest and also trickier to chew and swallow. However, discarding the skin removes much of the fibre and the majority of flavonoids. Many babies do fine with apples that have skin on them, so use your own judgement.
What about pesticides?
Apples are commonly sprayed with pesticides so it is important to wash apples well before serving. Although some pesticide residue can pass through into the flesh, washing and peeling the apple skin removes much of the pesticide. (3)
Can I serve my baby apple juice?
No, fruit juice is not necessary or recommended for infants under 12 months of age (unless directed to do so by a health professional)
Baby-Friendly Apple Recipes
Apples are very versatile and can be mixed with cereals, vegetable/fruit purees, meat purees or yogurt. They are a great sugar replacement and can be used as a natural sweetener in recipes.
Apple Puree / Sauce
Apple Puree takes little effort to make and can be used in a variety of ways.
Check out this recipe
Apple Overnight Oats
This Apple Overnight Oats recipe is a healthy breakfast that you can make ahead of time for busy mornings.
Check out this recipe
Cinnamon Apples
Apple wedges pan-fried in a little coconut oil and a good shake of cinnamon.
Check out this recipe

Butternut Squash and Apple Soup
A smooth and sweet soup that little ones are sure to love!
Check out this recipe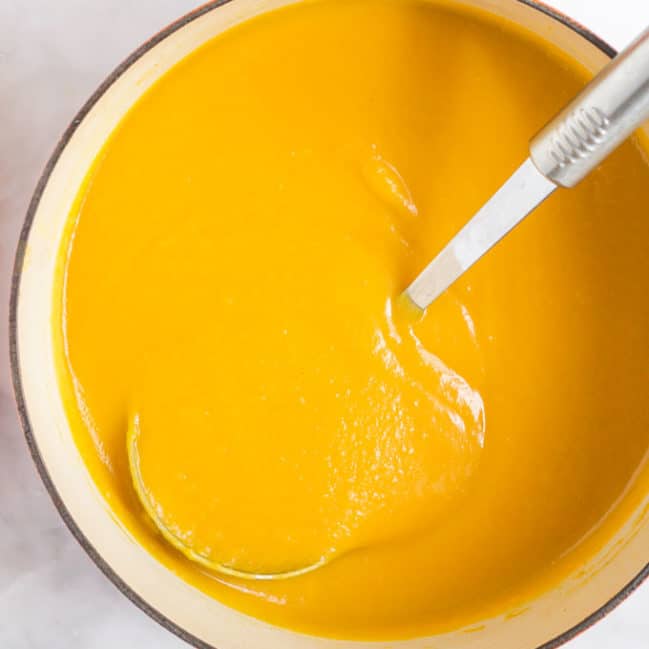 Stewed Apples
Delicately sweet, easy to make and can be enjoyed warm or cold alongside both sweet and savoury dishes.
Check out this recipe



Apple Pancakes
Delicious fluffy pancakes filled with cinnamon-spiced apple and raisins.
Check out this recipe
Carrot and Apple Muffins
These Carrot and Apple Muffins are sweetened only with fruit. They are perfect for breakfast or as a healthy snack. 
Check out this recipe

Braised Red Cabbage and Apple
Add some colour to your plate with this classic combination of red cabbage and apple. The sweet and savoury taste and bright colour is sure to be a hit with little ones.
Check out this recipe

More Baby-Led Weaning Guides
References and Further Reading
Altkorn R, Chen X, Milkovich S, Stool D, Rider G, Bailey CM, Haas A, Riding KH, Pransky SM, Reilly JS. Fatal and non-fatal food injuries among children (aged 0-14 years). Int J Pediatr Otorhinolaryngol. 2008 Jul;72(7):1041-6. doi: 10.1016/j.ijporl.2008.03.010. Epub 2008 May 2. PMID: 18455807.
Lykkesfeldt J, Michels AJ, Frei B. Vitamin C. Adv Nutr. 2014 Jan 1;5(1):16-8. doi: 10.3945/an.113.005157. PMID: 24425716; PMCID: PMC3884093.
Harvard T.F. Chan School of Public Health, The Nutrition Source: Apples (website) Accessed July 13 2021