Carrot Rice Paella is made using rice that is made of carrots, a great way to increase vegetable intake.
I love this carrot rice paella and both Finn and Rory love it too, which is great considering the main ingredient is carrot! Paella is a favourite dish of mine but I always overindulge, which can leave me feeling a little bloated. This alternative is perfect as I can have a huge portion and still feel great after!
My Mum introduced me to this dish the last time she visited. She got the recipe from the book Inspiralized and this is an adaptation of that recipe.
Making the Carrot Rice for the Paella
To make the carrot rice you have to start by spiralizing carrots. If you don't have a spiralizer I highly recommend you buy one. It is a great tool for helping you add more vegetables to your diet. It is one of our most used kitchen appliances. Once you have spiralized the carrots, place them in a food processor and pulse for a few seconds. (Until the carrots resemble rice.)
Making the Paella
Once you have made the carrot rice, this dish is really quite quick to make. Start by frying onion, garlic and pepper for a few minutes. Next add some chorizo, spices and fry for a further couple of minutes. Add tomatoes, the carrot rice, peas, coriander and lemon juice and then stir. Place prawns into the rice, cover and cook. Finally, stir in some cooked chicken.
I made this for the whole family but made sure that Rory (8 months) didn't get too much of the chorizo for salt levels.
You May Also Like
Have you tried this recipe? I love receiving your feedback. Please rate and leave a comment below or tag me on Instagram @healthylittlefoodies
Looking for more healthy kid recipes?Sign up for my free recipe newsletter to get new family friendly recipes in your inbox each week! Find me sharing more kid-friendly inspiration on Pinterest and Instagram.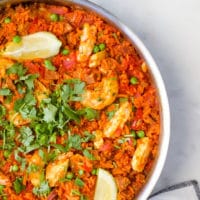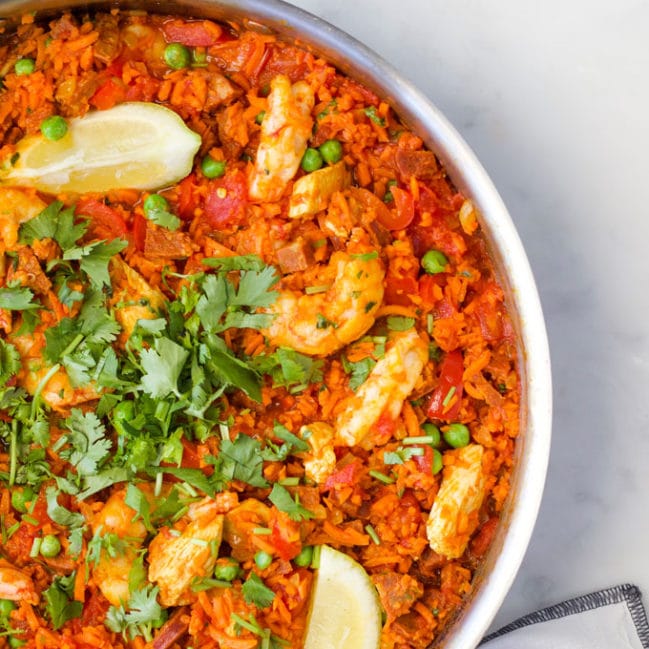 Carrot Rice Paella
Rice, made from carrots, cooked with chorizo, chicken, prawns and delicious spices.
Prep Time: 20 minutes
Cook Time: 15 minutes
Total Time: 35 minutes
Serves:6 people
Hover over "serves" value to reveal recipe scaler
Ingredients
3 large carrots *SEE NOTE 1
1 tablespoon olive oil
200g (½ large) chicken breasts, chopped into chunks
1 tablespoon finely chopped garlic
1 small onion, finely chopped
1 capsicum pepper
1 teaspoon smoked paprika
½ teaspoon ground turmeric
200g 1 large Continental Chorizo sausage *SEE NOTE 2
400g tin chopped tomatoes
90g frozen peas
2 tablespoon lemon juice
1 tablespoon chopped coriander /cilantro
200g king prawns
Instructions
Peel carrots and spiralize using a spiralizer. Add spiralized carrot to a food processor and pulse until the carrots resemble rice.

Heat the oil in a paella / large frying pan over a medium heat.

Fry the chicken breast until browned and cooked through. Remove from pan and set aside.

Add the garlic, onion and capsicum pepper and cook until the vegetables soften (around 3-5 mins)

Add the chorizo, smoked paprika and turmeric and cook for a further few minutes.

Add the chopped tomatoes, peas, carrot rice, lemon juice, coriander and stir to combine.

Press the prawns into the rice, cover and allow the mixture to cook undisturbed until the prawns are cooked. (around 5-7 mins)

Add the cooked chicken and stir until combined.

Garnish with some chopped coriander.
Recipe Notes
NOTE 1: I generally produce 300g of carrot rice from 3 large carrots. NOTE 2: I use continental (Spanish) chorizo that is cured and dry. I do not recommend using fresh chorizo in this recipe.  If serving to a baby watch the amount of chorizo added. I removed the chorizo for baby portions. The nutritional information is an ESTIMATE only calculated using an online nutrition generator. It is based on 1 of 6 portions of the meal. 
Nutritional facts
Serving: 1of 6 | Calories: 300kcal | Carbohydrates: 13.5g | Protein: 24.6g | Fat: 16.6g | Cholesterol: 107.3mg | Sodium: 586.7mg | Sugar: 6.3g