Do you want to make fun Christmas snacks for your kids but would rather the focus wasn't on sweet, sugar-filled treats? These 18 Healthy Christmas Snacks, made from fruit, will delight your kiddos and you will feel great knowing you are filling their tummies with the good stuff.
I don't want to be the Grinch who stole Christmas, I am not against my kids having their fair share of sugar-laden snacks at parties and Christmas events. However, at home, I do like to focus on healthy snacking and December is no different. Healthy can be fun too though and each day in December I like to make a Healthy Fruit Christmas Snack with my boys. I don't normally do "fun food" so this is quite a novelty for them and they love it.
Fruit is perfect for making Christmas treats. Bright in colour and deliciously sweet, they can easily be transformed into something festive with a little bit of creativity. These ideas vary from the incredibly easy to the little more challenging, all of them double up as a healthy snack but also a great activity to do with young kids.
Healthy Christmas Snacks (Christmas Trees)
How pretty are these watermelon Christmas trees? They are perfect for those of us that celebrate Christmas in summer. Freeze the trees for a fun, festive, frozen treat.
The vibrant green colour of kiwis is perfect for creating Christmas trees. Top with a watermelon star and use the skin for the tree base.
3. 3D Fruit Christmas Tree (Iowa Girl Eats)
This 3D Fruit Christmas tree is stunning and is definitely more of a centrepiece rather than a snack. I love how beautiful it is and I know my boys would be all over this! Click the link above for full video instructions.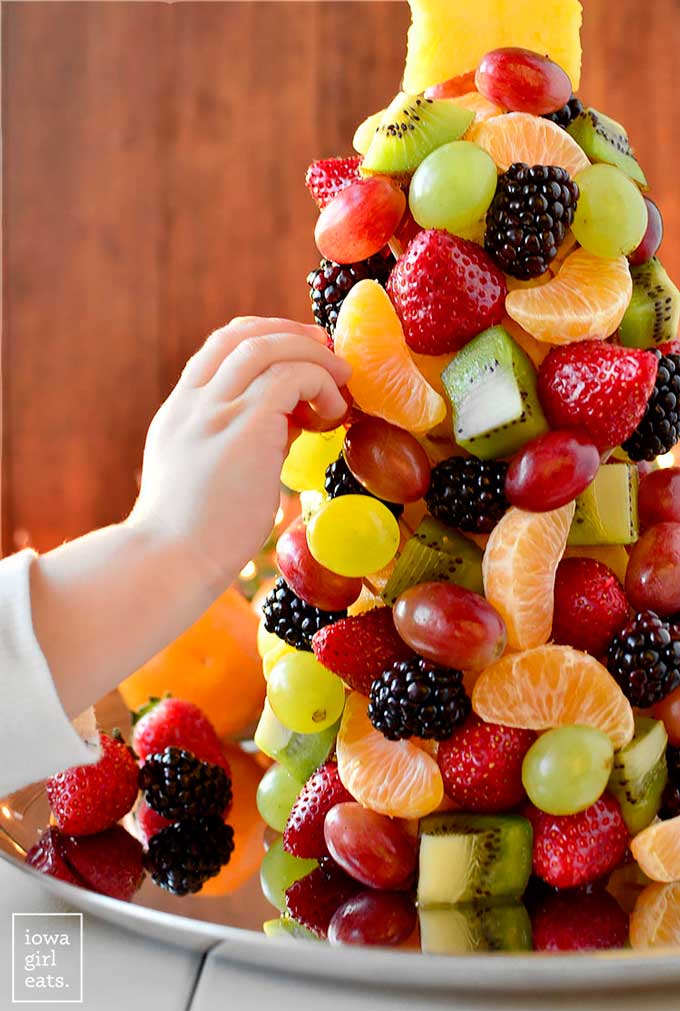 4. Grape Christmas Tree (Eats Amazing)
Green grapes are another great fruit for turning into Christmas Trees. The bonus with this snack is that the grapes are cut in half making them safe to eat for little ones.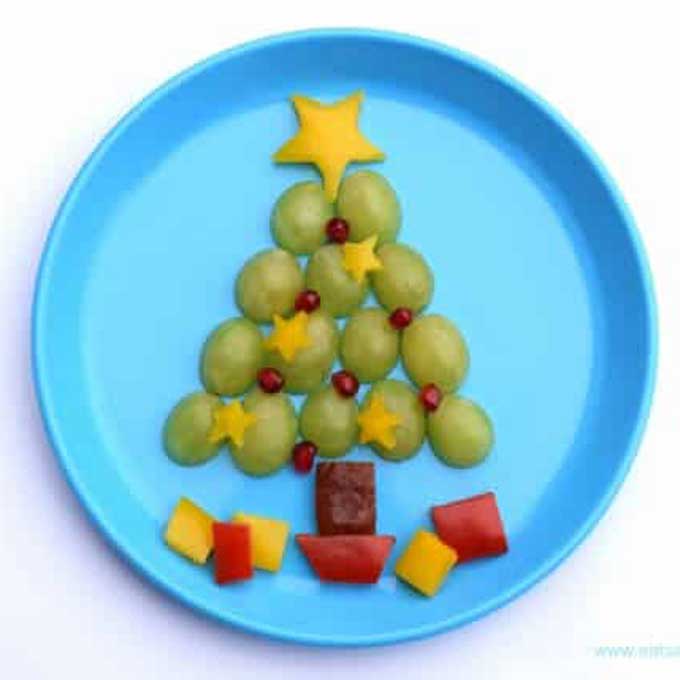 Healthy Christmas Snacks (Snowmen)
5. Melon and Raspberry Snowmen
If you can find some large, juicy raspberries then you have to try turning them into a snowman's hat and scarf. The stick in this snack further adds to the kid appeal.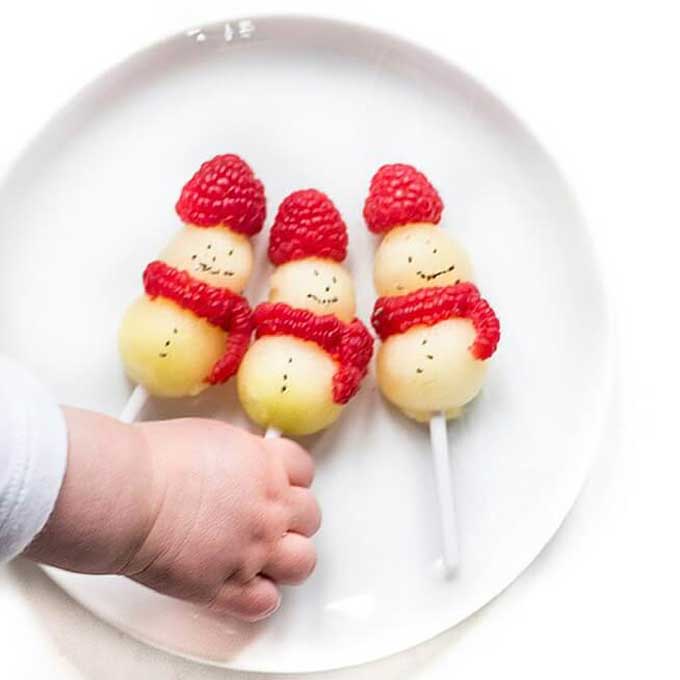 6. Banana Snowmen (One Handed Cooks)
I love how simple, yet effective, these Banana Snowmen from One Handed Cooks are. They would be fantastic as a frozen treat too.
I found this pineapple snowman on Pinterest but I'm unsure of the original creator. I love this cute snowman and how easy it looks to create.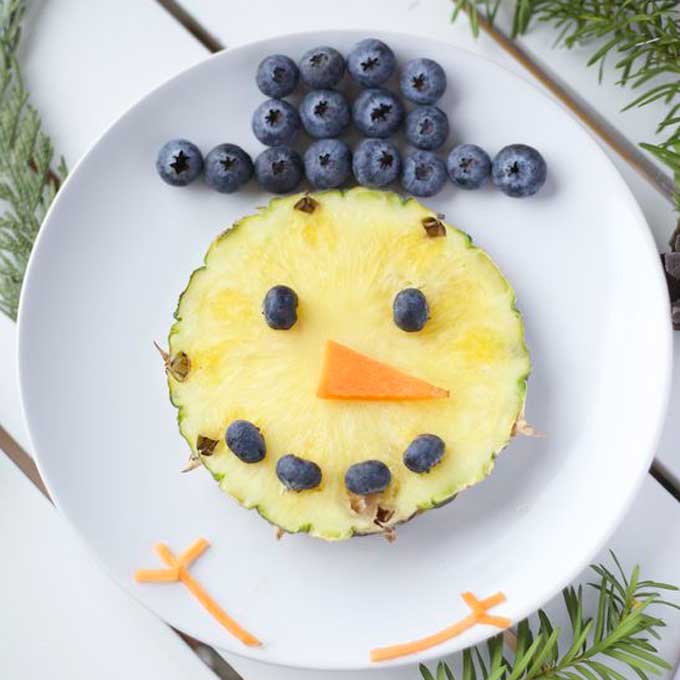 8. Mandarin Orange Snowman ( Mom Endeavors)
Mandarins remind me of Christmas. Every year, without fail, I would find a mandarin in the foot of my stocking. I love this mandarin snowman and I bet it smells delicious with its clove eyes and mouth and cinnamon stick arms.
Healthy Christmas Snacks (Santa)
9. Strawberry Santas (Running in a Skirt)
If you search for Strawberry Santas you will be bombarded with different versions of this fun Christmas snack. If you don't like the idea od a cream cheese filling you can switch it with a slice of banana or some whipped cream.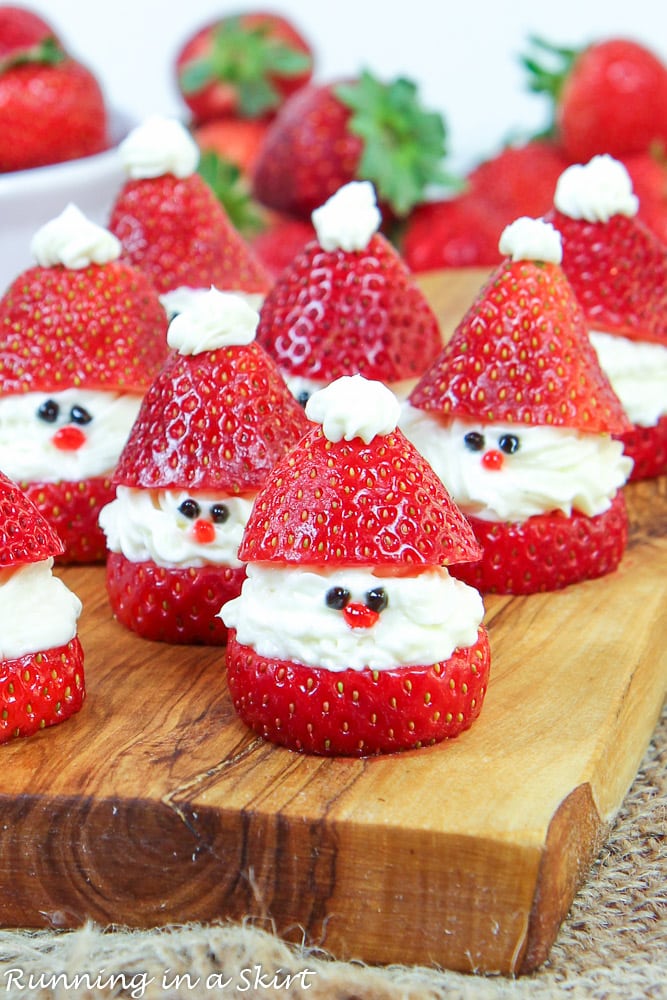 10. Santa Hats
To make strawberry Santa hats you can go super simple by just placing a strawberry (cut with a flat bottom) on top of a banana slice. If you plan to make them for a party instead dip the base of the strawberry in white chocolate and some desiccated coconut.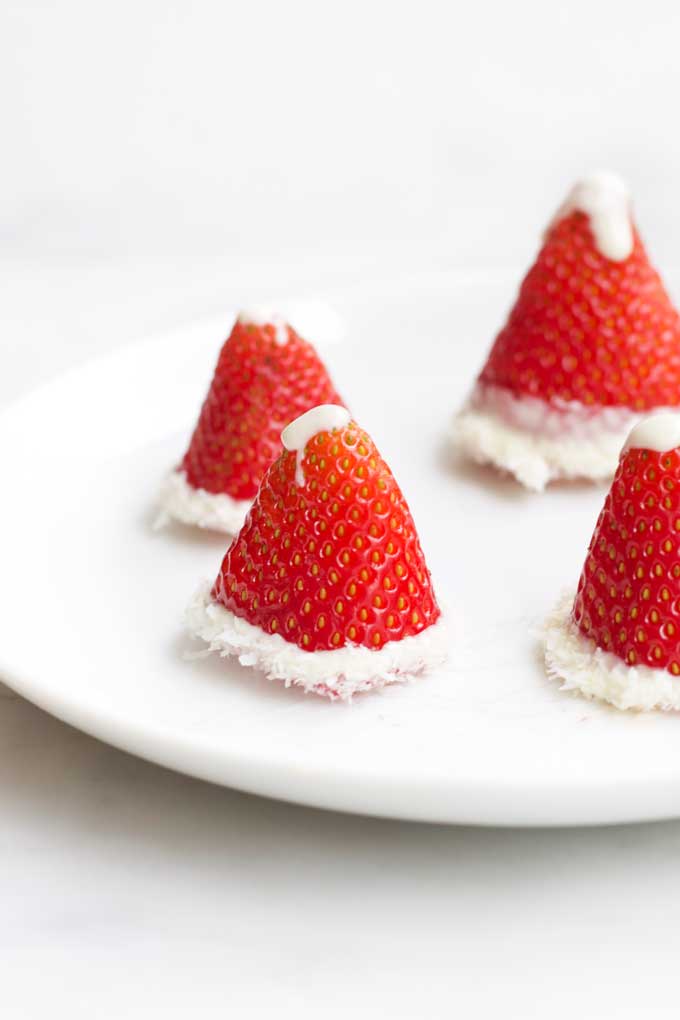 11. Santa Banana Kebobs (Clean and Scentsible)
Seriously cute little Santas that kids are sure to adore.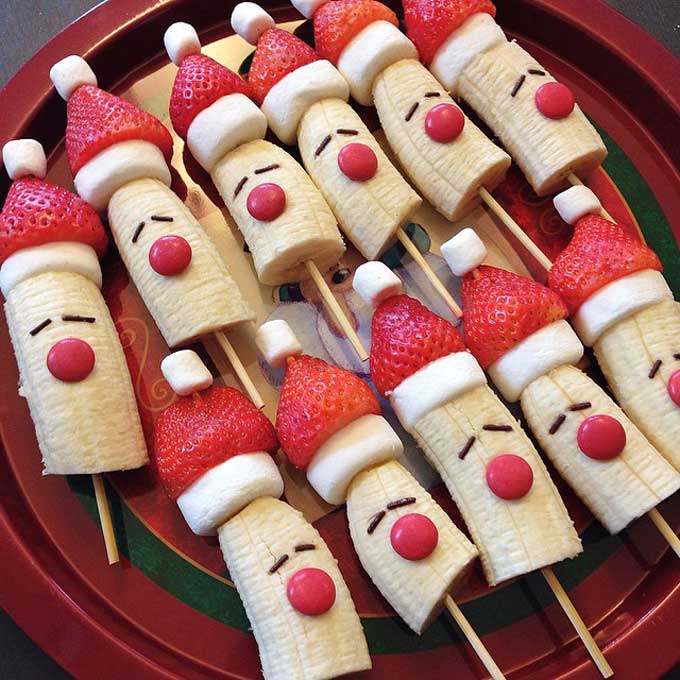 Healthy Christmas Snacks using Christmas Cutters
12. Christmas Apple & Peanut Butter Sandwiches
Cookie cutters aren't just for cookies, they have transformed this everyday snack into something festive and fun.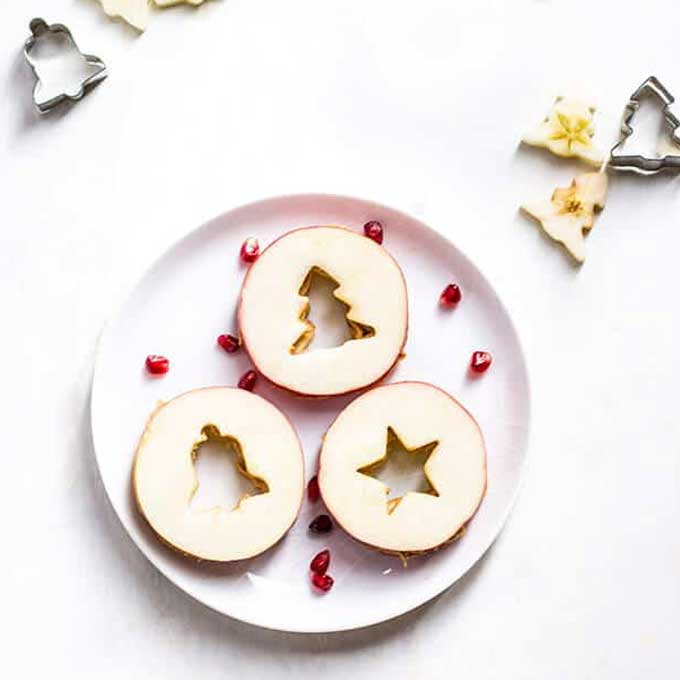 13. Christmas Frozen Christmas Pops (Eats Amazing)
Grace, from Eats Amazing, really is the most creative person when it comes to fun food. If you love these pretty Christmas pops then make sure to explore her site for hundreds of fab ideas. (Not suitable for young children as the frozen fruit and round grapes are a choking hazard)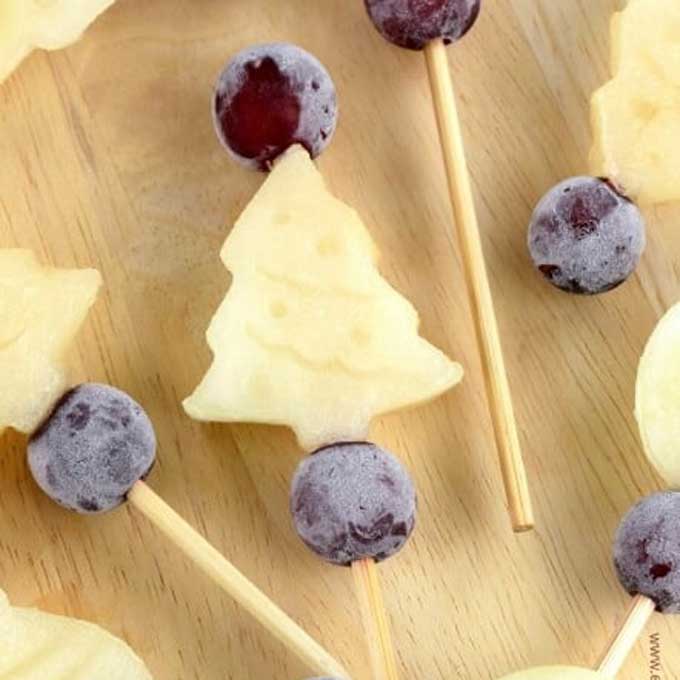 14. Watermelon Pops
Watermelon is one of the easiest fruit to cut shapes from. Add a stick to each Christmas cut out for extra fun factor.
Use red and green fruits to make a festive fruit salad. To add to the holiday feel, use cookie cutters to make Christmas shapes.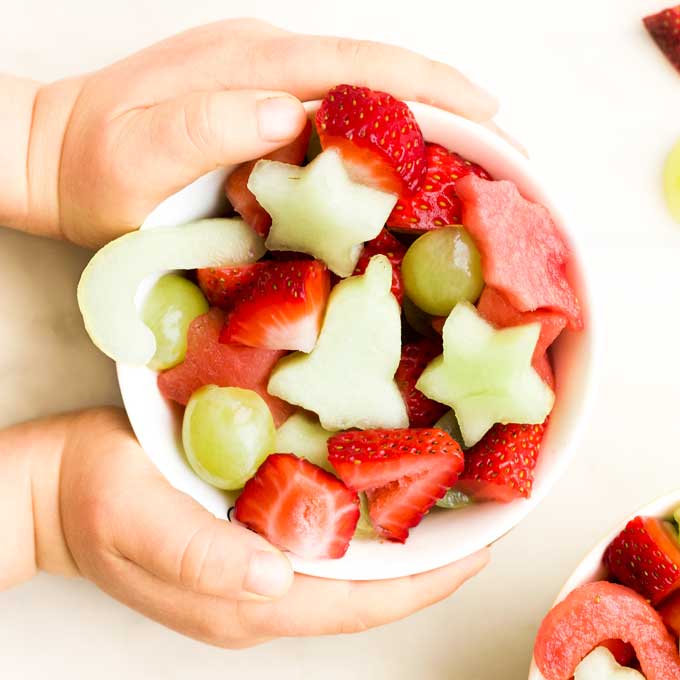 Healthy Christmas Snacks - Other Ideas
16. Pear Rudolph
In full disclosure, my youngest said he loved his pear frog!? I'm not sure why he thought it was a frog but he still loved and ate it so I can't complain!
17. Candy Cane
Another incredibly simple idea that you can create in seconds. This candy cane, made from banana and strawberry, tastes better than the hard candy version and you don't have to pick bits of candy out your teeth for the hour after eating it!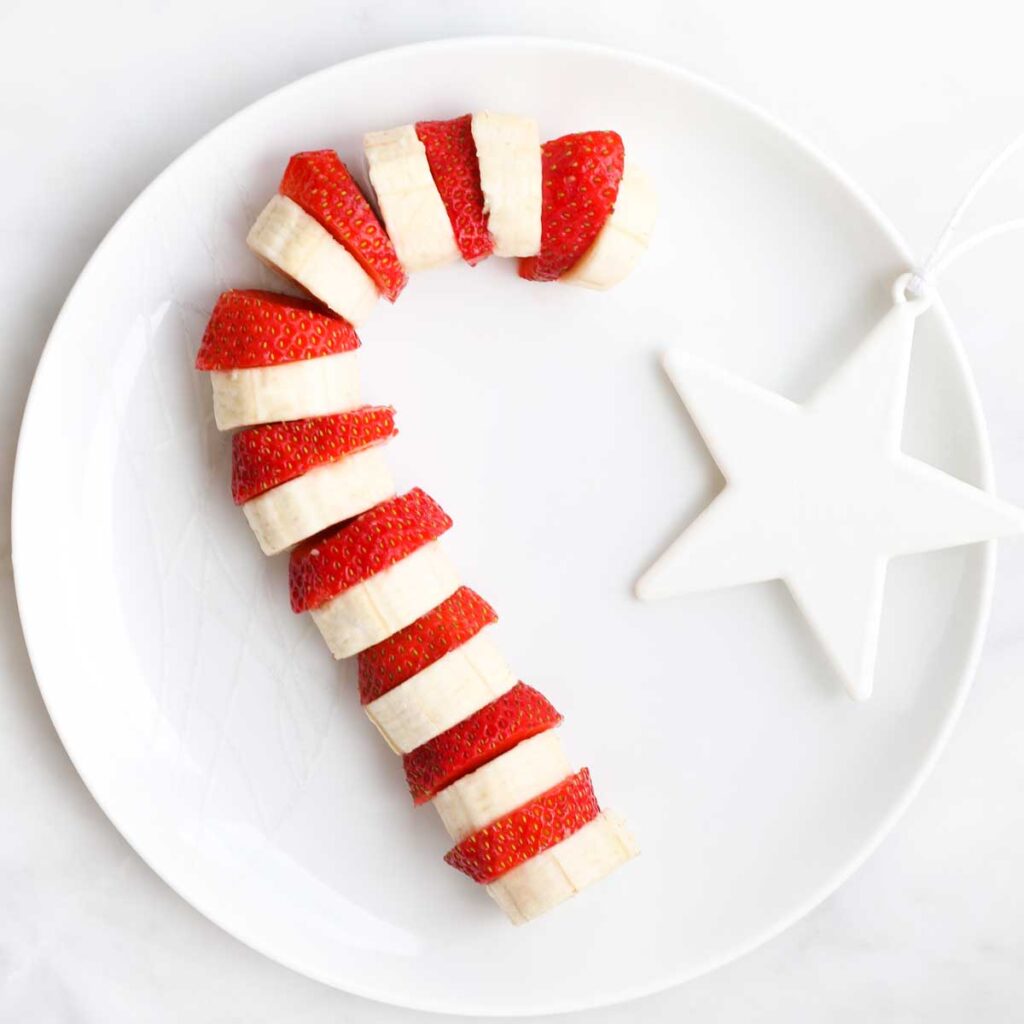 18. Grinch Kabobs (Amees Savory Dish)
If you have some Grinch fans at home then this is the perfect snack. They are made from grapes, banana and strawberry with an optional marshmallow to top.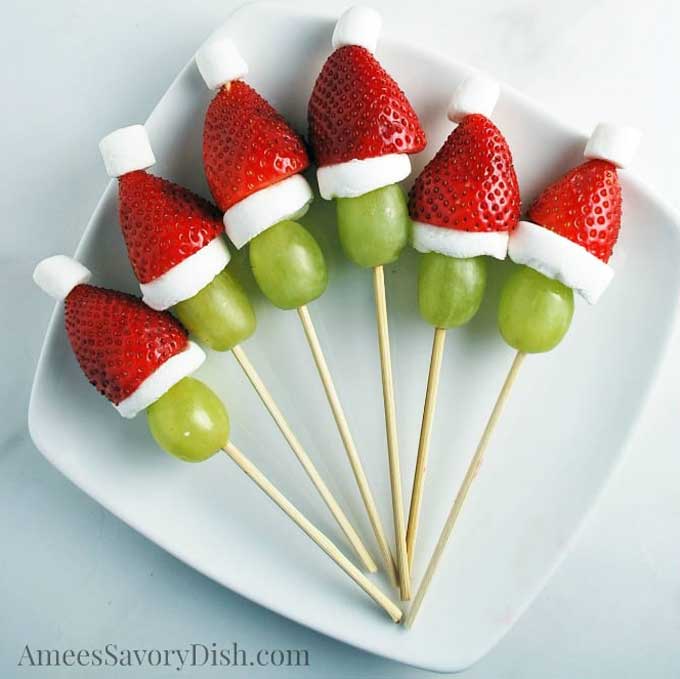 Are you creative when it comes to your kid's food? Do you have any other ideas that you could add to this list? I'd love to see them, please do leave your ideas in the comment section or let me know if you have tried any of these. Alternatively, you can tag me on Facebook or Instagram.