Christmas Frozen Yogurt Bark - A fun and healthy Christmas themed snack that the kids will love making and eating. Perfect for a summer Christmas.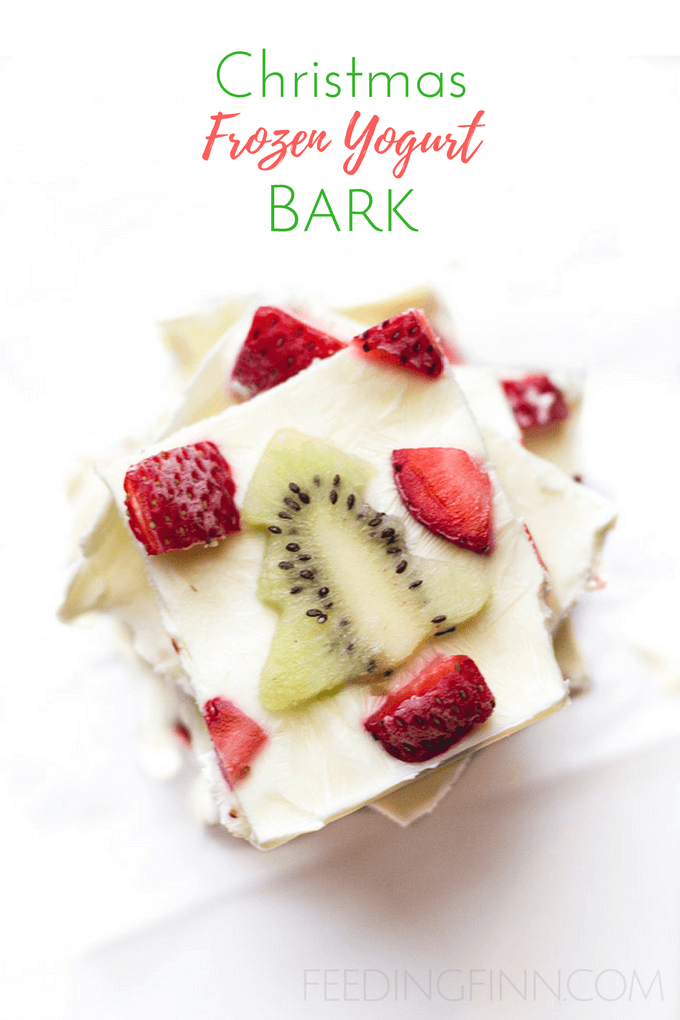 Finn is totally in the Christmas mode now, he is hyper! If he isn't singing his preschool Christmas concert songs he is going on about what he wants for Christmas, how many sleeps there are, what we will be having to eat, where we will go on Christmas eve etc. Last year I tried to make a healthy Christmas themed snack for him each day, I'm going to attempt it again this year to further heighten his excitement!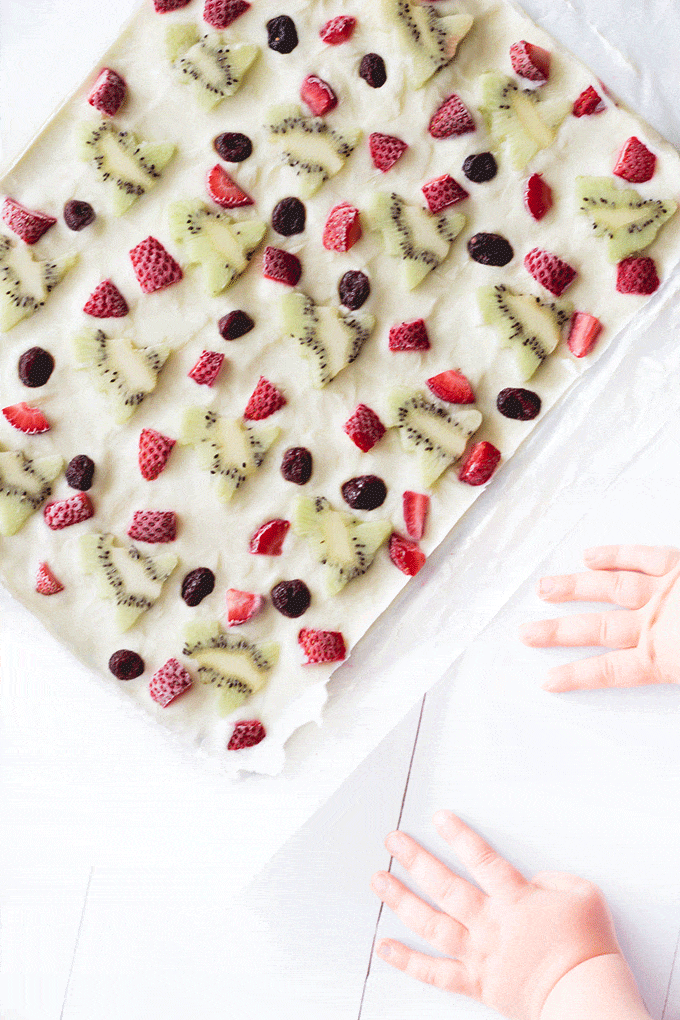 This Christmas Frozen Yogurt Bark is so easy to make and tastes delicious. I quite often make frozen yoghurt bark, chucking in any fruit that is about to turn at the end of the week. Today, I took a little more care over it. I used a cookie cutter to make kiwi Christmas trees and strategically placed all the fruit so the bark could be cut into cute little Christmas squares.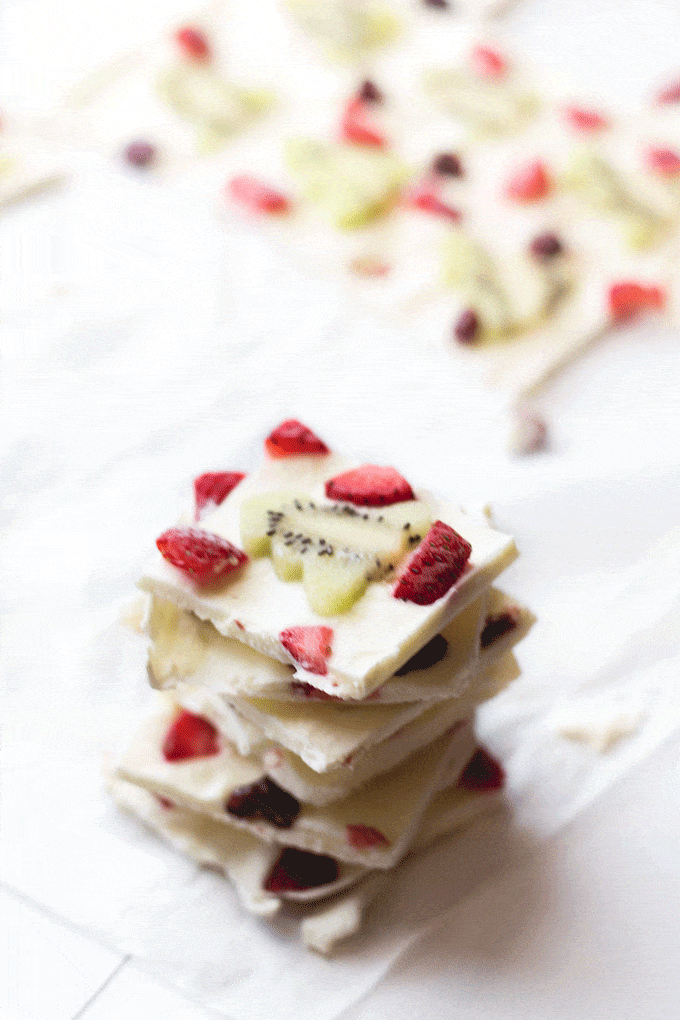 I've used natural greek yoghurt to make this, I haven't added any sweetener as I'm lucky that my boys don't need it. If you want to add more sweetness just mix in some honey or maple syrup to the yoghurt before spreading. You could also blend half a banana and stir it into the yoghurt.
If you have never tried frozen yoghurt bark then you definitely should. It is a tasty and healthy snack but be warned - it can get messy!
Looking for more healthy kid recipes?Sign up for my free recipe newsletter to get new family friendly recipes in your inbox each week! Find me sharing more kid-friendly inspiration on Pinterest and Instagram.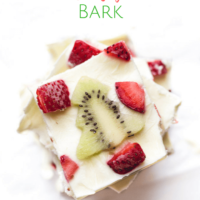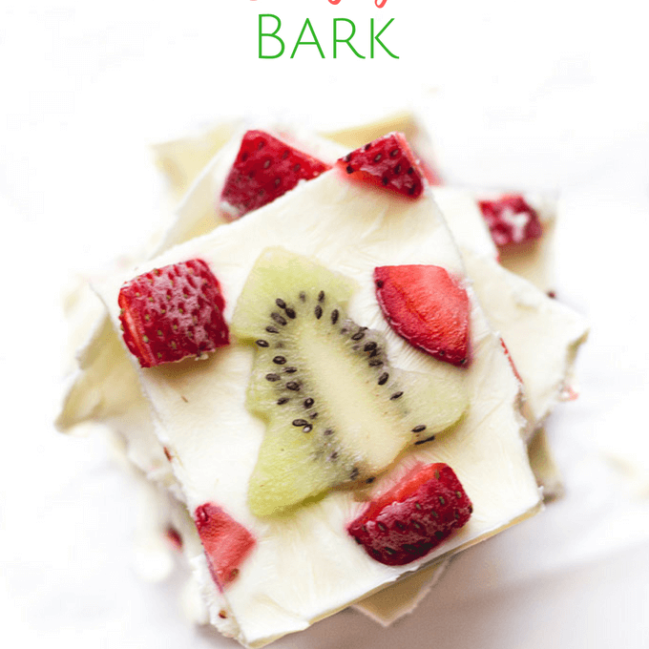 Christmas Frozen Yogurt Bark
A healthy and fun Christmas snack that the kids will love making and eating.
Prep Time: 10 minutes
Cook Time: 4 hours
Total Time: 4 hours 10 minutes
Serves:18 squares
Hover over "serves" value to reveal recipe scaler
Ingredients
500 g (2 cups) Natural Greek Yogurt **
3 Kiwi
5 Strawberries (chopped into small pieces)
1 tablespoon Dried Cranberries
Instructions
Thinly slice the kiwis and then, using a tree shaped cookie cutter, cut a tree from each slice.*

Line a rimmed baking tray with baking paper.

Pour the yogurt into the centre of the tray and spread evenly. **

Place the kiwi trees, strawberries and cranberries as desired onto the yogurt. (see picture to see how I arranged)

Freeze until completely solid (approx. 4 hours.)

Cut into sections and serve.

Place sections into a zip lock bag and store in the freezer.
Recipe Notes
*You could chop up the remains of the kiwi slices and stir through the yogurt before spreading or scatter on top.
** You may wish to add a some honey or maple syrup to the yogurt, depending on your child's taste buds. Simply stir into the yogurt before spreading. Nutritional Information is an ESTIMATE only, calculated using an online nutrition calculator. 
Nutritional facts
Serving: 1of 18 squares | Calories: 49kcal | Carbohydrates: 6.5g | Protein: 2.9g | Fat: 1.6g | Cholesterol: 3.6mg | Sodium: 10.5mg | Sugar: 4.6g
If you are looking for more healthy Christmas snack inspiration then check out some of my other Christmas posts Watermelon Christmas Trees, Avocado Christmas Tree, Christmas Puddings, Sweet Potato Christmas Bites, Rudolph Pear, Christmas Spiced Pancakes, Christmas Apple Sandwiches. I also post, share and pin lots of ideas on social media. Make sure to follow me on Instagram, Facebook and Pinterest for new ideas.