These soft and fluffy Gingerbread Pancakes have the perfect blend of flavouring to bring a little holiday spice to any time of the year.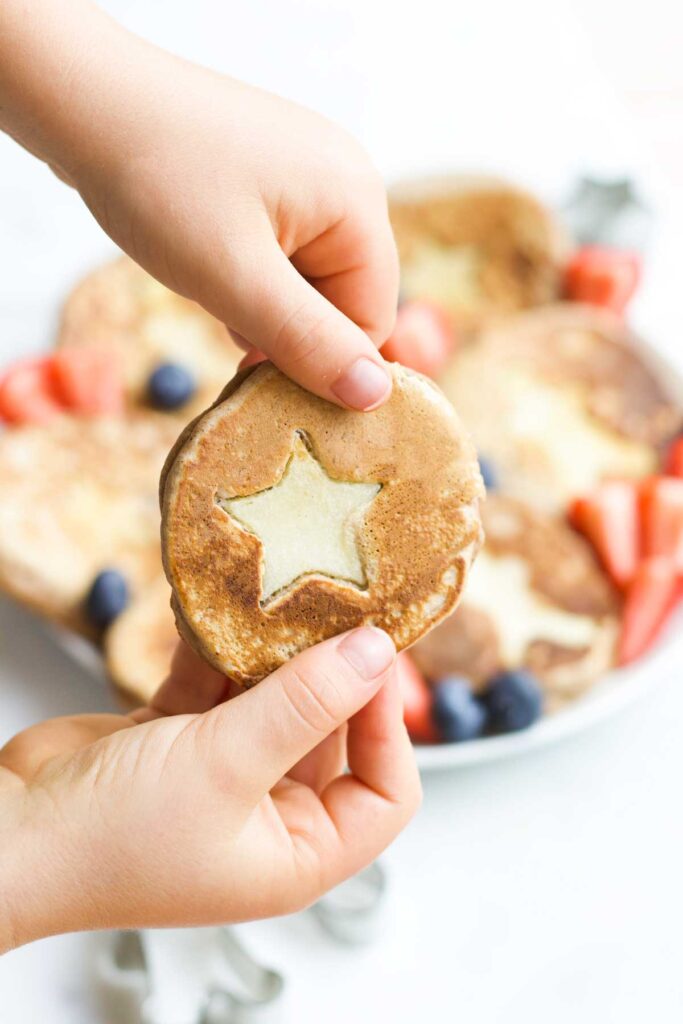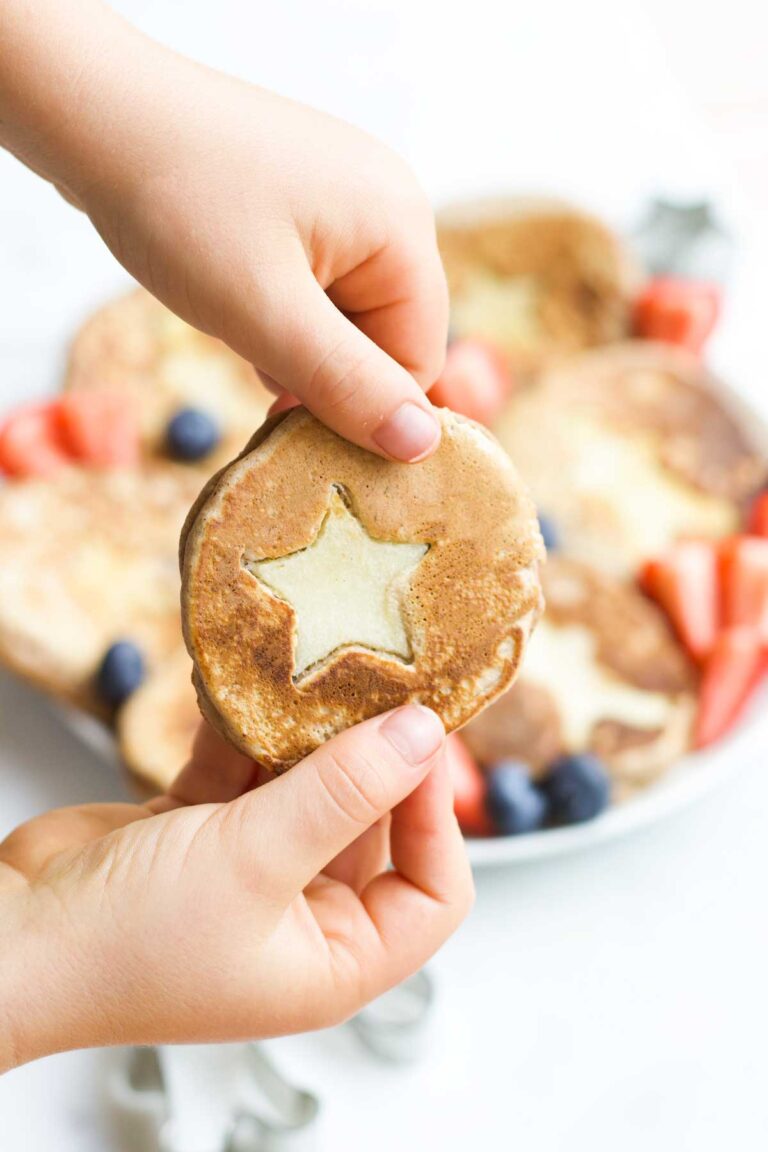 Ingredients Information (and alternatives)
All-Purpose (Plain) Flour: You can replace the plain flour and the baking powder with 1 cup of self-raising flour. You can use wholemeal flour (replacing up to half a cup) but the pancakes will be a little denser. I have not tested any other flours.
Baking Powder & Soda: Raising agents needed to make the pancakes light and fluffy. If you don't have baking soda (bicarb of soda) you can replace with extra teaspoon of baking powder.
Gingerbread Spice If you don't have gingerbread spice or don't want to make a bigger batch then you can replace with ground cinnamon, ginger, clove, nutmeg and allspice.
Sugar: For flavour, balances out the spices.
Egg: I have not tried any egg replacements in this recipe.
Milk: I used regular milk, you can use your favourite milk.
Lemon Juice: Activates the baking soda to make the pancakes extra fluffy. Buttermilk has the same effect, you can use buttermilk instead of milk and lemon juice.
Lemon Zest: For extra flavour, I used lemon as lemon was already in the recipe. Orange zest would be great too.
Vanilla Extract: For flavour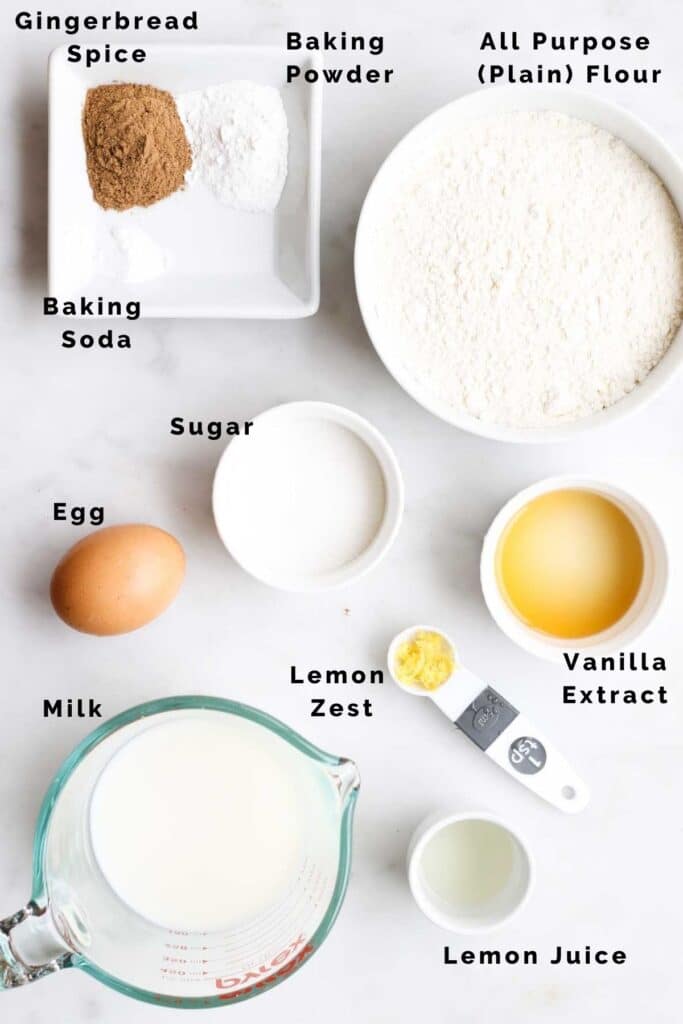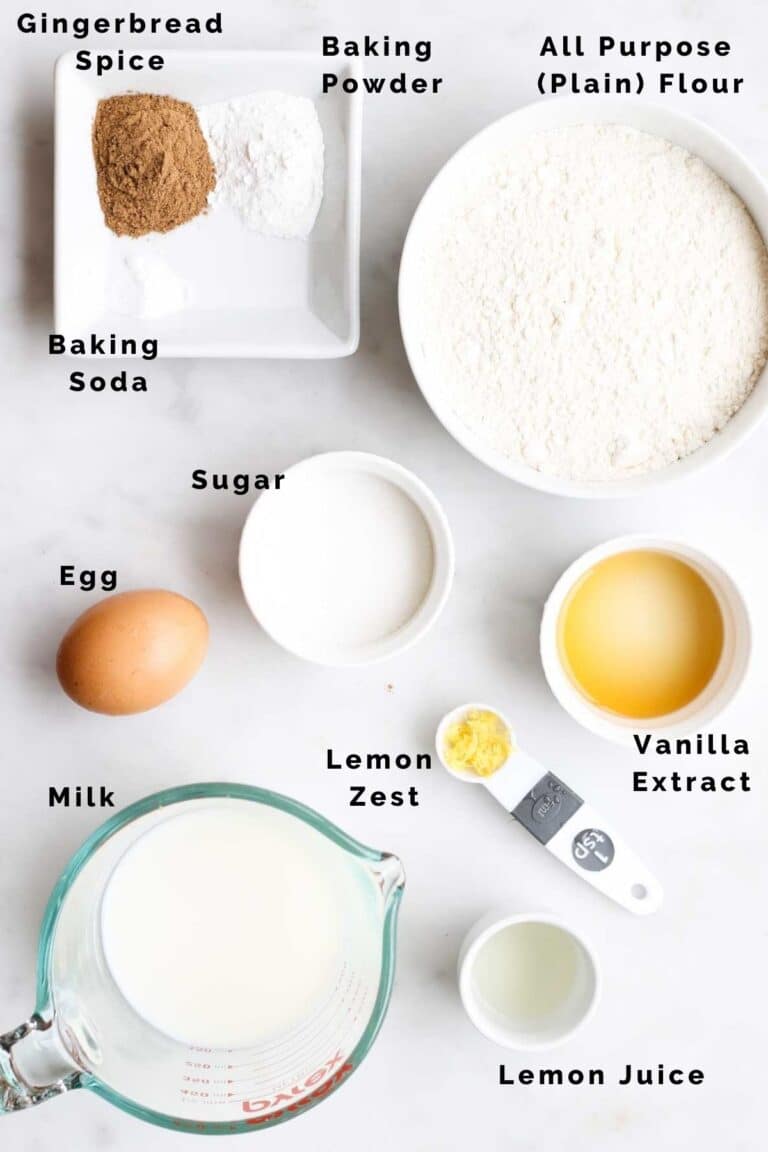 How to Make Gingerbread Pancakes
Whisk dry ingredients
Add wet ingredients
Mix
Scoop spoons of the mixture to the hot pan and wait for bubbles
Add Christmas shaped insert (optional) and flip
Simple, right?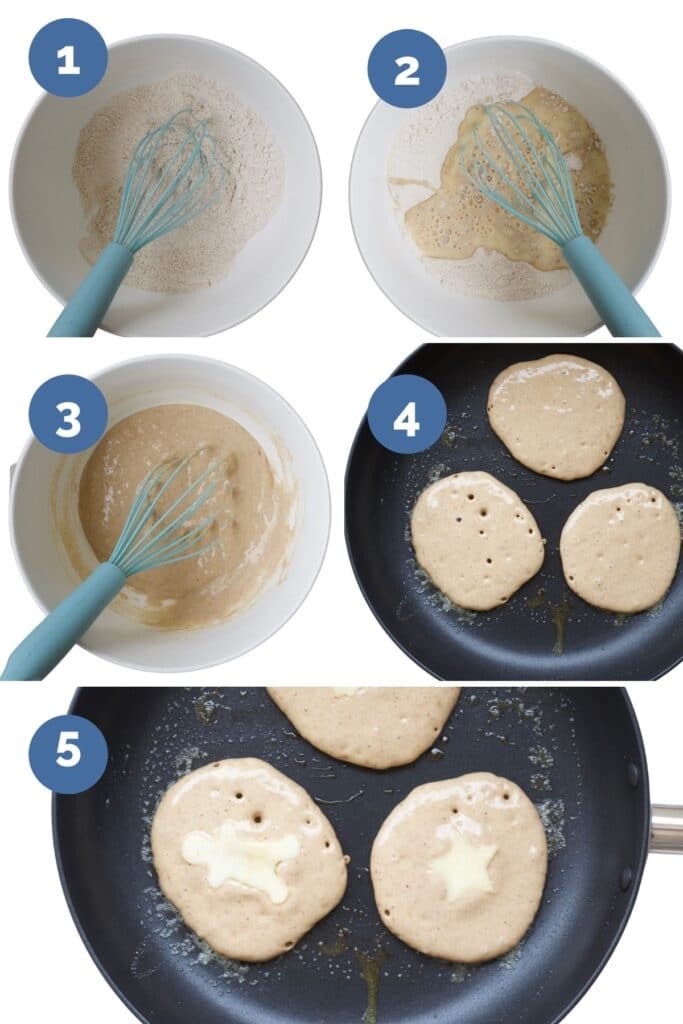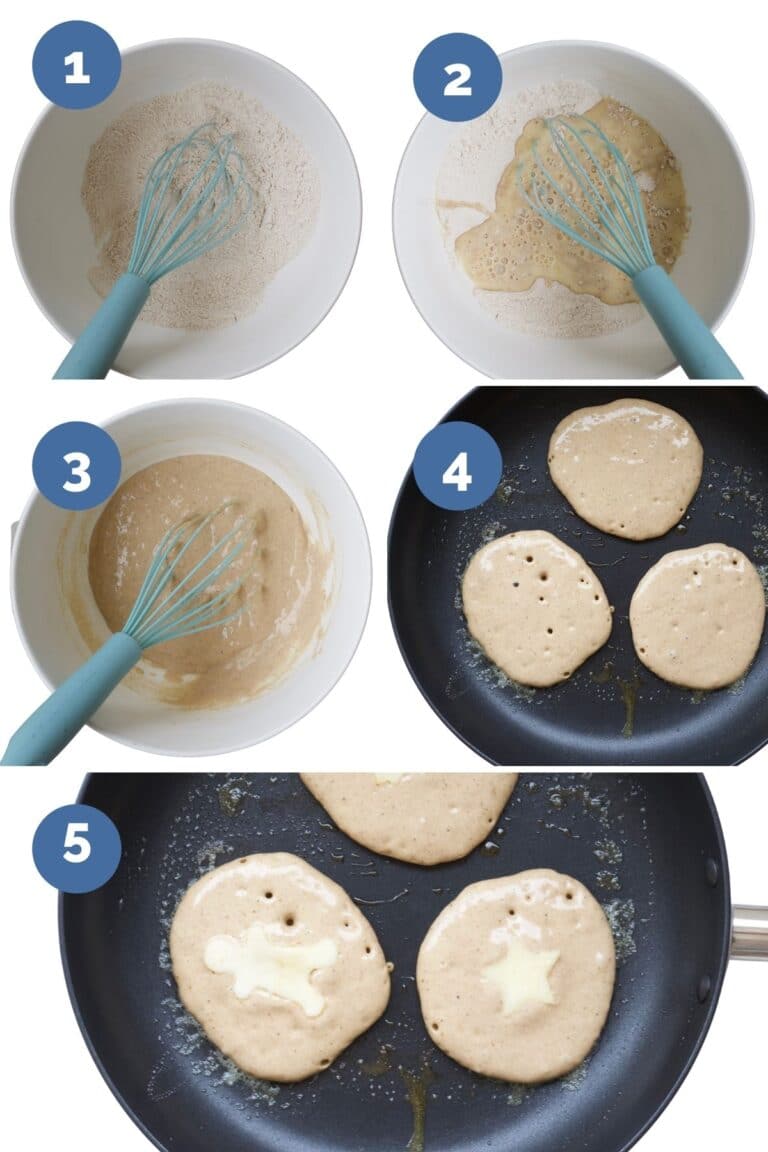 Adding a Kid-Friendly Holiday Touch
These gingerbread pancakes have the taste and aroma of Christmas but visually they could do with a little help...
Adding little Christmas shapes to the pancake makes it more appealing to the little ones and as an added bonus they can have fun cutting out the shapes!
Thinly slice an apple (or pear)
Rub with lemon to prolong browning
Using cookie cutters, cut out Christmas shapes. (Let the kids eat the cutoffs to avoid waste)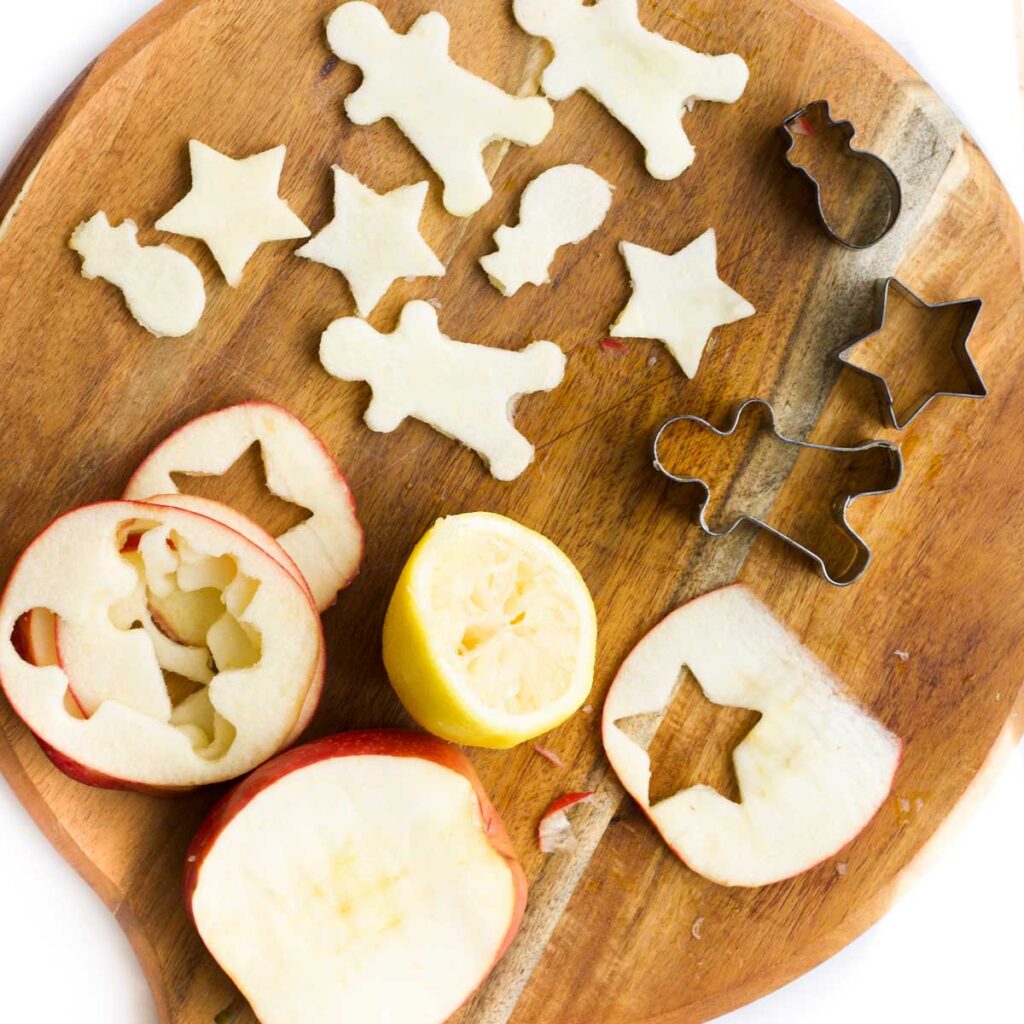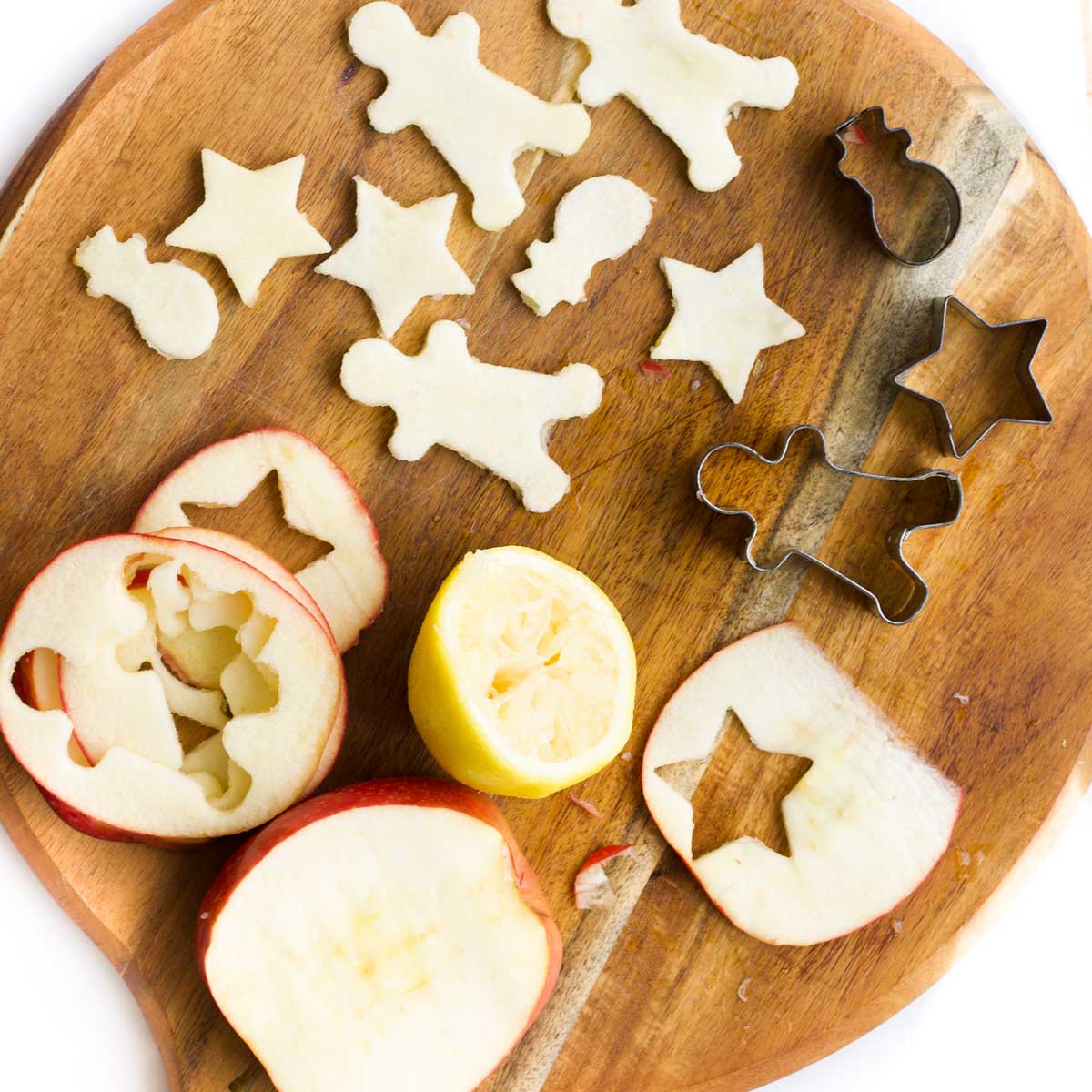 Storage Instructions
Store in a cool dry place, ideally not refrigerated, and consume within 24 hours.
Freeze in an airtight container. To ensure they do not stick together, separate with sheets of greaseproof paper. Store for up to 2 months. Defrost at room temperature and eat on the day of defrosting. (Do not add apple insert if freezing)
These pancakes can be enjoyed hot or cold if you wish to reheat you can do so in the microwave or under the grill (broiler).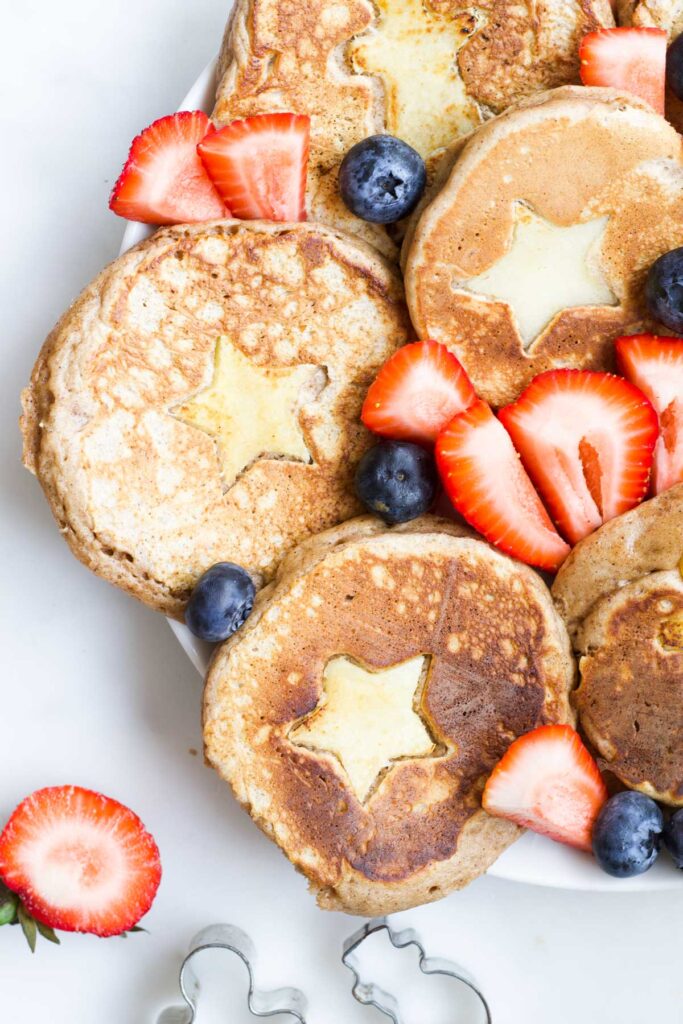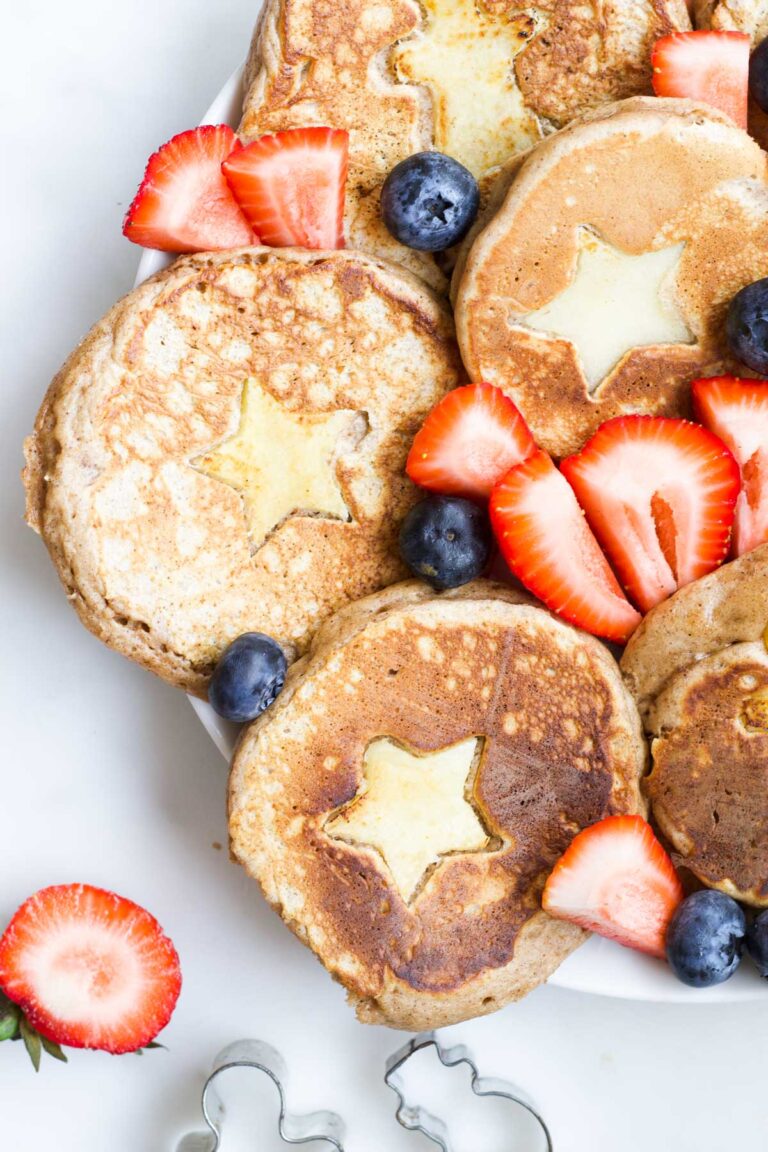 Looking for more healthy kid recipes?Sign up for my free recipe newsletter to get new family friendly recipes in your inbox each week! Find me sharing more kid-friendly inspiration on Pinterest and Instagram.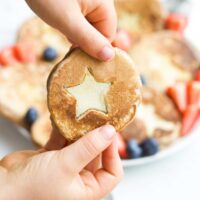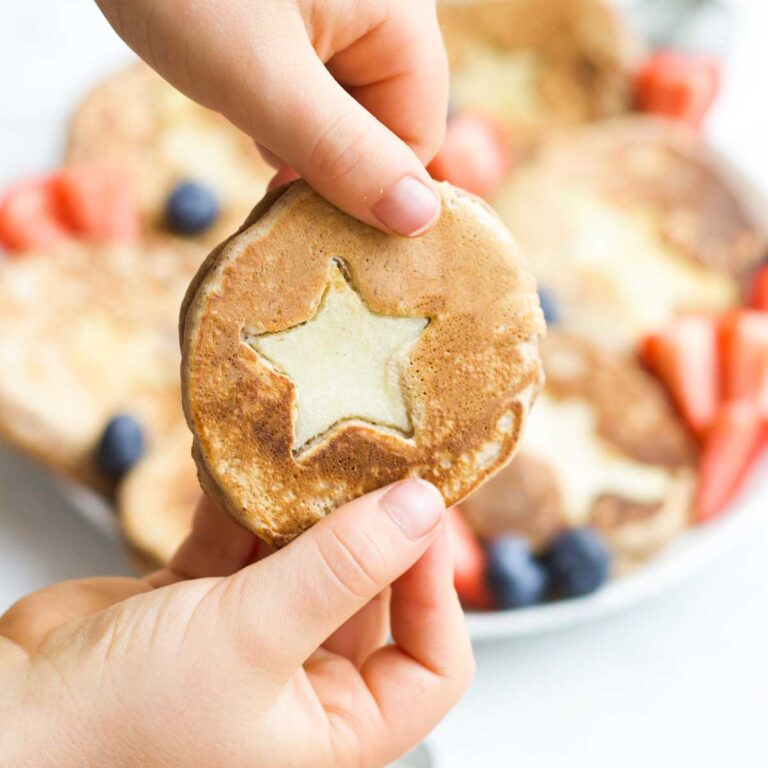 Christmas Spiced Pancakes
Gingerbread Spiced Christmas Pancakes
Prep Time: 10 minutes
Cook Time: 10 minutes
Total Time: 20 minutes
Serves:9
Hover over "serves" value to reveal recipe scaler
Ingredients
Dry Ingredients
150g (1 cup) Plain (All Purpose) Flour
2¾ teaspoon Gingerbread Spice *See Note 1
2 tablespoon Sugar
2 teaspoon Baking Powder
¼ teaspoon Baking Soda
Wet Ingredients
185ml (¾ cup) Milk
1 Egg
1 teaspoon Vanilla Extract
1 teaspoon Lemon Juice *See Note 2
1 tsp Lemon Zest
Frying
1½ teaspoon Butter (for frying)
Instructions
Apple Christmas Insert (Optional)
Thinly slice the apple and cut out Christmas shapes using cookie cutters. Rub the cut lemon on both sides of each shape to prevent browning. Set aside.
Pancake Batter
In a large mixing bowl combine the dry ingredients. In a separate bowl mix together the wet ingredients. Add the wet ingredients to the dry and stir. Don't over mix, a few small and medium lumps are fine. 
Cooking
Melt about 1 teaspoon of butter in a non-stick skillet over medium-high heat, medium if strong stove. (See note 3)

Using an ice-cream scoop, add a heaped scoop of pancake batter into the skillet, quickly spread into a circle about 10cm / 4" wide.

Cook for around one minute or until a few bubbles appear and the underside is mostly golden. If you are adding the Christmas shaped apple insert add it to the centre of the pancake at this point.

Gently flip and cook for a further 1 minute.
Recipe Notes
You can replace gingerbread spice with 1.5 teaspoon ground cinnamon, 1 teaspoon ground ginger, ¼ teaspoon ground clove, a pinch nutmeg, a pinch of all spice.
Lemon Juice is needed to activate the baking soda. You can replace milk and lemon juice with buttermilk.
The trick to making good pancakes is to get the temperature right. This will vary depending on the stove. Make a small test pancake first to check the temperature. If the outside is scorched and the inside is still raw then turn down the heat. 
Nutritional Information is a ROUGH guide only, calculated using an online nutrition calculator. Does not include apple insert or any toppings. 
Nutritional facts
Calories: 105kcal | Carbohydrates: 18g | Protein: 3g | Fat: 2g | Saturated Fat: 1g | Cholesterol: 22mg | Sodium: 59mg | Potassium: 174mg | Fiber: 1g | Sugar: 4g | Vitamin A: 81IU | Vitamin C: 2mg | Calcium: 87mg | Iron: 1mg