Christmas Spiced Pancakes with a festive themed pear insert.
One of my all-time favourite Instagram accounts is @ourspicedkitchen. If you are on Instagram you need to head over and check it out. Carrie, the talented woman behind @ourspicedkitchen, makes the most amazing food and presents it in the most beautiful way. I especially love her salads and pancakes and they always, without fail, make me hungry the instant I see them! These Christmas Spiced Pancakes were inspired by Carrie.
I have adapted Carrie's buckwheat and banana pancake recipe to make a spicier pancake with a Christmas feel. Carrie loves to add slices of fruit to her pancakes and this gave me the inspiration to add Christmas shaped pear slices. It is such a simple recipe and a great one to get the kids to help with.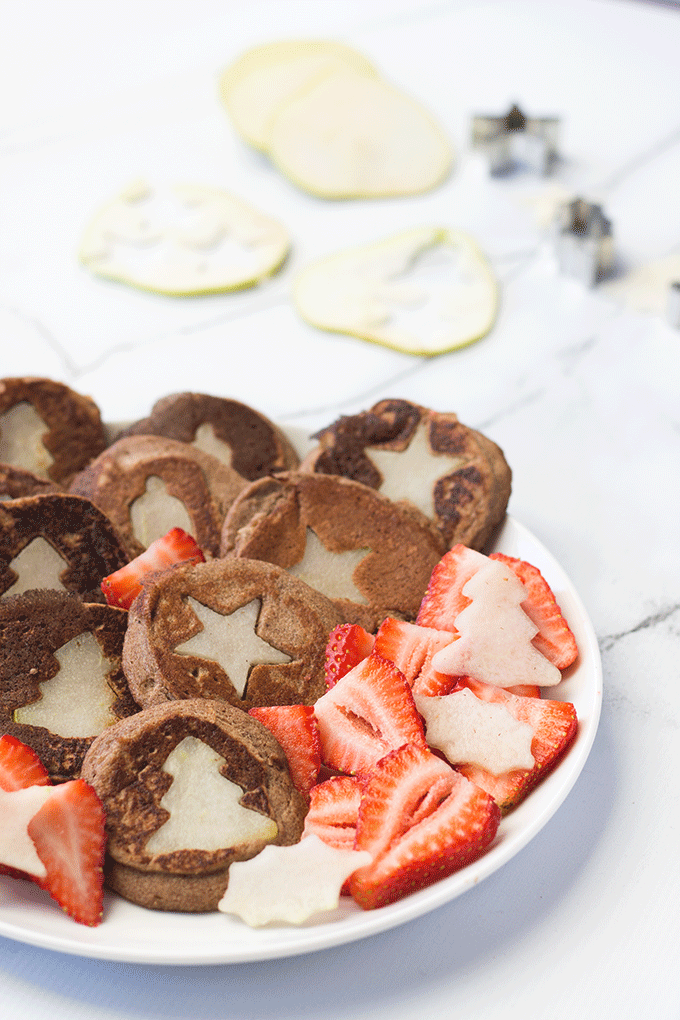 I whipped up the batter in my blender and while I was doing that Finn was cutting out Christmas shapes from the slices of pears I prepared earlier. Finn ate all the cut offs but you could add them to a salad or fruit salad to use up.
Both boys quickly worked their way through this plate and I admit to having several of them too. Sadly, even though we made several batches, there has never been any left for my husband to try! They are just that good.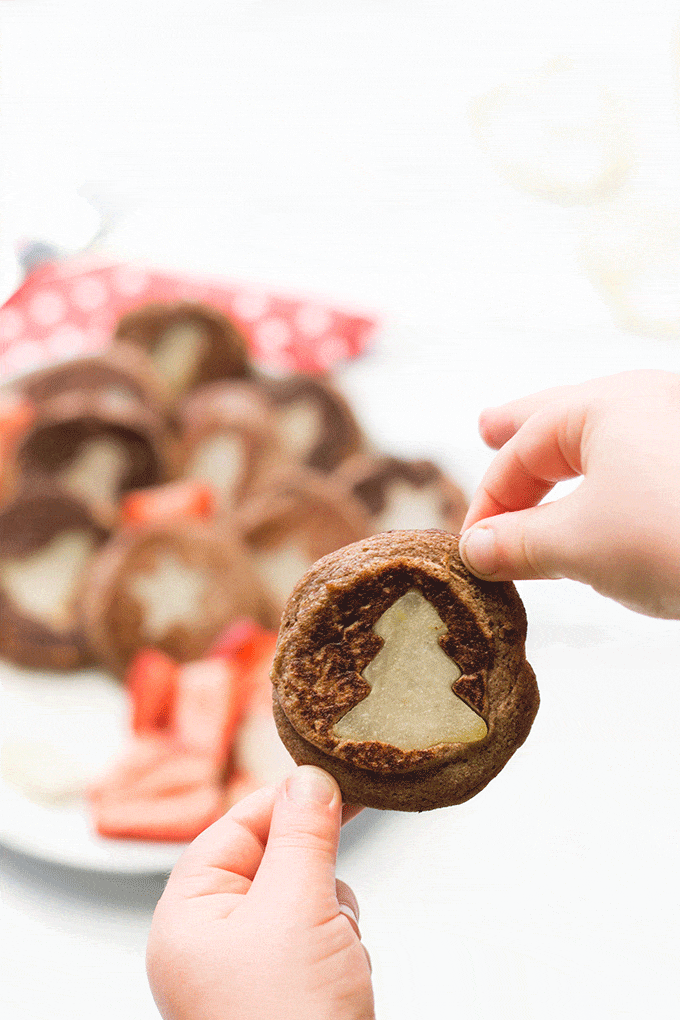 If you are looking for other healthy Christmas themes snacks be sure to check out some of my other posts like these Sweet Potato Christmas Bites, Christmas Apple Sandwiches, Kiwi Christmas Tree, Spinach Christmas Trees, Date and Nut Christmas Puddings, Rudolph Pear, Christmas Frozen Yoghurt Bark
Looking for more healthy kid recipes?Sign up for my free recipe newsletter to get new family friendly recipes in your inbox each week! Find me sharing more kind-friendly inspiration on Pinterest and Instagram.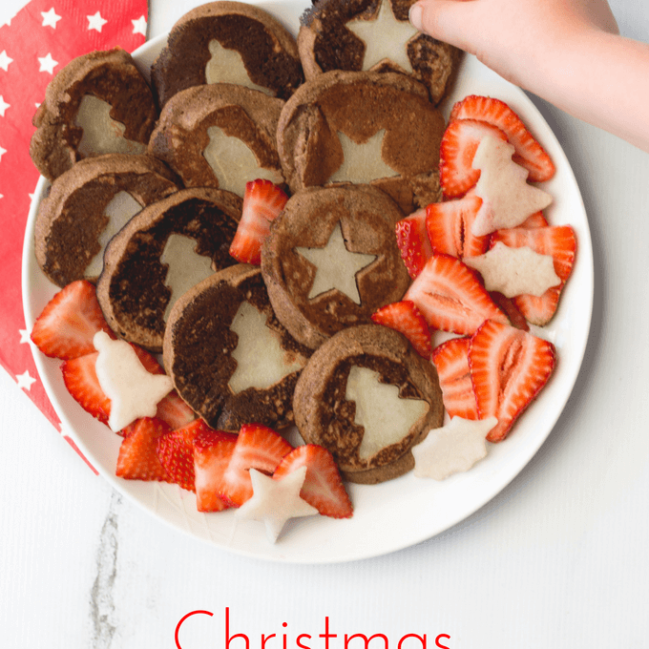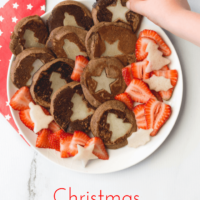 Christmas Spiced Pancakes
Christmas spiced pancakes with a festive shaped pear insert.
Prep Time: 10 minutes
Cook Time: 10 minutes
Total Time: 20 minutes
Hover over "serves" value to reveal recipe scaler
Ingredients
2 ripe bananas
1 medjool date
3 eggs
1/3 cup buckwheat flour
1 tbsp & 1 tsp cinnamon
2 tsp ground ginger
1 tsp ginger puree
Coconut oil (for frying)
1 large pear thinly sliced
Instructions
Blend the banana and date together until the date has fully broken down.

Add all the other ingredients (apart from the oil and pear) and blend until fully combined.

Cut Christmas shapes from the pear slices using small cookie cutters.

Heat a little coconut oil in a non stick frying pan over a high heat. Reduced to a medium heat and add 1tbsp of mixture to the pan. Repeat until pan is full (I managed to fit 5 in at a time on my pan)

Place a Christmas shaped pear onto each pancake and cook until ready to be flipped (around 1 min) Cook on the other side until done.

Serve.