Why should adults have all the fun during the festive season? It's time to spread the cheer to the whole family with our delightful collection of Mocktails for Kids! These easy-to-make, non-alcoholic drinks are not only a treat for your taste buds but also a chance for your little ones to savour a fancy drink of their own. So, get ready to create memorable moments and let your kids join in the joyous celebration with these refreshing and fun mocktail recipes.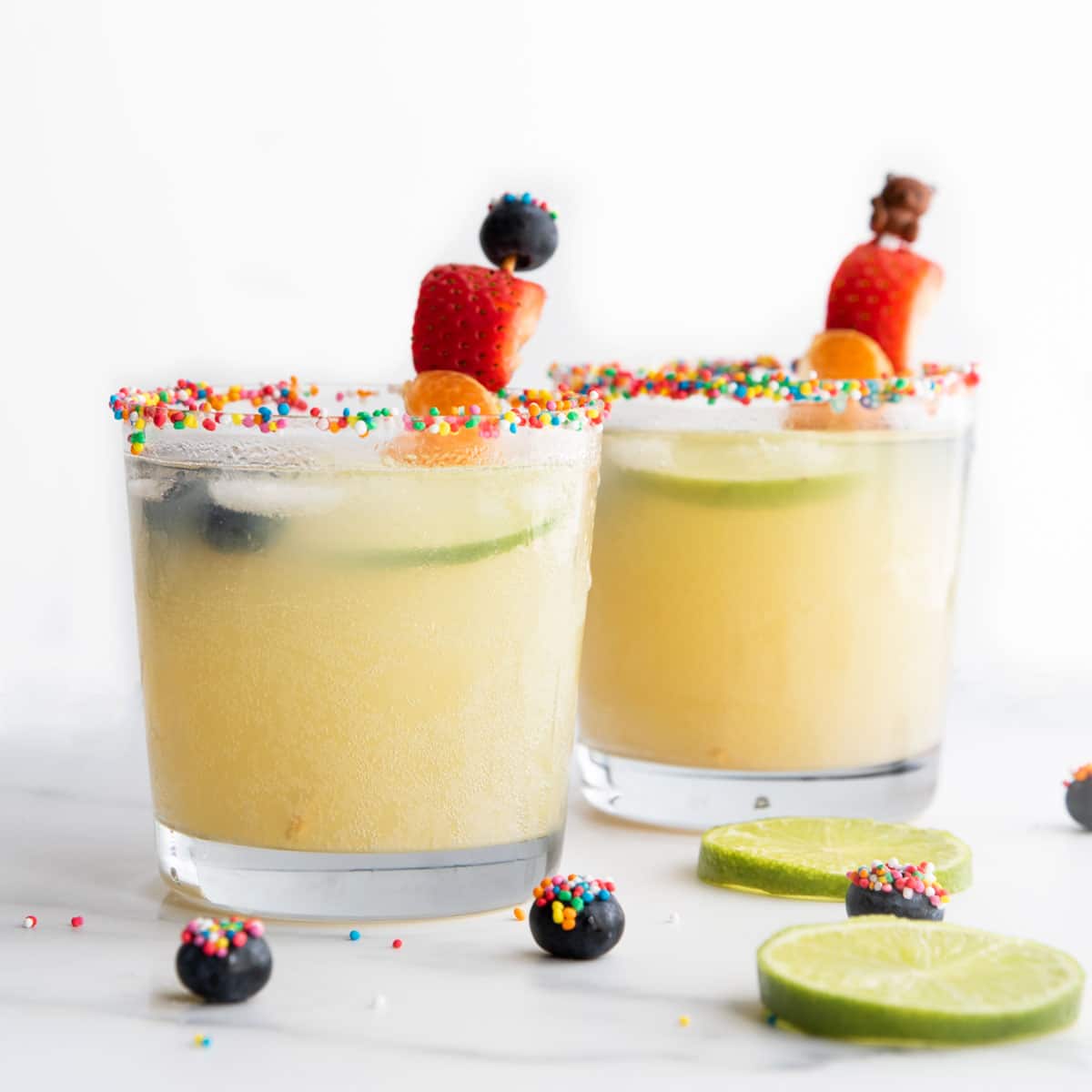 Delicious mocktails are a delightful way to add a touch of magic to children's celebrations, whether it's the festive season, a birthday party, New Year's Eve, or a baby shower for that mom-to-be. However, many parents often worry about the sky-high sugar levels in these colourful concoctions.
That's where our easy mocktails for kids come to the rescue. We've curated a selection that strikes the perfect balance between fun and nutrition, offering a healthier alternative that kids adore.
Sweetened with fruit juices, fruit purees or the goodness of real fruit, topped off with sparkling water instead of sugary soda and syrups, these flavorful mocktail recipes are tasty drinks that parents can get behind. Plus, they're the ideal canvas for a bit of DIY creativity. Say goodbye to overly sweet mocktails and hello to the joy of crafting your own, just the way you like.
Dive into the perfect summer drink with this sensational Watermelon Punch! Created for those hot summer days, this tasty drink is a breeze to make with just three simple ingredients: the juicy goodness of watermelon, a zesty squeeze of lime, and the tropical twist of coconut water.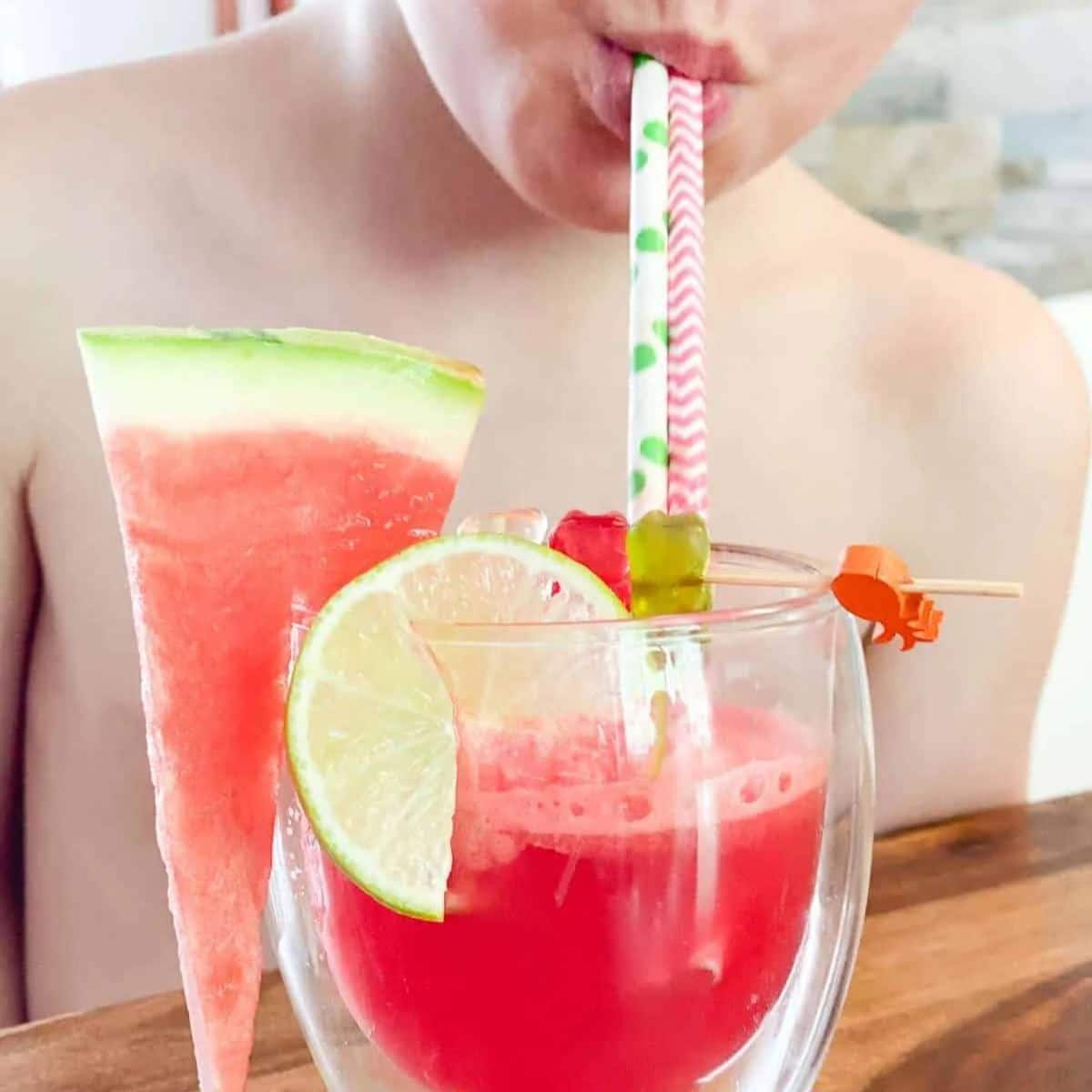 Embark on a delightful journey to a tropical paradise without even leaving your kitchen! This virgin piña colada recipe is bursting with tropical flavours and fun. Made with only 4 simple ingredients; frozen pineapple, coconut milk, coconut water and banana. It is creamy and dessert-like and really is a special treat for all ages
This berry spritzer is a vibrant, kid-friendly sipper with fresh strawberry puree, lime juice, soda water and a touch of basil for a fizzy twist. Swap in mango, raspberries, or blackberries for a fruity adventure that's both refreshing and fun. For an extra burst of flavour, let this spritzer sit in the fridge for about half an hour before serving to allow the flavours to intensify.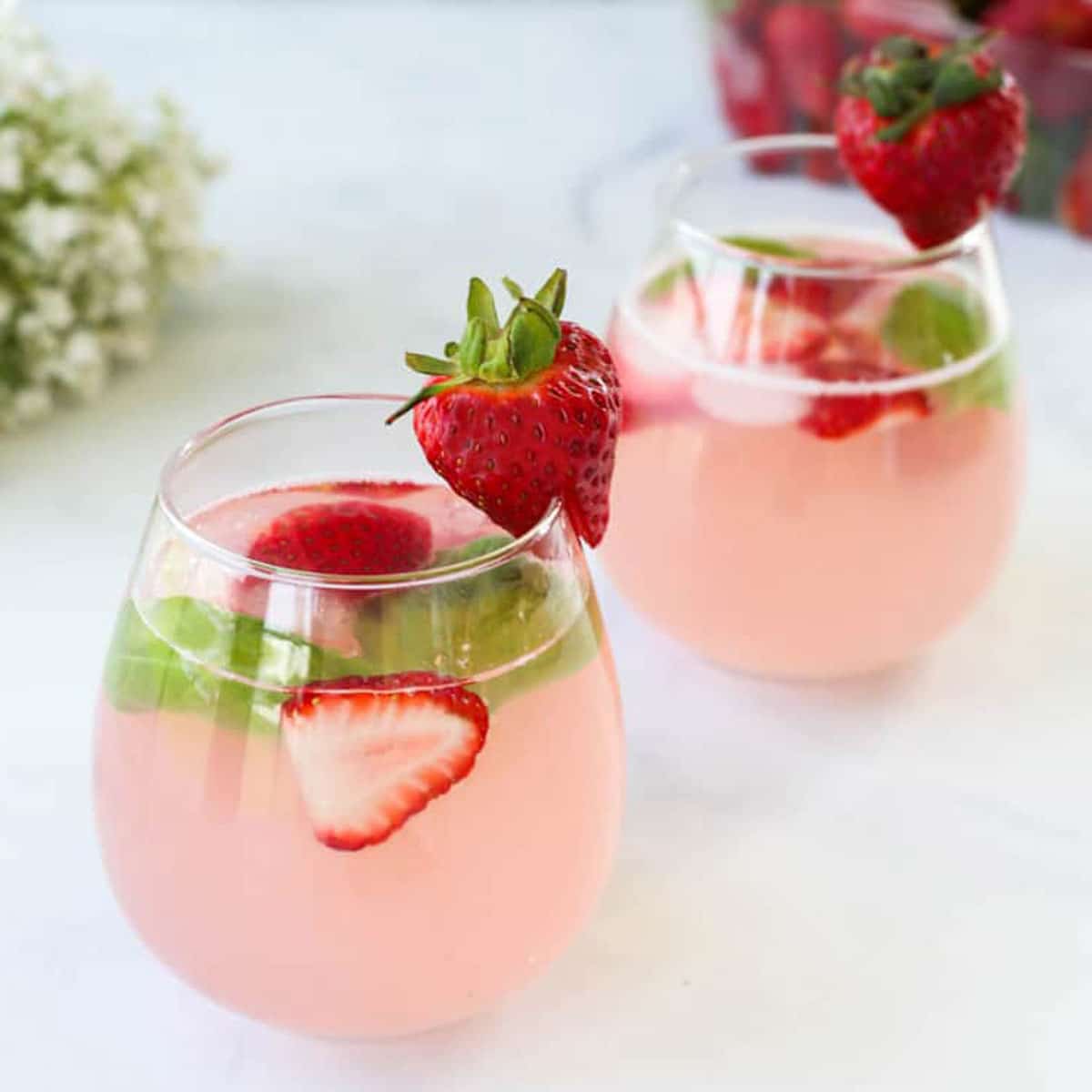 Indulge in a fruity fiesta with this vibrant Sangria Mocktail! Made with the perfect blend of grape juice, cranberry juice, and sparkling water or club soda, this refreshing drink is a customisable delight. Designed to be served in a large pitcher, crammed with orange slices and other fresh fruit it's a feast for the eyes and the taste buds. And if your little ones are anything like mine, the real adventure lies in devouring all the fruity treasures at the end. Sip, savour, and let the fruity fun begin!
A classic autumn and winter delight, this Spiced Apple Punch is the perfect non-alcoholic treat for fall festivities. Featuring apple cider (apple juice as known in the UK), infused with warming spices and topped with ginger ale (or substitute with sparkling water for a lighter option), it sets the ideal tone for Thanksgiving, Christmas, or New Year's celebrations with the little ones. Just be mindful of the added fruit and spices as they can be a choking hazard for younger children.
Creating a large fruit juice ice cube that dissolves and infuses the drink with a fruity flavour adds an extra element of fun for kids. This recipe features blueberry juice, but the possibilities are endless – you can use any juice or fruit puree to tailor it to your taste. It's a playful with a refreshing twist.
The Sunrise Sip is the perfect party drink and sure to be a hit with kids, thanks to its captivating red-to-light orange gradient that mirrors a sunrise. And the best part? You can transform the preparation into a delightful science lesson, exploring the concept of density to achieve the perfect ombre effect. For a less sweet option add sparkling water instead of lemonade and reduce the grenadine for a balanced and refreshing twist. It's a colourful concoction that's as educational as it is enjoyable!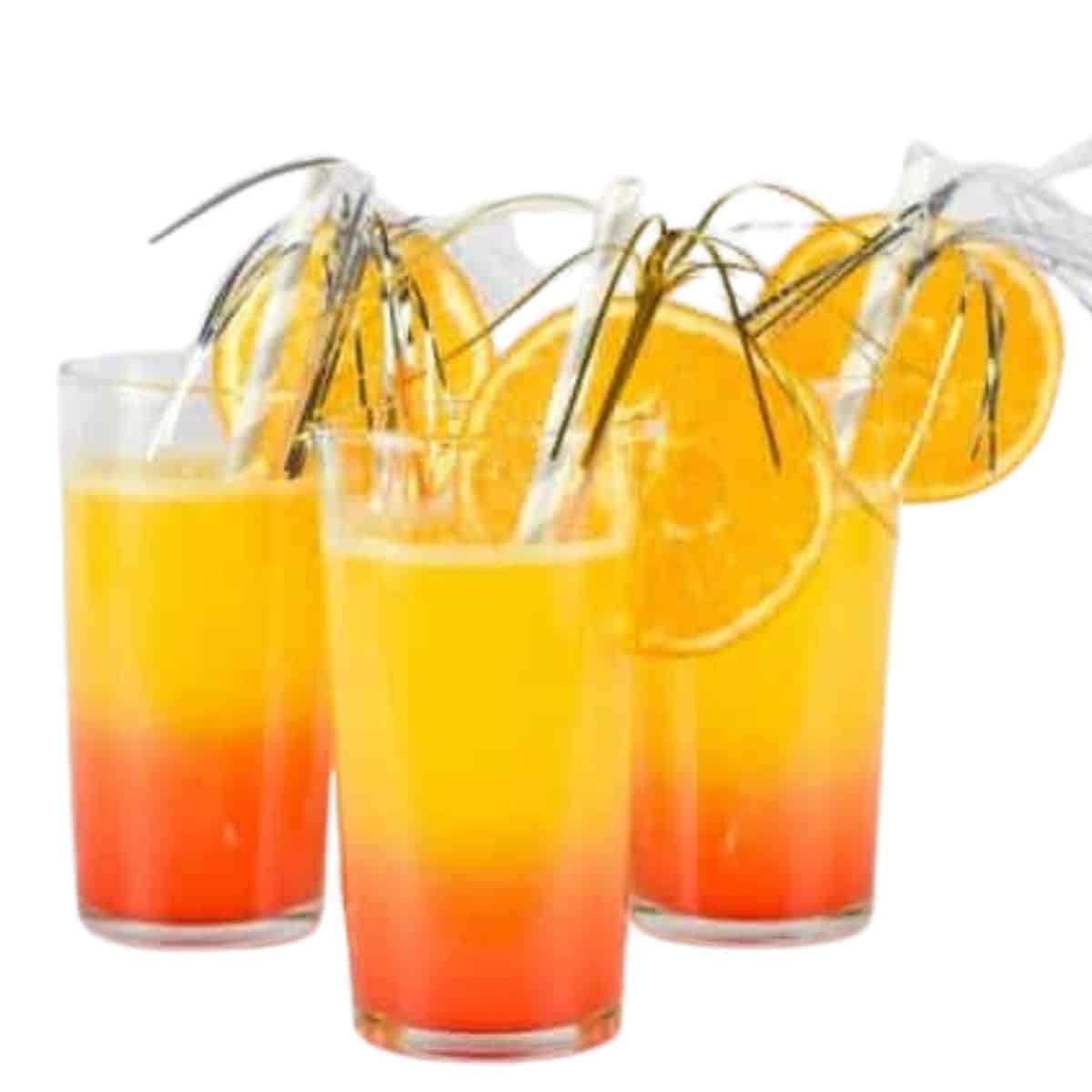 Tips When Serving Mocktails to Kids
A special drink calls for a special glass, whether that be a cute or pretty glass or a more sophisticated martini glass
Make the drink special -add straws, umbrellas, fruit kebabs/skewers, fresh fruit garnishes, stirrers etc.
Elevate your ice-cubes - you can get so many fun ice-cube trays now and you don't need to stick to water, try fruit juice ice-cubes
Coat the rim with sprinkles, shredded coconut or sugar to make it an extra fun drink
Vary the fruit juice used to change flavour and colour.
Add a range of different fruits that the kids can enjoy eating once they have finished their drink. Just be mindful of choking hazards when serving young children.
Try adding some herbs for extra flavour, mint works great.
Get the cocktail shaker out and make a show!
Play with the juice-to-water ratio until you find something your kid enjoys. For older kids, you may consider subbing water for lemonade/ginger ale to make a sweeter drink.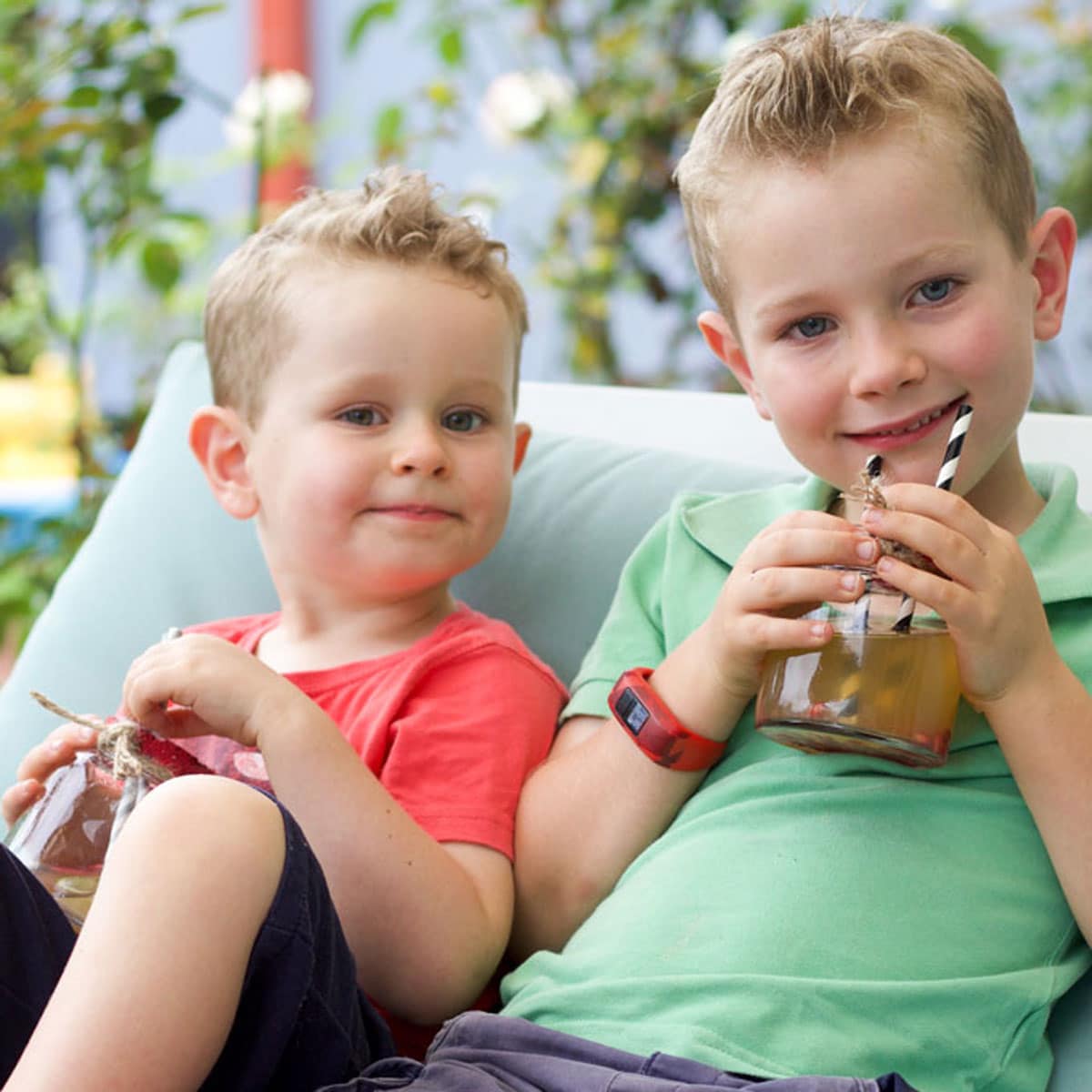 Frequently Asked Questions
Are mocktails healthy for kids?
Like most things, not all mocktails can be judged equally. Mocktails high in fruit juice with added soft drinks, such as lemonade, will not be as healthy as those mixed with less juice and mixed with sparkling water.

Australian dietary guidelines recommend restricting fruit juice intake to 125ml (half a cup) per day due to the sugar content. Half a cup really isn't a lot, this is why I like to make a mocktail for kids that is mixed with plenty sparkling water. Filling the glass with ice first, also makes your child believe they are having more.  

However, remember that mocktails are designed to be served at celebrations not as an everyday drink. I truly believe that a healthy diet is one that doesn't restrict too much, it is about the fun, family times and enjoying times..
More Kid-Friendly Drinks
Looking for more healthy kid recipes?Sign up for my free recipe newsletter to get new family friendly recipes in your inbox each week! Find me sharing more kid-friendly inspiration on Pinterest and Instagram.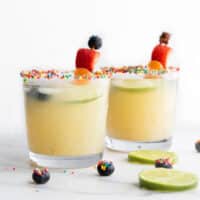 Basic Mocktail for Kids
This mocktail for kids is fun, refreshing, delicious and easy to make.
Prep Time: 10 minutes
Total Time: 10 minutes
Serves:6 people
Hover over "serves" value to reveal recipe scaler
Ingredients
1½ cups (375ml) Apple Juice
1½ cups (375ml) Pineapple Juice
3 cups (750ml) Sparkling Water See Note
1 cup Ice
2 cups (500g) Chopped Fruit
Instructions
Add all ingredients to a large jug

Allow to chill in the refrigerator for 30 mins +

Pour into glasses and decorate with fresh mint and extra fruit.
Recipe Notes
For a sweeter drink switch out the sparkling water with lemonade or ginger ale. You can also opt to play with the fruit juice to water ratio.  Try decorating the glass rim with sprinkles or coconut, add a fruit or gummy skewer, add fruit juice ice cubes and choose "fancy" glasses to up the fun factor.  If serving to a young child be mindful of how you chop the fruit to minimise choking risk.  Nutritional Information is an ESTIMATE only, calculated using an online nutrition calculator.  Drink only, no fruit. Values will differ with different brands. 
Nutritional facts
Calories: 100kcal | Carbohydrates: 24g | Protein: 1.1g | Fat: 0.7g | Sodium: 21.5mg | Sugar: 18.7g