Today we turned our fruit snack into a healthy candy cane. This was a nice little Christmas themed activity to to with Finn. Not only did he enjoy helping me chop the banana and sticking them onto the chopped strawberries, he also got a mini maths lesson. We counted the banana pieces and then the strawberry pieces before sticking them together following the strawberry /banana pattern. Patterns, numbers and healthy eating all rolled into one tasty snack!
Simply slice a banana and several strawberries and place together to form candy cane stripes. Cut the fruit on a wedge to form the curve.
Looking for more healthy kid recipes?Sign up for my free recipe newsletter to get new family friendly recipes in your inbox each week! Find me sharing more kind-friendly inspiration on Pinterest and Instagram.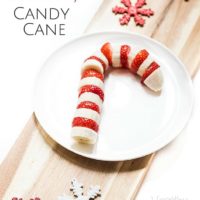 Healthy Candy Cane
A candy cane made from banana and strawberries.
Prep Time: 5 minutes
Total Time: 5 minutes
Hover over "serves" value to reveal recipe scaler
Ingredients
1 banana
8 strawberries (approx.)
Instructions
Slice the banana approx. 1- 1.5cm thick

Slice the top of the strawberry off and then slice the widest part of the strawberry approx. 1- 1.5cm thick

Place the strawberries and bananas together to represent a candy cane (see pic)

(On the bend you may wish to slice the strawberry / banana at an angle.)

Use the end of the banana for the bottom of the cane curve. (see pic)