Banana and strawberry slices are used to make this healthy candy cane. A fun and healthy snack that the kids can help make.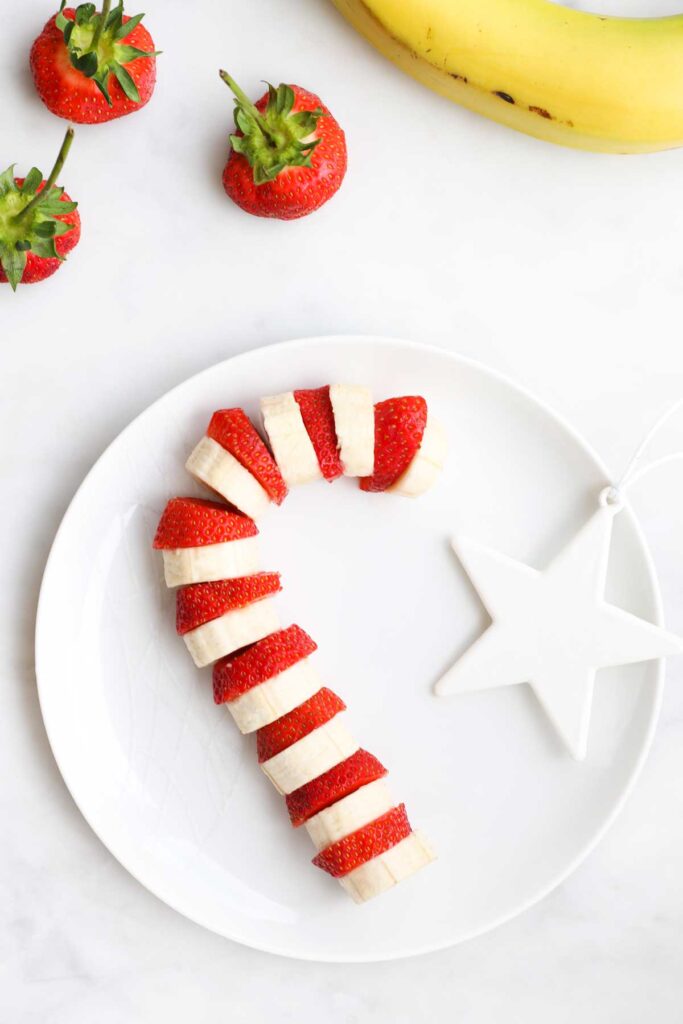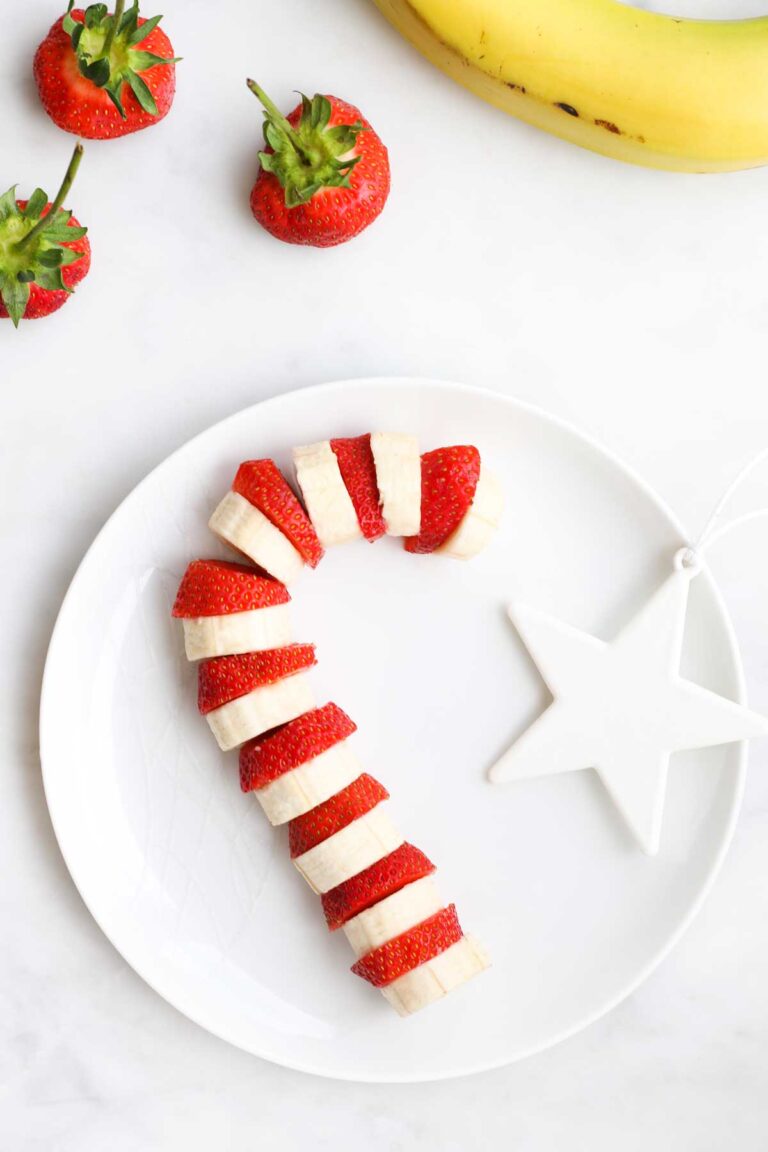 Why We Love This Healthy Candy Cane!
FUN & HEALTHY - The holiday season is a fun time but is also a time where there is so much candy around. This is a great snack to bring the holiday joy but to keep it healthy.
GREAT FOR GETTING KIDS IN THE KITCHEN - Most young kids will love the fun element of this snack and will enjoy helping to prepare it. There are so many benefits of getting kids in the kitchen and we should encourage them to help as much as possible.
EDUCATIONAL - If you have young kids you can bring a little math into preparing the snack. (Counting the banana pieces, strawberry pieces and looking at repeated patterns when assembling). Read more about developing early mathematical skills through cooking.
What You Need
To make a more filling, complete snack you may wish to serve the healthy candy cane with a dip (eg peanut butter dip, yogurt). This will add protein to keep the children fuller for longer. Read more about what makes a healthy kids snack.
How to Make a Healthy Candy Cane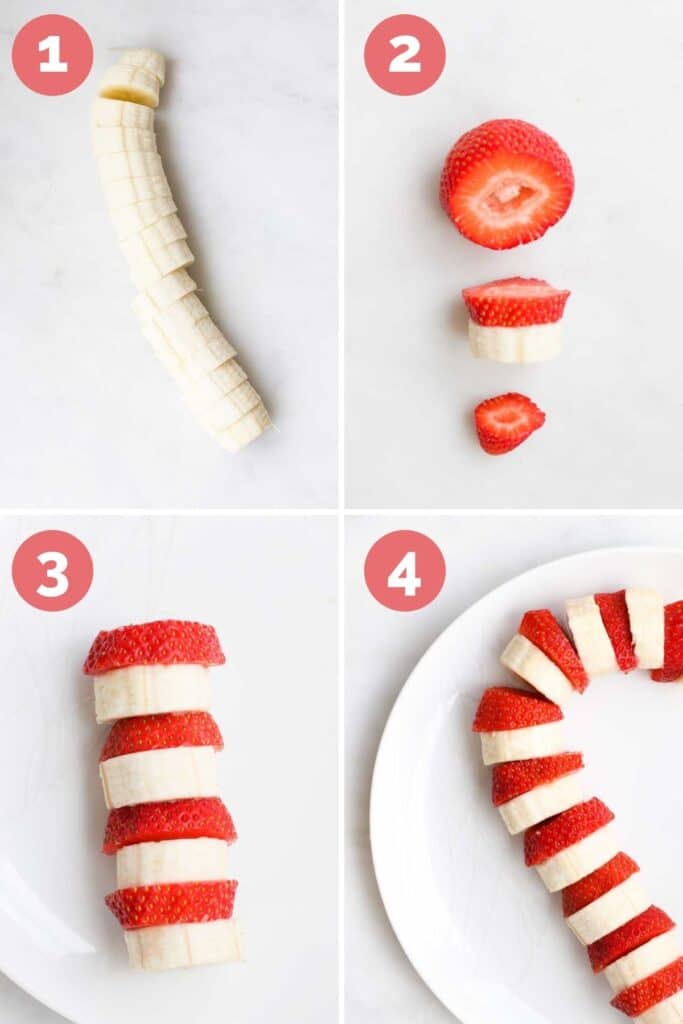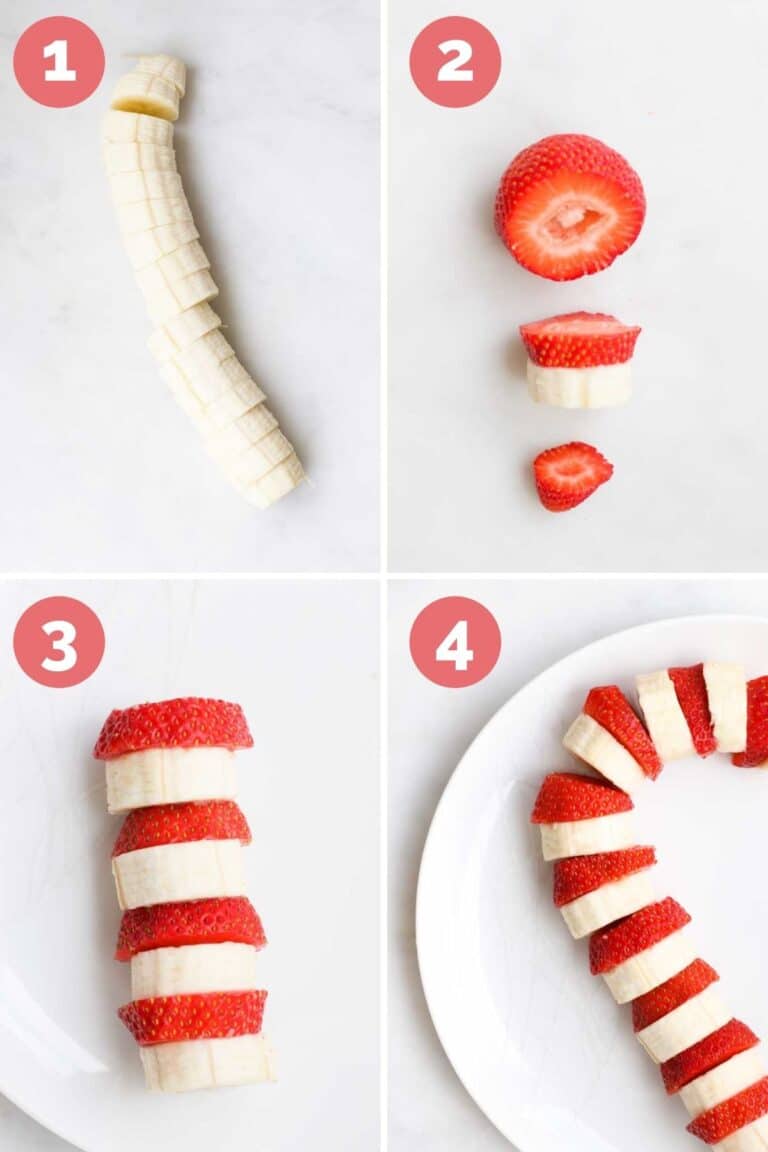 Chop the banana into slices around ½ inch (1-1.5cm) thick
Slice the strawberries the same thickness. You ideally want the strawberry pieces to be the same size as the banana slices. Therefore you will find that you only use one section of the strawberry. Use the leftovers in a fruit salad, serve as part of a snack later or, as I tend to do, eat the cut-offs yourself!
Assemble by alternating the banana and strawberry slices into the shape of a candy cane.
On the curve of the candy cane, you will need to cut the fruit at a slight angle.
You May Also Like
Looking for more healthy kid recipes?Sign up for my free recipe newsletter to get new family friendly recipes in your inbox each week! Find me sharing more kid-friendly inspiration on Pinterest and Instagram.
Healthy Candy Cane
A candy cane made from banana and strawberries.
Prep Time: 5 minutes
Total Time: 5 minutes
Serves:2
Hover over "serves" value to reveal recipe scaler
Ingredients
1 Banana
8 Strawberries (approx.)
Instructions
Slice the banana approx. 1 - 1.5cm thick (½ inch)

Slice the top of the strawberry off and then slice the widest part of the strawberry approx. 1- 1.5cm thick (½ inch)

Alternate the banana and strawberry slices into the shape of a candy cane.
Recipe Notes
Nutritional information is a ROUGH guide only, calculated using an online nutrition calculator. 
Nutritional facts
Calories: 68kcal | Carbohydrates: 17g | Protein: 1g | Fat: 1g | Saturated Fat: 1g | Sodium: 1mg | Potassium: 285mg | Fiber: 2g | Sugar: 10g | Vitamin A: 38IU | Vitamin C: 33mg | Calcium: 8mg | Iron: 1mg
*This post was originally posted Dec 2014. It has been updated with new images and process step information.