A fun and healthy festive snack that doubles up as a great kids' activity. These Strawberry Melon Christmas Trees are just too cute to resist.
You won't find many "fun food" ideas on this site, I don't feel like I am a patient enough person to be constantly creating fun food and I know my kids aren't patient enough to wait for me to get creative!
However, when it comes to Christmas, I do like to make that little bit more of an effort. It is a time where our kids are surrounded by less than healthy food choices and I feel it is important to make healthy food inviting and fun.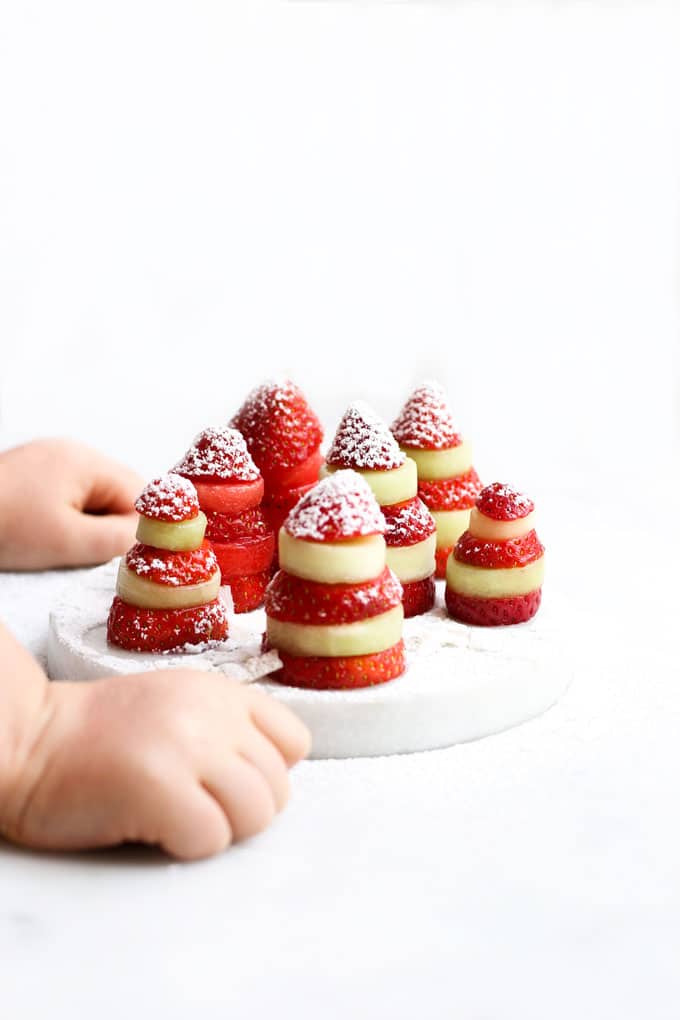 All my Christmas snack ideas double up as a great activity to make with young kids, allowing them to enjoy this festive period but also to benefit from all the skills that cooking with kids provides.
Fun food ideas that are both aesthetically pleasing and easy to make are ideal for when you are involving kids. When I came across these adorable trees, in Healthy Food Guide, I knew I had to make them with my youngest.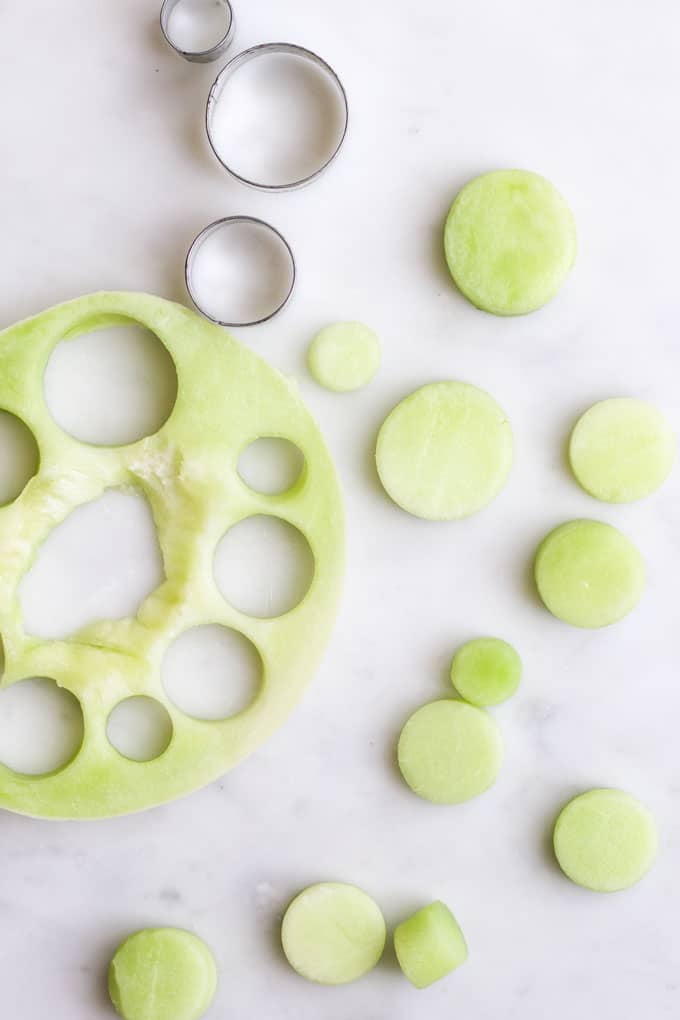 Round Cookie Cutters
To make these Strawberry Melon Christmas trees you will need three round cookie cutters in varying sizes. I have a tin of cookie cutters and found three that were a great fit for the size of my strawberries. They were 2.5cm, 3cms and 3.5cm wide.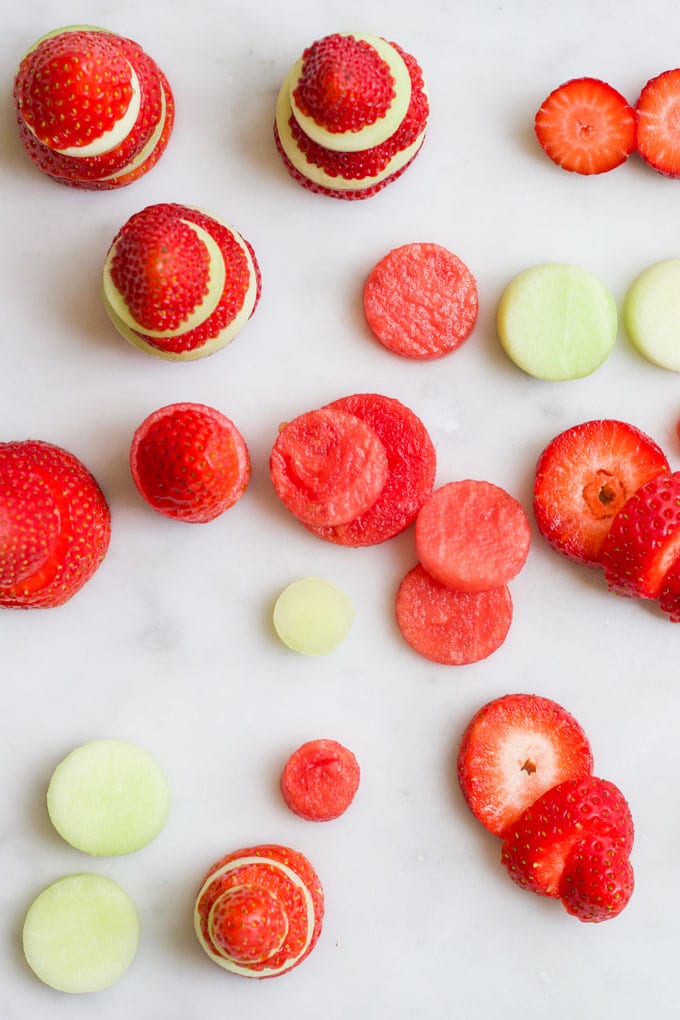 Assembling the Trees
Start by trimming the bases of the strawberries to give a flat bottom.
You then want to cut each strawberry twice to create three parts.
Slice the melon and then cut out round disks using the cookie cutters. Try and match up the size of the disks to the size of the strawberries.
Layer as in the pictures
Sprinkle with icing sugar (optional)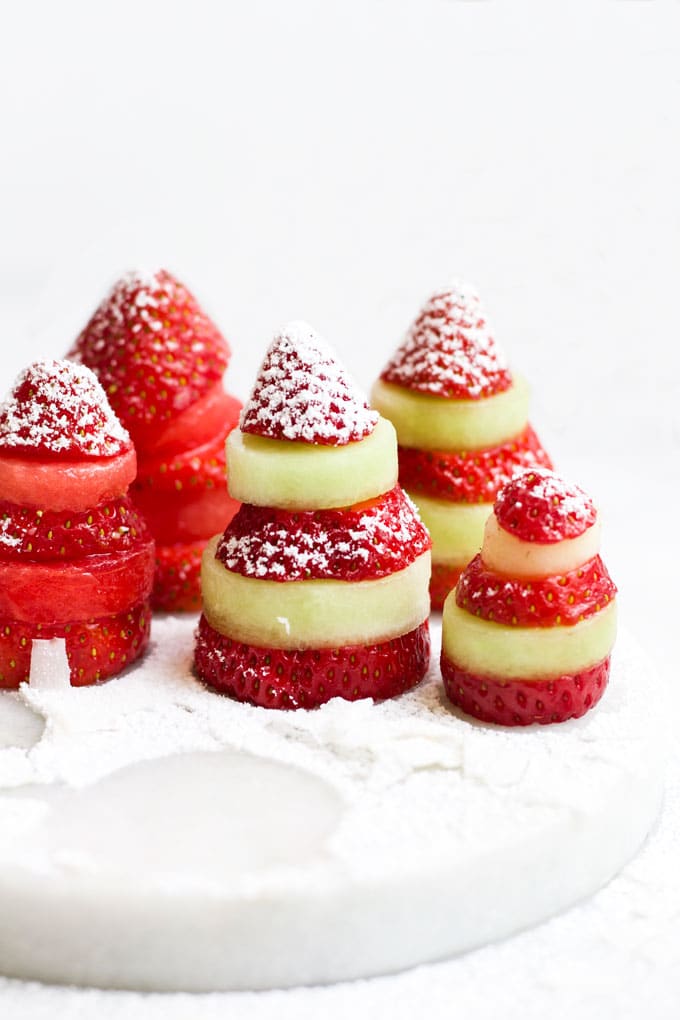 You may also like...
Have you tried making these? Please rate and leave a comment below or share your photos and tag me on Instagram.
Looking for more healthy kid recipes?Sign up for my free recipe newsletter to get new family friendly recipes in your inbox each week! Find me sharing more kid-friendly inspiration on Pinterest and Instagram.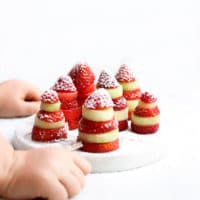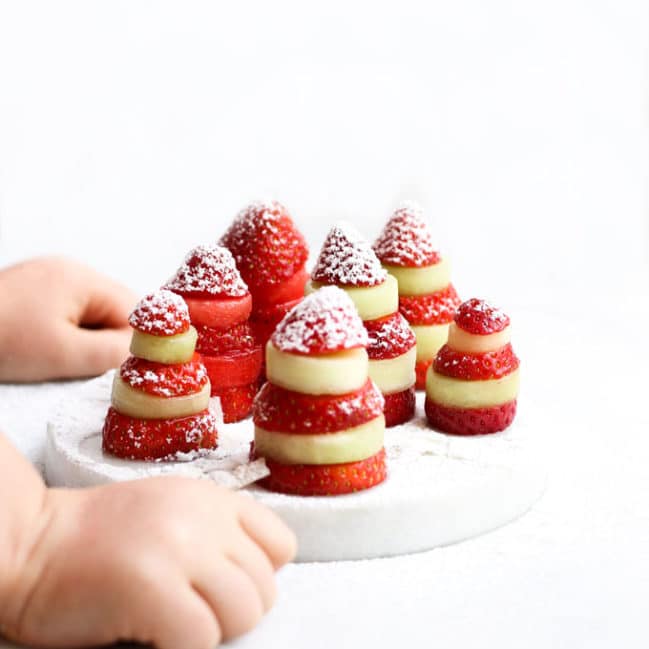 Strawberry Melon Christmas Trees
A healthy, fun and festive treat for the little ones.
Prep Time: 25 minutes
Total Time: 25 minutes
Serves:10 Trees
Hover over "serves" value to reveal recipe scaler
Ingredients
250g Strawberries
¼ Honeydew Melon
¼ Small Watermelon (seedless)
1 tablespoon Icing Sugar (for dusting)
Instructions
Trim the bases (stalks) of the strawberries to produce a flat bottom. Then cut each strawberry twice to give 3 slices.

Cut the Honeydew Melon and Watermelon into slices (around ½-1cm thick). Lay flat and cut round disks using 3 varying sizes of round cookie cutters (see note 1). Check the cookie cutter size next to each slice of strawberry to determine how many of each size you will need. This will ensure the trees will stack well.

Assemble the trees and dust with icing sugar.
Recipe Notes
You will require circle cookie cutters approx 2.5cm, 3cms and 3.5cm wide to make this recipe.    Nutritional information is a very ROUGH guide only, calculated using an online calculator. Facts will differ depending on the size of strawberries and amount of melon used. 
Nutritional facts
Calories: 56kcal | Carbohydrates: 14g | Protein: 1g | Fat: 0g | Saturated Fat: 0g | Cholesterol: 0mg | Sodium: 7mg | Potassium: 237mg | Fiber: 1g | Sugar: 11g | Vitamin A: 655IU | Vitamin C: 29.5mg | Calcium: 14mg | Iron: 0.4mg