Christmas Apple and Peanut Butter Sandwiches are a healthy snack with a fun festive touch.
Apple and Peanut Butter sandwiches are one of Finn's favourite snacks (and mine too!) We have them often and today we gave them a Christmas twist. These Christmas Apple and Peanut Butter Sandwiches are a delicious and healthy snack that are made festive by using Christmas cookie cutters.
This is the kind of snack I'd make and serve straight away. Once cut, apples can brown pretty quickly due to a large amount of the enzyme polyphenol oxidase. With the help of oxygen, enzymatic browning takes place which not only alters the appearance but also the flavour, texture and smell. Wow, I feel like I'm right back at Uni where I studied Food Science!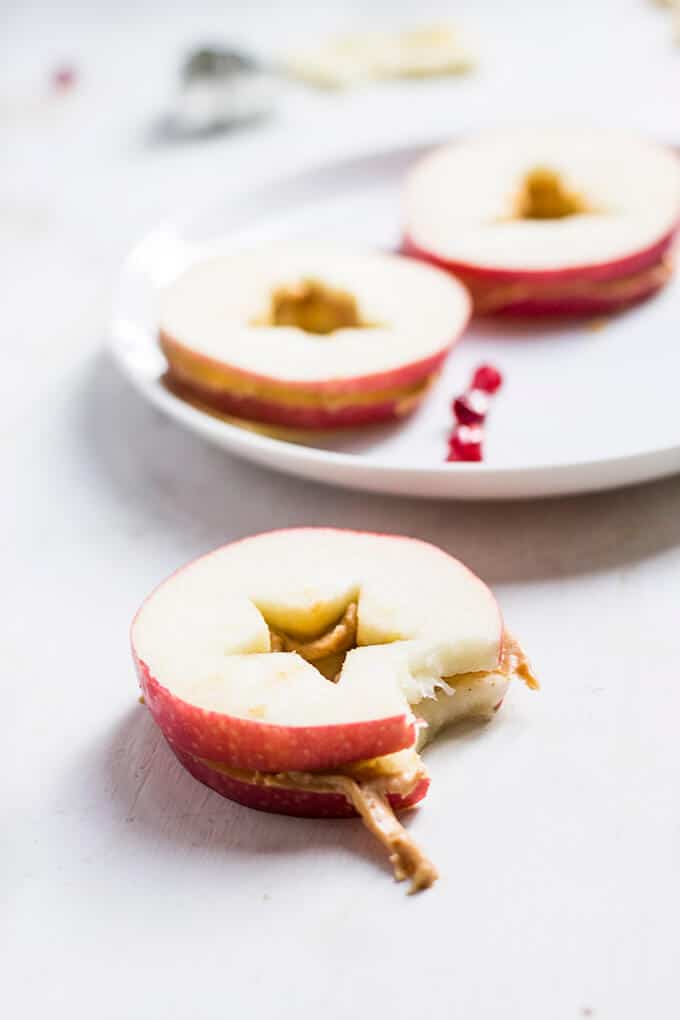 If you do wish to make these ahead of time, or perhaps serve at a Christmas Party then I suggest giving this great article "How to Stop Browning in Apple and Pears" from Serious Eats a read. It shows the results of using different methods to stop browning. According to the article, the best way is to soak your apples in a salt solution (1/2 tsp kosher salt dissolved in 1 cup of water) for 10 mins. You can then rise the apple slices and they should be good for a couple of hours.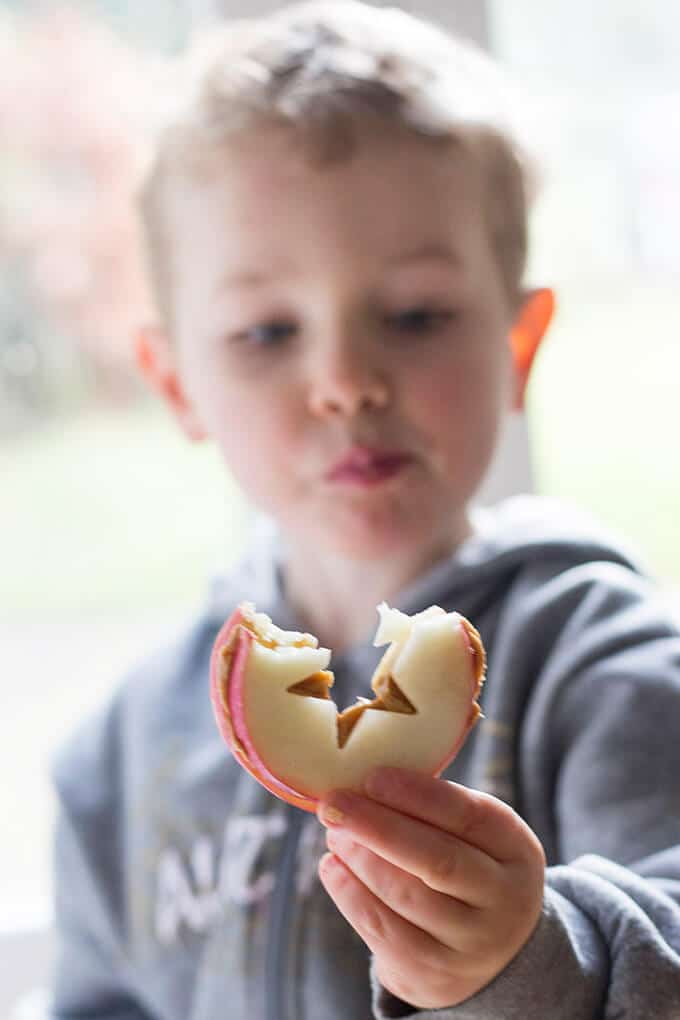 You May Also Like
Have you this recipe? I love reading your feedback, please rate and leave a comment below or tag me on Instagram @healthylittlefoodies
Looking for more healthy kid recipes?Sign up for my free recipe newsletter to get new family friendly recipes in your inbox each week! Find me sharing more kind-friendly inspiration on Pinterest and Instagram.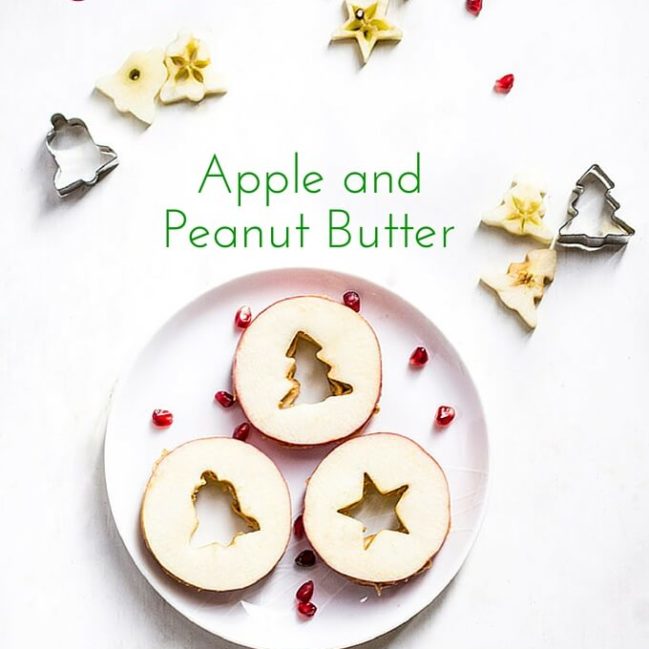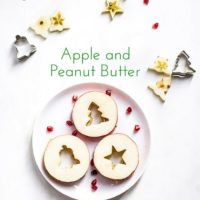 Christmas Apple and Peanut Butter Sandwiches
A healthy and tasty snack, for kids, with a fun festive touch.
Prep Time: 10 minutes
Total Time: 10 minutes
Serves:2 people
Hover over "serves" value to reveal recipe scaler
Ingredients
1 Apple
2 tbsp Peanut butter (This is an approx amount needed for one apple but this may vary depending on the thickness of how you cut your apple)
Instructions
Slice the apples into rounds (to desired thickness)

Arrange in sets of two (of about the same size).

Spread one slice of apple (from each set) with peanut butter. You can avoid the centre, near the core, as this will be removed.

Place the second slice on top of the slice that has been spread with peanut butter.

Use Christmas cookie cutters to remove the core from the centres of each set.

Recipe Notes
See how to make these Christmas Apple Sandwiches (and other fun fruit Christmas ideas) in this video. 
Nutritional Information is an ESTIMATE only and is calculated using an online nutrition calculator. Information will vary with brand & size of apple and the type of peanut butter used. 
Nutrition Facts
Christmas Apple and Peanut Butter Sandwiches
Amount Per Serving (1 of 2)
Calories 143 Calories from Fat 76
% Daily Value*
Fat 8.4g13%
Sodium 69.1mg3%
Carbohydrates 16.1g5%
Sugar 11.1g12%
Protein 3.8g8%
* Percent Daily Values are based on a 2000 calorie diet.