Simple, healthy and super tasty; these frozen chocolate covered bananas are the ultimate sweet treat for all ages.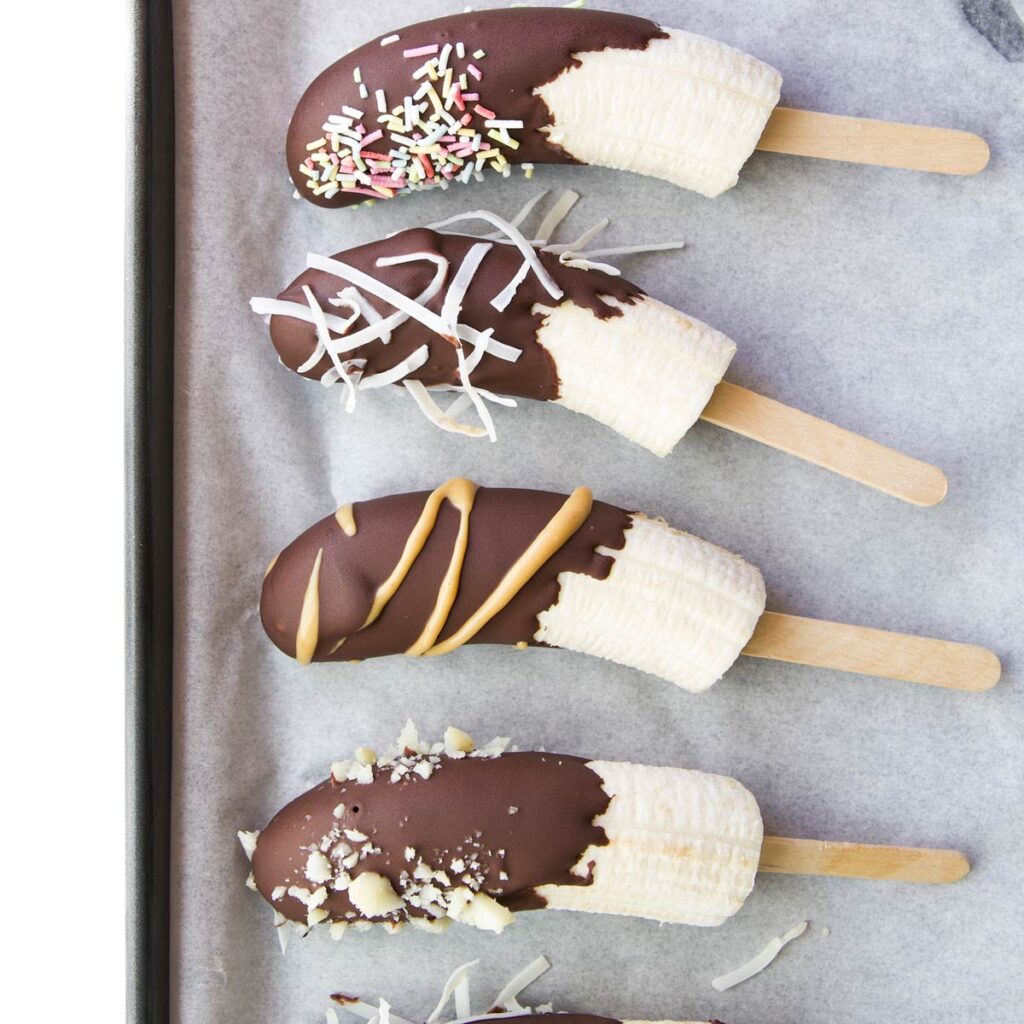 When you freeze bananas they turn cold and creamy and make a delicious healthy dessert. You can turn frozen slices into banana ice cream, add them to smoothies to make them extra creamy, make frozen banana treats or enjoy them on a stick, dipped in chocolate.
Reasons to Love Chocolate Covered Bananas
EASY: Although you need to factor in freezing time, they really don't involve a lot of prep work.
CUSTOMIZABLE: Customize your frozen banana pops depending on the age, stage or taste preferences of your child. For little ones, you may want to just drizzle chocolate or skip it altogether. Older kids can help to prepare and choose their own toppings.
HEALTHY - Bananas are a great addition to a child's diet and a fantastic snack when paired with a healthy protein or fat (so drizzle that nut butter and roll in the nuts).
MAKE AHEAD - These banana pops can be frozen for around a week. Make in advance for parties or playdates.
Watch How to Make Them
Ingredients and Alternative Topping Suggestions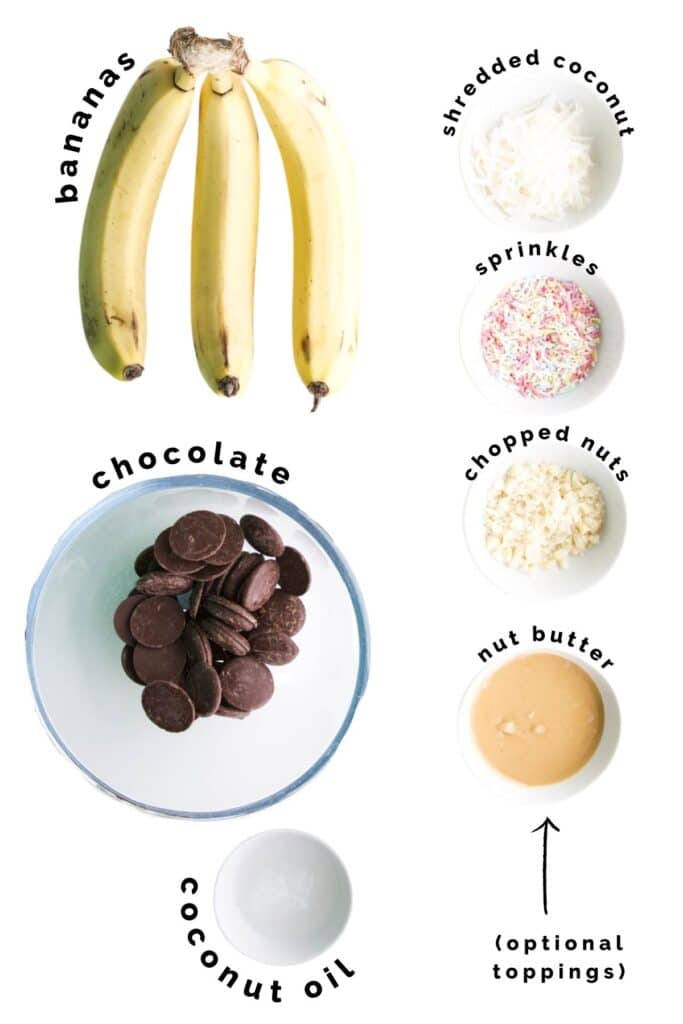 BANANAS - Perfectly ripe bananas work best. Underripe bananas can have a bitter taste when frozen and overripe bananas can be too soft, the brown spots can also be undesirable.
CHOCOLATE - I use dark chocolate which compliments the sweetness of the banana. You can use your favourite chocolate.
COCONUT OIL - Makes the chocolate much smoother to work with, it isn't essential. Skip it altogether or replace it with vegetable oil.
TOPPINGS - Get creative, anything goes. Nut butter, finely chopped nuts/seeds, shredded coconut, freeze-dried fruits, sprinkles, crushed corn flakes, crushed cookies.
Process Shots and Preparation Tips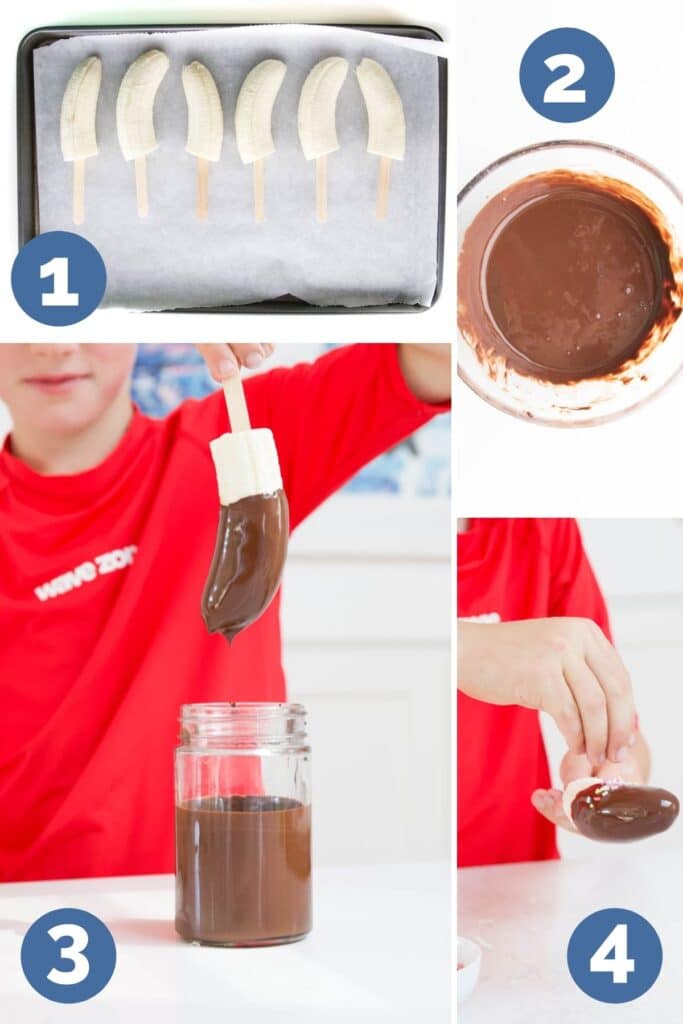 FREEZING - Find a tray that will easily fit into your freezer and line with parchment paper. Space out your bananas (they shouldn't be touching) and ensure they are properly frozen before dipping them in chocolate. You will need to freeze the bananas for 2 + hours.
MELTING CHOCOLATE - You can use a double boiler but I find the microwave easier. If you aren't using chocolate chips make sure to break the chocolate up into similar sized pieces.
Place in a microwavable bowl with coconut oil. Microwave, stirring the chocolate every 20 - 30 seconds until the chocolate is melted.
Be careful not to get any water into the chocolate (e.g. from a wet spoon), this will cause the chocolate to seize.
DIPPING TIPS - Using a tall slim jar makes dipping the chocolate much easier. Allow any excess chocolate to fall back into the jar.
BE QUICK WITH THE TOPPINGS - Prepare your topping in advance (before melting the chocolate). Sprinkle toppings immediately after dipping, before the chocolate hardens.
Frozen Bananas for Babies and Toddlers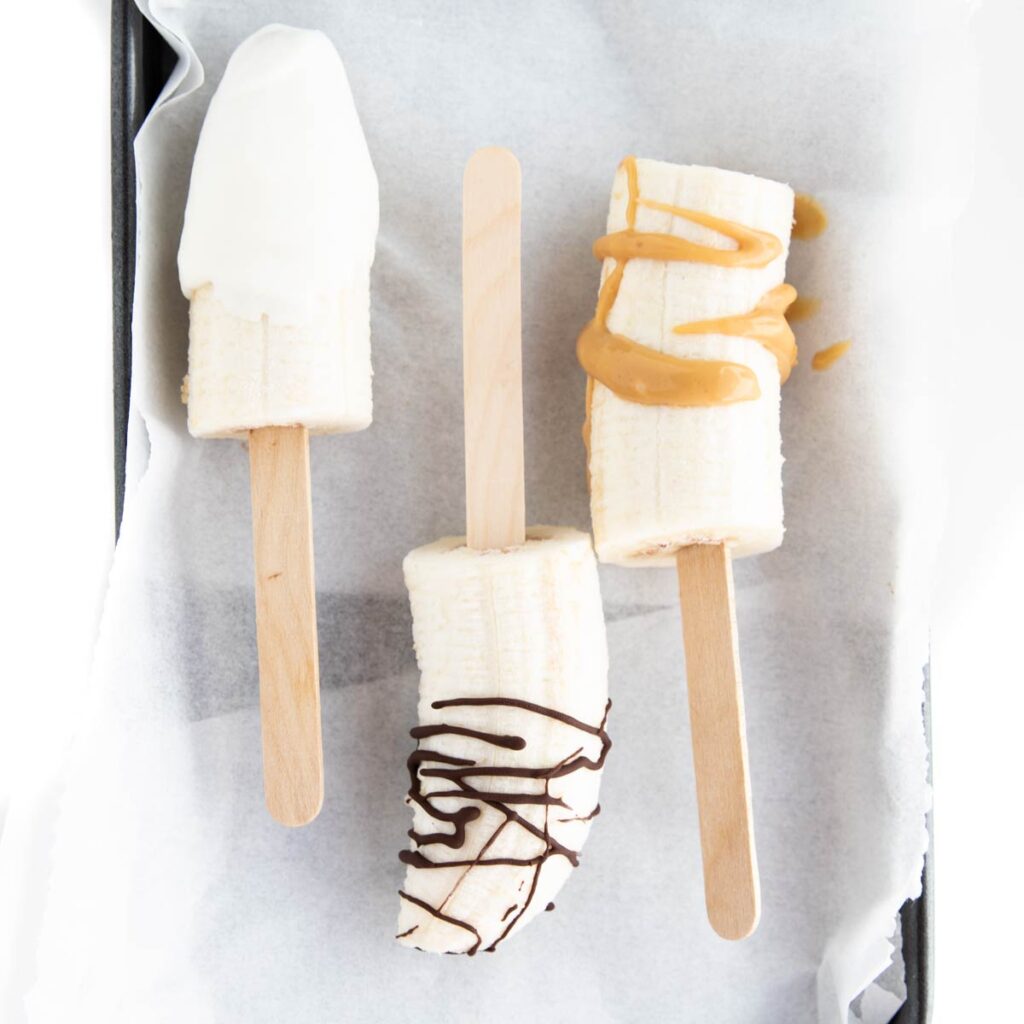 Frozen bananas can be a delicious snack for toddlers and babies but there are a few things to consider before offering your child this tasty snack:
CHOKING HAZARD: As the bananas are frozen they can potentially be a choking hazard if your child bites chunks off. ALWAYS supervise your child and make sure they are not left to run about with it in their hand.
SIZE: Cut the bananas in 3rds, rather than halves as this is a more manageable size for younger children.
ADDED SUGAR: It is not advised for children under two to consume added sugar. Therefore coating in chocolate is not advised. You can leave them plain, dip in natural yogurt or drizzle with peanut butter (thinned with a bit of yogurt). If you really do wish to add chocolate, add a thin drizzle (not recommended for under 2s).
ALTERNATIVE: A great alternative for babies is banana icecream, which involves blending the frozen banana to a creamy consistency.
Storage Instructions
Once the bananas are frozen, and the chocolate is fully hardened, transfer the chocolate covered bananas to a ziplock bag or freezable container and freeze for up to a week. You can freeze for longer but the quality starts to deteriorate after a week.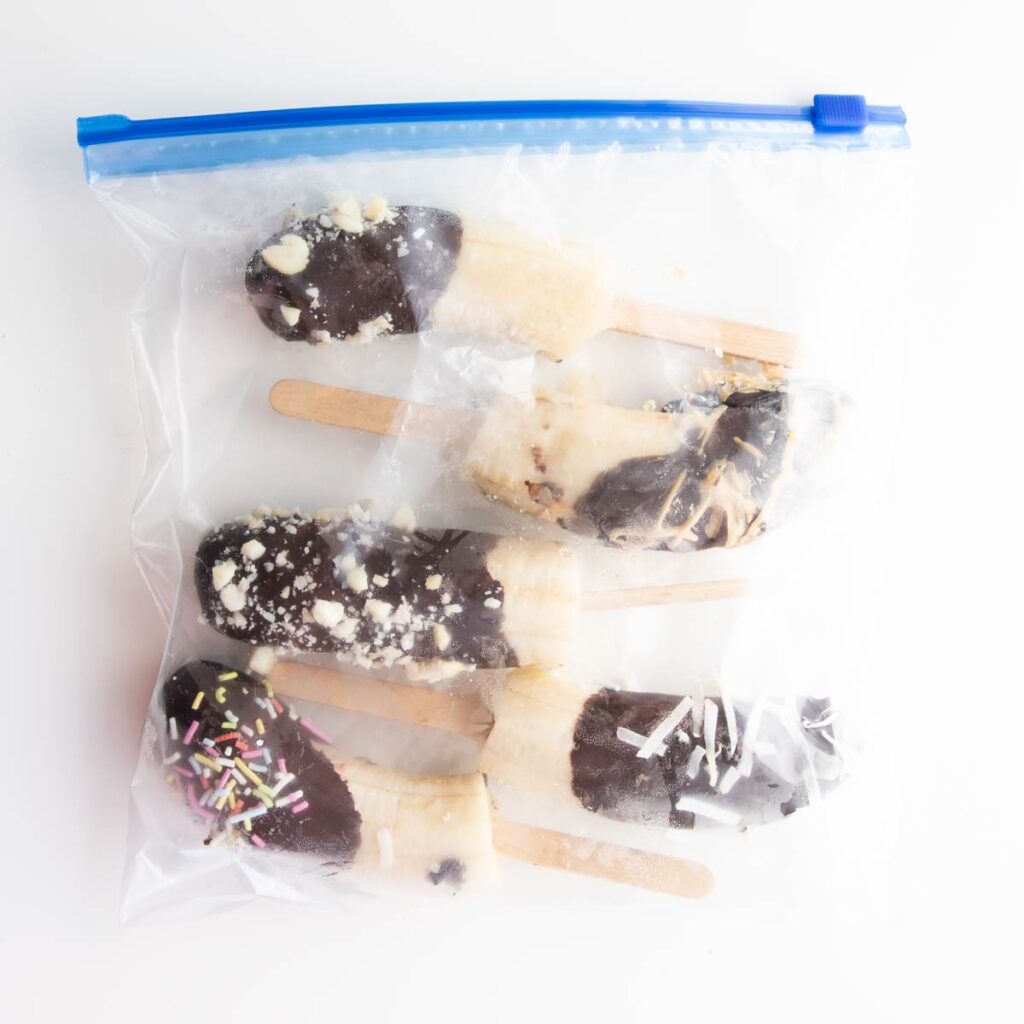 You May Also Like
Looking for more healthy kid recipes?Sign up for my free recipe newsletter to get new family friendly recipes in your inbox each week! Find me sharing more kid-friendly inspiration on Pinterest and Instagram.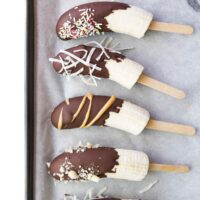 Chocolate Covered Frozen Bananas
Frozen bananas covered in melted chocolate and sprinkled with a variety of toppings (e.g nut butter, chopped nuts, shredded coconut, sprinkles)
Prep Time: 2 hours 15 minutes
Cook Time: 2 minutes
Total Time: 2 hours 17 minutes
Serves:6
Hover over "serves" value to reveal recipe scaler
Ingredients
3 Bananas
170g (6oz) Dark Chocolate (equivalent to 1 cup of choc chips)
1 tablespoon Coconut Oil
Optional Toppings
finely chopped nuts / seeds
nut butter
shredded coconut
sprinkles
freeze dried fruit
Instructions
Line a baking sheet (that will fit in freezer space) with baking /parchment paper.

Peel the bananas, slice in half and insert a popsicle stick into the cut end. Place each banana on the prepared baking sheet and freeze for a minimum of 2 hours.

Once the bananas are frozen, melt the chocolate. Add chocolate and coconut oil to a microwavable bowl. Microwave, stirring every 20-30 seconds until fully melted and smooth.

Pour the melted chocolate into a tall jar/glass and dip the bananas in the chocolate. Quickly sprinkle with chosen toppings (if using) before the chocolate has time to set.

Return to the freezer until the chocolate fully hardens, around 5 minutes. If storing for later, place in a zip lock bag or a freezer friendly airtight container for up to a week.
Recipe Notes
No Microwave? : Use a double boiler to melt chocolate on stove top.  Nutritional information is a ROUGH guide only, calculated using an online nutrition calculator. Facts are for one banana pop dipped in chocolate but does not include any toppings.   
Nutritional facts
Calories: 226kcal | Carbohydrates: 29g | Protein: 3g | Fat: 11g | Saturated Fat: 10g | Polyunsaturated Fat: 1g | Monounsaturated Fat: 1g | Cholesterol: 1mg | Sodium: 31mg | Potassium: 391mg | Fiber: 3g | Sugar: 17g | Vitamin A: 41IU | Vitamin C: 5mg | Calcium: 89mg | Iron: 1mg