We love curry; hot curries packed with chilli and strong flavours. Once Finn started eating with us we thought we should tame the curries down a bit, after all, a lot of our friends and family couldn't handle the heat so it wasn't really fair to expect our 10 month old to enjoy them!  This Fruity Chicken Curry was the first mild curry I had ever made and we all really enjoy it.  The sultanas and apples add a lovely sweet taste to make this a truly delicious curry for kids.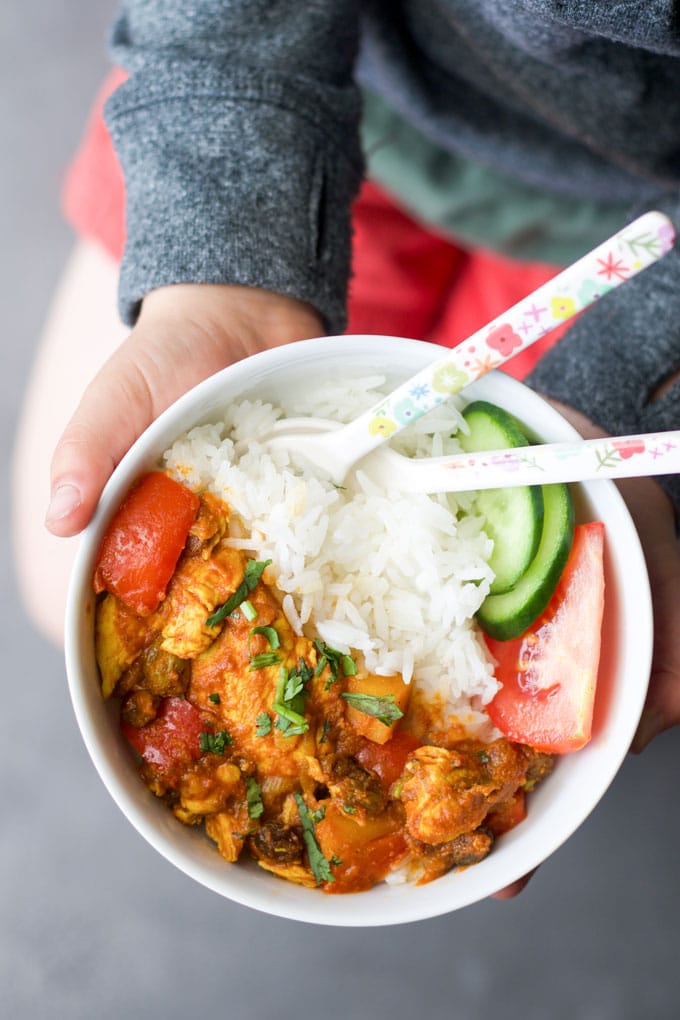 I started introducing spices into Finn's food right from the beginning. To his purees I added cinnamon and nutmeg and then moved on to turmeric before slowly adding other spices to complement his baby food. If you are interested in using spices in baby food, then I recommend checking out Spice Spice Baby for great information and recipes. Babies are a lot more accommodating to new foods and so the sooner they are introduced to spiced food the better, in my opinion.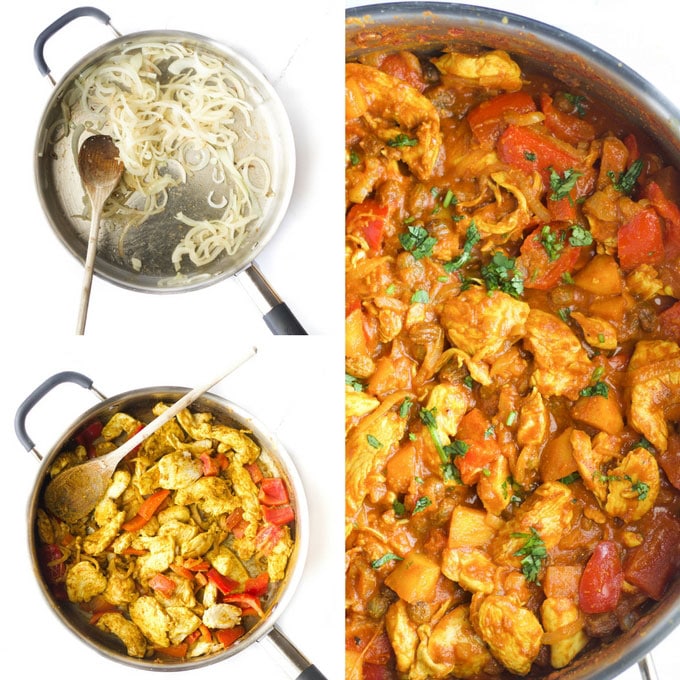 Curry powders vary greatly and will change the taste of this curry. I recommend you study the back of the pack to see what is in them before buying. Some brands have salt pretty high up in the ingredient list, which you want to avoid for babies and young toddlers. Some also have added sugar which I personally avoid. I would use a mild / medium curry powder for this. If it is too spicy then stir through some yoghurt before serving. The added benefit of this is that it cools it down in temperature too!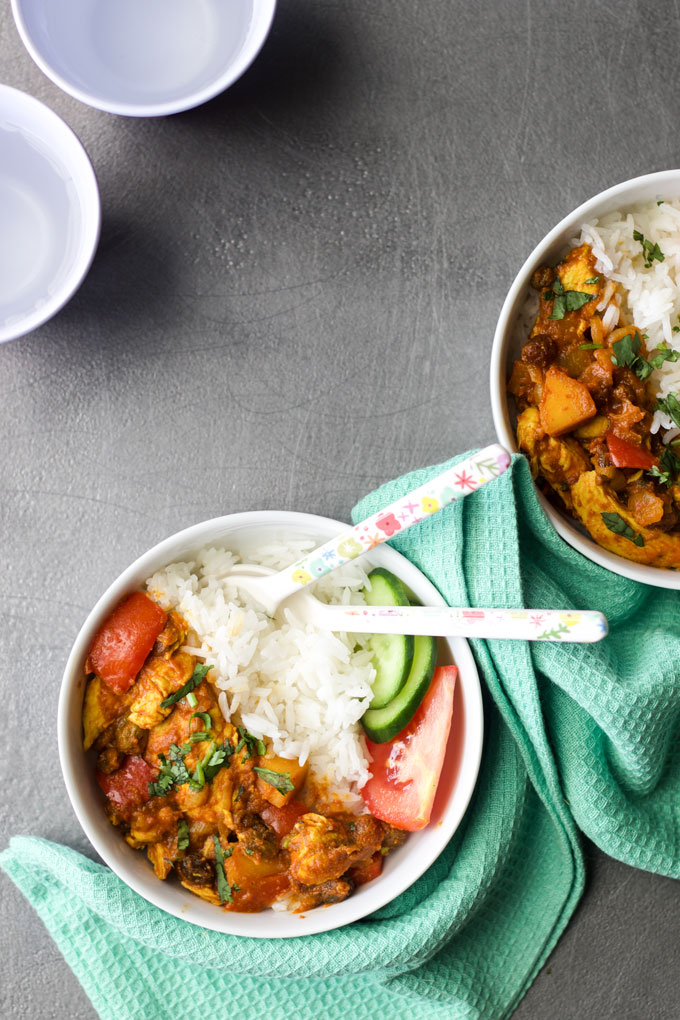 If your kids love this curry then be sure to try my Curried Eggs, Curried Lentil Bake or Curried Lentil and Coconut Soup.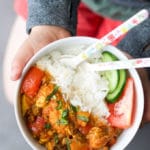 Fruity Chicken Curry for Kids
A delicious and easy mild curry for kids. Added apple and raisins gives a delicious sweetness, that kids love. A perfect recipe to introduce curry to your kids.
Ingredients
1

tbsp

oil

600g

(2 large)

chicken breasts - sliced

1

large onion - thinly sliced

*See note 1

1

garlic clove - finely chopped

2

red pepper - chopped

1

small apple - peeled and cubed

80g

1/2 cup

sultanas / raisins

3

tbsp

mild curry powder

* See note 2

200

g

passata

** See note 3

200

g

chicken stock

*** See note 4
Instructions
Heat the oil in a heavy based frying pan over a medium heat. Add the onions and garlic and heat until the mixture becomes translucent.

Add the chicken and brown on all sides then add the peppers and stir in the curry powder. Stir for approx 1 min.

Add the remaining ingredients and simmer until the sauce thickens (around 20 mins)
Recipe Notes
I thinly slice the onion for this recipe but if your kids don't like "bits" then I'd finely chop the onion.
Curry powders vary a lot and can really change the taste of this curry. For young kids look for a mild curry powder. Watch for salt levels too, some powders can have a very high salt content.
If you can not find passata then use crushed / chopped tomatoes. They will break down with the cooking.
If cooking for a baby / young toddler then use homemade chicken stock / low salt chicken stock.
Nutrition Facts
Fruity Chicken Curry for Kids
Amount Per Serving
Calories 284
Calories from Fat 99
% Daily Value*
Total Fat 11g 17%
Cholesterol 88.4mg 29%
Sodium 255.7mg 11%
Total Carbohydrates 27.2g 9%
Protein 29.5g 59%
* Percent Daily Values are based on a 2000 calorie diet.
*Nutritional information is an estimate only, using an online nutrition generator. It should be used as a guide only.