Spinach in pancakes...it sounds a little strange doesn't it? However, these crazy green pancakes are a fun way to add spinach to your little one's plate!
Reasons to Love these Spinach Pancakes
SPINACH EXPOSURE: Show your kids that spinach can be used and enjoyed in many different ways. It may also be a good stepping stone for children to enjoy spinach on its own or in other ways.
FUN: This is a great recipe to make with kids. The vibrant green colour of the mixture is fun and a little different.
FREEZER FRIENDLY: Make a stash and freeze them for an easy snack/brekfast.
GLUTEN FREE / DAIRY FREE/ NUT FREE: Buckwheat flour is gluten free and these green pancakes can be made with non-dairy milk.
Ingredient Information and Substitutes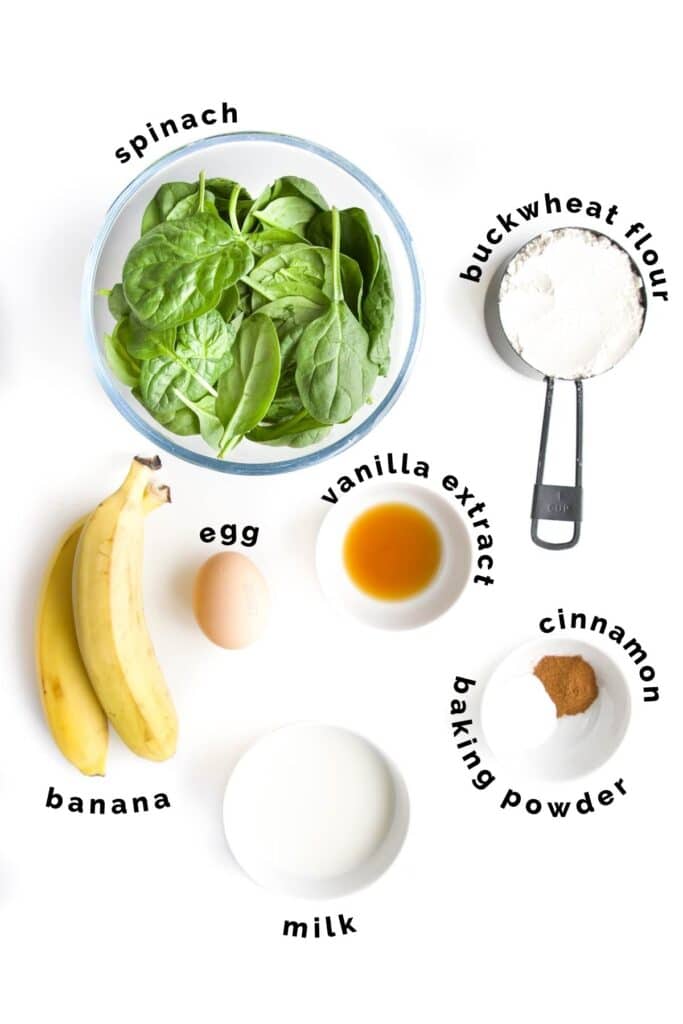 SPINACH - 2 cups of fresh spinach leaves are packed into this recipe. I haven't tested frozen spinach, if you wish to try it I would recommend thawing and squeezing out some of the liquid.
BANANA - Adds sweetness. Wait until your bananas are ripe before making this recipe. I have not tested any substitutes. I would suggest apple puree/sauce or sugar/maple syrup/honey but cannot gaurantee the outcome.
EGG - I have not tested any egg substitutes for this recipe. The banana in the recipe may provide enought structure. If you find it isn't enough you could try adding a flax egg.
BUCKWHEAT FLOUR - I have tested all purpose flour, whole wheat flour and buckwheat. For this recipe the buckwheat provides the best result. Both the all purpose and whole wheat resulted in a more dense, wetter spinach pancake.
MILK - I used cows milk but you can substitute with a non dairy milk.
BAKING POWDER - Remember that baking powder has a shelf life and once expired it won't give your green pancakes the same volume. You can test freshness by dropping a little bit of the baking powder into hot water and look for a bubbling reactio. If it fizzes or bubbles, it's still good to use.
VANILLA - for flavour.
CINNAMON - for flavour
Process Shots and Cooking Tips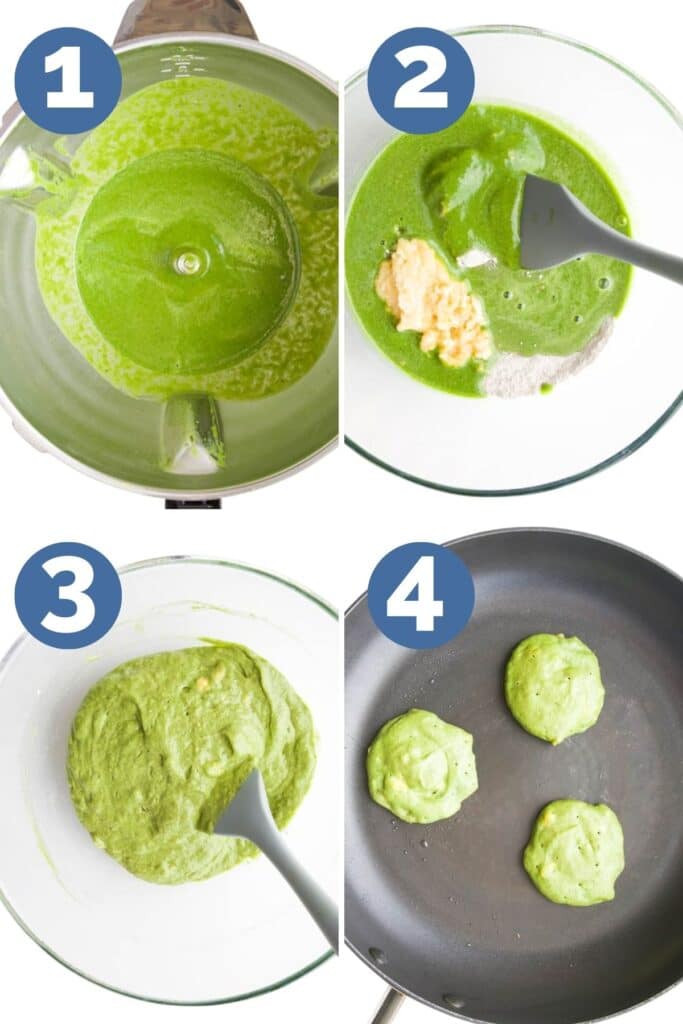 BLEND - Start by blending the spinach with one of the bananas, the milk, egg and vanilla until you get a smooth and vibrant liquid. The reason only one banana is added at this stage is because I find mashing the second banana helps keep the pancakes fluffier.
ADD WET & DRY INGREDIENTS TO BOWL – Add the dry ingredients to a large mixing bowl and stir to combine. Then add the wet ingredients along with the mashed banana and gently. Don't be tempted to blend everything together. This can result in wet, dense pancakes that don't always seem cooked through.
COMBINE INGREDIENTS: Gently stir to combine the ingredients.
FRY: Brush a thin layer of oil on the pan with a pastry brush or wipe with a folded paper towel. Cook on medium heat but be prepared to adjust the temperature (Too hot and your pancakes will be scorched, too cold and they can become flat and tough.) Add two tablespoons of the mixture to the pan to form one pancake. Cook until bubbles appear on the surface and are starting to burst, then flip and cook the other side until golden and cooked through.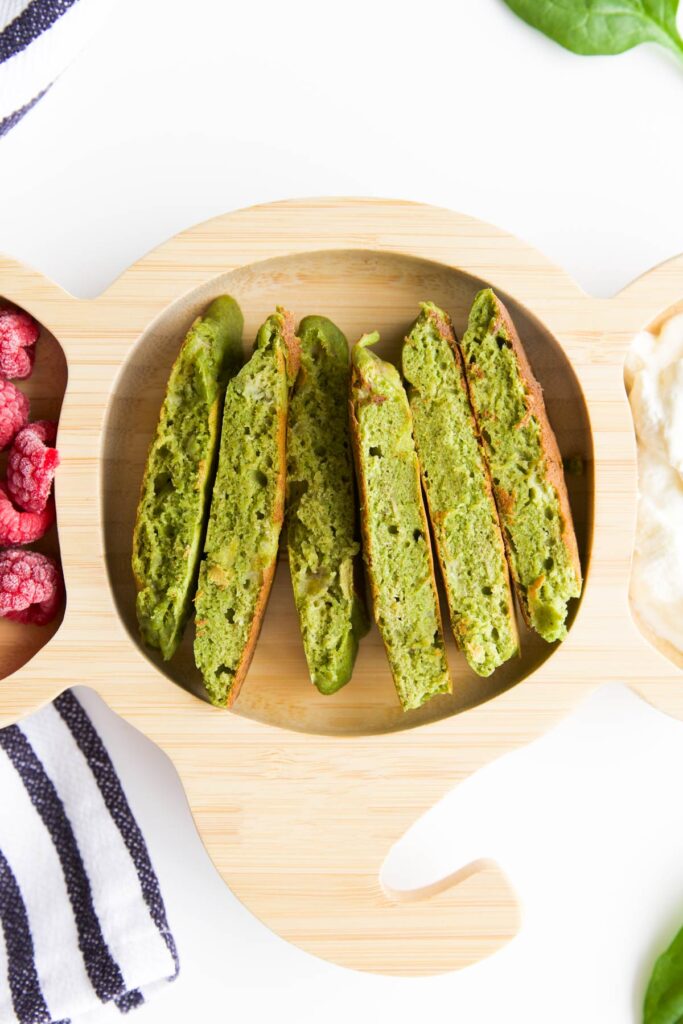 You May Also Like
Have you tried this recipe? I love receiving your feedback, please rate and leave a comment below or tag me on Instagram @healthylittlefoodies
Looking for more healthy kid recipes?Sign up for my free recipe newsletter to get new family friendly recipes in your inbox each week! Find me sharing more kid-friendly inspiration on Pinterest and Instagram.
Spinach Pancakes
Sweet banana and spinach pancakes, perfect for all ages.
Prep Time: 5 minutes
Cook Time: 10 minutes
Total Time: 15 minutes
Serves:12 pancakes
Hover over "serves" value to reveal recipe scaler
Equipment
Frying Pan / Skillet

Blender
Ingredients
2 small Ripe Bananas
2 cups (80g) Spinach
1 Egg
½ cup (125ml) Milk
1 teaspoon Vanilla Extract
1 cup (130g) Buckwheat Flour
1 teaspoon Cinnamon
1 teaspoon Baking Powder
1 teaspoon Coconut oil (for frying)
Instructions
Add one of the bananas, spinach, egg, milk and vanilla to a blender and blitz until smooth.

Add the flour, baking powder and cinnamon to a mixing bowl and stir until combine. Mash the remaining banana and add it to the dry ingredients along with the blended mixture. Gently stir until combined.

Heat a large non-stick frying pan, over medium heat, and coat the pan with the oil. Use a pastry brush or wipe with a folded paper towel to ensure that there is a thin, even coating of oil on the pan with no droplets of oil visible. SEE NOTE 1

Place 2 tablespoons of batter into the pan to form one pancake. Cook until bubbles appear on the surface then flip and cook the other side until golden (usually around 1 - 1 ½ minutes). If you have a big pan you can do several at once. Repeat with remaining batter.

Serve warm, or cold, plain, or with a sweet or savoury topping!
Recipe Notes
Pan Temperature - Too hot and your pancakes will be scorched, too cold and they can become flat and tough. Aim for medium heat and be prepared to adjust up or down over the course of frying. 
See main post for information on ingredients and substitutions. 
Nutritional information is a ROUGH guide only, calculated using an online nutrition calculator. 
*This recipe was updated Sep 2021 to include ingredient and process shots. The recipe was also altered slightly to fix issues readers were having. If you wish to continue using the original recipe then you can email me for the original recipe.
Nutritional facts
Serving: 1pancake (mixture makes 19) | Calories: 69kcal | Carbohydrates: 13g | Protein: 3g | Fat: 1g | Saturated Fat: 1g | Polyunsaturated Fat: 1g | Monounsaturated Fat: 1g | Trans Fat: 1g | Cholesterol: 15mg | Sodium: 17mg | Potassium: 215mg | Fiber: 2g | Sugar: 3g | Vitamin A: 689IU | Vitamin C: 3mg | Calcium: 42mg | Iron: 1mg