Veggie Chickpea Sticks - Chickpeas, veggies, chia seeds and cheese made into a delicious finger food that is great for kids of all ages.
Earlier this week I shared the recipe for my Fruity Chickpea Cookies and it was actually those cookies that were the inspiration behind these Veggie Chickpea Sticks. While I was developing the recipe for the former, I just knew that they could also be developed into a savoury version. After developing this recipe I realised that I actually use chickpeas a lot in baby friendly finger foods. Such as these sweet potato and chickpea patties or this baked falafel.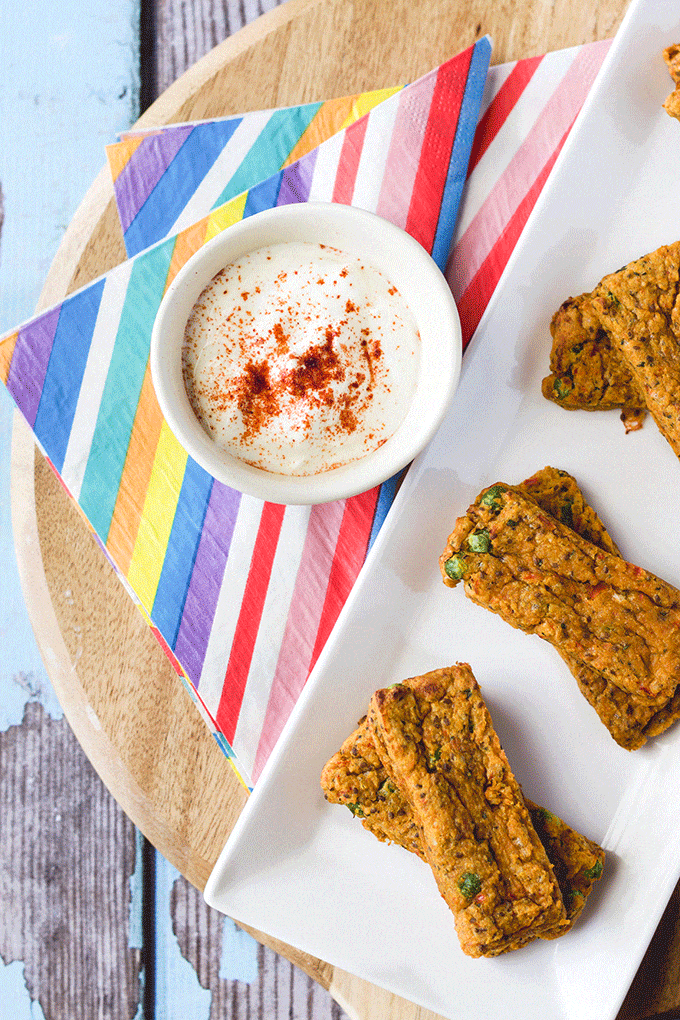 It is hard to decide which I prefer, the sweet or savoury variant. I guess it depends on what mood I am in. I'd say the boys like the sweet version better but are more than happy to munch down several of these veggie chickpea sticks in one sitting. I even popped a few in Finn's lunch box this week, I took them out of the freezer the night before and he was happy to eat them cold, along with a yoghurt dip.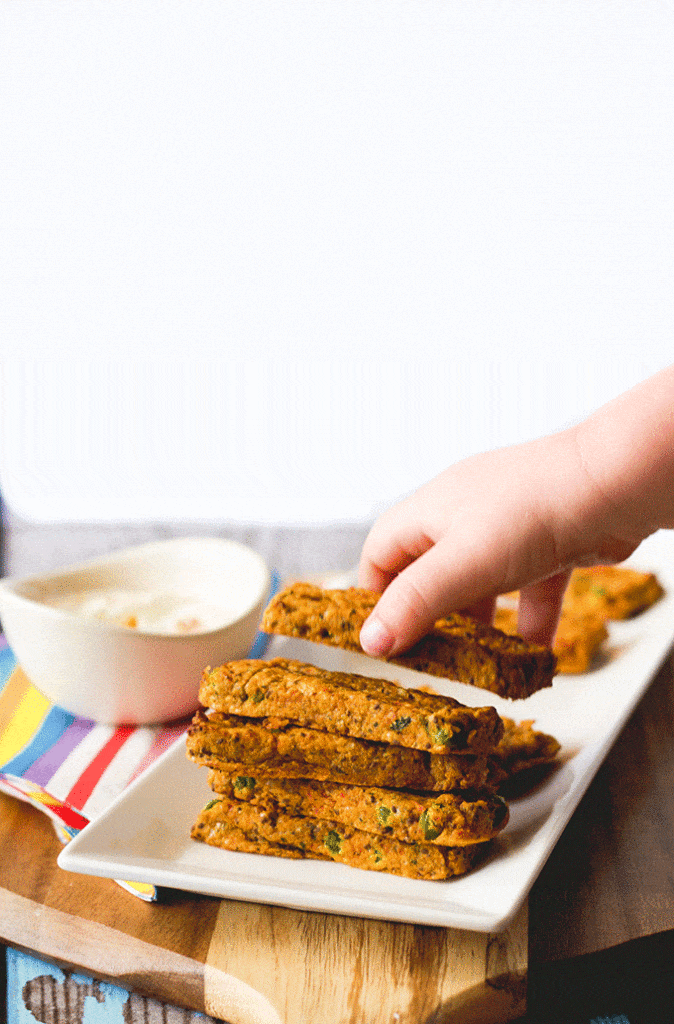 They are very soft in texture and would make a great finger food for toddlers and babies. If you wanted to reduce the sodium level, for younger babies, you could reduce the cheese. You could even add some oats (like in the fruity cookies) before blending. 
More Veggie Finger Foods
Looking for more healthy kid recipes?Sign up for my free recipe newsletter to get new family friendly recipes in your inbox each week! Find me sharing more kid-friendly inspiration on Pinterest and Instagram.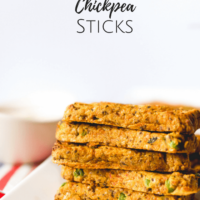 Veggie Chickpea Sticks
A great finger food for kids of all ages. Perfect for the lunchbox too.
Prep Time: 10 minutes
Cook Time: 15 minutes
Total Time: 25 minutes
Hover over "serves" value to reveal recipe scaler
Ingredients
55 g (½ cup) grated carrots
2 tablespoon Chia Seeds
400 g can Chickpeas (drained and washed)
½ red pepper (finely chopped)
1 tablespoon cream cheese
60 g (½ cup) grated cheddar cheese
1 tablespoon Olive Oil
1 handful of spinach leaves (chopped)
60 g (½ cup) frozen peas
½ teaspoon smoked paprika
½ teaspoon mixed dried herbs
Instructions
Pre heat oven to 180c / 350F / Gas 4 and prepare two baking trays with baking paper / reusable baking sheets.

Squeeze as much liquid out of the carrots as possible. Reserve the carrot juice and add water to it to make it up to 80ml (⅓ cup) of liquid in total.

Mix the chia seeds and carrot juice mixture together and set aside.

Add all other ingredients to a food processor and blend until smooth. Add the chia seed mixture and pulse until mixed together.

Take approx a ¾ tablespoon of the mixture and form into a finger shape (alternatively you could make cookie shape or nuggets) Repeat until the mixture has finished.

Bake in the oven for 15 mins.