This Carrot Pasta Sauce is a delicious and nutritious way to add more veggies to your meal. The smooth texture and natural sweetness of the carrots result in a sauce that is sure to be a hit at your dinner table.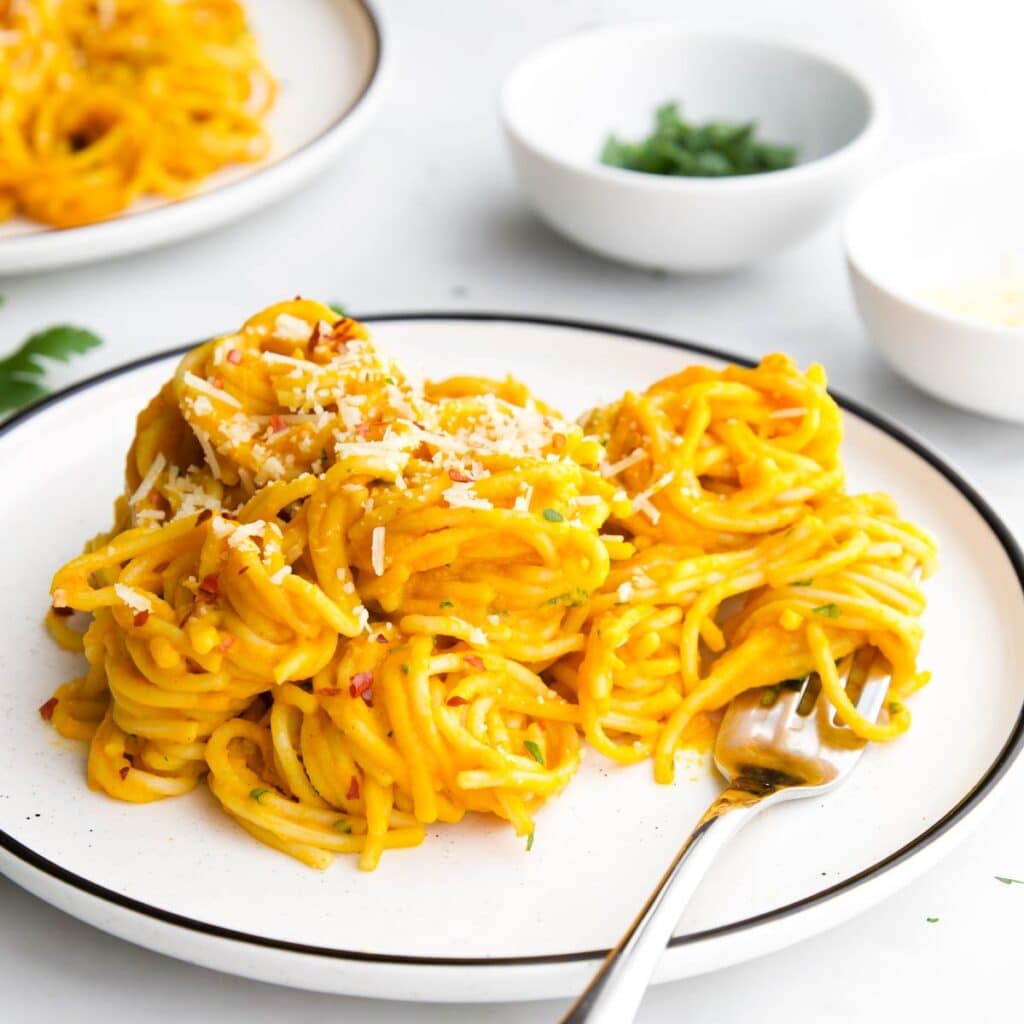 Pasta is a popular food choice for kids, and incorporating pureed vegetables into pasta sauces is an excellent way to boost the nutritional value of your meal. The variations are endless, from mixed veggie pasta sauce to cauliflower mac and cheese, butternut squash mac and cheese, and avocado spinach pasta.
If you love vegetable-based pasta sauces then this carrot pasta sauce is a must-try.
Jump to:
Reasons to Love this Sauce
Nutrition - This carrot sauce is a nutrient-dense sauce that provides a range of vitamins and minerals, making it a great addition to pasta.
Simple Ingredients: Made from simple, wholesome ingredients.
Flavour - Roasted carrots and onions give this sauce a wonderful natural sweetness with a rich flavour. The sweetness of the vegetables is balanced by the savoury flavours of garlic, stock/broth and tomato paste.
Great for Picky Eaters - The sauce is pureed to a smooth consistency, which is more appealing to those who do not like finding chunks of vegetables in their food.
Make-Ahead - Carrot pasta sauce can be made ahead of time and stored in the refrigerator or freezer for later use, making it a convenient option for busy weeknights.
Video Tutorial
Ingredient Information (and Alternative Suggestions)
For the full recipe, with ingredient amounts, scroll to the recipe card at the bottom of the post.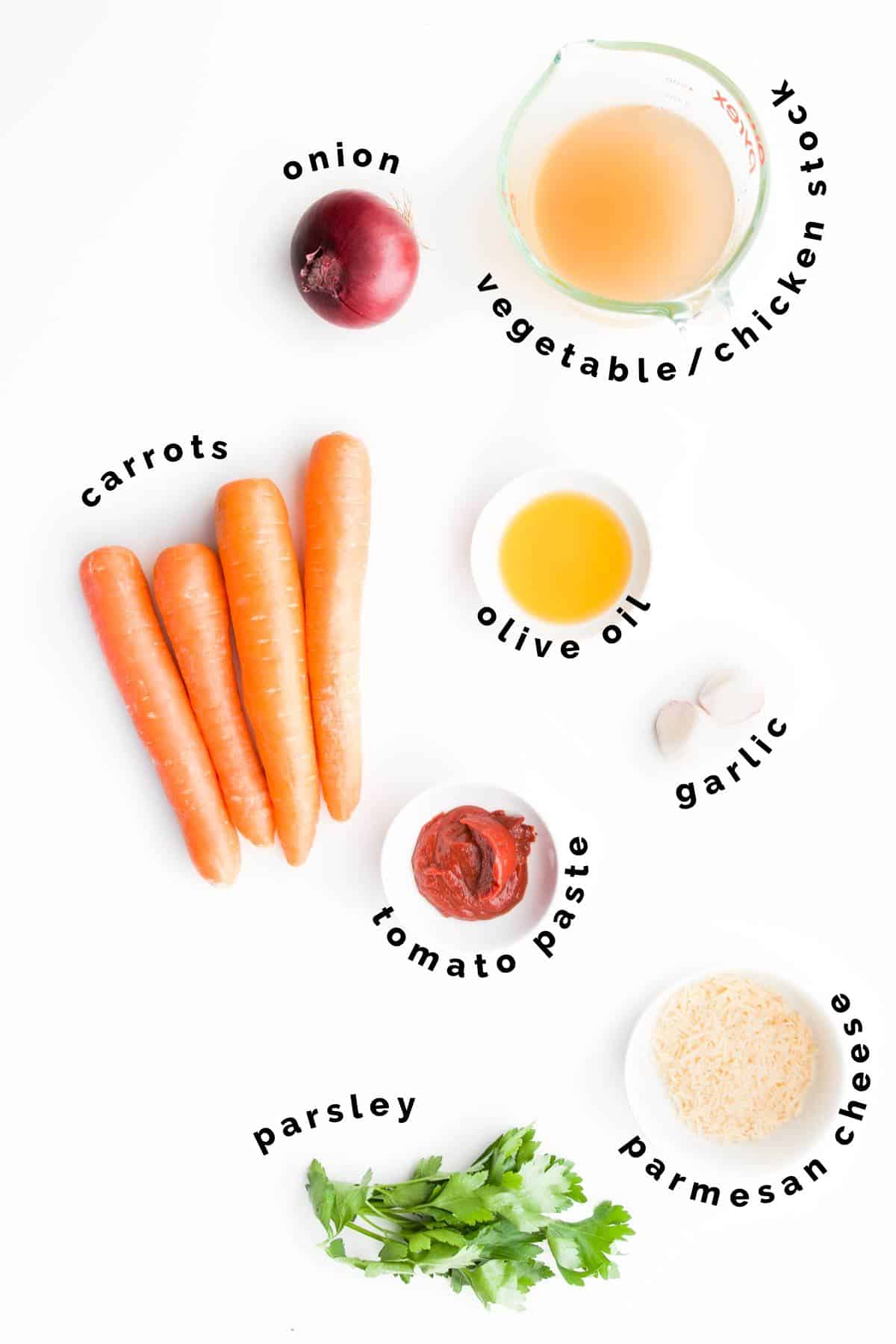 Carrots - Choose ones that are firm with bright orange colour.
Onion - I've used red, which has a less intense flavour but the choice of onion is a personal preference.
Garlic - Adds a lovely rich, savoury flavour to the sauce.
Chicken/ Vegetable Stock/Broth - Helps thin the sauce and adds flavour. To keep sodium levels down use homemade chicken stock or homemade vegetable stock or buy low sodium.
Tomato Paste - Adds a robust and tangy taste to the sauce and helps balance out the sweetness of the carrots and onions.
Olive Oil - Used to roast the vegetables in.
Salt &Pepper - Seasoning should be skipped if making for a baby/toddler.
Parmesan cheese & Parsley (garnish) - Parmesan adds a lovely umami taste to the carrot sauce and helps to enhance the other flavours in the dish. Parsley adds a burst of freshness.
Step By Step Instructions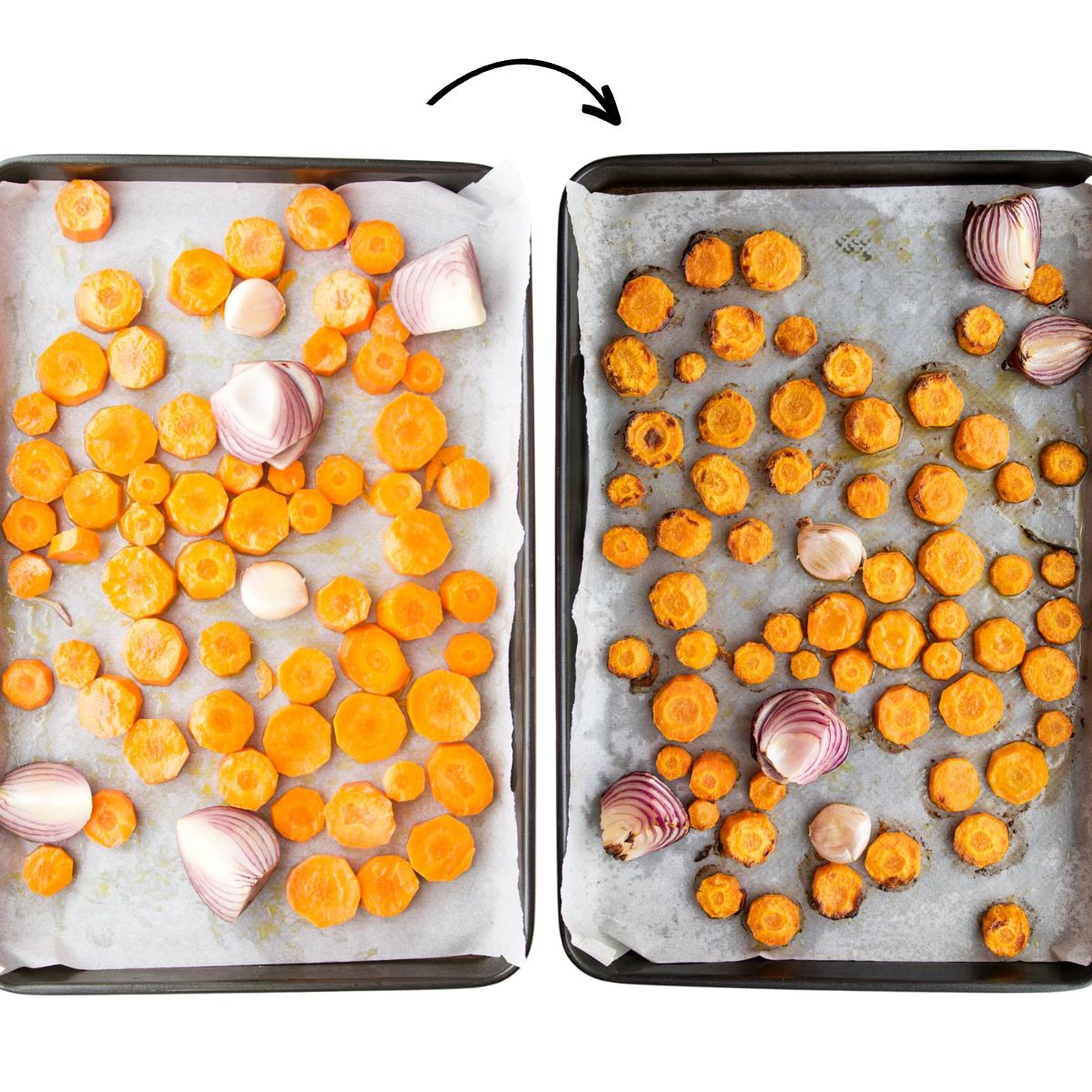 Place chopped carrots, onion and garlic on a lined baking tray. Drizzle with the olive oil and gently toss. Roast for 25 min
Remove the skins from the garlic and add to a blender along with the carrots, onion, stock and tomato paste. Blend until the sauce is smooth and creamy. Serve with cooked pasta of your choice.
Pro Tips
Use a high-speed blender - for a velvety, smooth sauce you really need a blender that is powerful enough to fully puree the vegetables.
Taste and adjust seasoning - Taste the sauce after blending and adjust the seasoning as needed. Depending on the vegetables, you may find you need to add a little more salt to balance out the flavours. Remember that the parmesan garnish will also add saltiness.
Reserve some pasta water - Once the pasta is cooked, reserve a cup of the pasta water in case you find you need to thin out your sauce. The pasta water will help loosen the sauce and create a silky sauce that coats the pasta well.
Don't forget to garnish - The garnishes are crucial to completing the dish. Chopped parsley provides a fresh and vibrant taste to the sauce, while Parmesan add a rich savoury umami flavour. Adding red pepper flakes is also an excellent option that gives a hint of spiciness that perfectly complements the sweetness of the carrots.
Serving Suggestions
This versatile pasta sauce complements a variety of pasta shapes, depending on personal preference. Try it with spaghetti, penne, fusilli, farfalle, rigatoni or orecchiette. If serving a baby, opt for a pasta shape that is easy to pick up such as large spirals.
You can serve the carrot pasta dish as is, or use it as a base for your own add-ins. Try tossing through some slow-cooker shredded chicken, roasted vegetables or toasted pine nuts.
This sauce isn't limited to pasta. It is also a great alternative to traditional pizza sauce, a delicious dipping sauce, or can be thinned out and enjoyed as a soup.
Recipe FAQs
Can you make ahead or store leftovers?
Yes, if you do wish to make ahead or store leftovers it is best to keep the sauce separate from the pasta. You can refrigerate the sauce, in an airtight container, for up to 2 days. Alternatively, you can freeze it. If you prefer to have smaller portions then place the sauce into ice cube trays. Once solid place the cubes in a freezer bag and that way you can thaw only what you need. Freeze for up to 2 months.
Is this sauce suitable for babies?
Yes, this is a great sauce for babies. Just make sure to use low sodium or homemade chicken stock/ vegetable stock. Skip the salt and the parmesan cheese to keep sodium levels down. Choose a pasta shape that is easy for your baby to pick up. (Large spirals pictured below)
Do you have to roast the carrots, onion and garlic?
No, but roasting the vegetables helps to intensify their natural sweetness and adds to the depth of the sauce.
If you do not wish to roast the vegetables you can finely chop the vegetables and saute them in a saucepan for a good 5-10 mins to get them lovely and caramelised. Add the stock and simmer until the vegetables are very soft to blend (around 20 mins) You may find you need a little more stock when blending depending on how much evaporated off.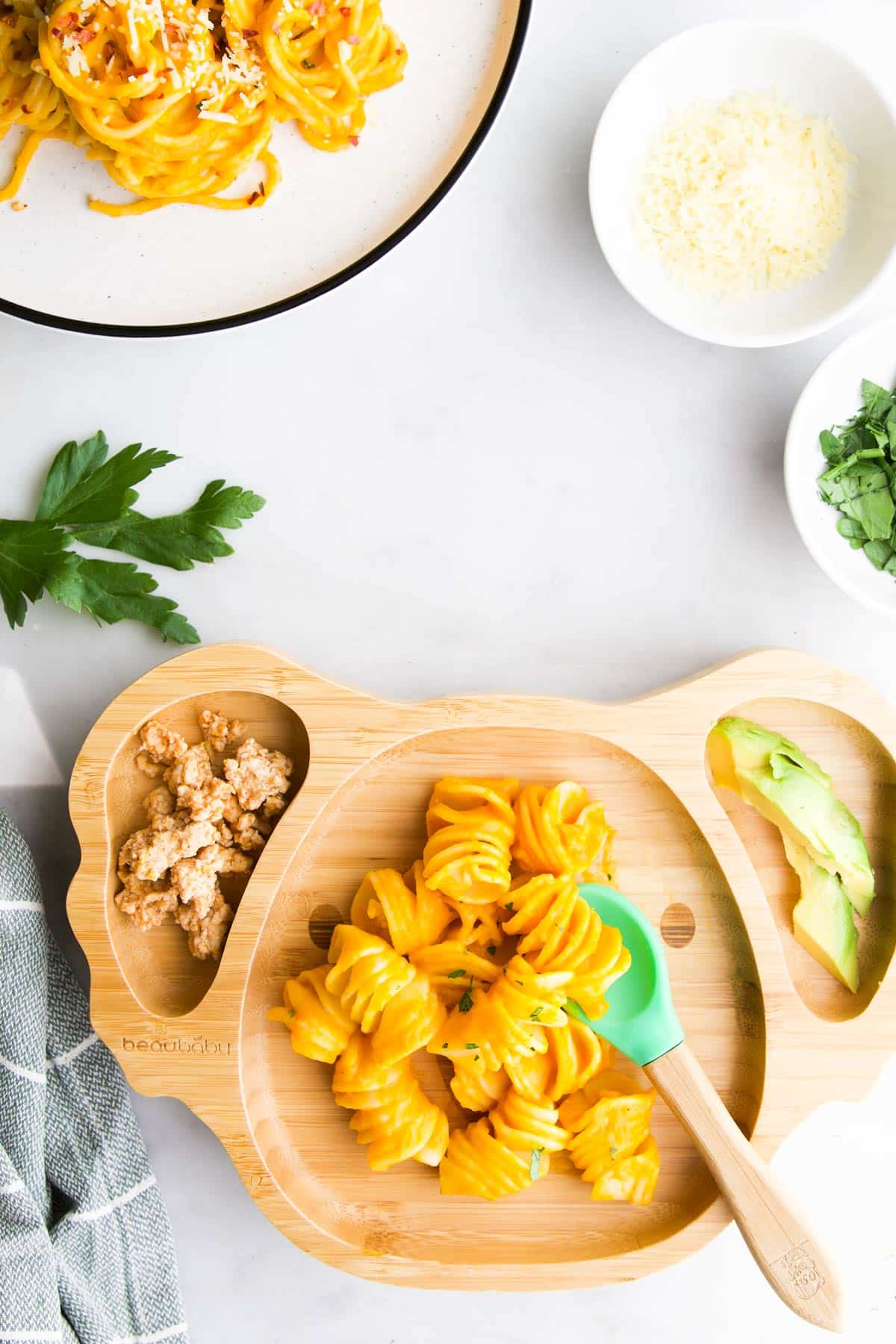 More Pasta Recipes
Looking for more healthy kid recipes?Sign up for my free recipe newsletter to get new family friendly recipes in your inbox each week! Find me sharing more kid-friendly inspiration on Pinterest and Instagram.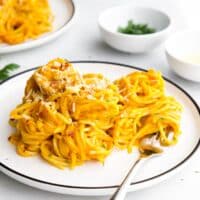 Carrot Pasta Sauce
A delicious and healthy carrot sauce made with roasted carrots, onion, garlic and broth. Blended until smooth and stirred through pasta.
Prep Time: 10 minutes
Cook Time: 30 minutes
Total Time: 40 minutes
Serves:4
Hover over "serves" value to reveal recipe scaler
Ingredients
Sauce
4 Large Carrots, peeled and cut into rounds (around 500g/ 1.1lb)
1 Red Onion, peeled and cut into quarters
2 Garlic Cloves
1½ tablespoon Olive Oil
1½ cup (375ml) Vegetable or Chicken Broth/Stock
2 tablespoon Tomato Paste
½ tsp Salt *Do not add if making for baby / young child
½ teaspoon Black Pepper
Pasta
450g (1 lb) Pasta of choice
Garnish
2 tablespoon Parmesan Cheese, freshly grated (skip if vegetarian/vegan/dairy free)
1 tablespoon Parsley, finely chopped
¼ teaspoon Red Pepper Flakes (optional)
Instructions
Pre heat oven to 200c (400f) and line a baking tray with baking paper.

Place the carrots, onion and garlic cloves (unpeeled) on the baking tray. Drizzle with the olive oil and gently toss. Roast for 25-30 min.

Remove the skins from the garlic and add to a blender along with the carrots, onion, tomato paste and stock. Blend until the sauce is smooth.

Cook the pasta according to instructions, drain reserving 1 cup of the pasta water.

If you feel the pasta sauce is too thick, you can add some of the reserved pasta water gradually to think it out. Then add the sauce to the pasta and stir it well to coat the pasta evenly.

Serve and add garnish ingredients.
Recipe Notes
If making for a baby/toddler keep sodium levels down by using homemade chicken stock/ vegetable stock and omit the salt and parmesan cheese. 
Nutritional information is a ROUGH guide only, calculated using an online nutrition calculator. Includes pasta.
Nutritional facts
Calories: 560kcal | Carbohydrates: 102g | Protein: 19g | Fat: 9g | Saturated Fat: 2g | Polyunsaturated Fat: 1g | Monounsaturated Fat: 4g | Cholesterol: 2mg | Sodium: 810mg | Potassium: 869mg | Fiber: 8g | Sugar: 11g | Vitamin A: 21146IU | Vitamin C: 13mg | Calcium: 112mg | Iron: 2mg