Get ready to take a trip down memory lane with this retro-inspired Slow Cooker Curried Sausages recipe. Packed with juicy sausages, veggies and a tasty curry-flavoured sauce, it's the perfect comfort food!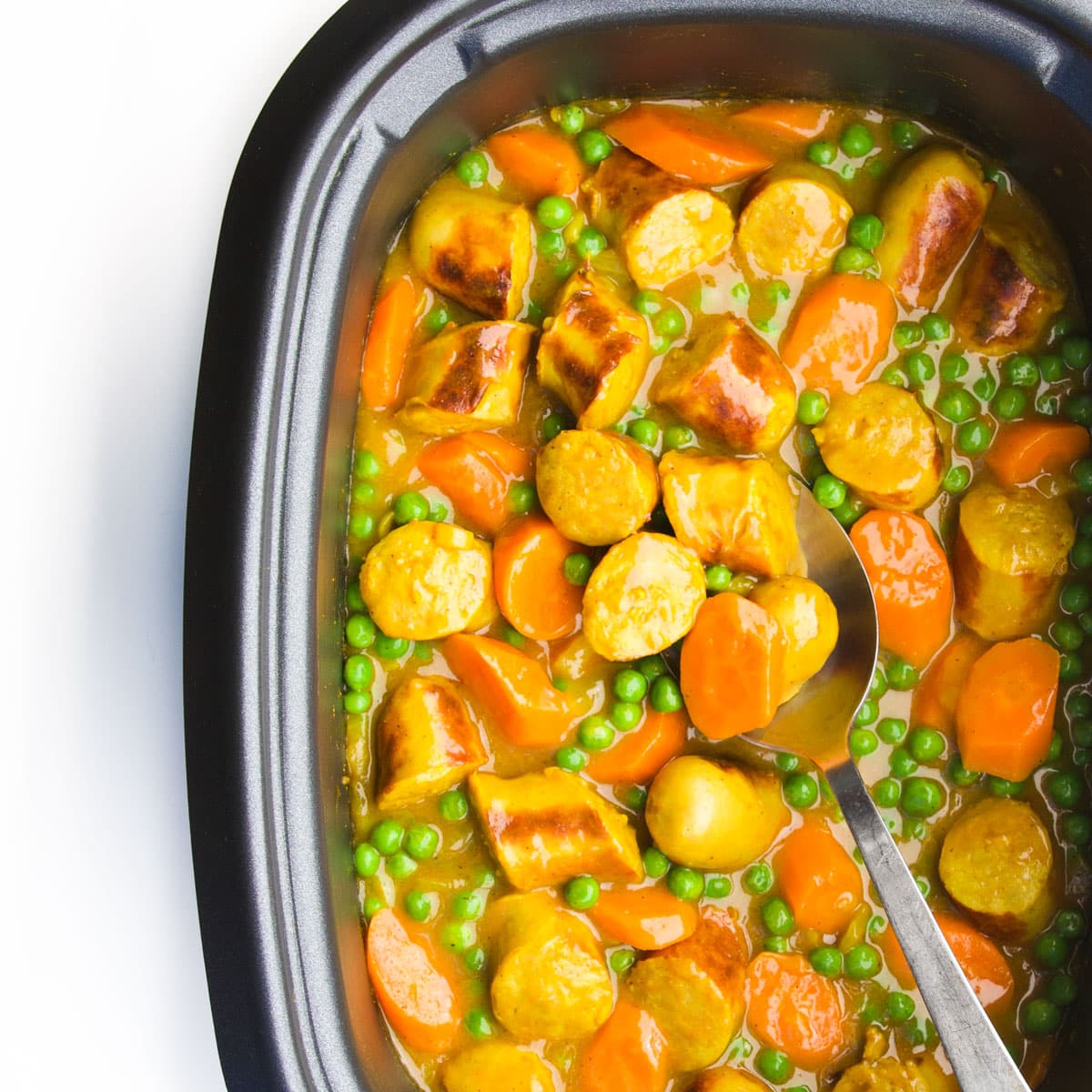 The slow cooker has been a game-changer for me as a parent, it's saved the day when my kids were young, and it's just as invaluable now that we're busy with late sports practices.
Whether it's soups (e.g slow cooker chicken noodle soup), stews (e.g slow cooker beef stew) or meal prep (e.g slow cooker shredded chicken) you're after, the slow cooker makes meal times a breeze. And, if you give this Slow Cooker Curried Sausages a try, I'm pretty sure it will be added to your mealtime rotation.
Jump to:
Reasons to Love this Recipe
Hearty and Flavourful: Satisfying, nostalgic and comforting.
Customisable: You can easily replace or add more vegetables to the dish. Try chicken, beef, pork or vegetarian sausages to suit taste or dietary preferences.
Freezer Friendly: Leftovers can be frozen or you can cook the dish and freeze for another day.
Video Tutorial
Ingredient Information (with Alternative Suggestions)
For the full recipe, with ingredient amounts, scroll to the recipe card at the bottom of the post.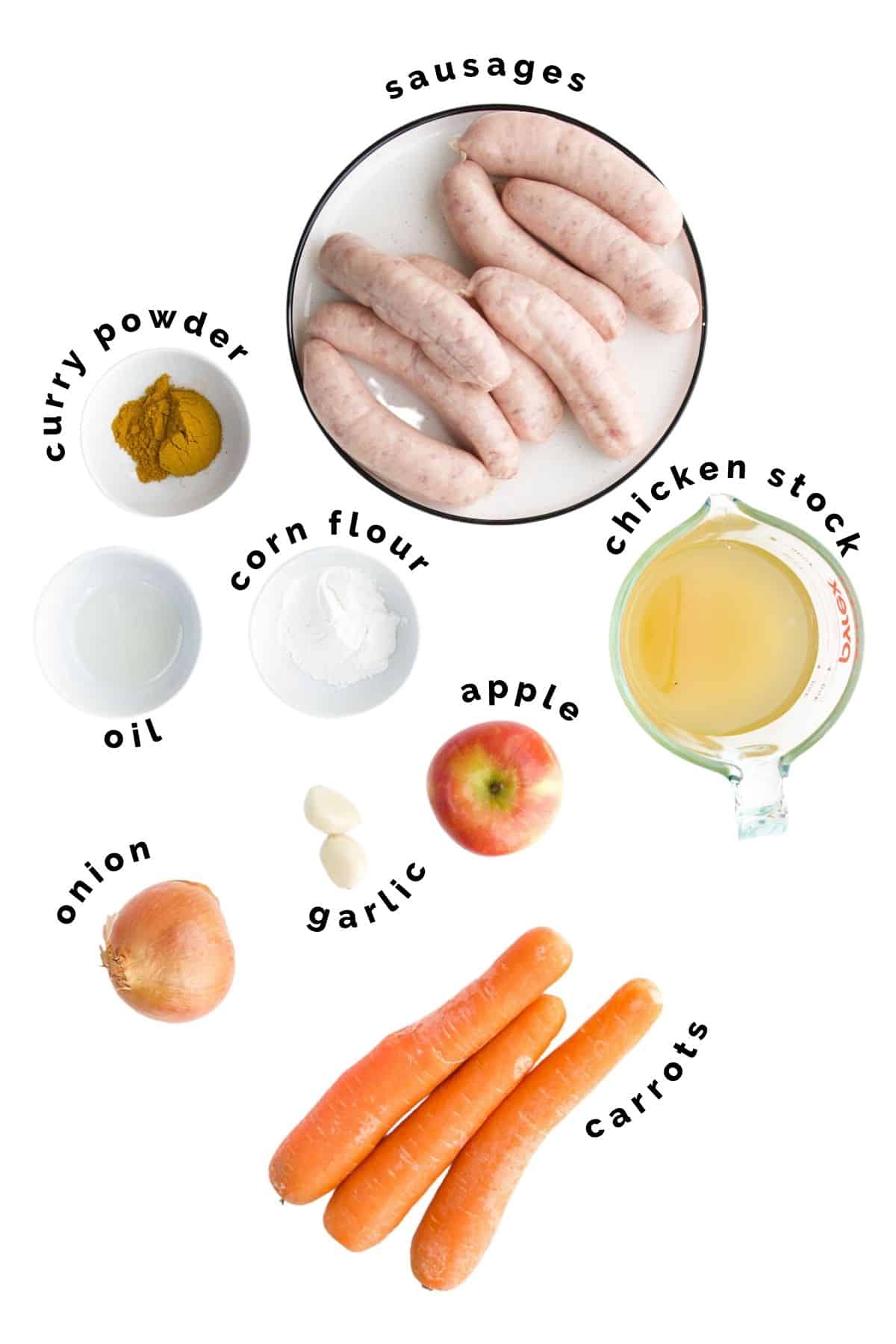 Sausages: While sausages may not be the healthiest of food options, there are ways to make sure you are choosing a good quality one. When buying sausages opt for ones with a high percentage of meat (ideally 85% or more), watch out for sodium levels and check the saturated fat content (aim for 4g or less per 100g).
Onion & Garlic: This is the flavour base and I do not recommend that you miss them out.
Carrots & Peas: Add a pop of colour, sweetness and nutrition to the dish. You can sub or add additional vegetables such as cauliflower, grated zucchini, bell pepper, squash, sweet potato or potato.
Apples: Apple may sound a little unusual but it is used to add sweetness to help balance the dish. You will find that most curried sausages recipes have some form of sweetness either from fruit chutney, sultanas or sugar. Skip the apple if you prefer and replace it with a tablespoon of chutney or 2 teaspoons of sugar.
Curry Powder: I've used Keens Curry Powder. You can use any brand of curry powder, but the flavour profile may vary slightly depending on the ingredient list.
Chicken Stock/Broth: Adds depth of flavour, you can replace with vegetable stock if you prefer.
Cornflour (or Corn Starch in USA): Used as a thickening agent to help the sauce become thick and glossy.
Step by Step Instructions & Cooking Tips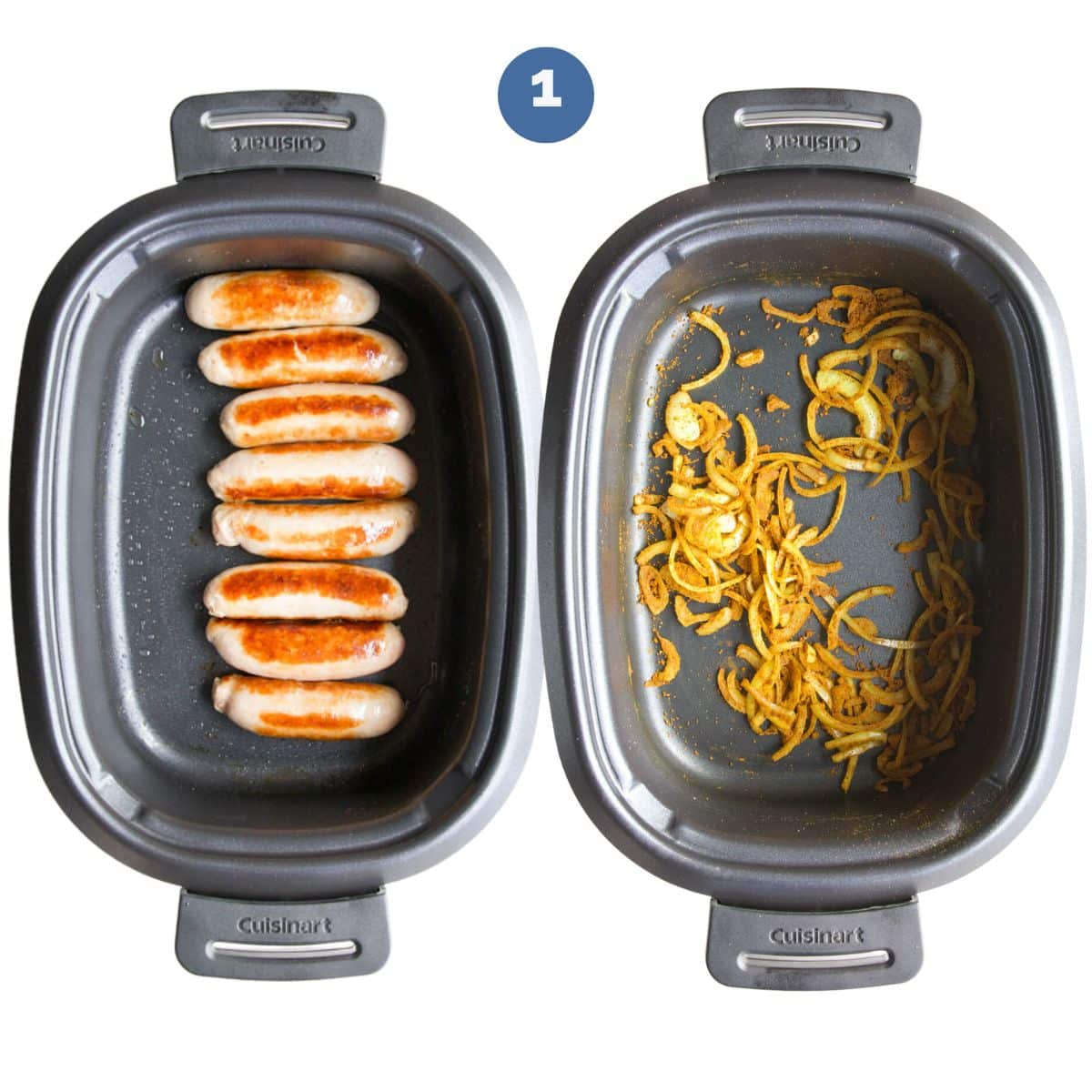 STEP 1: (Pre-Cook)
Browning the sausages isn't essential, but it is recommended to make the sausages more visually appealing and the end meal more flavoursome and less greasy.
Sauteing the onion and garlic helps to develop deep, sweet flavours. Add the curry powder and cook for a further 30 seconds to bring out the flavours.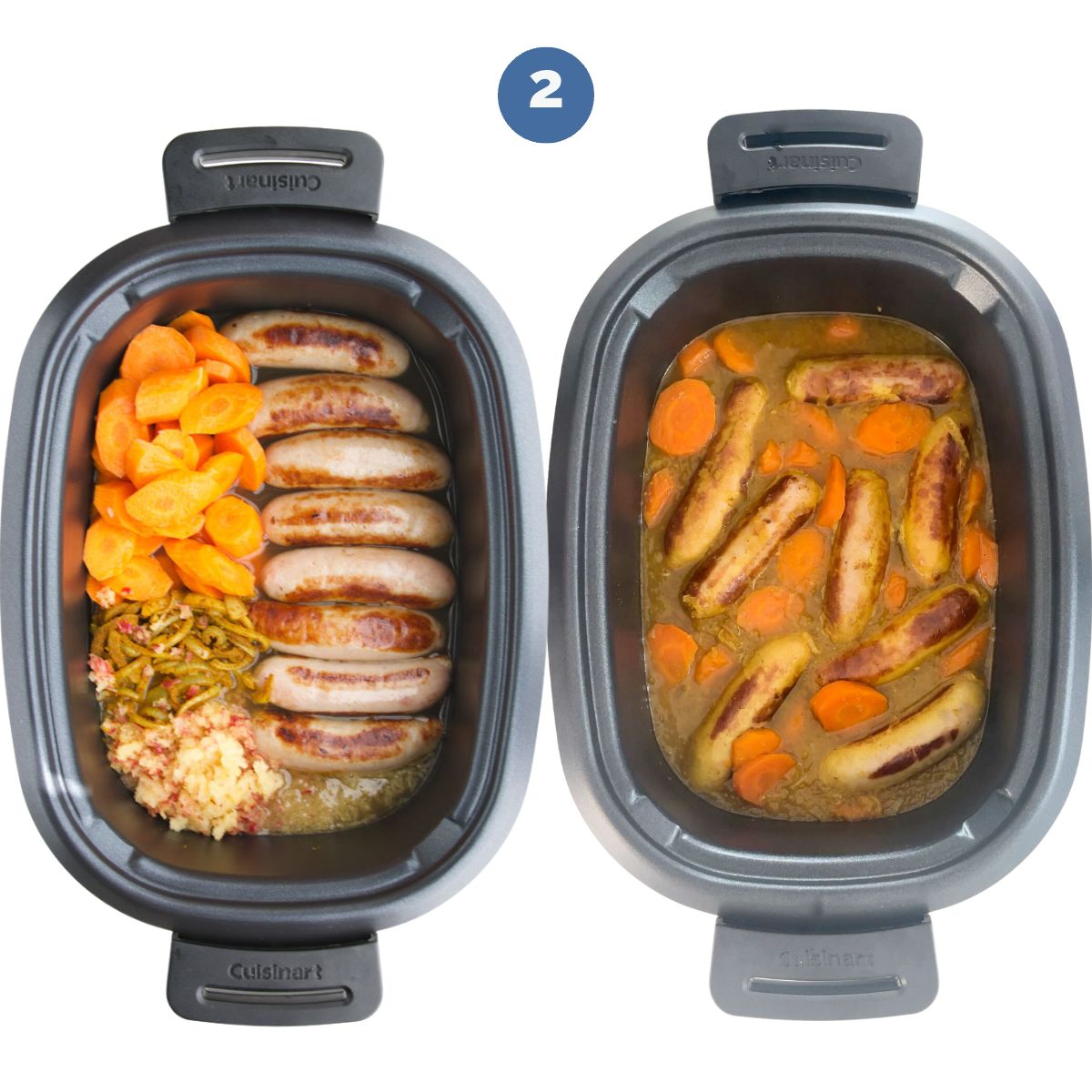 STEP 2: Slow Cook
Add all the ingredients (except the cornflour and peas) to the slow cooker and cook on low for 6 hours or high for 3.5 hours.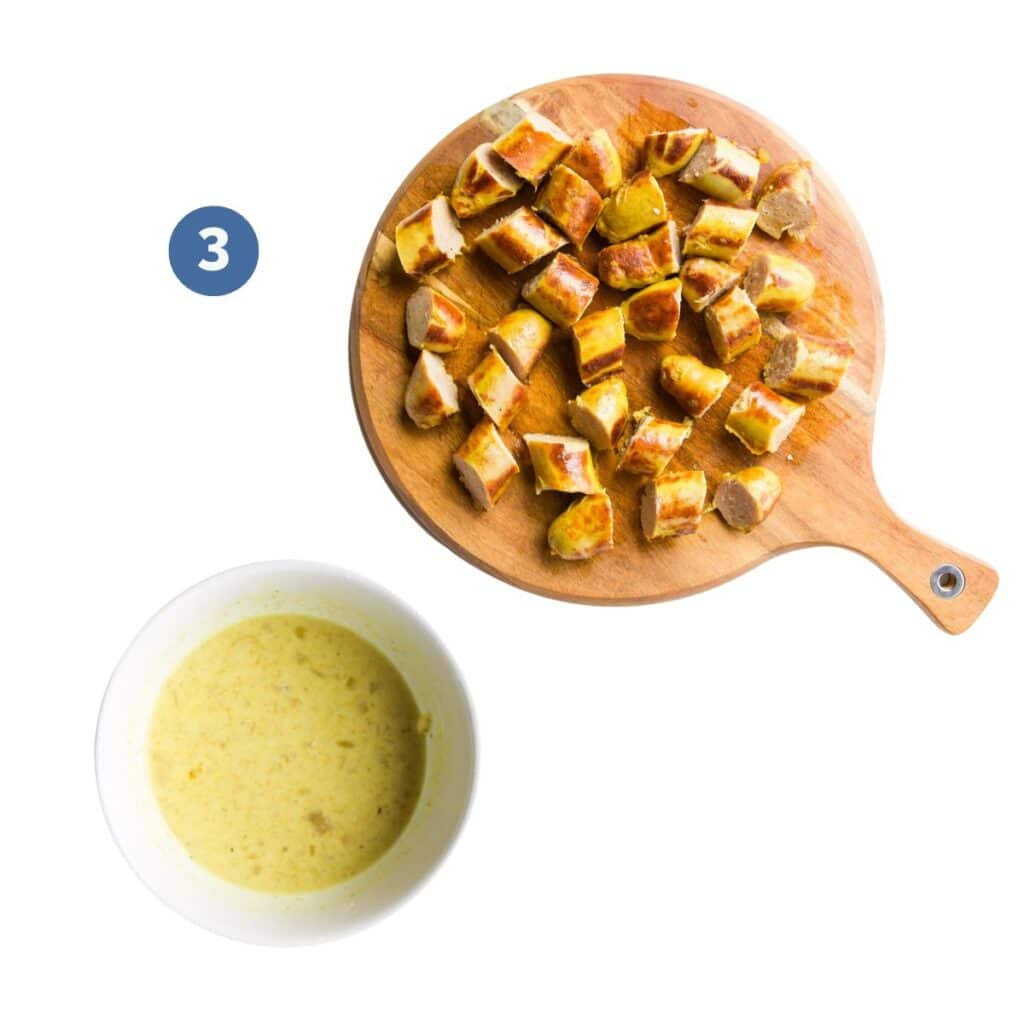 STEP 3: Finishing
Remove Sausages and cut them into chunks (this is optional, you may prefer to have whole sausages).
Remove some of the cooking liquid, around 3 tablespoons, to mix with the cornflour.
Add the sausages and cornflour mixture back to the slow cooker along with the peas. Stir to mix and switch to high heat. Cook until the sauce thickens to a gravy consistency.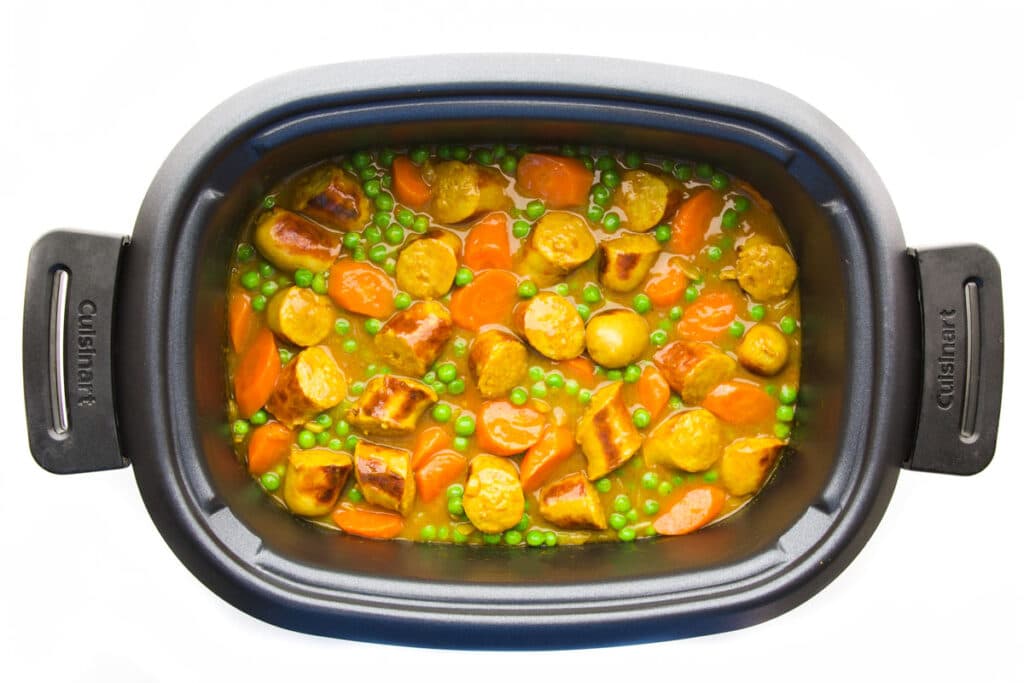 Serving Suggestions
Our absolute favourite way to enjoy curried sausages is over some creamy mashed potatoes, it is just so comforting and satisfying.
If you prefer, you can also serve it with crusty bread or over rice or noodles. If you wish to add extra nutrients to your plate you could serve it with a side of roasted broccoli, cauliflower puree (or mash) or this carrot and potato mash.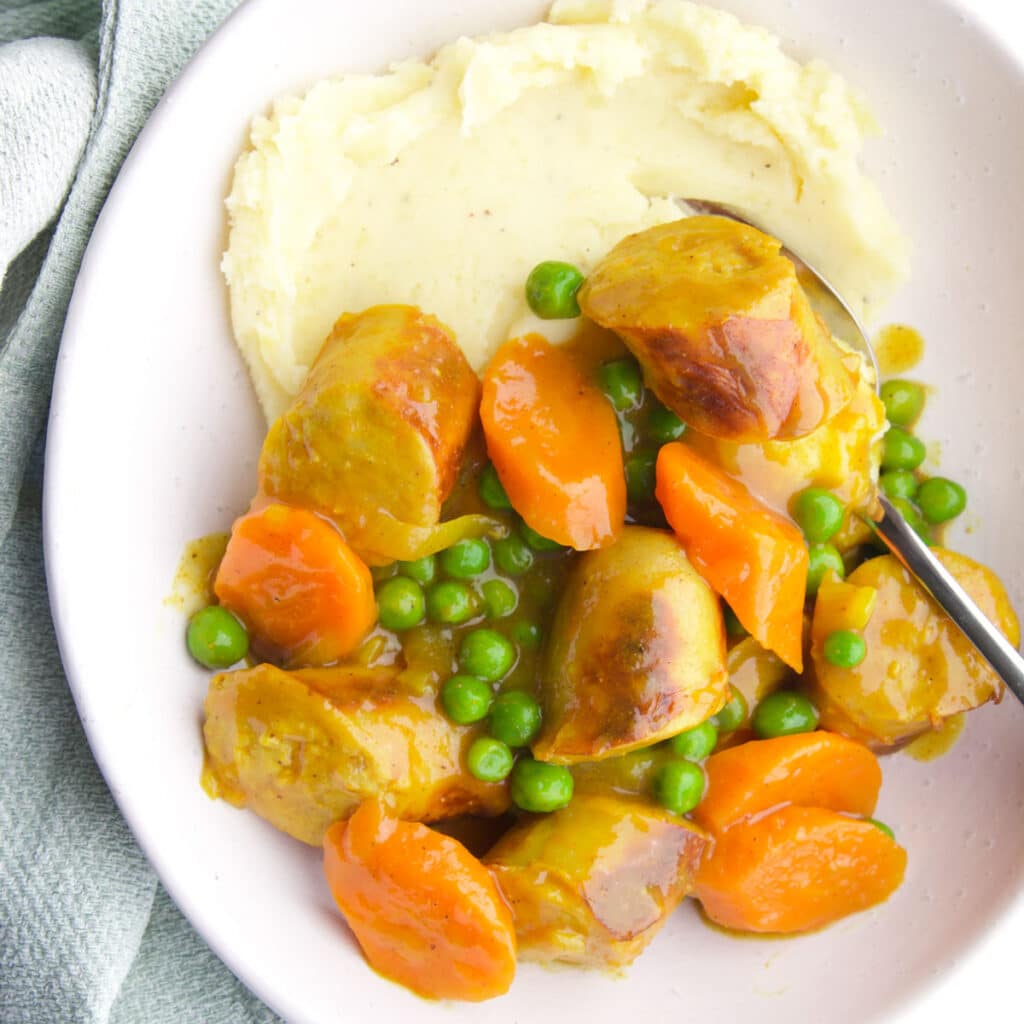 Recipe FAQs
Can You Freeze Curried Sausages?
Yes, allow the dish to cool and then transfer to a freezable container/bag. Freeze for up to two months.
What Slow Cooker Do You Use?
I use the Cuisinart 3 in 1 Multi Slowcooker. I love that you can brown straight in the slow cooker and easily switch modes from browning to low/high slow cook. It has a glass lid so you can easily see how your meal is progressing. It is a 5.7litre capacity (6 quart).
Is This Suitable for Babies?
I would not recommend curried sausages for babies. Sausages are best introduces after 12 months as they can be a choking risk and are often high in sodium. Stock/broth is also high in sodium (unless you make your own chicken stock or vegetable stock). The peas would also be a choking risk and would have to be mashed.

If you are looking for a more baby-friendly curry recipe then you could try this red lentil curry or this fruity chicken curry.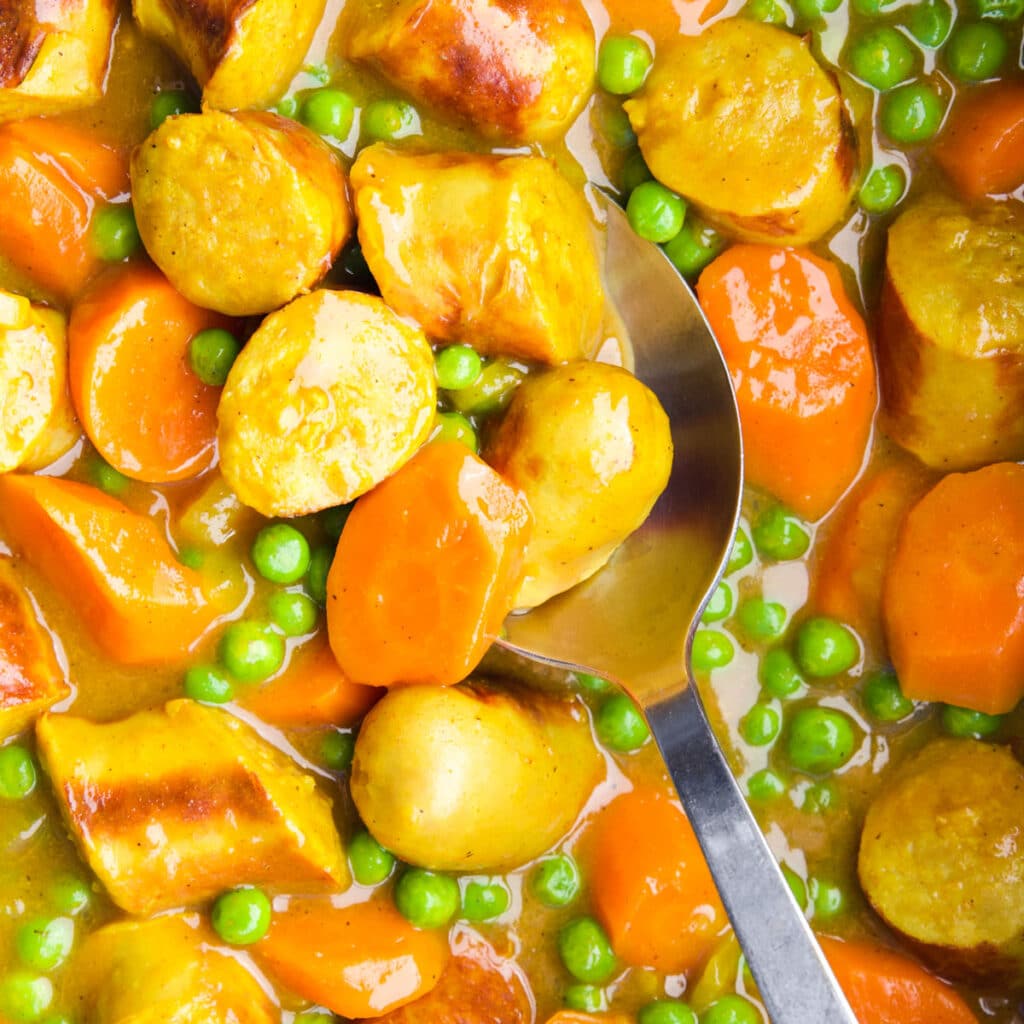 More Slow Cooker Recipes
Looking for more healthy kid recipes?Sign up for my free recipe newsletter to get new family friendly recipes in your inbox each week! Find me sharing more kid-friendly inspiration on Pinterest and Instagram.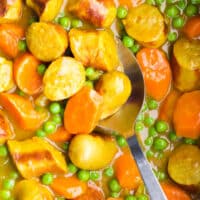 Slow Cooker Curried Sausages
Sausages in a curry-flavoured gravy with onions, carrots and peas.
Prep Time: 15 minutes
Cook Time: 6 hours
Total Time: 6 hours 15 minutes
Serves:4
Hover over "serves" value to reveal recipe scaler
Ingredients
½ tbsp oil
600g (1.2lb) sausages , of choice (see note 1)
2 garlic cloves , minced
1 onion , halved and thinly sliced
1 tablespoon curry powder , see note 2
3 carrots , peeled and sliced on diagonal
1 apple , finely grated or chopped (see note 3)
2 cups (500ml) chicken stock/broth
1½ tbsp cornflour/cornstarch
1 cup frozen peas
Instructions
Heat oil in a large skillet over medium heat and brown sausages all over. Remove and place in the slow cooker.

In the same skillet, add the onion and garlic and cook on medium low heat for 2-3 mins, until translucent. Add the curry powder and stir for a further 30 seconds.

Add the onion mixture, carrots, apple and chicken broth to the slow cooker and cook on low for 6 hours or high for 3.5 hours.

(Optional) remove sausages and cut into chunks.

Scoop out a few tablespoons of the liquid and mix with the cornflour in a small bowl. Whisk until smooth and add back into the slow cooker.

Switch the slow cooker to high, add back in the sausages and the peas and allow the sauce to thicken for 10 mins.
Recipe Notes
NOTE 1: You can use pork beef, chicken or vegetarian. Try to choose better quality ones. opt for ones with a high percentage of meat (ideally 85% or more). NOTE 2: I used Keens Curry Powder. You can use any brand of curry powder, but the flavour profile may vary slightly depending on the ingredient list. NOTE 3: Apple is added for sweetness to balance out the curry. If you grate the apple the sauce will be textured. For a smoother sauce dice the apple or replace it with 2 teaspoons of sugar or a tablespoon of fruit chutney. Nutritional information is a ROUGH guide only, calculated using an online nutrition calculator. 
Nutritional facts
Calories: 593kcal | Carbohydrates: 24g | Protein: 28g | Fat: 43g | Saturated Fat: 14g | Polyunsaturated Fat: 6g | Monounsaturated Fat: 19g | Trans Fat: 0.3g | Cholesterol: 108mg | Sodium: 1028mg | Potassium: 832mg | Fiber: 5g | Sugar: 10g | Vitamin A: 8073IU | Vitamin C: 23mg | Calcium: 62mg | Iron: 3mg