30 Delicious Kids' Treats Sweetened only with Fruit.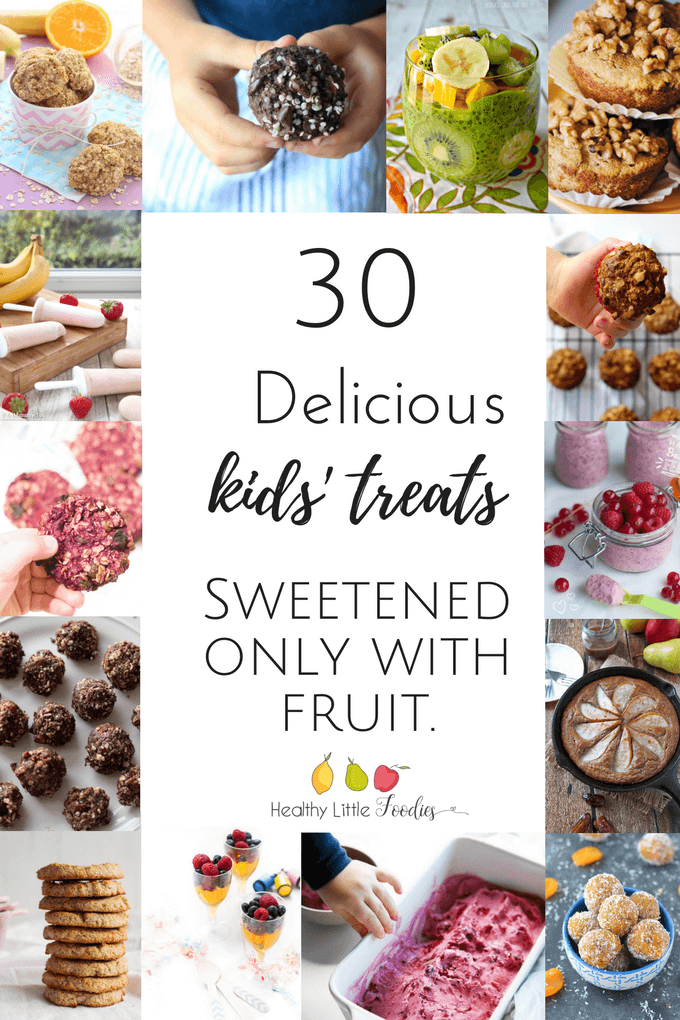 All of these delicious treats are sweetened only with fruit. They contain no refined sugar, syrups or honey, just fruit or dried fruit. I know that fruit still contains sugar, and dried fruit is a concentrated form of this, but fruit also contains vitamins and fibre. I would much prefer my kids to eat something that is homemade with fruit and some added goodness like oats, nuts and veggies than packaged goods or baked goods with no added nutritional benefits.
Some of these treats are only sweetened with fresh fruit and I would be happy enough to serve these daily as part of a breakfast or snack. However, the products with a lot of dried fruit would only be occasional treats for Finn and Rory. If I was to allow the boys to snack on these throughout the day then I know meal times would more of a battle.
Oat Bars / Bites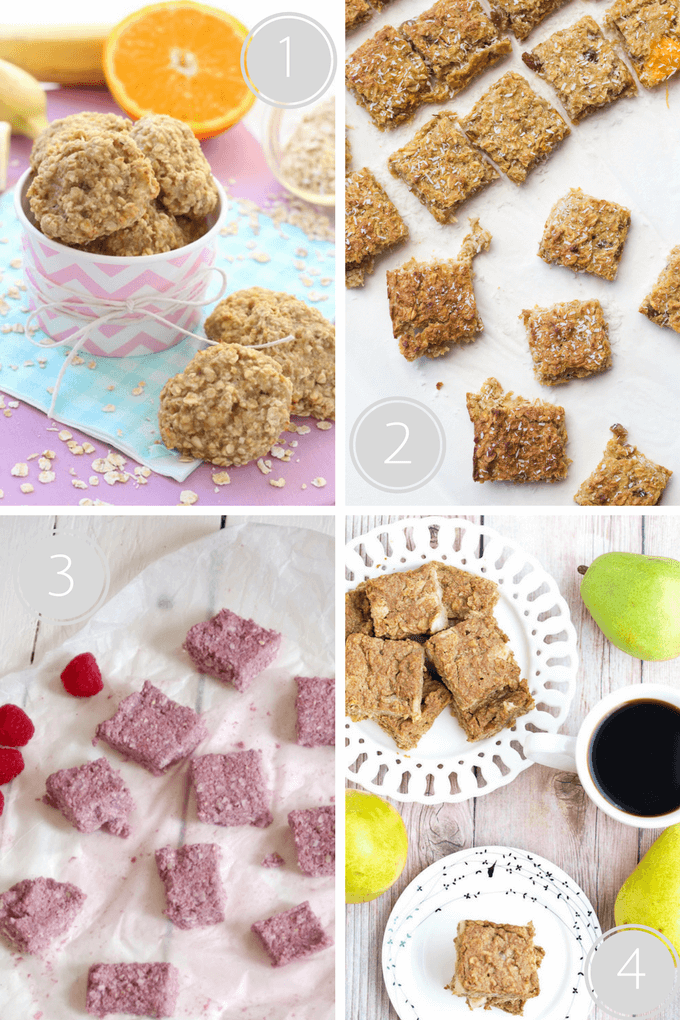 1.Banana and Orange Oat Toddler Bites (My Fussy Eater)
Three simple ingredients are all that is needed to make these delicious oat bites.
Sweetened with mango and coconut, these oat bars are perfect for breakfast.
3.Raspberry Cashew Bites (Sneaky Veg Blog)
Packed with oats, nuts and raspberries. A delicious and healthy snack with a protein punch.
4.Pear Oatmeal Bars (Happy Healthy Mama)
Gorgeous oat bars with spices and chunks of pear. Never mind the kids, you won't be able to stop eating these.
Muffins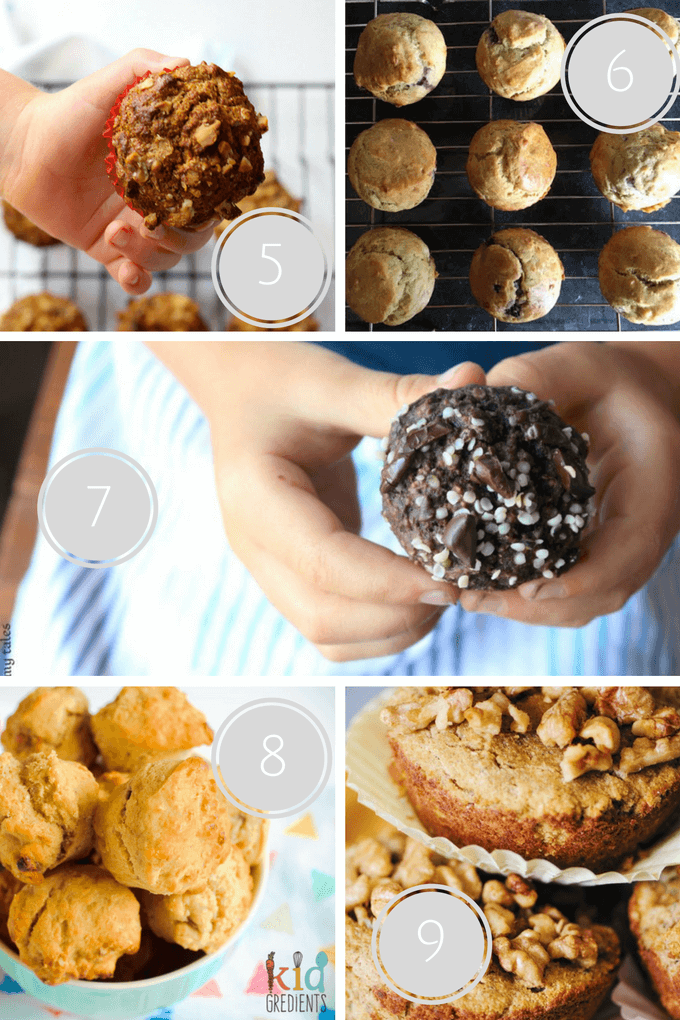 These muffins not only have fruit in them but also some veggies. Win, win!
6. Blackberry and Banana Muffins (All about kids)
Muffins bursting with delicious blackberries.
7. Chocolate Cherry Muffins (Tiny Tummy Tales)
Chocolate = automatic kid appeal. I love the cherry and chocolate combo.
8. Banana and Date Muffins (Kidgredients)
These muffins are deliciously sweet and are perfect for a lunch box.
9. Coconut Flour Power Breakfast Muffins (Moon and Spoon and Yum)
Not only do these contain no refined sugar but they are gluten free too. Perfect for kids with gluten intolerances.
Cookies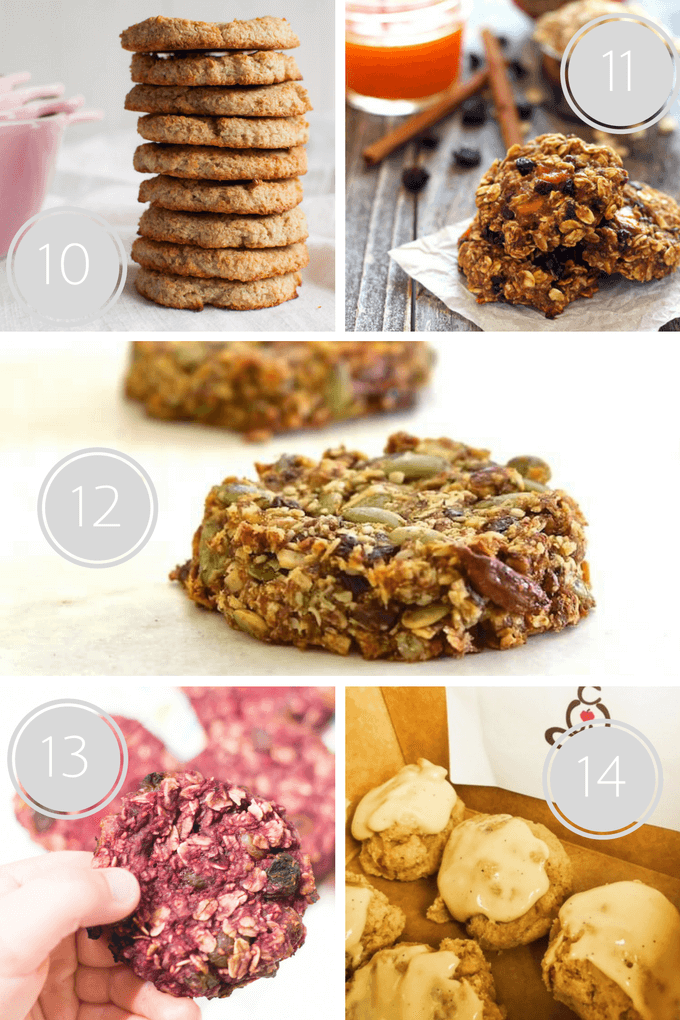 10. 3 Ingredient Coconut Cookies (The Queen of Delicious)
With only three ingredients these are the perfect cookie to make with your kids.
11. Persimmon Banana Breakfast Cookies (Toaster Oven Love)
A great way to introduce a fruit that perhaps your kid has never tried.
12. Super Seedy Cookies (A Virtual Vegan)
Packed full of seeds and naturally sweetened. These cookies are sure to keep hunger at bay.
Fun to make with the kids and a great alternative to cookies packed with sugar.
14. Vanilla Ricotta Cookies with yoghurt icing (Nutritious Yogi)
The yoghurt icing topping these cookies is sweetened with dates and vanilla bean paste. Yum!
Jelly / Gummies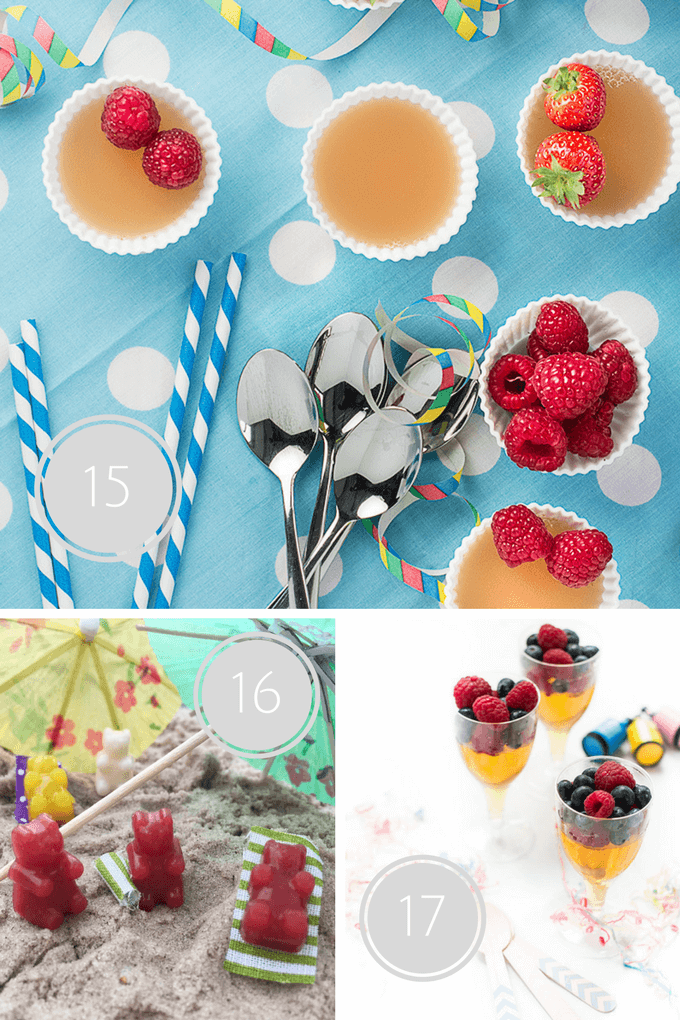 15. Two Ingredient Fruit Juice Jellies (Charlottes Lively Kitchen)
So simple to make and a lot of fun for the kids.
16. Homemade Gummy Bears (My Kids Lick the Bowl)
What kid would refuse these cute, fruit flavoured, bears?
Top this simple jelly with some gorgeous berries to make a delicious dessert.
Cakes and Puddings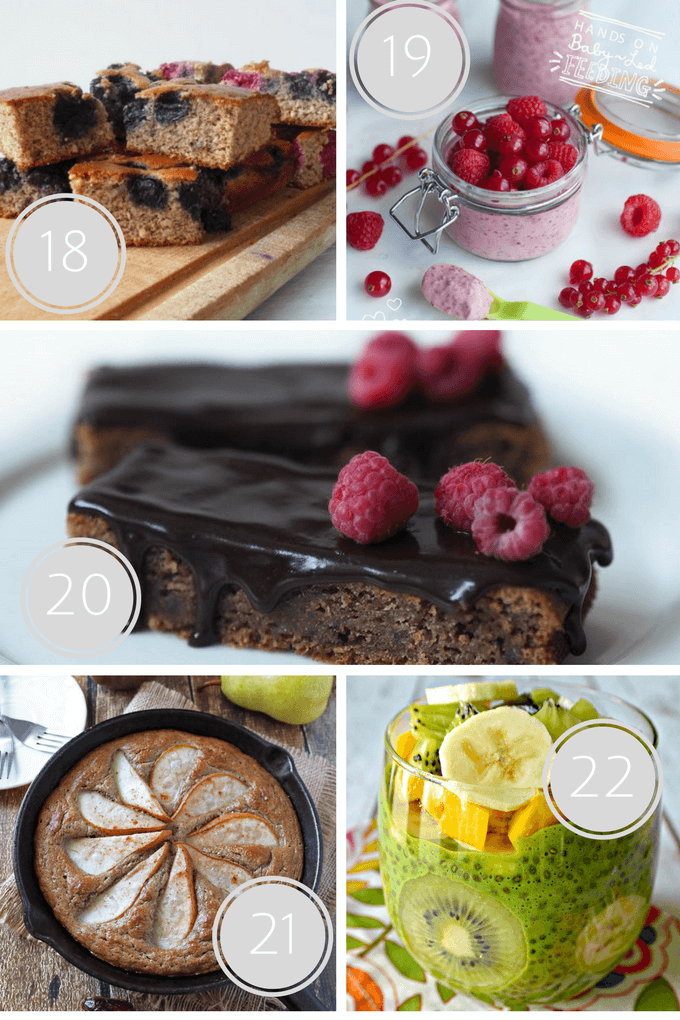 18. Gluten Free Almond Squares with Dates and Berries (More than just Carrots)
Gluten free, dairy free and refined sugar free. Add the berries your kids would love.
19. Berry and Coconut Chia Seed Pudding (Baby Led Feeding)
Make this the day before and enjoy as a delicious breakfast or dessert.
20. Date Cake (Kiddielicious Kitchen)
Cut this cake into small squares and serve as a little dessert.
21. Pear and Date Skillet Cake (Runnin Srilankan)
A fruit sweetened dessert that the whole family can enjoy.
22. Green Chia Pudding (Veggies Save the Day)
Delicious as a breakfast or dessert and with added spinach for iron.
Energy Balls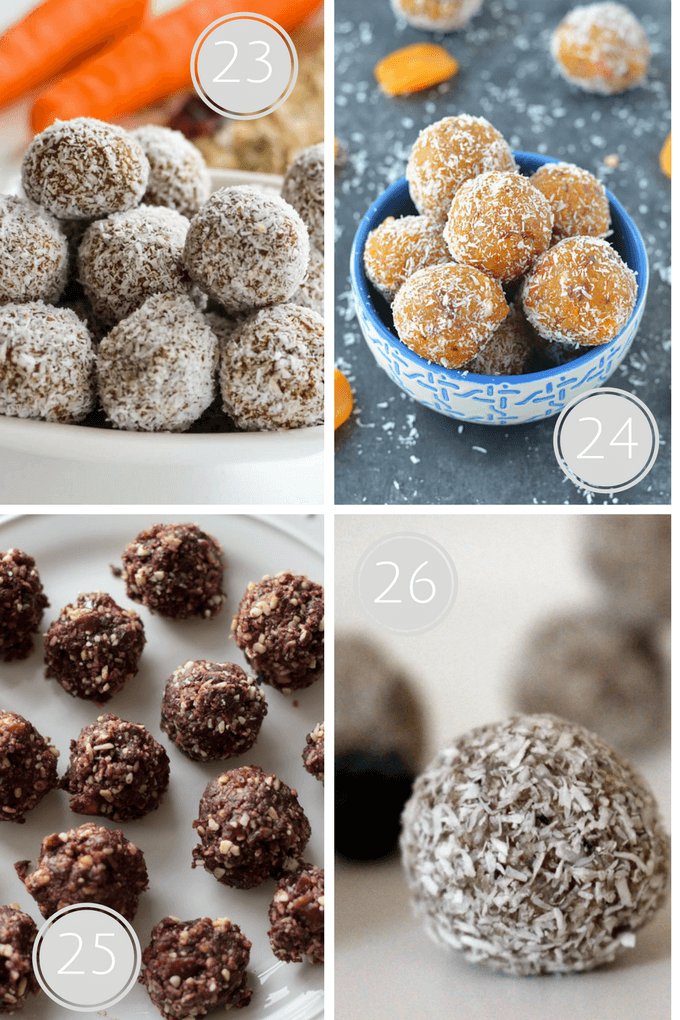 23. Carrot Oat Energy Bites (My Kids Lick The Bowl)
A sweet treat with added veggies! These contain no nuts making them perfect for school lunch boxes.
24. No cook Apricot Energy Bites (Ruchis Kitchen)
Dried apricot and nuts, a super sweet and delicious treat.
25. Almond Joy Energy Bites (Trial and Eater)
Almonds, dates and cocoa powder blitzed together with coconut and vanilla. Sounds pretty tasty to me
Blueberries replace some of the dates in these balls and they are packed full of nuts for protein.
Frozen treats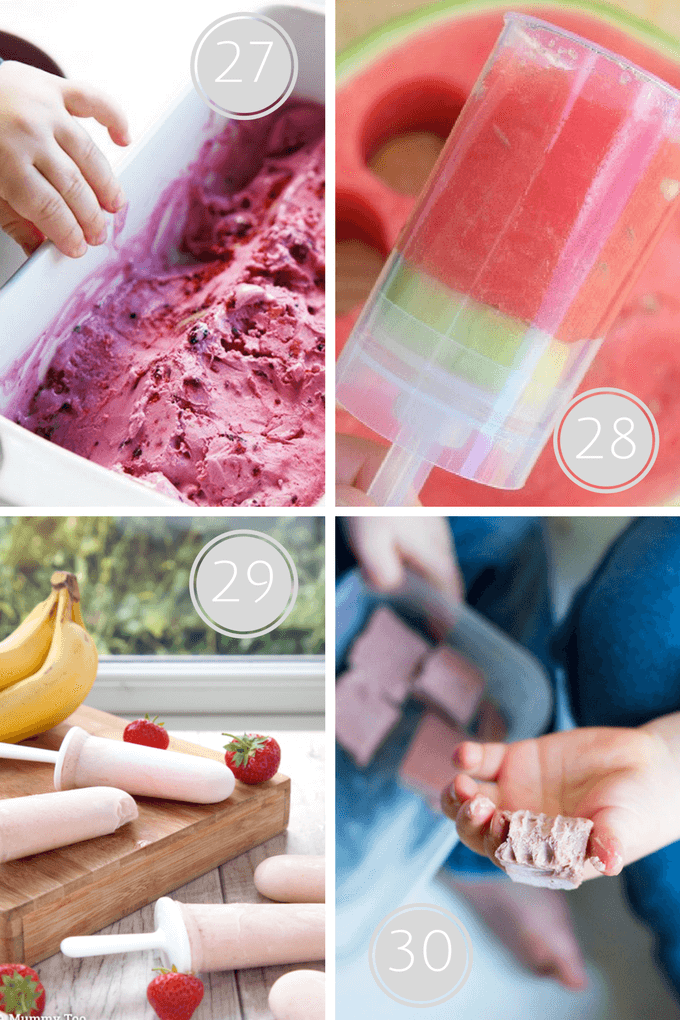 27. Blackberry Frozen Yoghurt (Little Big H)
Delicious frozen yoghurt that can easily be adapted to whatever berries you have available.
28. Frozen Watermelon Push Pops (Eats Amazing)
Remember push pops? Kids will love this healthy version.
29. Strawberry and Banana Smoothie Lollies (A Mummy Too)
Smoothies made into ice lollies are perfect for summer days.
30. Raspberry Peanut Butter Freezer Bites
Fruit, peanut butter and coconut oil make this super smooth and delicious frozen treat.