This Mango Frozen Yogurt takes minutes to make, has only three ingredients and requires no ice-cream maker. Sweetened only with fruit, what is not to love about this mouth-watering dessert or snack?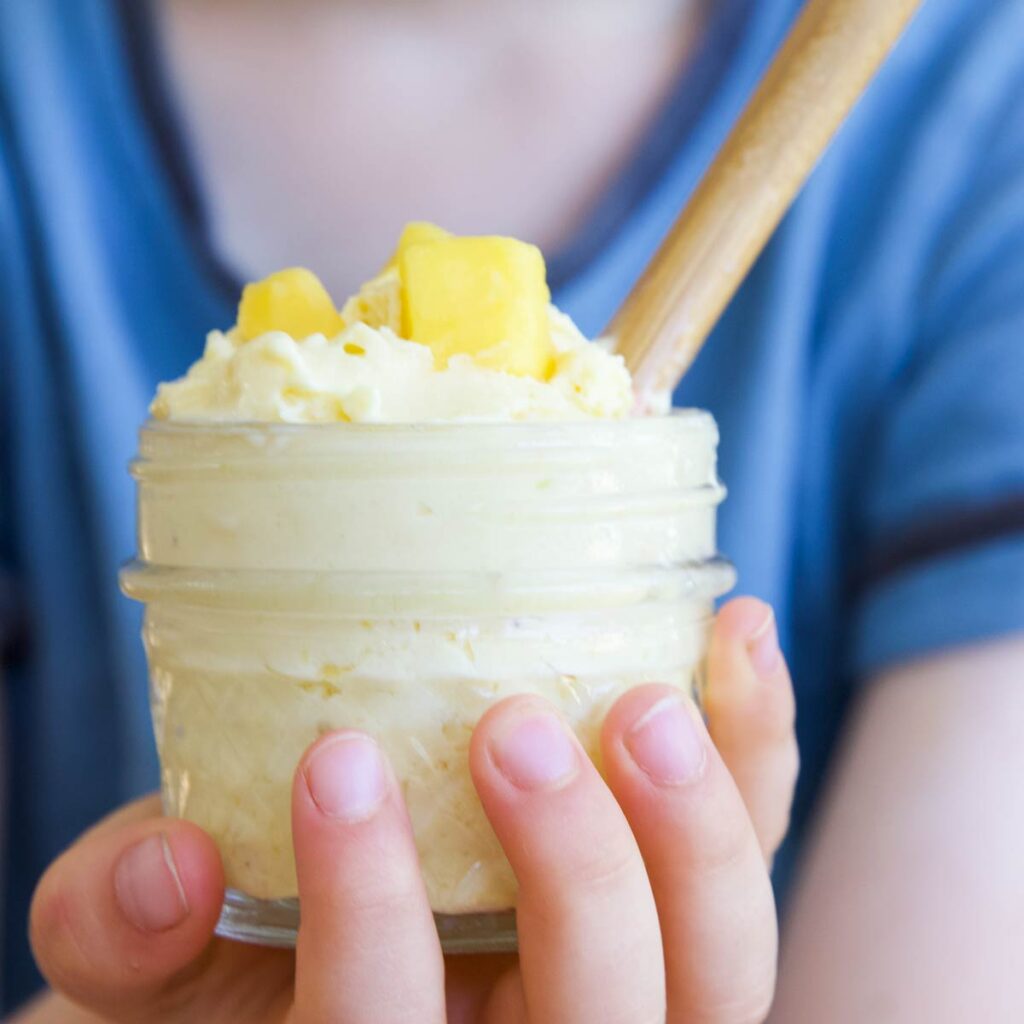 Reasons to Love Frozen Mango Yogurt
HEALTHY SNACK / DESSERT – Yogurt contains calcium, some vitamin A, B-vitamins, zinc and potassium. Mangoes contain fibre, beta-carotene, which converts to vitamin A and plenty vitamin C.
NATURALLY SWEETENED – Banana and mango sweeten this frozen dessert beautifully.
QUICK & EASY – If you buy frozen mango chunks and banana slices then this dessert literally takes minutes to make.
Ingredinets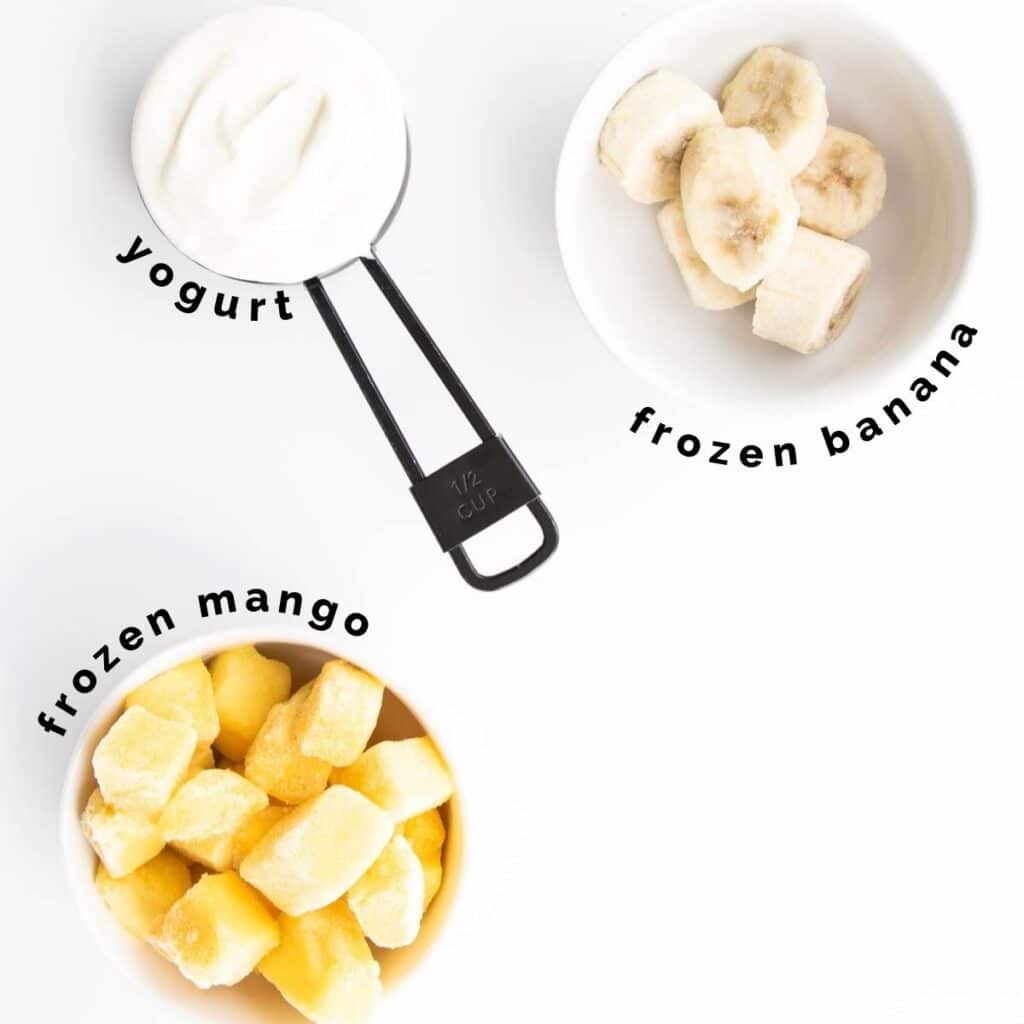 You only need three ingredients to make this sweet and creamy dessert/snack.
FROZEN MANGO: Freeze your own or buy frozen.
FROZEN BANANA: Gives this frozen mango yogurt a creamy, ice-cream like texture. The flavours work really well and it boosts the sweetness without having to add any sugar or sweetners.
GREEK YOGURT: Full fat yogurt works best. Using full fat is especially important if making for babies / young children as under twos need a lots of fat at this age to support cell structure, metabolism, brain, gut, immune, and nervous system development.
You can either buy bags of prepared frozen banana/mango or freeze your own. If you don't already have frozen fruit then obviously you will have to factor in freezing time when making this recipe. I find the easiest way to freeze fruit is to
Peel / remove stones and chop the fruit into bite size pieces
Lay the fruit on a prepared baking tray, ensuring the pieces aren't touching
Cover and freeze until frozen.
Transfer to a ziplock bag / container for storing.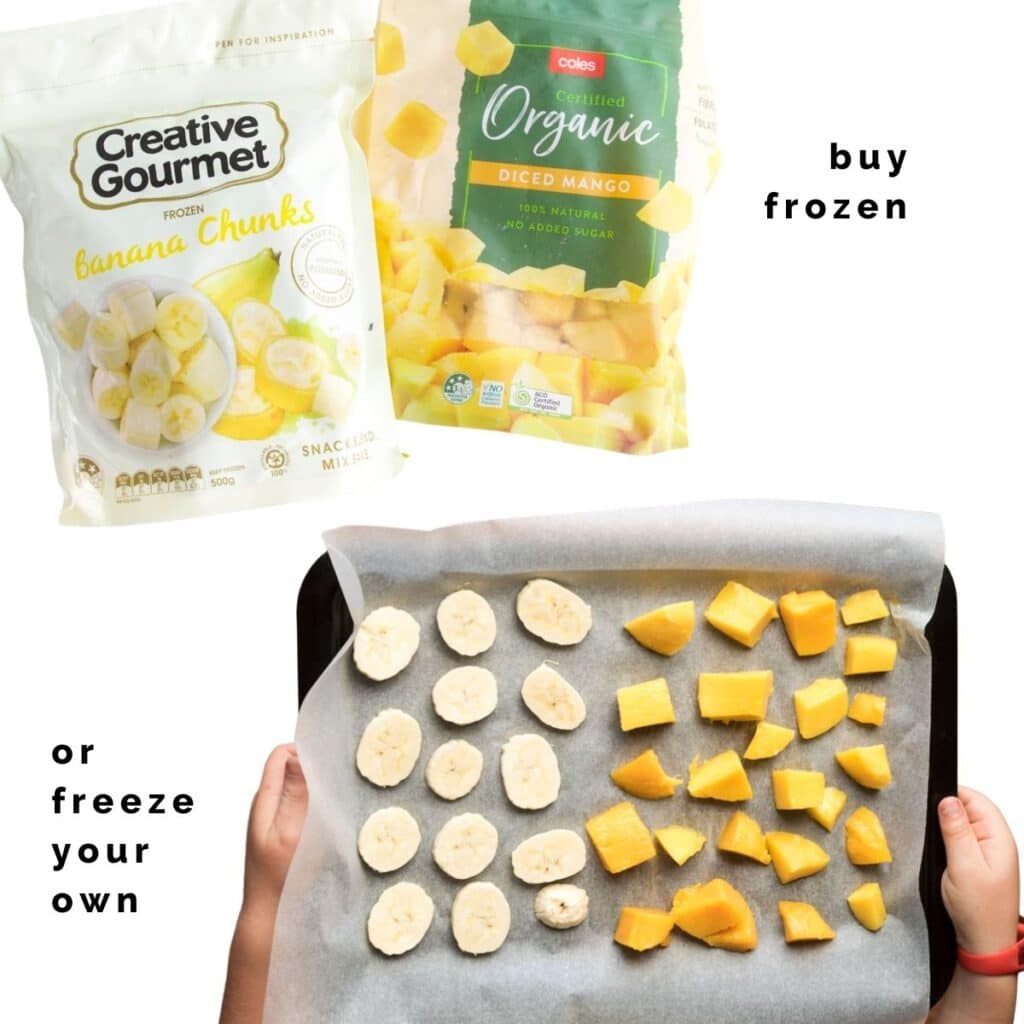 Process Shots and Information
Once your fruit is frozen it is just a case of throwing it into a food processor with some greek yogurt and blending until creamy and smooth.  It really isn't any more complicated than that.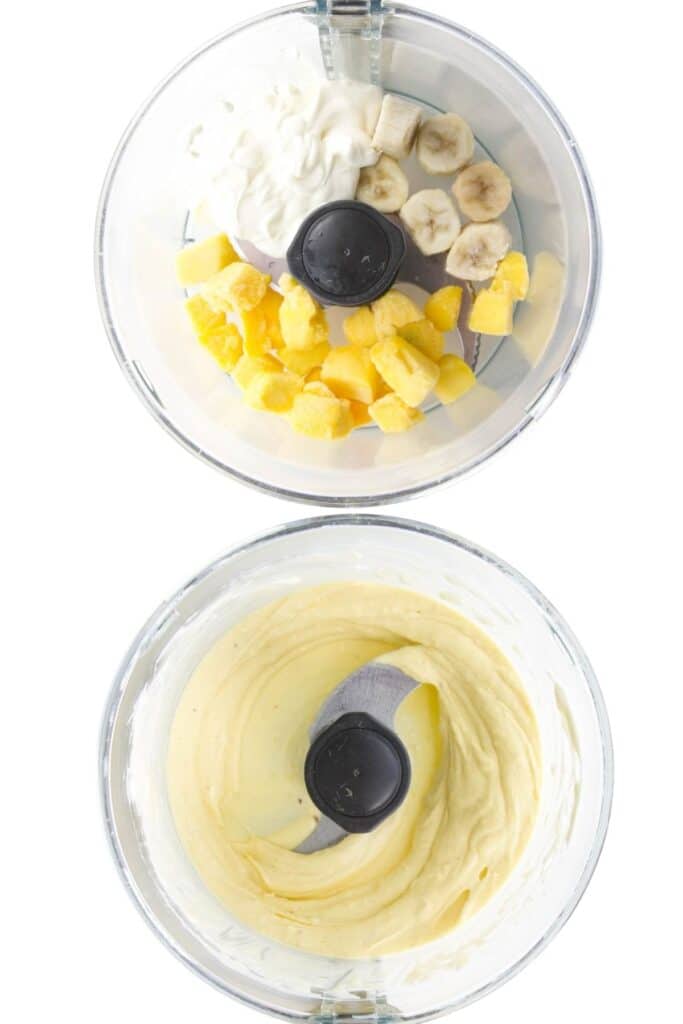 Enjoy it straight away, like a soft serve, or pop it back into the freezer for an hour or two. It will then become firmer and have a better consistency for scooping.
If storing for longer it will become too firm to scoop, just remove it from the freezer for around 10 minutes to soften.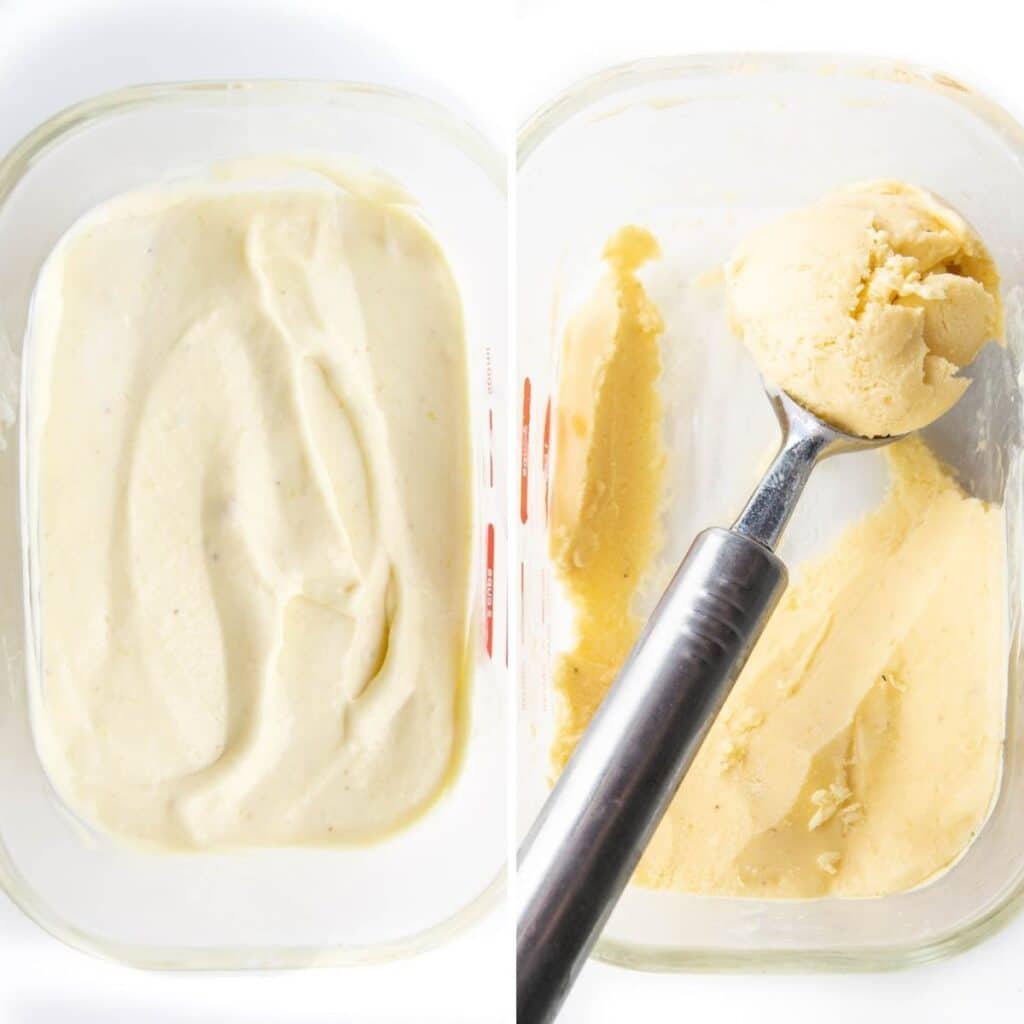 Store in the freezer for up to a month. Note that some ice crystals do form, I personally enjoy this frozen dessert served as a soft scoop straight away.
Watch How to Make It
Have you tried this recipe or any of my other recipes? I'd love to see your photos - tag me on Instagram or Facebook!
Other healthy frozen desserts/snacks you may wish to try....
Looking for more healthy kid recipes?Sign up for my free recipe newsletter to get new family friendly recipes in your inbox each week! Find me sharing more kid-friendly inspiration on Pinterest and Instagram.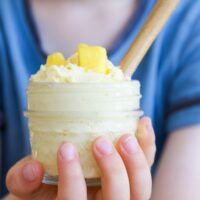 Mango Frozen Yogurt
A delicious, healthy, frozen dessert
Prep Time: 10 minutes
Total Time: 10 minutes
Serves:2
Hover over "serves" value to reveal recipe scaler
Ingredients
150g (1 cup) Frozen Mango Chunks
60g (around ½ banana) Frozen Banana Slices
120g (½ cup) Greek yogurt
Instructions
Put all ingredients into a food processor and blend until smooth.

Serve immediately, as a soft serve, or return to the freezer in an airtight container. 

Freeze for an hour or two. It will then become firmer and have consistency for scooping.
Recipe Notes
Store in the freezer for up to a month. Remove it from the freezer for around 10 minutes to soften. Note, some ice crystals do form when freezing.  You can reduce, but not eliminate, this by stirring every 20 minutes for the first couple hours of freezing.  I personally make this dessert to serve straight away as a soft serve. 
Nutritional information is an ESTIMATE only and is calculated using an online nutrition calculator. Facts are given as a GUIDE only. 
Nutritional facts
Serving: 1of 2 | Calories: 107kcal | Carbohydrates: 20g | Protein: 7g | Fat: 1g | Saturated Fat: 1g | Polyunsaturated Fat: 1g | Monounsaturated Fat: 1g | Trans Fat: 1g | Cholesterol: 3mg | Sodium: 23mg | Potassium: 318mg | Fiber: 2g | Sugar: 16g | Vitamin A: 833IU | Vitamin C: 30mg | Calcium: 76mg | Iron: 1mg
*This recipe was first published in June 2014, it has been updated to include process shots, more information and a recipe video.