Fruit Juice Jelly is great for parties or celebrations. Delicious topped with fruit.
Since having kids, Hogmanay celebrations haven't quite been the same. In fact, for the last five years, I don't even think I've even seen the bells! However, even though I don't party like I used to, I still like to celebrate the New Year. It has always been one of my favourite times. I love starting a clean slate and making New Year resolutions. I feel that it is a positive time, a time to enjoy and look forward to the coming year.
As Finn is getting older I wanted to make a fun drink for him to join in the celebrations. After a lot of playing around, my fun drink turned into a jelly treat in a glass. This year we have plans to go to a friends house for Hogmanay and I thought that this would be easy to transport and fun for the kids.
I've been meaning to try making my own fruit juice jelly for a while now, since reading this recipe from Charlotte's Lively Kitchen. However, I've never had any gelatine in the house and I have always forgotten to buy some. I eventually did get some for Christmas and knew that this would be the perfect way to use up the leftover packets.
Finn, as usual, took his role of product tester very seriously. He loved them.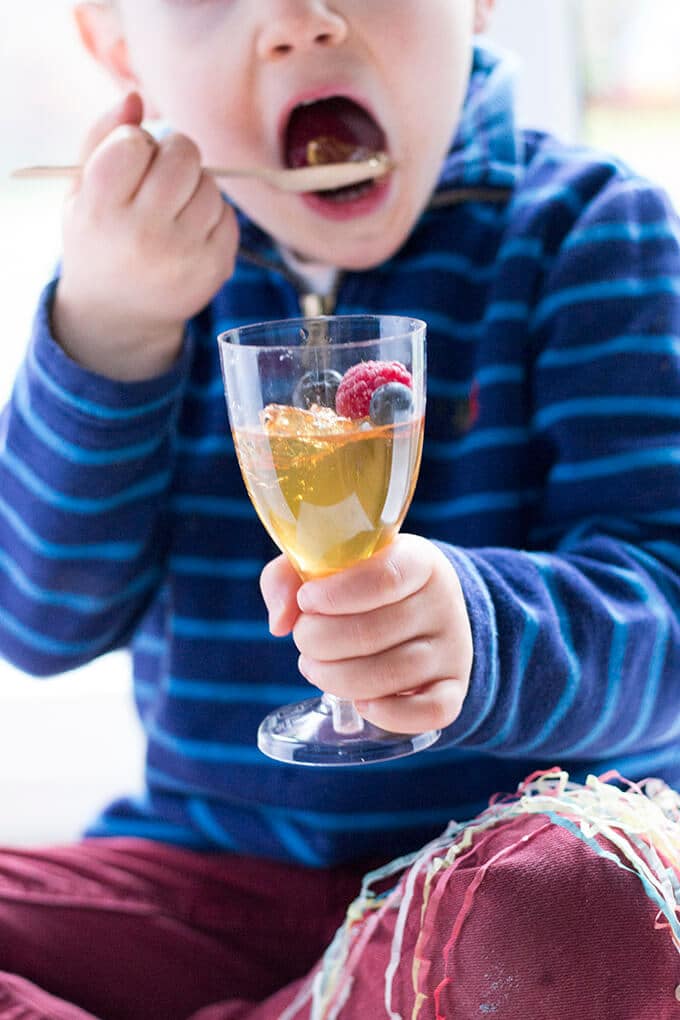 You May Also Like
Have you tried this recipe? I love receiving your feedback, please rate and leave a comment below or tag me on Instagram @healthylittlefoodies
Looking for more healthy kid recipes?Sign up for my free recipe newsletter to get new family friendly recipes in your inbox each week! Find me sharing more kid-friendly inspiration on Pinterest and Instagram.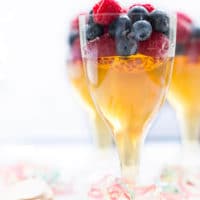 Hogmanay Fruit Juice Jelly
Apple fruit juice jelly served in a plastic champagne/wine glasses and topped with fresh fruit.
Prep Time: 1 hour 30 minutes
Cook Time: 3 minutes
Total Time: 1 hour 33 minutes
Serves:5
Hover over "serves" value to reveal recipe scaler
Ingredients
500 ml (2 cups) fresh apple juice
1 12g sachet Powdered Gelatine
Fresh fruit of choice to top
Instructions
Heat up the apple juice in a pan over a medium / low heat. You want the juice to be hot but not boiling.

Remove from the heat and stir in the gelatine powder until fully dissolved.

Pour the mixture evenly into 5 plastic wine/champagne glasses.

Leave to set in the fridge (mine took around 1.5 hrs to set)

Top with fresh fruit.
Recipe Notes
Nutritional information is a ROUGH guide only, calculated using an online nutrition calculator. Results do not include any toppings. 
Nutritional facts
Calories: 47kcal | Carbohydrates: 11g | Protein: 1g | Fat: 1g | Saturated Fat: 1g | Sodium: 4mg | Potassium: 101mg | Fiber: 1g | Sugar: 10g | Vitamin C: 0.9mg | Calcium: 8mg | Iron: 0.1mg