These quinoa bars are packed with dried fruit, nuts, seeds and coconut. A high energy snack or on the go breakfast.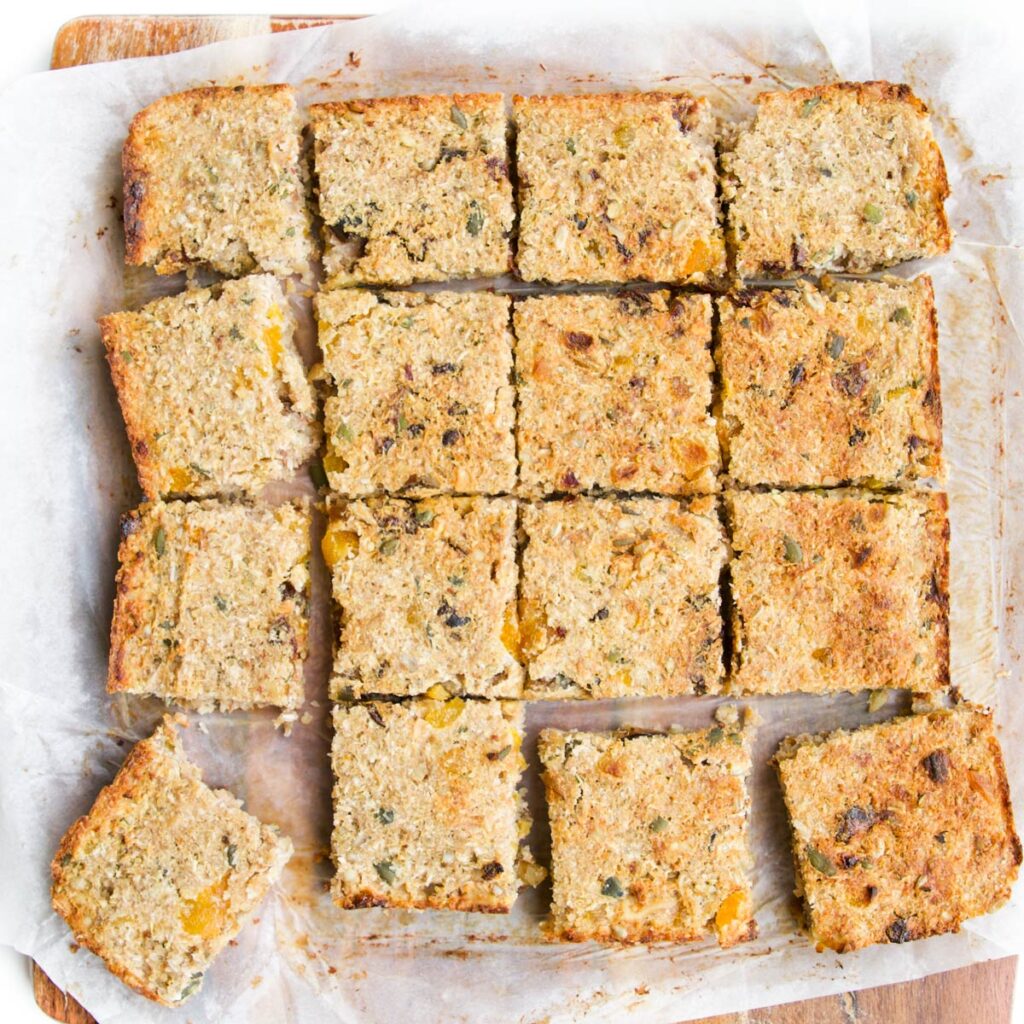 What to Expect
TEXTURE: These bars are soft, moist with crunchy and chewy bits. They are more like a baked oat bar rather than a chewy granola bar.
TASTE: Mildly sweet, depending on how sweet your bananas are. The dried fruit provides bursts of extra sweetness.
USE: Great for breakfast or for an after school/sport snack.
Watch the Video
Ingredients Information (with Alternative Suggestions)
QUINOA: I have only tested white quinoa in this recipe, other varieties should work but the bars maybe a little more crumbly.
WALNUTS, PUMPKIN & SUNFLOWER SEEDS: Walnuts work great in this recipe but you can really use any nut/seeds. Just replace with preferred nuts/seeds in the same amounts.
APRICOT & DATES: Adds sweetness and stickiness. Can be replaced with other dried fruits.
ALMOND FLOUR: Can use ground almonds or almond meal.
COCONUT: Unsweetened desiccated coconut, adds texture and flavour.
PEANUT BUTTER: Any nut butter will work, helps with binding.
BANANA: Added for binding and sweetness (Use ripe bananas)
OPTIONAL SWEETENER: Try tasting the recipe before baking, if you feel like you would need extra sweetness stir through some honey or maple syrup (or sweetener of choice)
Process Shots and Cooking Tips
COOK QUINOA - Add the quinoa and water to a pan and bring to a boil. Reduce heat, cover and simmer for approx 12 mins (until water absorbed.) Fluff with a fork and then leave covered for a further 5 mins.
TIP: It is pretty standard for manufactures to pre-rinse quinoa before it comes to the market. However, I find in this recipe that it is worth rinsing again to reduce the bitterness.
CHOP FRUIT & NUTS - Finely chop the nuts, seeds and fruit.
TIP: Be EXTRA careful if making for young children (under 5s) as nuts, seeds and dried fruit are common choking hazards.
COMBINE DRY INGREDIENTS - Once the quinoa has cooled add the nuts, seed, almond flour and coconut, stir until mixed through.
ADD BANANA & NUT BUTTER - This will help bind the recipe and you should notice that the mixture starts to come together.
TIP: You can taste it here, I find these bars sweet enough with the dried fruit (especially if using ripe bananas) but understand that everyone is different. You can add a tablespoon or two of maple syrup or honey to sweeten further.
ADD TO LINED PAN - Grease and line a 9inch/23cm square baking tray. You can use a smaller/larger pan but the thickness and cooking time will differ.
BAKE - 25 - 30 minutes, or until golden, at 180°C/ 350°F. Remove and allow to cool boefore slicing.
Cooking with Kids
This is a nice simple recipe with plenty of tasks little ones can help out with. As the quinoa cooks you can give your child the task of mashing the banana. At this time the adult can finely chop the fruit, nuts and seeds.
Once the quinoa is cooked and cooled then your child can combine all the ingredients and taste test the product! They can then flatten out the mixture in a dish before it goes into the oven.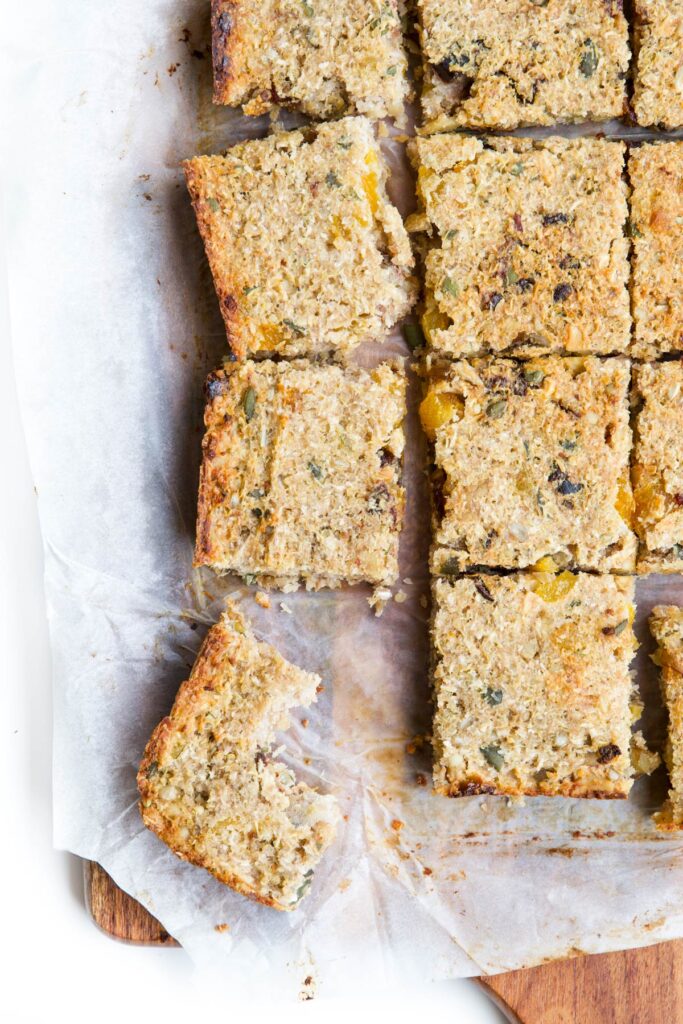 Storage Instructions
REFRIGERATE - Place quinoa bars in an airtight container and refrigerate for up to two days.
FREEZE - Wrap each bar tightly, place in an airtight container and freeze for up to 3 months.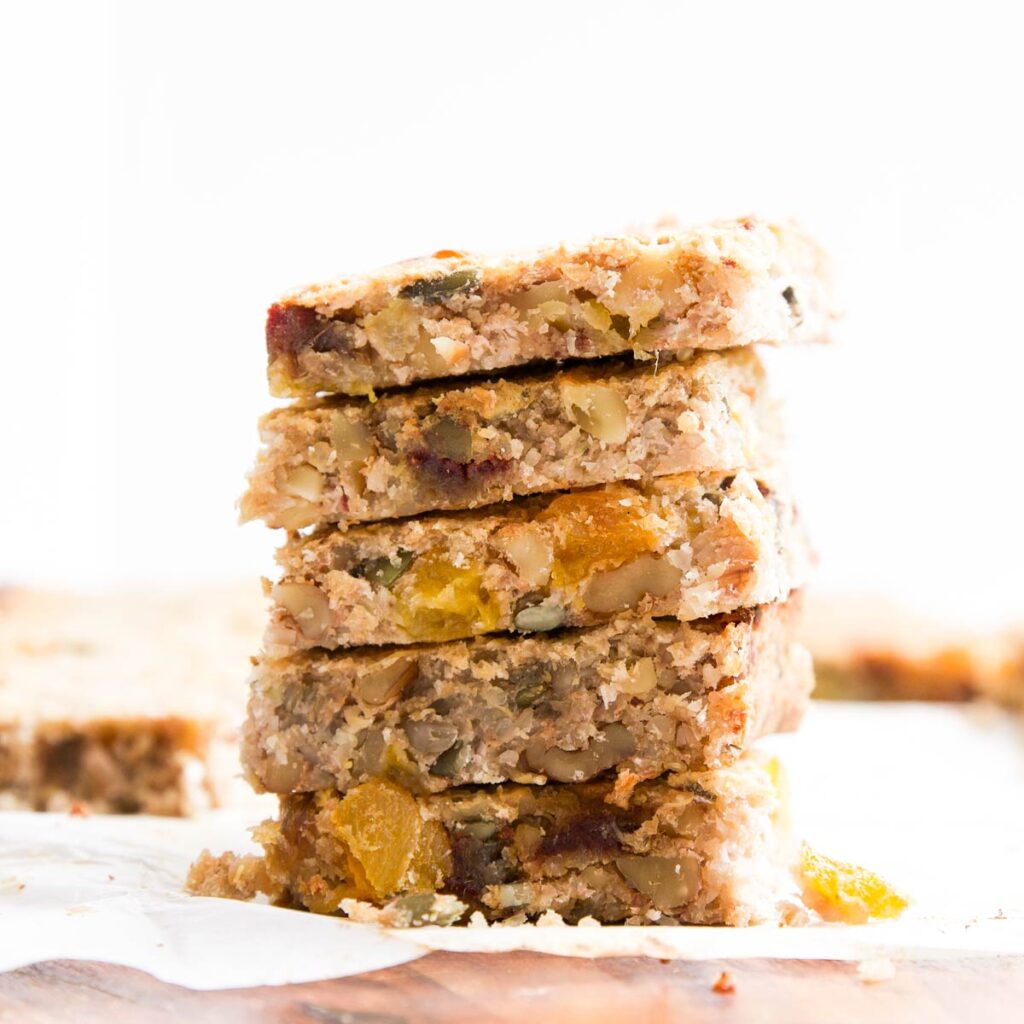 If your kids love quinoa then be sure to check out these recipes...
Looking for more healthy kid recipes?Sign up for my free recipe newsletter to get new family friendly recipes in your inbox each week! Find me sharing more kid-friendly inspiration on Pinterest and Instagram.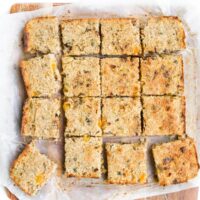 Fruit and Nut Quinoa Bars
Quinoa, nuts, seeds and dried fruit combined to make a high energy snack/breakfast bar. 
Prep Time: 10 minutes
Cook Time: 45 minutes
Total Time: 55 minutes
Serves:16
Hover over "serves" value to reveal recipe scaler
Equipment
9 inch (23cm) Baking Tray
Ingredients
120g (⅔ Cup) White Quinoa
330ml (1 ⅓ cup) Water
85g (½ Cup) Medjool Dates , pits removed
90g (½ Cup) Dried Apricots
75g (¾ Cup) Walnuts
45g (½ cup) Seed mix (I used sunflower and pumpkin 50:50)
45g (½ cup) Almond Flour
40g (½ cup) Unsweetened Desiccated Coconut
2 Large ripe bananas (Equivalent to 1 cup mashed / 250g)
2 tablespoons Peanut butter
Instructions
Thoroughly rinse the quinoa. Add the quinoa and water to a pan and bring to a boil. Once at a rapid boil, reduce heat, cover and simmer for approx 12 mins (until water absorbed.) Fluff with a fork and leave covered for a further 5 mins. Allow cooling.

Preheat oven to 180c / 355f / gas 4, grease and line a 9 inch / 23cm square baking tray with parchment papaer.

Finely chop the dates, apricots, walnuts & seeds and then add to a large mixing bowl along with the cooled quinoa, almond flour and coconut.

Mash the bananas and add to the quinoa mixture, along with the peanut butter. Stir to thoroughly combine.

Place the mixture into it the lined baking tray. Press down the mixture and ensure the mixture is compacted.

Bake for 25 - 30 minutes or until golden.

Chill and cut into fingers squares.
Recipe Notes
CHOKING HAZARD: If making for young children take care to finely chop all nuts, seeds and dried fruit.  SWEETNESS: This bar is sweetened only with fruit, make sure to use ripe bananas for extra sweetness. You can taste the mixture before cooking and add a tablespoon or two of maple syrup or honey if required. (Added sweetener not recommended for under 2s) Nutritional information is a ROUGH guide only, calculated using an online nutrition calculator.
Nutritional facts
Serving: 1of 16 | Calories: 160kcal | Carbohydrates: 18g | Protein: 4g | Fat: 9g | Saturated Fat: 2g | Polyunsaturated Fat: 3g | Monounsaturated Fat: 2g | Trans Fat: 1g | Sodium: 4mg | Potassium: 267mg | Fiber: 3g | Sugar: 9g | Vitamin A: 223IU | Vitamin C: 1mg | Calcium: 25mg | Iron: 1mg
*This post was originally posted in May 2015, it has been updated to include process shots, new photos and a video. The recipe is the same but now includes both gram and cup measurements.