Are you wondering if you should do Traditional Weaning or Baby-Led? Like every aspect of raising a child, there are so many opinions out there and it can be difficult to decide what is best. This is a summary of my experience with both methods. Of course, everyone is different, as is every baby. What is great for one person may not be for another.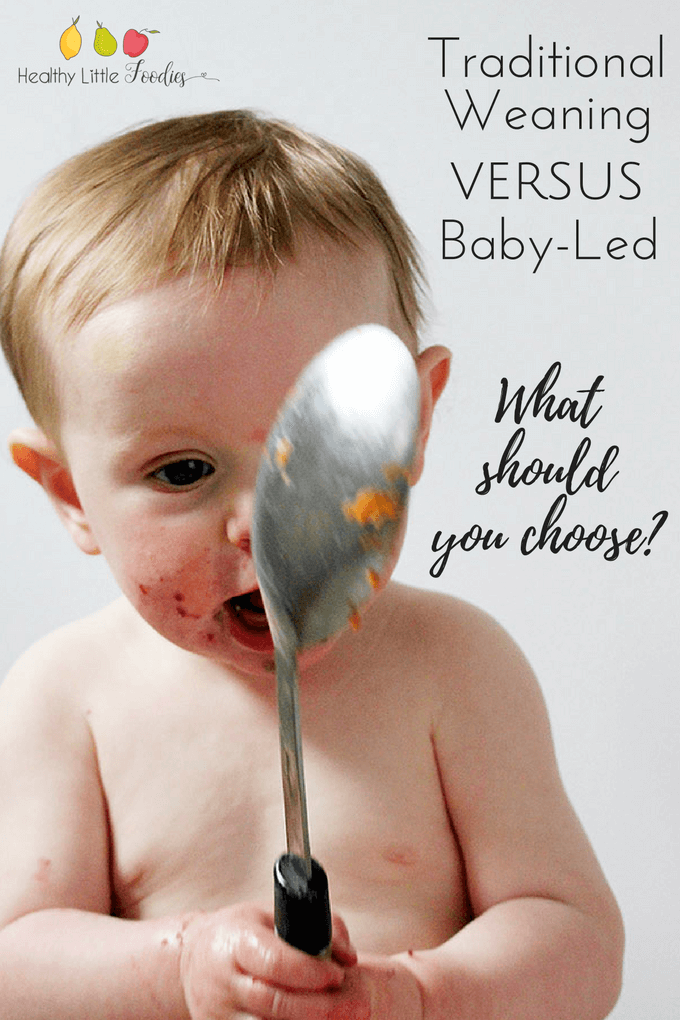 There are two basic approaches to weaning: the traditional method, where you offer purees to start with, and the baby-led method. I went down the traditional weaning route with my eldest, Finn, and I am now three months into weaning Rory, my youngest, using the baby-led method. Both have been a positive experience but have their pros and cons.
Traditional Weaning
I weaned my eldest (Finn) at five and a half months using the traditional method. I hadn't really heard much about baby-led weaning (BLW) and so hadn't considered any other way. I started with smooth purees, progressed to mashed/chopped and introduced finger foods around seven months.
I made most of his meals and my freezer was packed with a range of coloured cubes of frozen purees. I would cook up several recipes one afternoon a week and then took out the required cubes daily. I liked to cook with a range of spices, herbs and food types to ensure his diet was varied in nutrients and flavour.
Finn is a fantastic eater and basically eats anything I give him. I feel that I should mention this here as I have read so many pro BLW articles that shout about how BLW results in more adventurous, less picky eaters. Finn, traditionally weaned, has to be the least fussy eater I know and is willing to try any new food.
Advantages
I knew how much Finn had eaten
It was easier to ensure he was gaining the right nutrients (e.g. iron)
Less messy
I could use jars/pouches when out and about.
Disadvantages
Preparing separate purees was time-consuming
Having to spoon-feed Finn at mealtime made it harder to enjoy a meal together.
Baby-Led Weaning
I started Rory on solids at the recommended age of six months. He has joined in with family meals and fed himself from day one. I offered him softer finger foods for the first week but by week two he was really just eating what we all were as a family. (see more here)
As I was already cooking for Finn, I was no longer adding salt to my cooking and was ensuring that I was preparing nutritionally balanced meals. It was no extra work for me to make more for Rory. If I had done BLW with Finn I would have had to change our diet a lot sooner than I did. Before Finn ate with us we ate a lot of Thai and Indian style foods which were packed full of chilli and had a high salt content (through fish sauce, curry pastes etc.) If you are thinking about doing BLW then it is important to ensure you are providing a balanced, low sodium, low sugar diet.
Although still early days, Rory seems to be a good eater. He gets very excited at mealtimes and can demolish meals in minutes! He does, however, know what he likes best and will pick those foods to eat first. Sometimes his less favoured foods can be found chewed and dropped on the floor!
Advantages
I have no baby purees to make.
I can enjoy meals at the same time as Rory. He feeds himself as we eat.
Rory has joined in with meal times from the beginning.
Has allowed Rory to explore a range of flavours and textures which he would not have got if his food was all blended together.
No transitioning from smooth to lumpy/mashed/whole food.
Disadvantages
Messy! This is what I have struggled with the most. After each meal, I feel like it is a military operation to clean the kitchen.
Food Waste. At the start, I found that there was a lot of food wastage but already (at nine months) I have noticed that this has decreased dramatically.
Uncertainty on what was eaten. At the start, I was never quite sure how much he had eaten and how much was swept up. This, in turn, made me worry that he was not receiving enough nutrients (such as iron)
Eating out. This is easier in some way but sometimes I've struggled to find something on the menu suitable for a young baby.
Other people's opinions. Our parents' generation generally fed through purees so be prepared for the unsolicited advice from people who do and do not know you. I think I would have found this harder if I had done BLW the first time around. I feel a lot more confident this time around and find it easier to ignore comments and opinions.
I've personally had no worries about choking but my husband was really worried at the start. Rory would gag slightly but nothing too concerning.
Musts for Both Weaning Methods…..
Final Thoughts and Weaning Tips…..
If I were to have a third child I would probably choose the BLW approach again. Purely because I will be preparing healthy meals, that are low in salt & sugar, for Finn and Rory so adding another child into the mix would not cause any more work. The thought of having three kids, preparing family meals and finding time to puree separate meals scares me! I would be looking to keep any extra work to a minimum. That being said, if I had no other children then I think I would be torn to what method I would choose.
Every baby is different and every parent is different, choose to do what is best and easiest for you and your baby.
Stay calm, some days your baby will eat tons and the next day they will pick. Try not to worry about it and trust your baby's appetite. Don't force your baby to finish or eat something they are refusing.
If you are thinking of going down the traditional weaning route then check out the following websites for great puree ideas and recipes.
Baby Foodie – fab puree recipes with gorgeous pictures that would tempt even adults!
Annabel Karmel – the queen of baby food.
If you want to give BLW a try then I found the Baby-Led Weaning Book by Jill Rapley really informative.
Have a look at these websites (as well as this one!) They are packed full of recipes for kids.
My Fussy Eater,
You May Also Like