Changing how you present food to your kid can make a big difference to your child's acceptance of that food. These Savoury Waffles are a great way to get your kids pleading for more vegetables!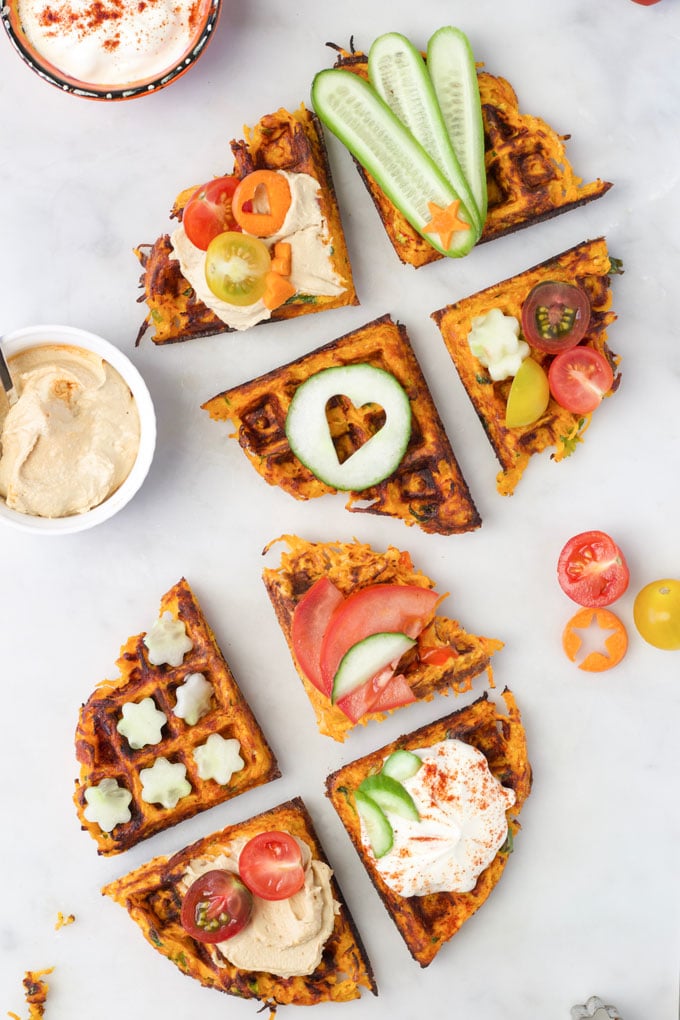 I've named this dish "Savoury Waffles" simply because I've made them in a waffle machine. However, they aren't your traditional decadent, doughy waffle. Really they are just a vegetable fritter in disguise.
As you can see, from the picture below, the mixture is made with very little batter. I've used half a cup of flour in this recipe but, in the past, I have managed to get away with using only a quarter. Having less batter, I believe, allows more of the sweet potato and carrots to be in contact with the plates, cooking them better.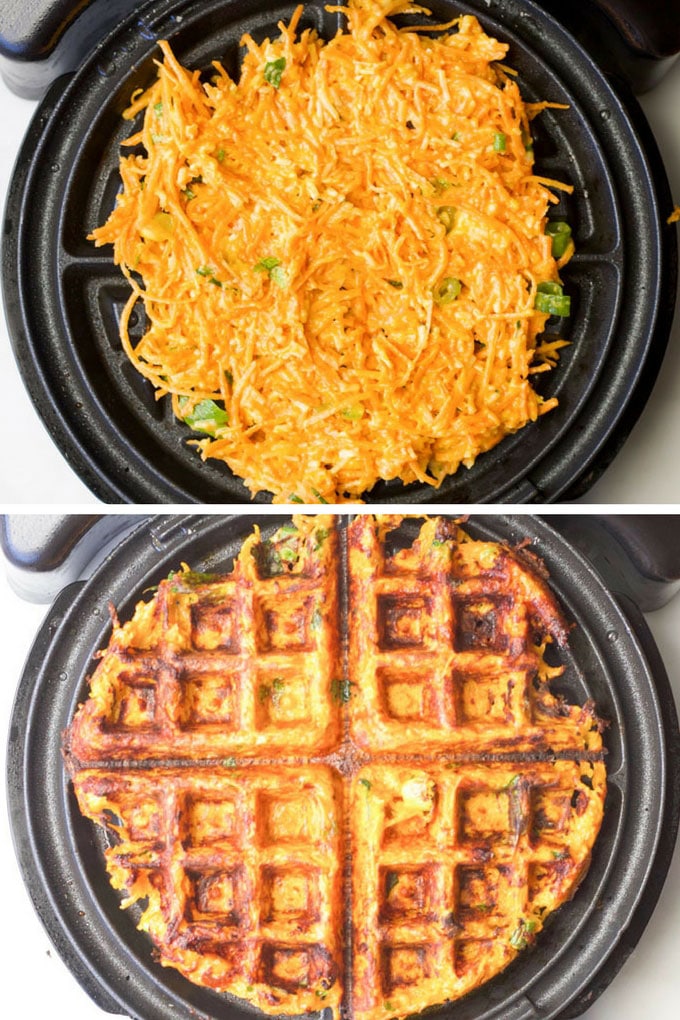 These Savoury Waffles are made using sweet potato and carrots but the recipe can be easily adapted and you can try / hide a variety of vegetables in these delicious waffles. In addition to carrot I have tried:-
grated onion
grated zucchini (courgette)
grated capsicum (bell pepper)
Other vegetables, I haven't tried in this recipe but believe would work well, are:-
grated parsnip
grated squash
corn
peas
finely chopped spinach
You can also make them with white potatoes, if you prefer, and add any herbs and spices to suit taste.
I recommend squeezing out the juice of the vegetables if you are adding different / more vegetables. The mixture will be too wet if you don't do this. I usually place the grated vegetables on a clean dish cloth and squeeze until all the juice comes out.
NOTE: Don't throw away this juice, it is full of goodness! I usually add it to pasta sauces, chilli, bolognese etc. You could also add it to smoothies.
Savoury Waffles can be used in so many ways. I love to accompany them with a variety of toppings such as
hummus
natural greek yoghurt
cream cheese
pesto
tomatoes, cucumber, beetroot etc
You can also use them
as the "bread" for sandwiches or
pop them in a lunch box.
This is a great finger food for babies, I would recommend reducing the cheese or simply eliminating it, to reduce sodium levels. Young babies, doing baby-led weaning, will find the waffles easy to grip due to the textured surface.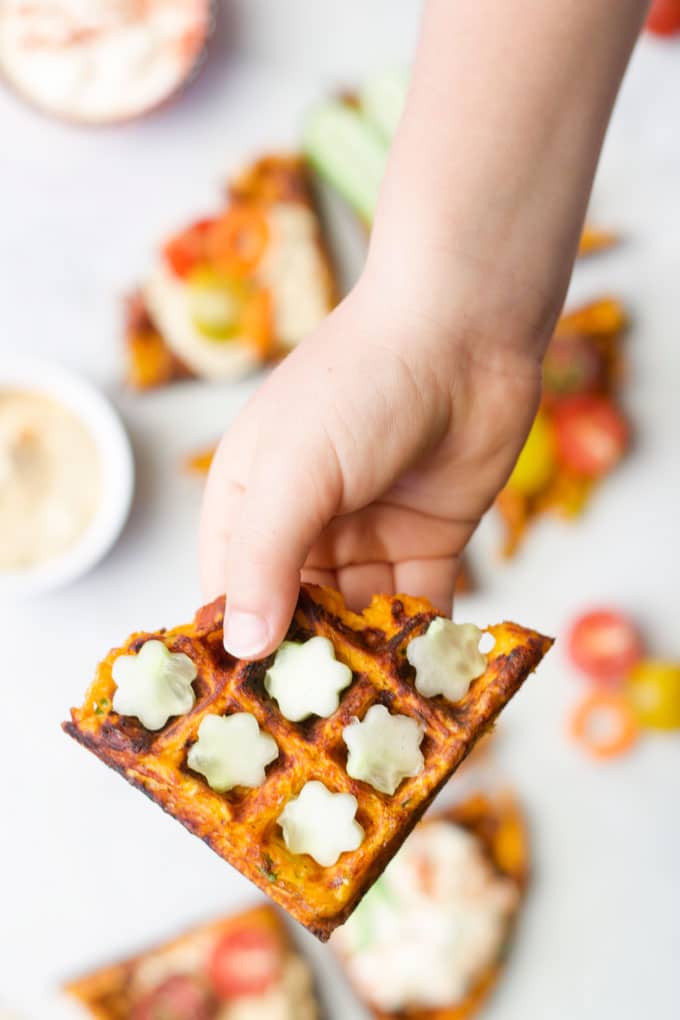 I love serving vegetables in different ways. If you do to then why not try my savoury muffins, carrot and parsnip fritters, carrot and sweet potato fries, cauliflower tots and rainbow fritters.
Have you tried this recipe? I love hearing your feedback, please leave a comment below or tag me on Instagram
Looking for more healthy kid recipes?Sign up for my free recipe newsletter to get new family friendly recipes in your inbox each week! Find me sharing more kid-friendly inspiration on Pinterest and Instagram.
Savoury Waffles Recipe
Shredded Sweet Potato and Carrot mixed with cheese, flour & eggs. Cooked in a waffle machine, making them a great finger food and perfect for the lunchbox.
Prep Time: 10 minutes
Cook Time: 15 minutes
Total Time: 25 minutes
Serves:12
Hover over "serves" value to reveal recipe scaler
Ingredients
2 medium (approx. 220g) Carrots, peeled and grated
1 medium (approx. 265g) Sweet Potato, peeled and grated
1 cup (125g) Cheese, grated
½ cup (70g) Plain Wholemeal Flour
1 Spring onion, finely chopped
1 tbsp Chopped fresh parsley
3 Eggs, lightly beaten
Instructions
Add the grated carrot, sweet potato, cheese, spring onion, parsley and wholemeal flour into a large mixing bowl and stir until combined. SEE NOTE 1

Add the eggs and mix well.

Spray waffle machine with oil (if needed) and heat to a medium setting (if it has settings.)

Place ⅔ - 1 cup of the mixture in the centre of the waffle machine and spread a little to the sides. Close and cook for approx. 5 mins, until browned, crispy and cooked through in the centre. Remove from waffle machine and place on a wire rack.

Repeat until all the mixture has been used up.
Recipe Notes
I used a food processor to grate the vegetables which I believe gives the best results. If you use a box grater then the vegetables can become mush and clump together. This will depend on how sharp your box grater is and the force you use. If very wet, I recommend squeezing some of the juice out (using a cheese cloth / clean dish cloth) before mixing with the flour and egg.  
You can easily change the vegetables you use in this recipe. I have, in the past, tried a mixture of grated onion, capsicum (bell pepper), zucchini (courgette).   If adding other vegetables I recommend squeezing the juice out before mixing with the flour and egg.
Nutritional information is an ESTIMATE only, calculated using an online nutrition calculator. It should be used as a rough guide only. 
Nutritional facts
Calories: 93kcal | Carbohydrates: 11g | Protein: 5g | Fat: 4g | Saturated Fat: 2g | Trans Fat: 1g | Cholesterol: 49mg | Sodium: 106mg | Potassium: 167mg | Fiber: 2g | Sugar: 2g | Vitamin A: 6364IU | Vitamin C: 2mg | Calcium: 77mg | Iron: 1mg