This scrumptious and versatile fruit compote is super easy to make and great for all ages. Try swirling it into your morning oatmeal, using it as a delicious pancake topping or adding it to baked goods.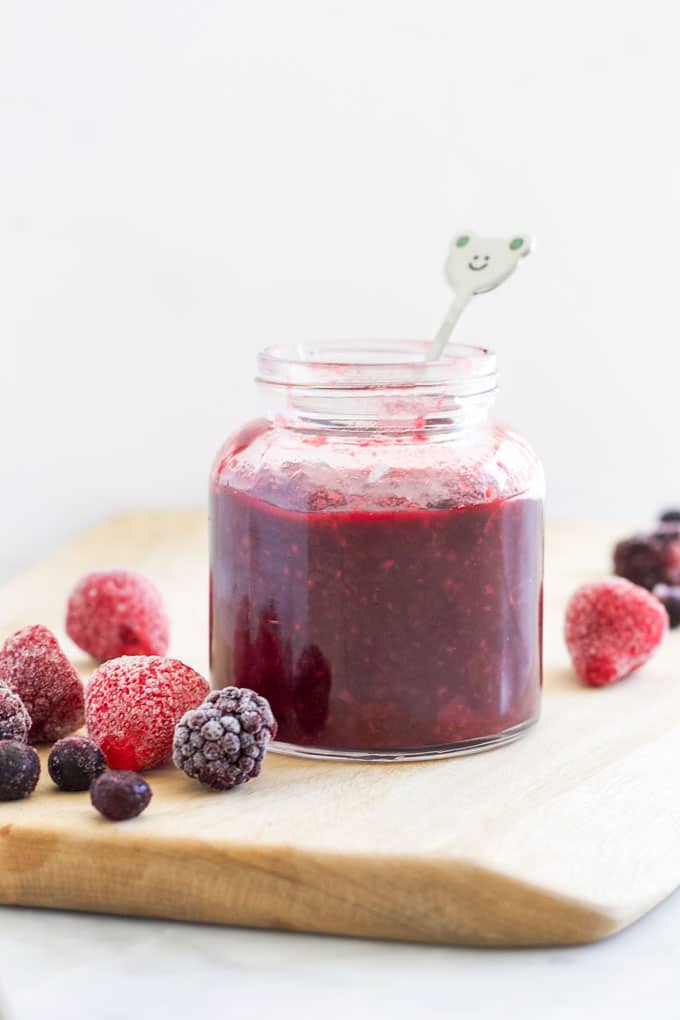 What is Fruit Compote?
Fruit compote is made by cooking whole or pieces of fruit (fresh or frozen) in sugar syrup. Often different ingredients are added such as spices, citrus peel or dried fruit. The end result is a deliciously textured fruit sauce.
As this is a baby / toddler-friendly food site this version of fruit compote uses orange juice to replace sugar syrup. Cinnamon, ginger and orange zest are added for extra flavour. 
Why Make This Berry Compote
NUTRITIOUS: Orange juice and cinnamon are used instead of sugar in this healthier compote, meaning the whole family can enjoy it. Orange zest also helps to elevate the flavours of the other berries.
EASY: Ready in under 15 mins and if using frozen fruit there is no prep work needed.
VERSATILE: Serve as a pancake topper, swirl into yogurt/oatmeal, use as a dip, spread or add to baked goods.
MAKE AHEAD: Make a big batch and freeze in portions so you always have some available.
What Fruit Can You Use?
The great thing about compote is that it doesn't have to be limited to berries (strawberries, raspberries, blueberries, blackberries). The recipe can be adapted to suit whatever fruit is in season. You can use fresh fruit, frozen fruit and even add dried fruit into the mix. Other fruits that you may also want to try include...
Peaches
Pears
Mango
Nectarine
Plums
Apple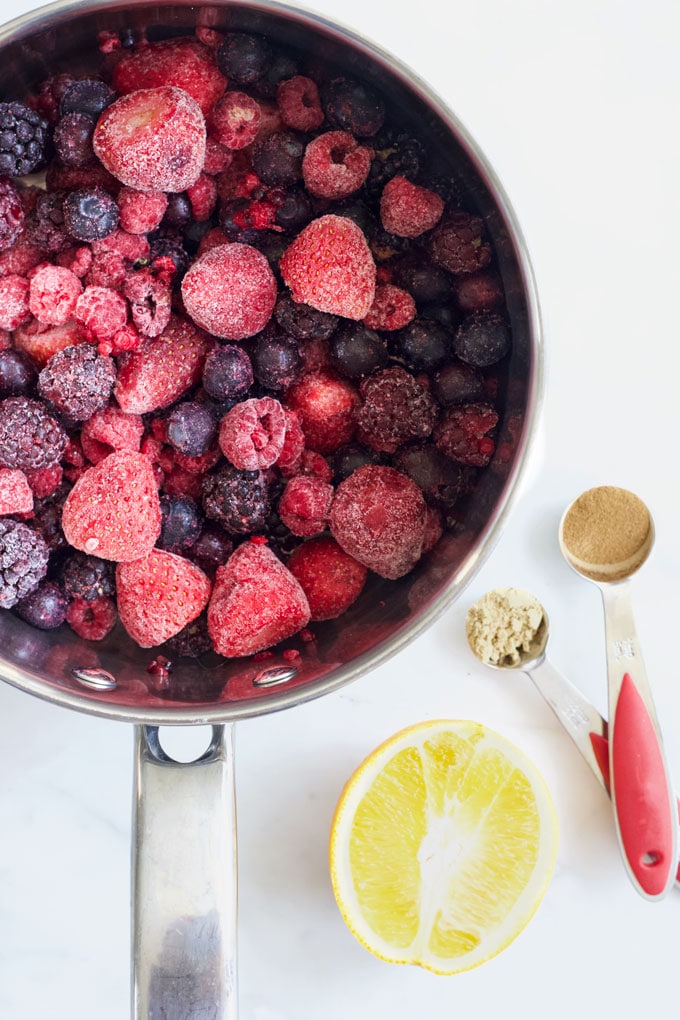 Fresh or Frozen?
I tend to use frozen fruit as it doesn't require any prep work. It can be added to the pan frozen and produces the perfect texture when warmed up.
Of course, if you have a surplus of fresh fruit you can use that too.
How to Make Fruit Compote
It doesn't really get much easier than this compote recipe.
Add all ingredients to a pan
Bring to a boil
Turn the heat down to low and simmer for 10 -12 mins. Stir and mash fruit during this time.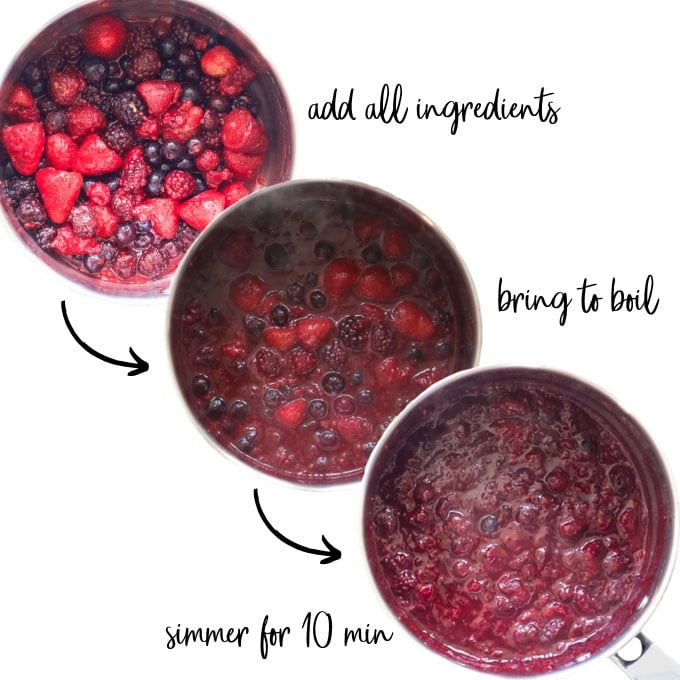 How to Thicken Compote
If you prefer a thicker compote then you can add some chia seeds or corn starch.
CHIA SEEDS - Once the compote has been simmering for 10 mins, remove it from the stovetop and add 1 tablespoon of chia seeds. Stir and allow to thicken
CORN STARCH - Dissolve 1 tablespoon of corn starch in 1.5 tablespoons of cold water. Add it to the compote as it is simmering.
Optional Flavour Ideas
Once you have the hang of making compote (not difficult) you can experiment with a range of flavours. Why not try adding
SPICES: Cinnamon, Ginger, Star Anise, Cardamom, Vanilla
CITRUS: Lemon/lime/orange juice, zest or rind.
DRIED FRUIT: Intensify flavour and sweetness with some dried fruit e.g apricots, raisins, figs.
FLAVOURED WATER /JUICE: Rosewater (a personal favourite), Orange Blossom Water or frut juices such as cranberry or pomegranate.
HERBS: Mint, Basil, Rosemary (add after cooking)
Serving Suggestions
Compote can be served warm, straight after cooking, or chilled. It is delicious by the spoonful but you can enjoy it in a variety of ways.
Stir through some yoghurt, oatmeal, cottage cheese or ice-cream
Top pancakes, waffles, french toast or chia pudding
Use in baking and desserts
Use as a dip
Use as a spread on toast
Added to cheese platters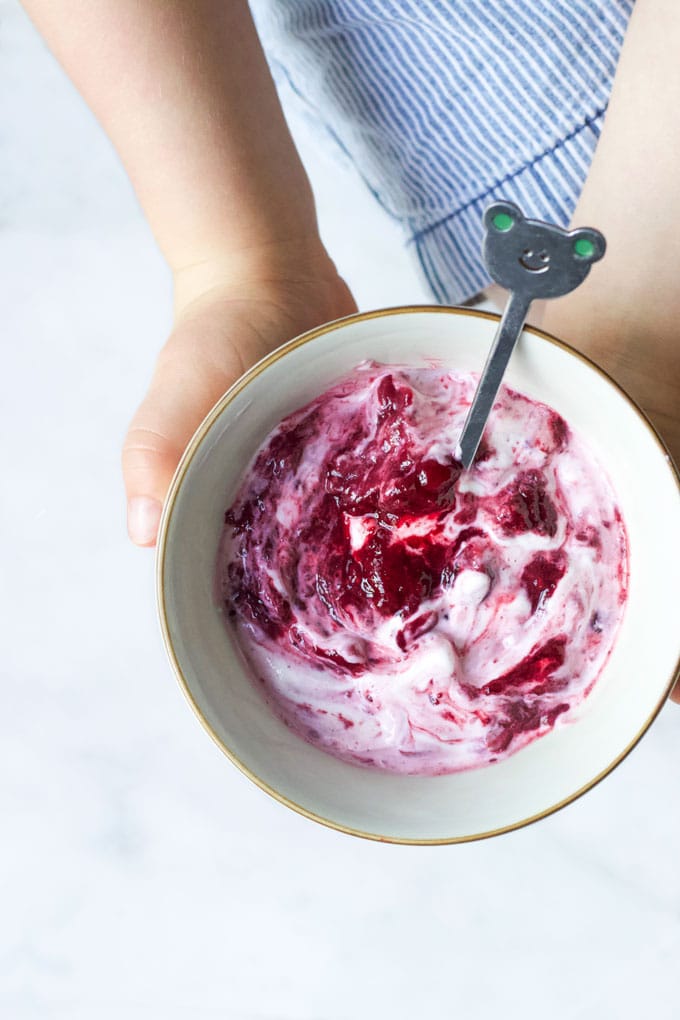 Fruit Compote for Babies
Fruit compote is great for babies. Mash the fruit to the consistency your baby is used to and serve with yoghurt or swirled in their oatmeal. 
Storage Instructions
REFRIGERATE: You can store this fruit compote in an airtight container and refrigerate it for up to two days.
FREEZE: Transfer compote to freezer-safe containers and freeze for up to two months. Alternatively, you can freeze the compote in ice cube trays and once frozen transfer the cubes to a ziplock bag and freeze for up to two months.
Frequently Asked Questions
What is the difference between berry compote and berry coulis?
A coulis is made from fruit that is pureed and then strained, it is very smooth. Compote is made from whole fruit or chunks of fruit to produce a chunky sauce.
Is compote served hot or cold?
You can serve compote hot or cold, both ways are delicious!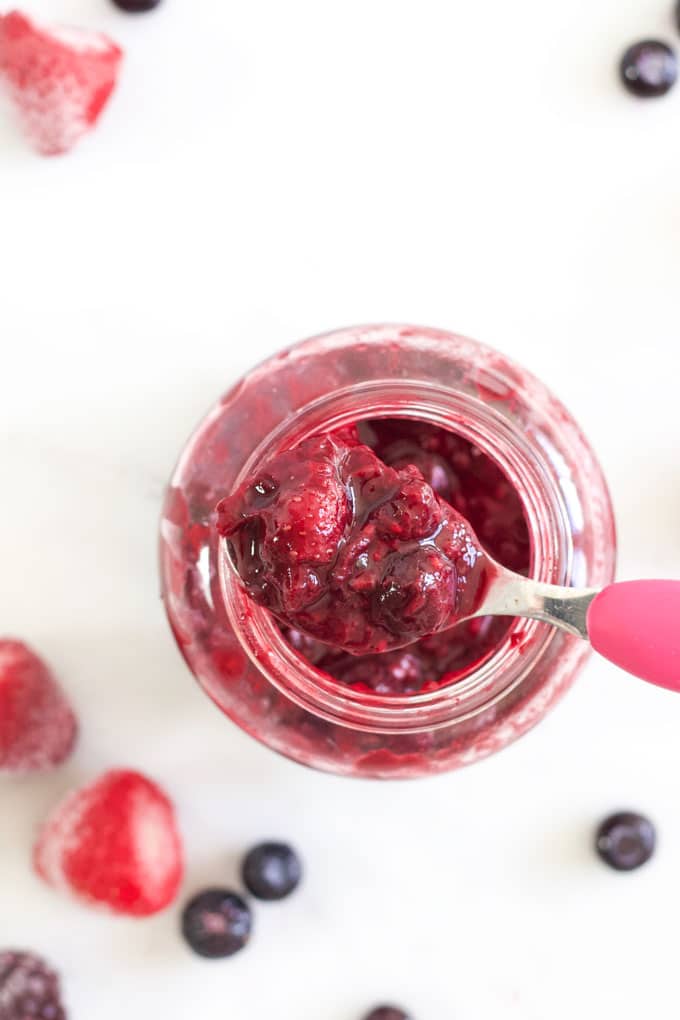 You May Also Like
Have you tried this recipe? I love reading your feedback. Please rate and leave a comment below or tag me on Instagram @healthylittlefoodies
Looking for more healthy kid recipes?Sign up for my free recipe newsletter to get new family friendly recipes in your inbox each week! Find me sharing more kid-friendly inspiration on Pinterest and Instagram.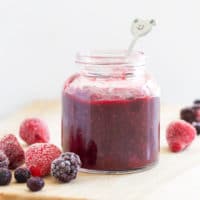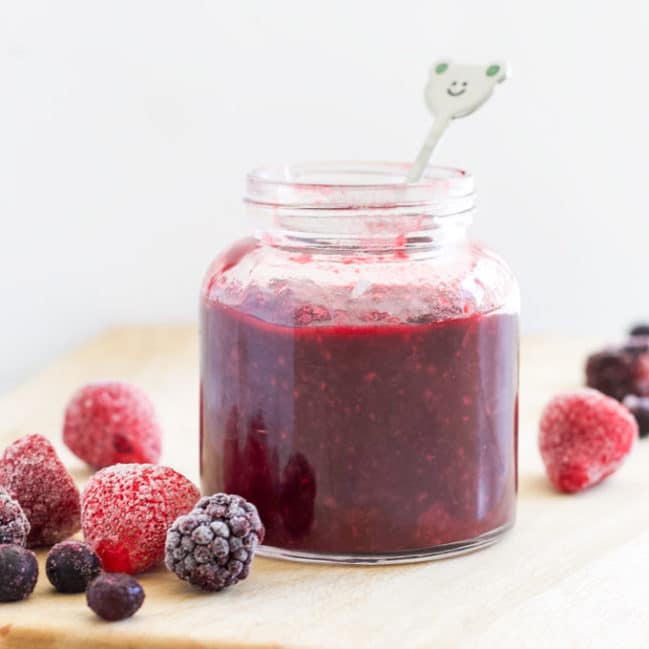 Fruit Compote
A delicious, delicately spice mixed fruit compote.
Prep Time: 5 minutes
Cook Time: 15 minutes
Serves:6
Hover over "serves" value to reveal recipe scaler
Ingredients
430g (3 cups) Mixed Berries (strawberries, raspberries, blueberries etc)
2 tablespoon Fresh Orange Juice
Zest of half an orange
½ teaspoon Cinnamon
teaspoon Ground Ginger
Instructions
Add all ingredients to a saucepan and bring the mixture to a boil over medium-high heat, stirring occasionally

Once bubbling, reduce heat to low and simmer for 10 mins, stirring occasionally. Mash fruit as it simmers, to desired consistency.

Remove from heat and allow to cool before storing in the refrigerator.
Recipe Notes
FRUIT: You can use fresh or frozen fruit. THICKEN: If you prefer a thicker compote then remove the cooked compote from the heat and add 1 tablespoon of chia seeds. Stir through and allow to thicken.  SWEETEN: If you find that your fruit is particularly tart you can add approx 1 tablespoon of sugar as the berries simmer or a drizzle of maple syrup (Do not add sugar/sweetener if making for under 2s) Nutritional information is a rough guide only, calculated using an online nutrition calculator. 
Nutritional facts
Calories: 40kcal | Carbohydrates: 10g | Protein: 1g | Fat: 1g | Saturated Fat: 1g | Sodium: 1mg | Potassium: 50mg | Fiber: 2g | Sugar: 7g | Vitamin A: 45IU | Vitamin C: 4.6mg | Calcium: 8mg | Iron: 0.1mg