You can't beat a warm, sweet and gooey baked banana. A perfect dessert, breakfast or after-school snack
Baking bananas bring out the natural sweetness of the fruit and turns them golden with a soft, gooey texture. They taste amazing all on their own or you can dress them up with a range of toppings and accompaniments.
What to Bake Bananas With
I like to bake bananas will a squeeze of lime juice and a sprinkle of cinnamon. I find the natural sweetness of the banana more than enough and it keeps the dessert healthy.
You could try switching the lime juice for orange juice and adding a pinch of cardamom with a drizzle of vanilla.
If you are looking for something more indulgent and dessert like, then you can add some honey or maple syrup. This will make the baked banana deliciously caramelised.
And one just for the adults.... try adding a tablespoon of rum along with some maple syrup. Delicious!
Baked Banana Topping Ideas
Add some texture and flavour with some of these topping ideas
Peanut butter (pictured)
Toasted Coconut (pictured)
Desiccated Coconut (pictured)
Yoghurt (pictured below)
Crushed Nuts
Cacao Nibs
Chocolate Chips
Honey / Maple Syrup
Ice-cream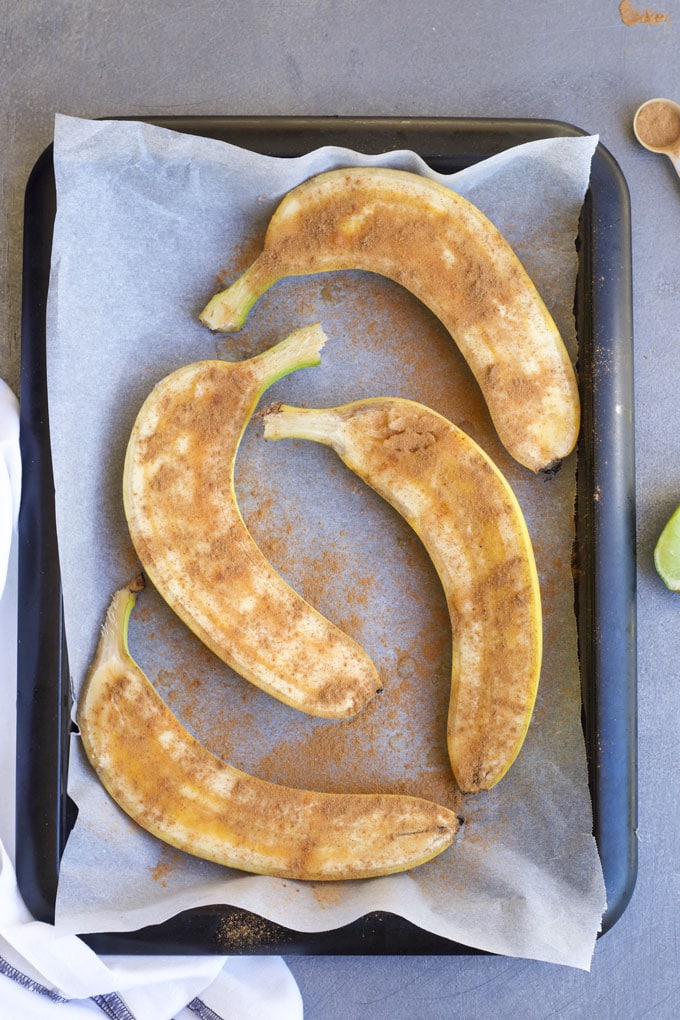 Skin on or Off?
I love to bake bananas in their skin. I think it looks prettier and my kids love to scoop out the soft flesh.
Rory, my 3yr old, is at that stage where if his food breaks or is cut in the wrong way then it is the end of the world! The banana skin keeps the banana in one piece and he is in control of eating it the way he wants!
If you prefer, you can bake them without the skin. Just peel and half lengthways. Alternatively, you can bake in quarters or bite-size pieces.
Bake the bananas for 10 to 15 minutes. This will vary, depending on how ripe your bananas are and how soft you wish them to be.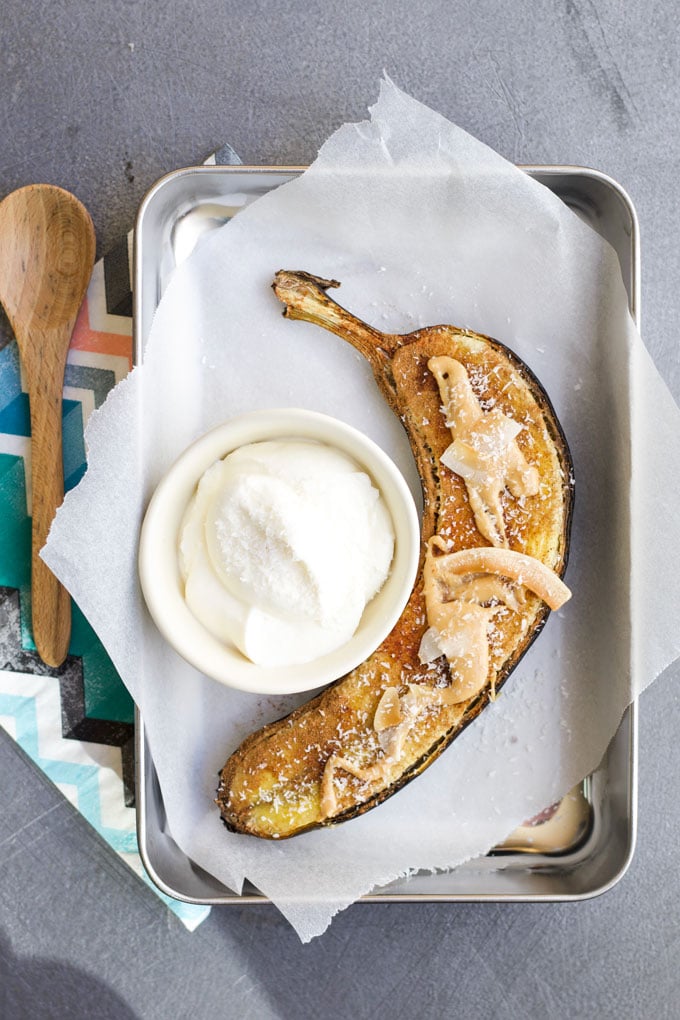 Baked Banana for Babies
As easy as it is to just peel and mash a banana to give a baby, roasting it can take your banana puree to the next level!
Mash or puree the baked banana and serve it alone, or mixed with other fruits, for an irresistible baby puree.
If you are doing baby-led weaning then the baked banana will probably be too soft for your baby to pick up and take to his/her mouth. This may result in frustration and a lot of mess! Instead, your baby may prefer to pick up loaded spoons of the banana.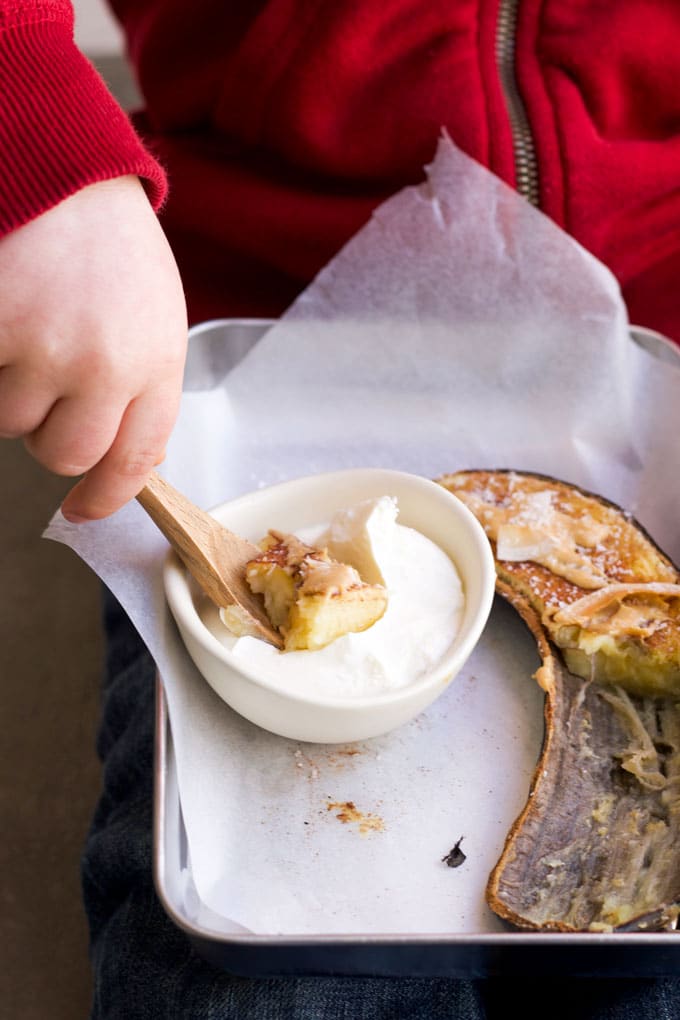 Looking for other banana recipes? Why not try
Strawberry, Mango Banana Bread
Have you tried this recipe? I'd love to know what you think. Please rate and leave a comment below or tag me on Instagram or Facebook.
Looking for more healthy kid recipes?Sign up for my free recipe newsletter to get new family friendly recipes in your inbox each week! Find me sharing more kid-friendly inspiration on Pinterest and Instagram.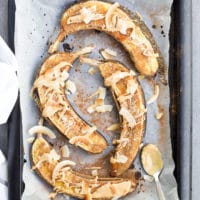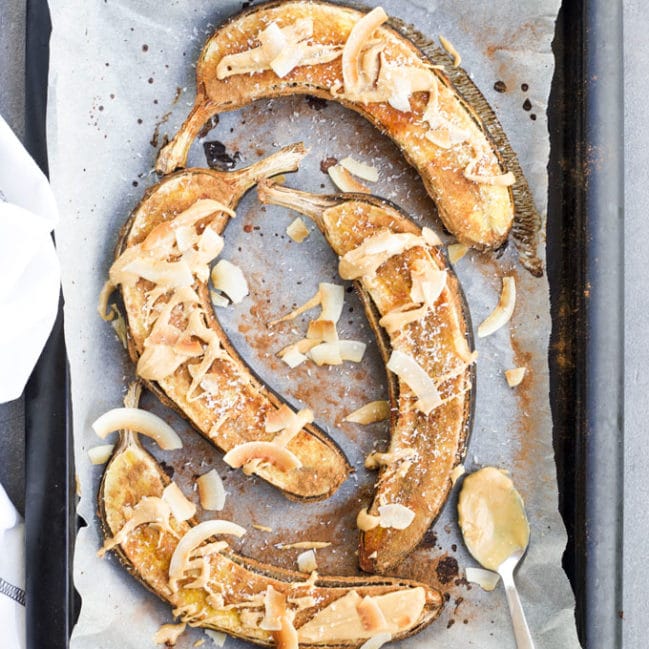 Baked Banana Recipe
A delicious and healthy dessert for babies, kids and adults.
Prep Time: 5 minutes
Cook Time: 15 minutes
Total Time: 20 minutes
Serves:4
Hover over "serves" value to reveal recipe scaler
Ingredients
2 Bananas
½ Lime (juice of)
¼ teaspoon Cinnamon
Instructions
Preheat oven to 200c / 400f and line a baking tray with baking paper or foil.

Slice the bananas in half, lengthways, with the skin still on (see note 1)

Place the bananas on the prepared baking tray and squeeze the lime juice evenly over the bananas. Sprinkle the cinnamon on top.

Bake for 10 - 15 mins. (SEE NOTE 2)
Recipe Notes
1) Leaving the skin on is optional. Feel free to peel it if you prefer.  2) The length of time will vary depending on how ripe your bananas were and how soft you like the end result.  Nutritional information is an ESTIMATE only, calculated using an online calculator.  Results will vary depending on the size of your banana. The results do not include any additional toppings. 
Nutritional facts
Calories: 53kcal | Carbohydrates: 13g | Protein: 0g | Fat: 0g | Saturated Fat: 0g | Cholesterol: 0mg | Sodium: 0mg | Potassium: 211mg | Fiber: 1g | Sugar: 7g | Vitamin A: 40IU | Vitamin C: 6.3mg | Calcium: 3mg | Iron: 0.2mg