These Vegetable Croquettes are crispy on the outside, soft in the inside and packed with veggies. Delicious baked or fried.
Reasons to Love this Recipe
VEGETABLE CONTENT: Packed with 4 different vegetables
VERSATILE: Mix or match the vegetables to suit taste or to use up any leftovers
FREEZER FRIENDLY: Make in advance and freeze until needed
GREAT FOR GETTING KIDS INVOLVED: Get your kids to help mash, mix, form and roll in breadcrumbs.
Watch How to Make Them (Video)
Ingredient Information (With Alternative Suggestions)
You will find the full list of ingredients and ingredient amounts in the recipe card (below). In this section some of the ingredients are explained further and alternative ingredients are noted/suggested.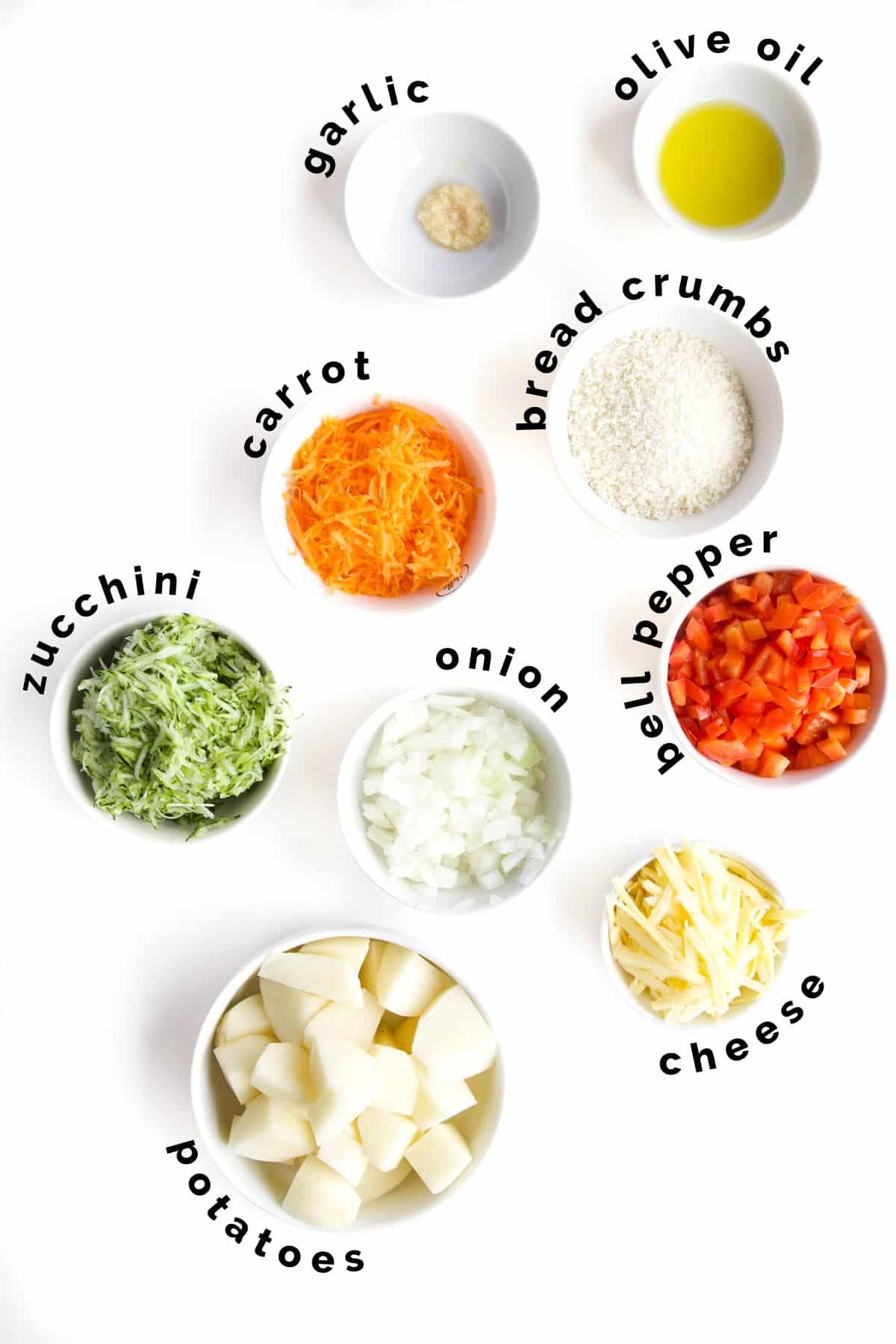 POTATOES: Floury/starchy potatoes are best for this recipe. Varieties include (but are not limited to): Russet, Idaho, Yukon Gold, Maris Piper, King Edward, Desiree and Dutch cream potatoes. Avoid waxy potatoes.
VEGETABLES: I've used onion, carrot, zucchini and bell pepper but you can mix up the vegetables you use. Finely chopped broccoli, mushrooms, spinach, peas or corn would work well too.
CHEESE: Any good melting cheese will work e.g Cheddar, Tasty, Colby , Gouda or Mozzarella,
BREADCRUMBS: Provides a contrast in texture - a crispy outside with soft inside. Panko breadcrumbs are used but they can be replaced with any dried breadcrumbs.
How to Make Vegetable Croquettes (With Process Shots)
The full recipe, with detailed steps can be found in the recipe card at the bottom of the post.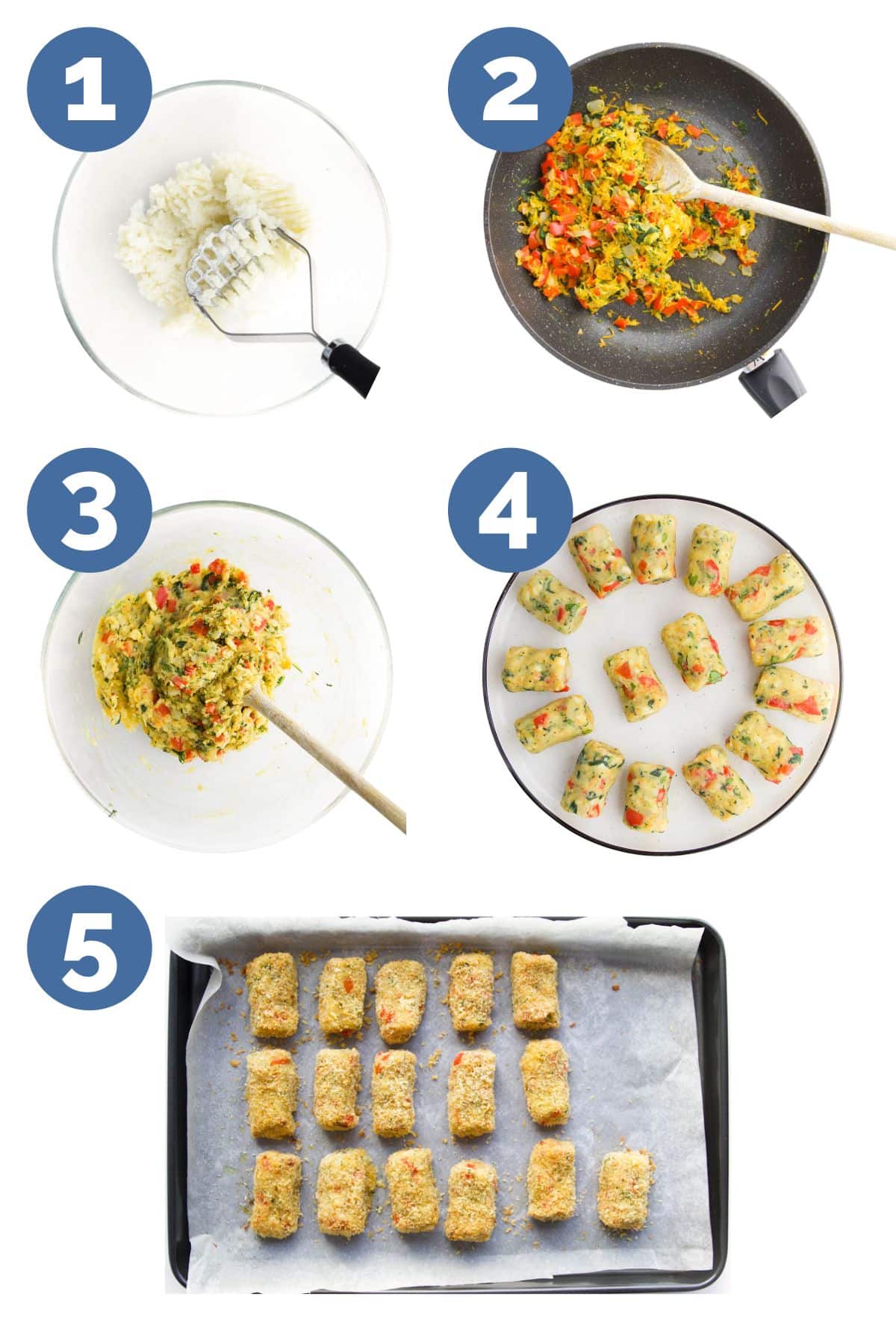 COOK AND MASH POTATO: Boil the potatoes until soft (around 15 mins), drain well and mash. Don't add any butter /cream as you don't want to add extra moisture.
SOFTEN VEGETABLES: Sauté the vegetables until soft
MIX TOGETHER: Mix the potato, vegetables and cheese together. Take a little taste and season accordingly (do not add extra salt if serving to a baby)
FORM CROQUETTES: Remove a heaped tablespoon of the mixture and roll into a log shape, if you find the mixture is too wet and falling apart, add a little breadcrumbs (starting with 1tbsp) to help soak up the moisture.
ROLL IN BREADCRUMBS & BAKE: Place on a baking sheet and bake for 12-15 minutes until the croquettes are golden. I find baking easier as you can cook them all at once but if you prefer, you can also shallow fry.

Pro Tip - Ensuring Croquettes Keep Their Shape
Mash the potato with NO butter or milk. If you're using leftover mashed potato, your mash will most likely have cream and/or butter in. This is ok, the croquettes will be a little softer but you can always stir in a tablespoon of breadcrumbs to soak up any extra moisture and to help firm. Keep adding a tablespoon at a time to get the consistency you are happy to work with.
If the mixture is too soft to form croquettes try chilling the mixture first.
Pro Tip - Achieving a Golden Colour When Baking
Usually croquettes are coated in breadcrumbs and then deep fried which results in a beautiful golden exterior. The biggest downside to baking, for me, is how the croquettes are aesthetically. Baking can result in very pale looking croquettes.
To combat this I pre-bake breadcrumbs, before coating the croquettes, to make them beautiful and golden. Giving the breadcrumbs a light spray of oil and taking an extra few minutes to toast the breadcrumbs means your finished croquettes will be gorgeously golden.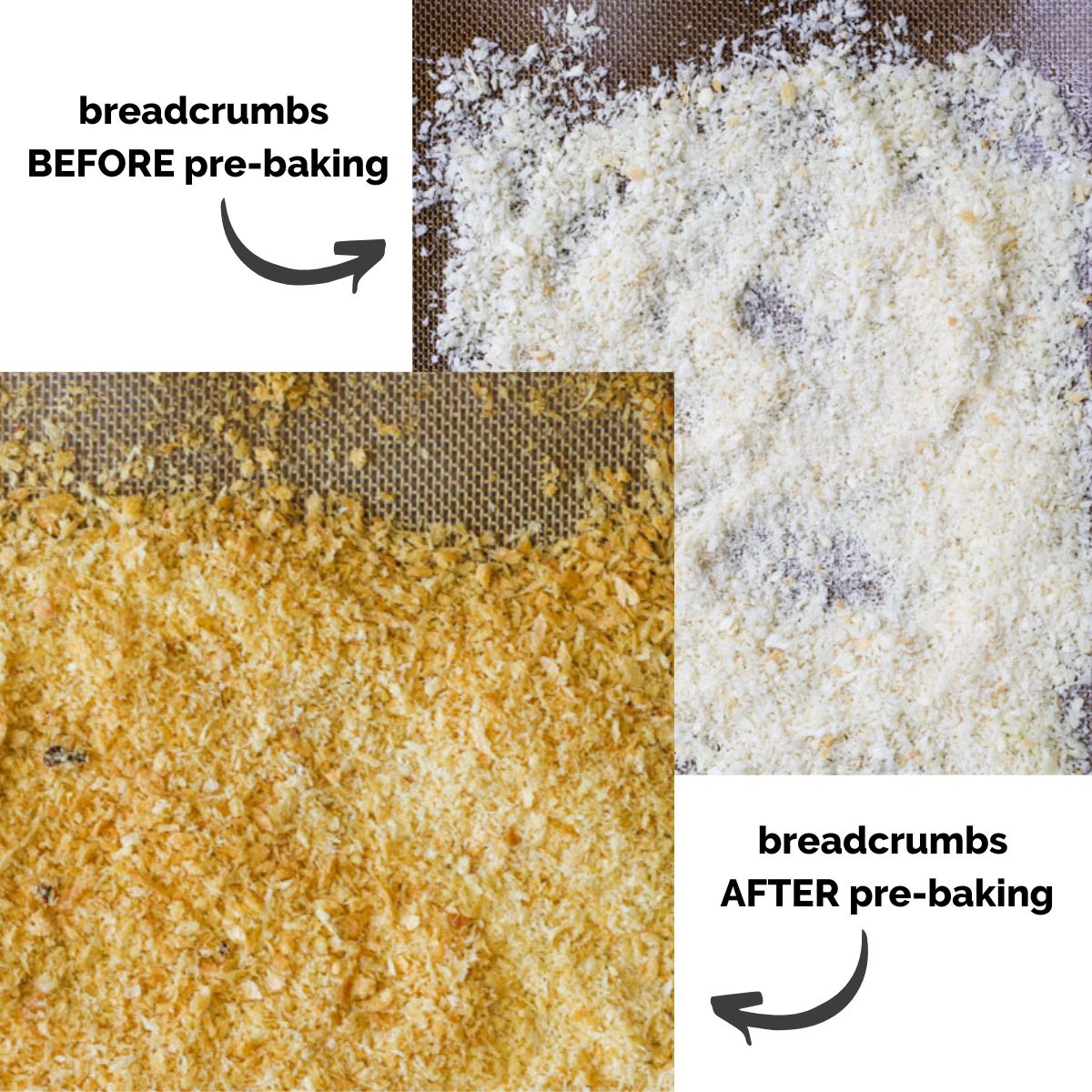 Vegetable Croquettes for Babies & Toddlers
These Vegetable Croquettes are fantastic for babies, they are soft and are a great shape for baby-led weaning. They do contain common allergens (gluten and dairy) so make sure to introduce these separately before offering these to your baby.
Skip the seasoning and reduce the cheese to lower sodium intake.
Serving Suggestions
Kids love finger foods and these croquettes are sure to be a winner. Serve them as a snack or as part of a main meal. If your kids don't mind cold food then you could also pop a couple of these into a lunch box the next day.
Add a dip of choice or for extra nutrition why not try this avocado dip.
My kids love them served with baked beans
Storage Instructions
REFIGERATE: Place in an airtight container and refrigerate for up to 3 days.
FREEZE: Freeze the crumbed croquettes (before baking) on a baking tray until frozen and then transfer to a ziplock bag / freezer container. Freeze for up to 3 months. Bake from frozen until piping hot throughout.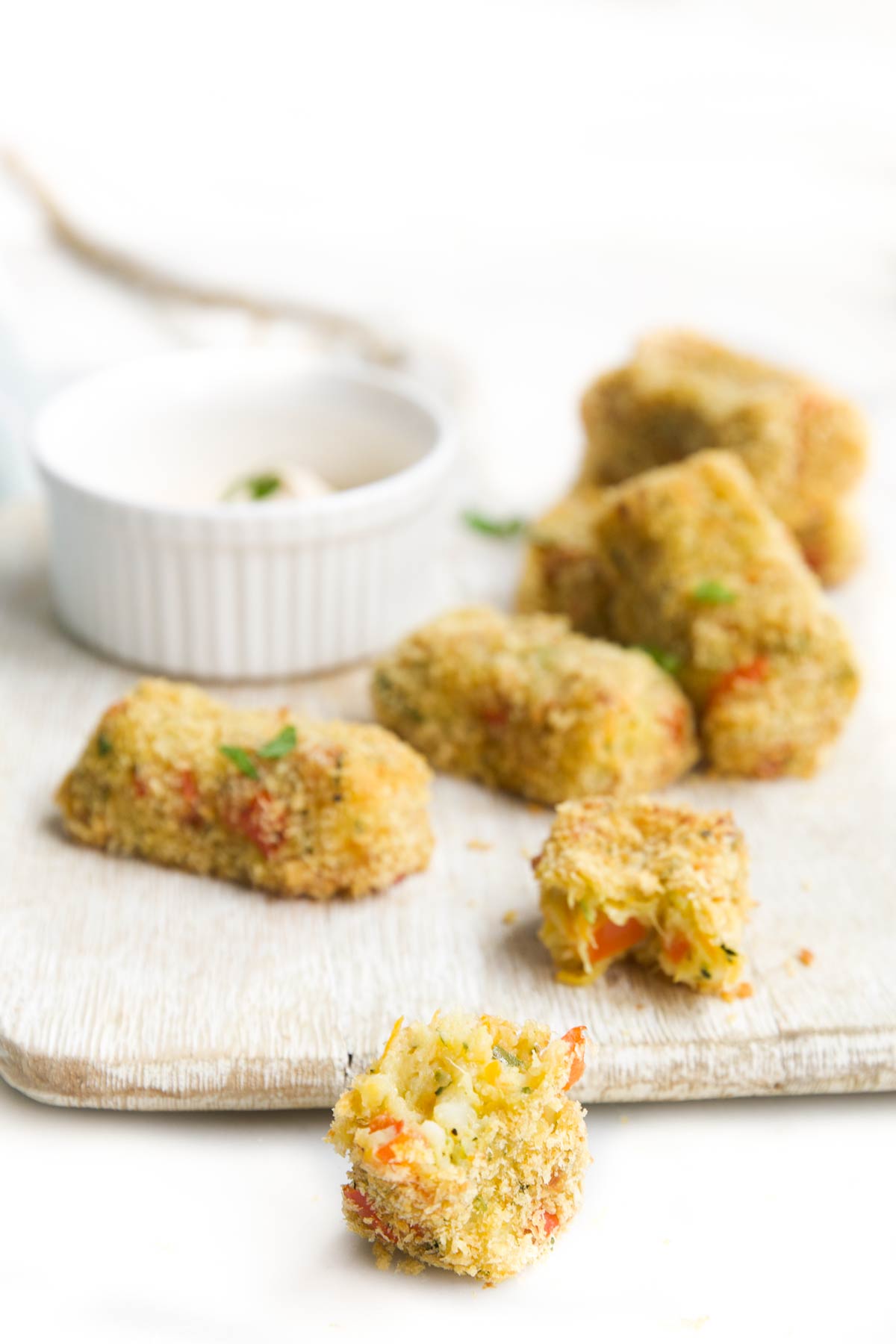 More Vegetable Finger Foods
Looking for more healthy kid recipes?Sign up for my free recipe newsletter to get new family friendly recipes in your inbox each week! Find me sharing more kid-friendly inspiration on Pinterest and Instagram.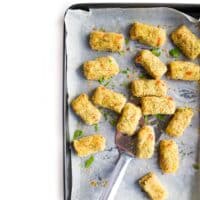 Vegetable Croquettes
Crispy on the outside, soft in the inside and packed with veggies. Delicious baked or fried.
Prep Time: 15 minutes
Cook Time: 30 minutes
Total Time: 45 minutes
Serves:16 Croquettes
Hover over "serves" value to reveal recipe scaler
Ingredients
350g (2-3 medium) Potatoes peeled and cut into rough chunks of approx. 3-5cm cubed (or 1½ cups/340g of cooked mashed potato)
1 tablespoon Olive Oil
1 small Onion, finely chopped
1 Garlic Clove, minced
1 Red Bell Pepper (Capsicum), finely chopped
80g (¾ cup) Carrots, grated
160g (1cup) Zucchini (courgette), grated
45g (⅓ cup) Cheddar Cheese, grated
1 tablespoon Parsley, finely chopped
40g (¾ cup) Panko Breadcrumbs
Instructions
Add the potatoes to a large pan and cover with water. Bring to the boil, cover and simmer until soft (approx. 15 mins).

Meanwhile, add the olive oil to a skillet (frying pan), over medium heat. Add the onion and garlic and cook for around 5 mins, stirring occasionally, until the onion is soft and starting to colour. Add the bell pepper (capsicum) and stir for a further minute. Add the grated zucchini and carrot and stir again for 2-3 minutes or until soft.

Once the potatoes are cooked, strain in a colander, place into a large mixing bowl and mash.

To the mashed potato add the sautéed vegetables , cheese and parsley. Mix until well combined.

Take a heaped tablespoon of the mixture and form into croquettes. I made 16. Place on a baking tray and chill for at least 15 mins. *SEE NOTE 1

Pre-heat oven to 180°C/350°F. Spread breadcrumbs on a baking tray, spray with oil and bake for around 3-5 minutes, until golden. (skip if frying) *OPTIONAL (See note 2)

Increase oven to 200°C/400°F (skip this step if frying) and line a baking sheet with parchment paper.

Roll the croquettes in the toasted breadcrumbs and place in the prepared baking sheet. Repeat until all croquettes are coated.
Baking Instructions
Bake for 13- 15 minutes or until crispy and golden on the outside.
Pan Frying Instructions
Heat a little oil (around 2 tbsp) in a large skillet/frying pan over medium heat.  Fry half the croquettes for about 5 minutes, gently turning until cooked through and golden. Repeat with remaining croquettes. (See note 3)
Recipe Notes
Chilling allows the mixture to firm, making it easier to coat and cook better.
Pre-baking the breadcrumbs is optional (for visual purposes only). Baking can result in pale croquettes and adding this step helps to achieve more golden looking croquettes. 
(Frying)Depending on your pan size you will need to fry in 2, 3 or 4 batches. Try not to overcrowd the pan
Nutritional Information is a ROUGH guide only, calculated using an online nutrition calculator. 
Nutritional facts
Calories: 54kcal | Carbohydrates: 7g | Protein: 2g | Fat: 2g | Saturated Fat: 1g | Polyunsaturated Fat: 0.2g | Monounsaturated Fat: 1g | Cholesterol: 3mg | Sodium: 43mg | Potassium: 165mg | Fiber: 1g | Sugar: 1g | Vitamin A: 1138IU | Vitamin C: 17mg | Calcium: 33mg | Iron: 0.4mg