Banana Blueberry Waffles – A perfect Sunday breakfast!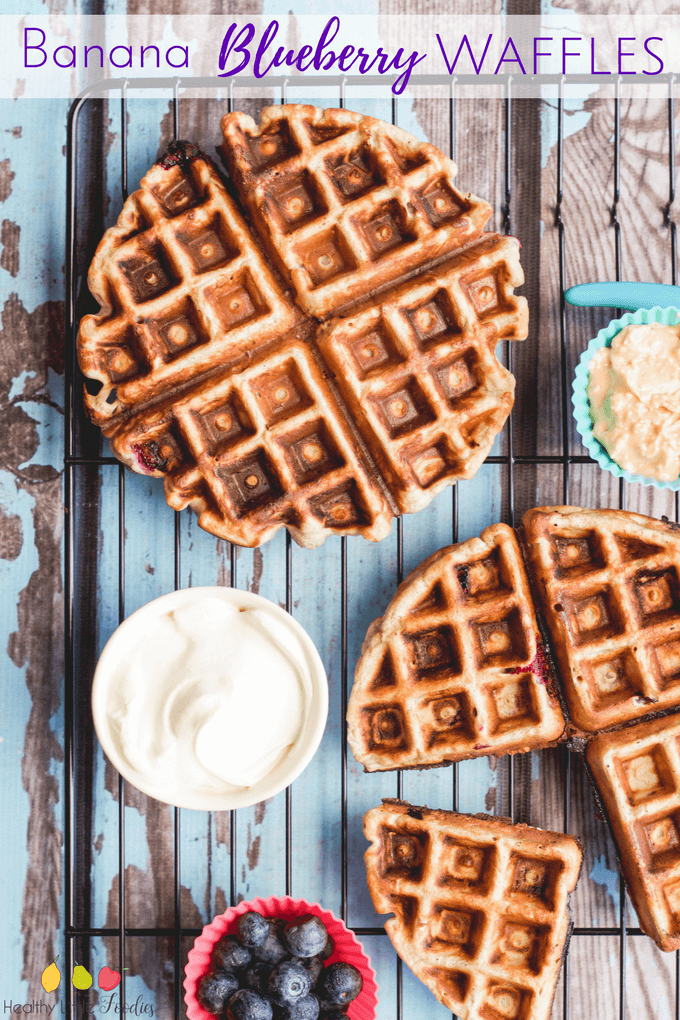 Both my boys are creatures of habit. You do something once and they think you need to to do it ALL the time. I'm not sure when it started but we now have to have pancakes every single Sunday. They don't have to be the same and can be anything from crepes, 2 ingredient banana pancakes, green smoothie pancakes, sweet potato pancakes or just some random recipe I see on Instagram or Pinterest. As long as they get some form of pancake they are happy.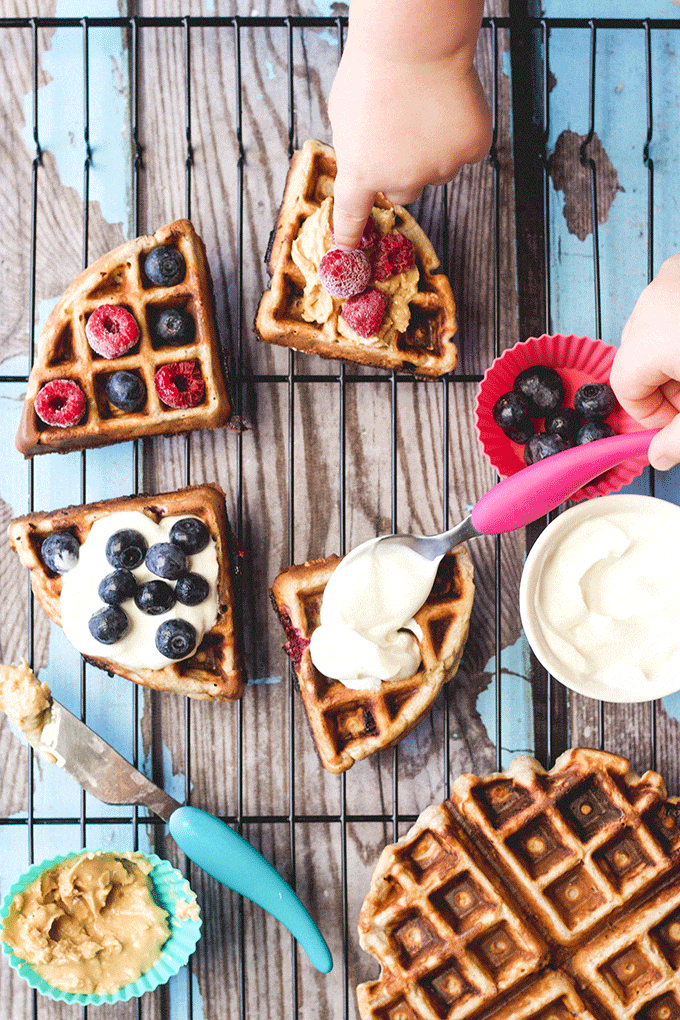 Last week we got a new kitchen toy, a waffle maker, so on Sunday, I suggested waffles for breakfast. Finn was up for the change but Rory didn't look so happy. He helped me make up the batter, which is basically a pancake batter I use a lot and was all ready for me to take out the frying pan. When I pulled out the waffle machine he was not happy….. that was not what you used to make pancakes and he wanted to let me know big style. What followed next was the mother of all two-year-old meltdowns!
Ignoring the screams I went ahead with the waffles. It took some time for Rory to come round but once he saw the waffles, the yoghurt, peanut butter and fruit he was happy to eat up his breakfast. In fact, he was more than happy. He loved the waffle holes and thought it was great that you could fill them with fruit.
Move over pancakes, waffles look to be our new Sunday breakfast.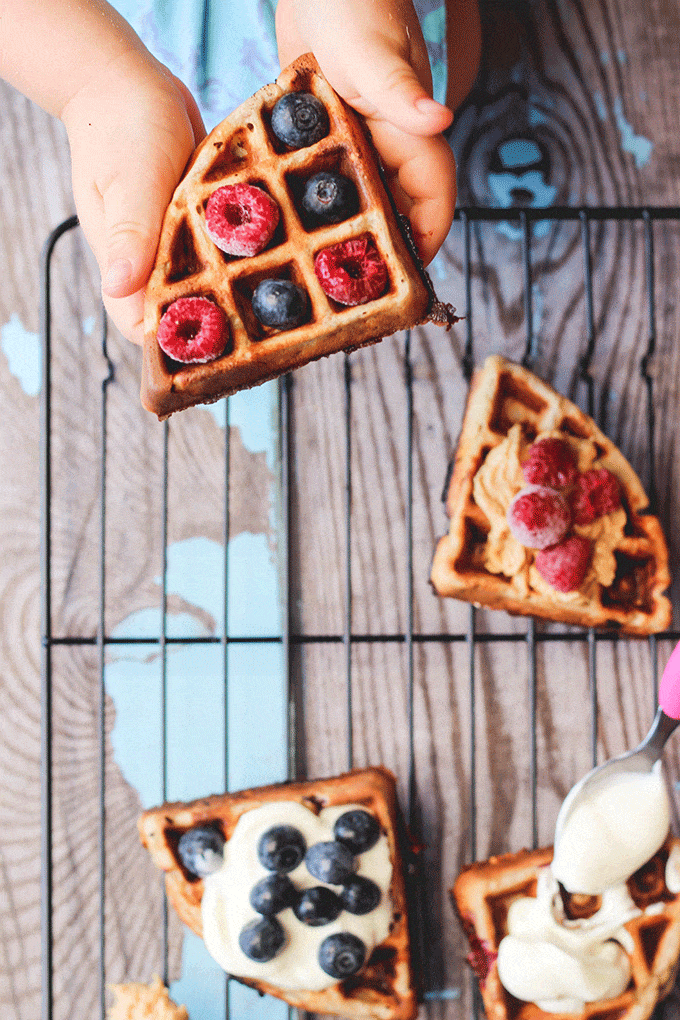 You May Also Like
Have you tried this recipe? I love receiving your feedback, please rate and leave a comment below or tag me on Instagram @healthylittlefoodies
Looking for more healthy kid recipes?Sign up for my free recipe newsletter to get new family friendly recipes in your inbox each week! Find me sharing more kind-friendly inspiration on Pinterest and Instagram.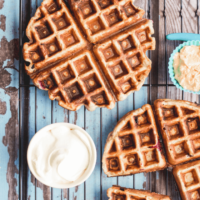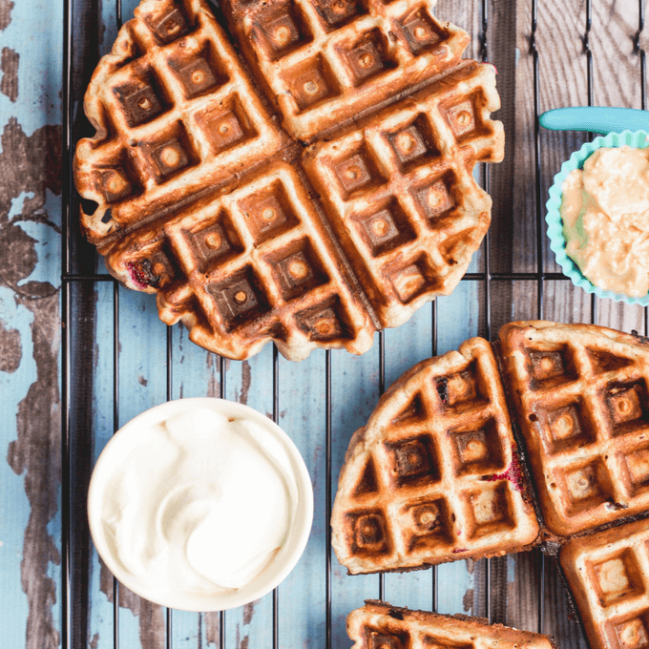 Banana Blueberry Waffles
Banana and blueberry waffles, a perfect Sunday breakfast!
Prep Time: 10 minutes
Cook Time: 10 minutes
Total Time: 20 minutes
Serves:6
Hover over "serves" value to reveal recipe scaler
Ingredients
2 ripe bananas
250ml (1 cup) milk
1 egg
25g (1/4 cup) oats
150g (1 cup) buckwheat flour (can use plain/ all purpose)
2 tsp baking powder
1/2 tsp cinnamon
20 blueberries
Instructions
Pre heat waffle machine and then brush with oil**

Mash bananas until they are a puree consistency, add the milk and eggs and stir until combined. Add the oats and stir.

Mix the flour, cinnamon and baking powder together and stir into the batter until combined.

Stir in the blueberries.

Cook waffles according to waffle machine instructions.

Remove and repeat until batter has finished.

Serve with a selection of toppings (I used yoghurt, peanut butter, fruit)
Recipe Notes
Flour
I used buckwheat flour but it does have a distinctive flavour that may be undesirable for some, you can replace with all-purpose or wholemeal flour. 
Stop Sticking!
I found that I needed to brush the plates with some oil before cooking to stop the waffles from sticking. This will depend on your machine. 
Nutritional information is a ROUGH guide only, calculated using an online nutrition calculator.
Nutrition Facts
Banana Blueberry Waffles
Amount Per Serving
Calories 175 Calories from Fat 27
% Daily Value*
Fat 3g5%
Saturated Fat 1g5%
Cholesterol 31mg10%
Sodium 33mg1%
Potassium 534mg15%
Carbohydrates 33g11%
Fiber 4g16%
Sugar 8g9%
Protein 6g12%
Vitamin A 130IU3%
Vitamin C 3.9mg5%
Calcium 140mg14%
Iron 1.6mg9%
* Percent Daily Values are based on a 2000 calorie diet.