Discover the ultimate Baby-Led Weaning (BLW) Waffles - fruit-sweetened, tasty and easy to eat. These waffles are ideal for little ones just starting their journey into solid foods, but they are not just for babies and toddlers, the whole family will fall in love with these delicious soft waffles.
If you don't already own a waffle iron, it's time to consider one! Waffles are a convenient finger food for your baby and making your own allows you complete control over the ingredients.
Plus, you can go beyond the basic batter and whip up anything from apple waffles, savoury waffles with shredded veggies, to creative options like falafel waffles or waffle omelettes. In this recipe, we're sharing sweet yet healthy waffles made with mashed banana and blueberries, perfect for babies and toddlers.
Jump to:
Reasons to Love these BLW Waffles
Fruit Sweetened: The World Health Organization recommend that children under two should not consume any added sugar. The natural sweetness from the banana and blueberries in these blw waffles means no sweet toppings are necessary.
Texture Experience: These waffles offer crispness on the outside and softness inside with delightful bursts of blueberry, encouraging your little one to explore a range of textures.
Customisable: Easily customised to suit dietary preferences. Whether you're going dairy-free with plant-based milk, egg-free with a flax egg, or opting for gluten-free with a suitable flour blend, you have the flexibility to cater to your family's needs and food allergies.
Freezer-Friendly: Whip up a double batch and store extras in the freezer for a quick and easy breakfast or snack option that's always ready to delight your little one.
Video Tutorial
Ingredient Information and Substitutes
For the full recipe, with ingredient amounts, scroll to the recipe card at the bottom of the post.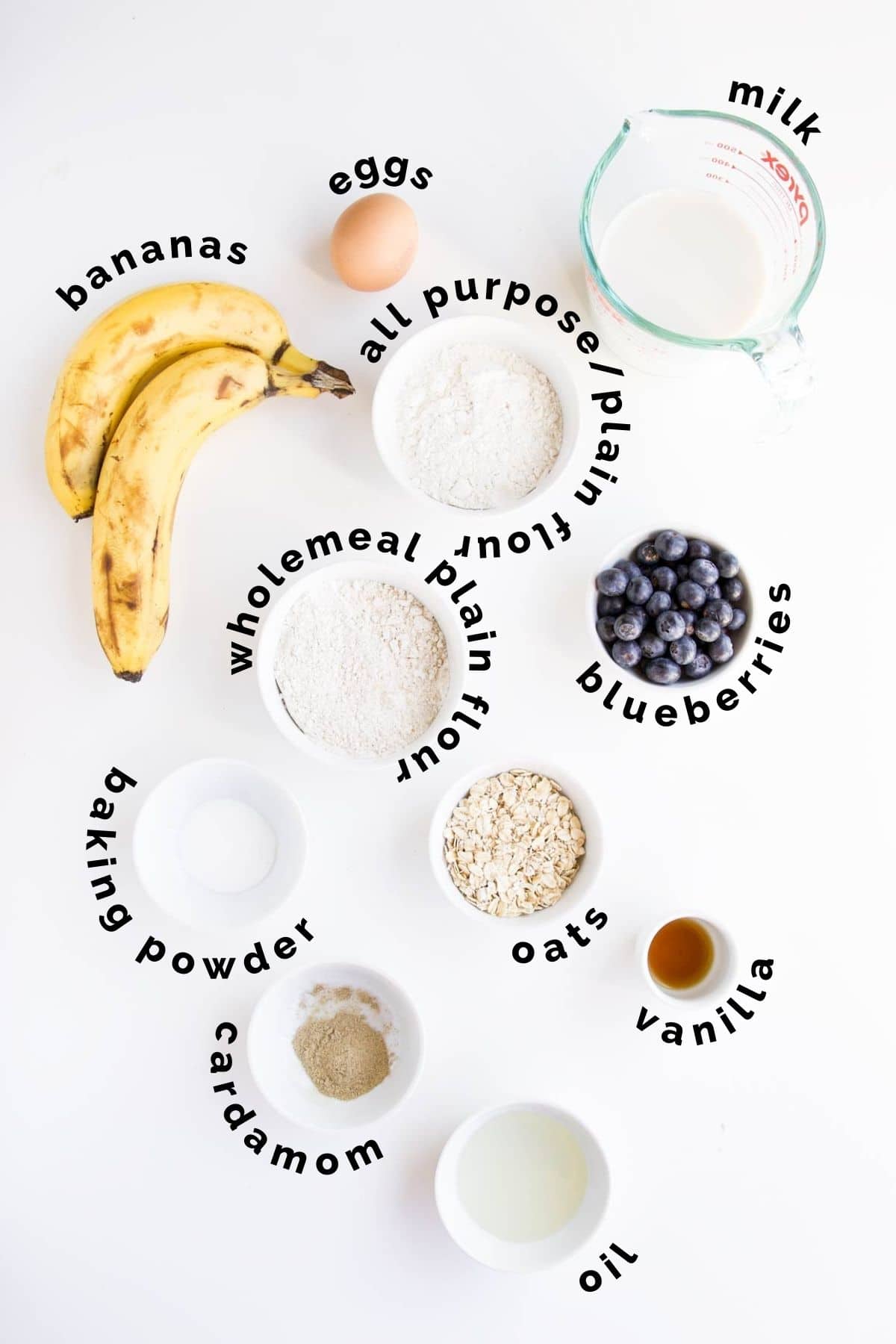 Banana: Adds natural sweetness and flavour. Overripe bananas are best for added sweetness.
Eggs: Enhances tenderness and structure. (For an egg-free option, try a flax egg.)
Flour: I recommend a 50/50 blend of all-purpose and whole wheat flour (wholemeal flour) Adjust ratios to suit taste/health preferences. (Gluten-free flour is an option or oat flour although not tested.)
Milk: Use regular or non-dairy milk (almond milk has been tested and works).
Oil: Any neutral oil or melted coconut oil for a hint of coconut flavour.
Blueberries: For a delightful burst of flavour.
Vanilla Extract & Cardamom: Adds extra flavour (optional).
Step By Step Instructions (with photos)
This section features step-by-step photos for visual reference. The complete recipe can be found by scrolling to the recipe card at the bottom of the post.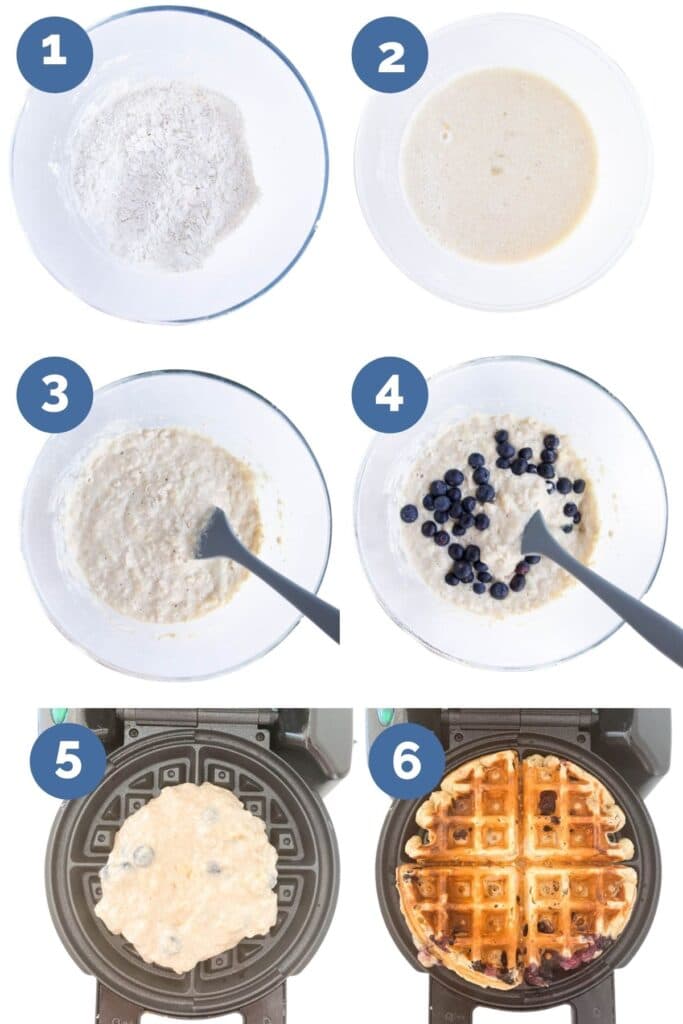 To ensure delicious, soft banana waffles,
Mix Dry Ingredients: In a large bowl, combine flours, oats, baking powder, and cardamom.
Mix Wet Ingredients: Mash the banana, then whisk in the egg and oil. Add milk and vanilla, mixing until combined.
Combine Wet & Dry Ingredients: Pour the wet mixture into the dry ingredients. Gently stir until just combined, being cautious not to overmix.
Add Blueberries: Carefully fold blueberries into waffle batter until evenly distributed.
Cook in Waffle Iron: Preheat and lightly oil your waffle iron. Pour in about a cup of batter (adjust the amount of batter for your iron size - a mini waffle uses around 3 tablespoons of batter) and cook following the manufacturer's instructions, approximately 5 minutes per waffle. The waffles should be golden brown
Keep Warm: To maintain crispiness, place cooked waffles on a wire rack in a 95°C /200 °F oven (unstacked) while finishing the rest of the batter.
Serving Suggestions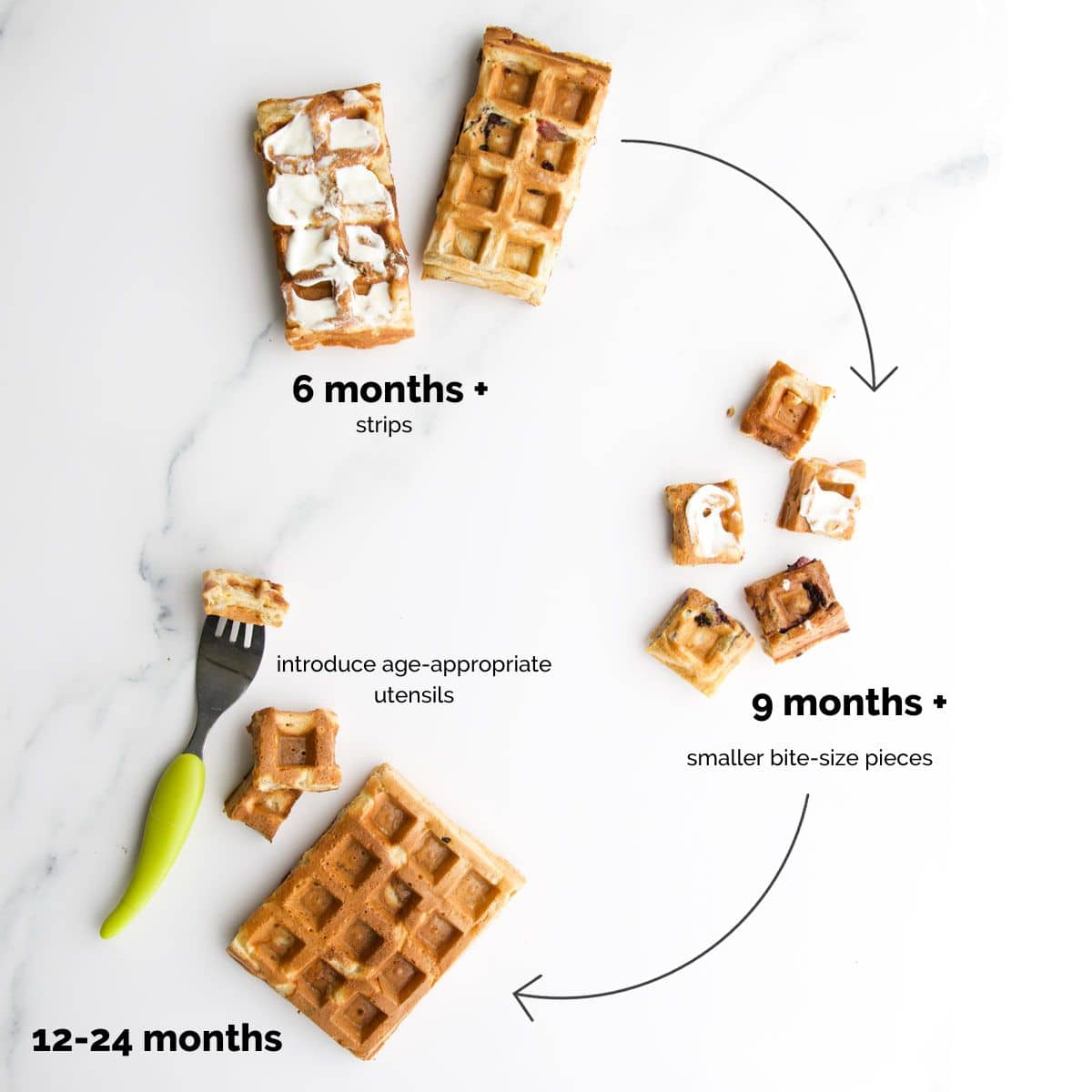 6 months plus
Slice the waffles into strips roughly the size of two adult fingers placed side by side. If your little one isn't quite ready to pick them up independently, hold a strip in front of them, allowing them to grasp it from your hand. For added flavour and moisture, consider lightly spreading a thin layer of yogurt, apple sauce, nut butter or chia jam on the waffle strips.
9 months plus
Once your baby has mastered the pincer grasp, you have the option to introduce waffles cut into smaller, bite-sized pieces. Of course, you can still offer waffle strips.
Toddler
Continue offering waffles in either strip or bite-size form or even individual mini waffles. At this stage, it's a great opportunity to introduce age-appropriate utensils for practice.
Healthy Topping Ideas
Natural Greek yogurt
Thin layer of peanut butter
Fresh fruit
Storage Instructions
If you find yourself with leftover waffles you can
Refrigerate: Store waffles in an airtight container in the refrigerator for up to 2 days.
Freeze: For longer storage, freeze waffles in a single layer on a baking sheet until solid, then transfer to a freezer-safe bag. It is a good idea to pre-cut the waffles to the desired size they can be stored in the freezer for up to 1 month.
Reheating: To enjoy again, reheat the frozen waffle in a preheated oven at 175°C / 350°F until crisp and warm.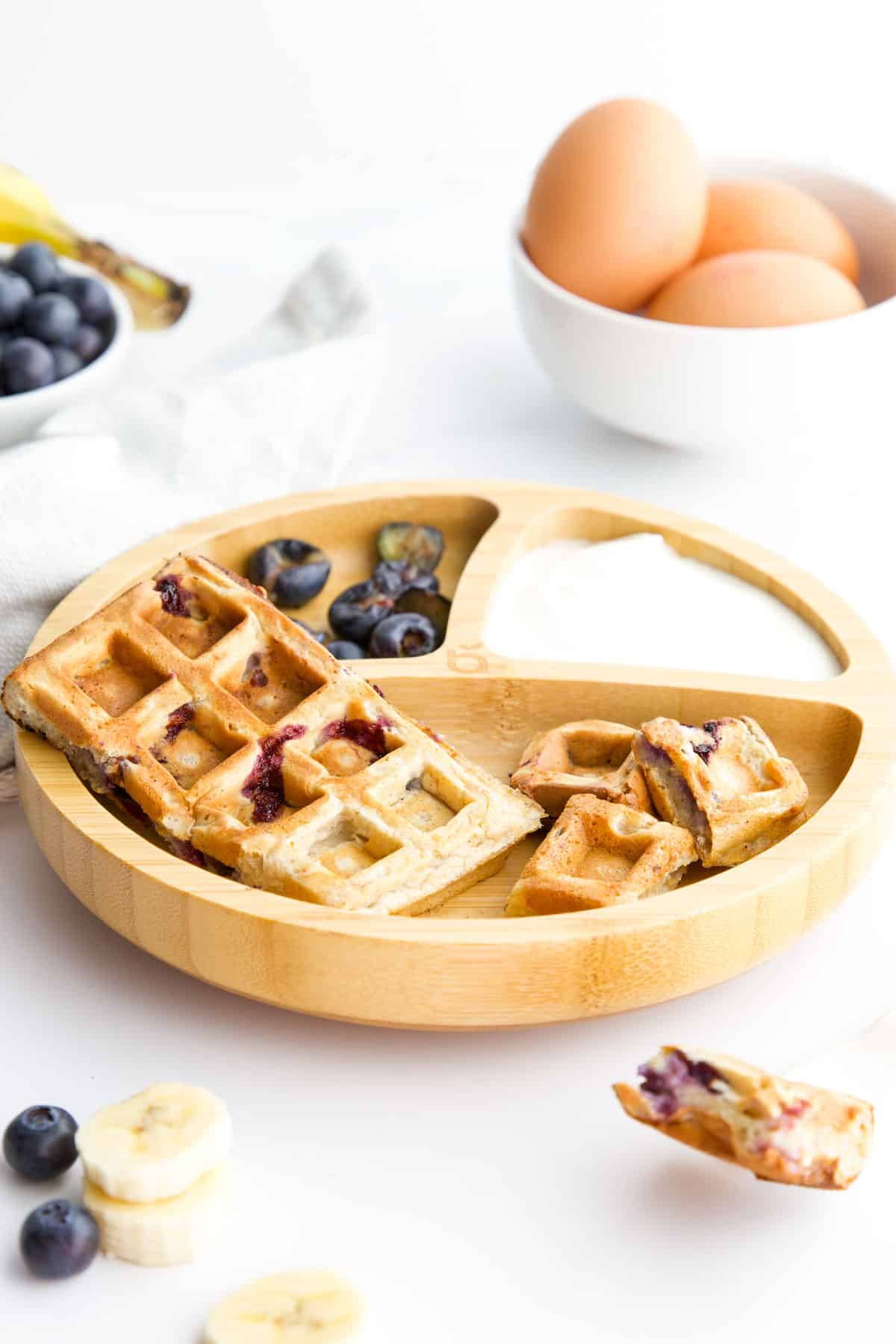 Frequently Asked Questions
When can I serve these waffles to my baby?
When your baby transitions to finger foods will depend on their development and readiness, usually 6 months plus. Once your baby is comfortable with finger foods, they should be able to handle these waffles. However, it's essential to note that these waffles contain common allergens, such as dairy, egg and wheat. Introduce these waffles only after your baby has been safely introduced to these allergens.
Are whole blueberries ok to add when making for a baby
The blueberries go very soft and squishy when baked and I was more than happy serving these to my kids when they were babies/toddlers. You can always chop the blueberries if you prefer.
Are waffles healthy for babies?
The healthiness of waffles varies depending on the recipe. Many pre-made waffles or waffle recipes are laden with oil, sugar, and sometimes honey, which isn't suitable for children under 1 year old. These BLW waffles offer a healthier alternative. It includes minimal oil and relies on fruit for sweetness. Additionally, half of the flour is substituted with wholemeal, providing added fiber. Avoid adding sweet toppings such as maple syrup, honey or powdered sugar. 
More BLW Waffles and Pancakes
Looking for more healthy kid recipes?Sign up for my free recipe newsletter to get new family friendly recipes in your inbox each week! Find me sharing more kid-friendly inspiration on Pinterest and Instagram.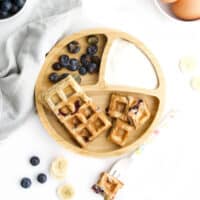 Banana Blueberry BLW Waffles
Banana waffles with bursts of blueberries. 
Prep Time: 10 minutes
Cook Time: 10 minutes
Total Time: 20 minutes
Serves:3 (Belgium Style Waffles)
Hover over "serves" value to reveal recipe scaler
Ingredients
½ cup (70g) All-Purpose / Plain Flour
½ cup (70g) Wholemeal Plain / Whole-wheat Flour
1 teaspoon Baking Powder
1 teaspoon Ground Cardamon
¼ cup (25g) Rolled Oats
2 Ripe Bananas
1 Egg
1½ tablespoons Oil
1 cup (250ml) Milk
1 teaspoon Vanilla Extract
½ Cup (80g) Blueberries
Instructions
Mix the flours, oats, cardamom and baking powder together.

Mash the bananas in a large mixing bowl. Add the egg and stir until combined. Add the oil and whisk again. Add the milk and vanilla and stir until mixed well.

Add the dry ingredients to the wet ingredients and gently stir until just combined. The batter should be cake-like in texture. It will be thick, not runny, but pourable.

Add the blueberries and stir once more.

Preheat waffle iron. Once iron is ready, spray with cooking spray (not all waffle machines require this)

Add approx 1 cup of batter to the waffle iron (adjust based on size of waffle iron) and cook according to manufacturer instructions. (Mine took 4-5 mins)

Remove and place on a cooling rack. Repeat until batter has finished.
Recipe Notes
These waffles are not as sweet as regular waffles as they were developed for babies/toddlers. If you are looking to make them sweeter, for older kids or adults, then you can add some sugar to the batter or replace the blueberries with chocolate chips! Alternatively, you can serve them with a sweet topping.  Nutritional information is a ROUGH guide only, calculated using an online nutrition calculator. Does not include any toppings.
Nutritional facts
Calories: 420kcal | Carbohydrates: 67g | Protein: 12g | Fat: 13g | Saturated Fat: 3g | Polyunsaturated Fat: 2g | Monounsaturated Fat: 7g | Trans Fat: 1g | Cholesterol: 63mg | Sodium: 60mg | Potassium: 657mg | Fiber: 7g | Sugar: 17g | Vitamin A: 279IU | Vitamin C: 10mg | Calcium: 192mg | Iron: 3mg