Get ready to embark on a spooktacular morning adventure with your little ghouls and goblins! These easy Halloween Breakfast Ideas will delight both toddlers and bigger kids. From spooky oats to eerie pancakes, these playful twists on classic breakfasts are sure to make your little ones scream with delight.
We've conjured up a bewitching collection of Halloween morning delights. From hauntingly delicious oats and toast to spine-tingling pancakes, chillingly good smoothies, and egg-citing surprises, these creative breakfast ideas will make Halloween morning memorable and magical.
Jump to:
Reasons to Love these Halloween Themed Breakfast Ideas
Kid-Approved Nutrition: These Spooky Halloween Breakfast Ideas offer a perfect blend of fun and nutrition. Say goodbye to the sugar rush, and hello to a balanced start to the day of Halloween celebrations!
Effortless Creativity: You don't need to be a culinary artist to bring these fun breakfast ideas to life. They're designed with simplicity in mind, allowing you to effortlessly create memorable morning moments that your kids will cherish.
Age-Inclusive: Whether you have a toddler or a bigger kid at home, these recipes are suitable for the entire family. Just remember to customize them for the little kids by avoiding choking hazards, such as candy eyeballs, whole blueberries or olives.
Smiles Guaranteed: With minimal effort, you'll conjure up breakfasts that are not only tasty but also sure to put a smile on your child's face. Get your kids involved in the process, and watch their creativity flourish as they join in making these fun Halloween breakfast ideas.
Spooktacular Oatmeal
Oatmeal is a beloved breakfast classic, and these simple Halloween breakfast ideas will only add a pinch of extra time to your morning routine: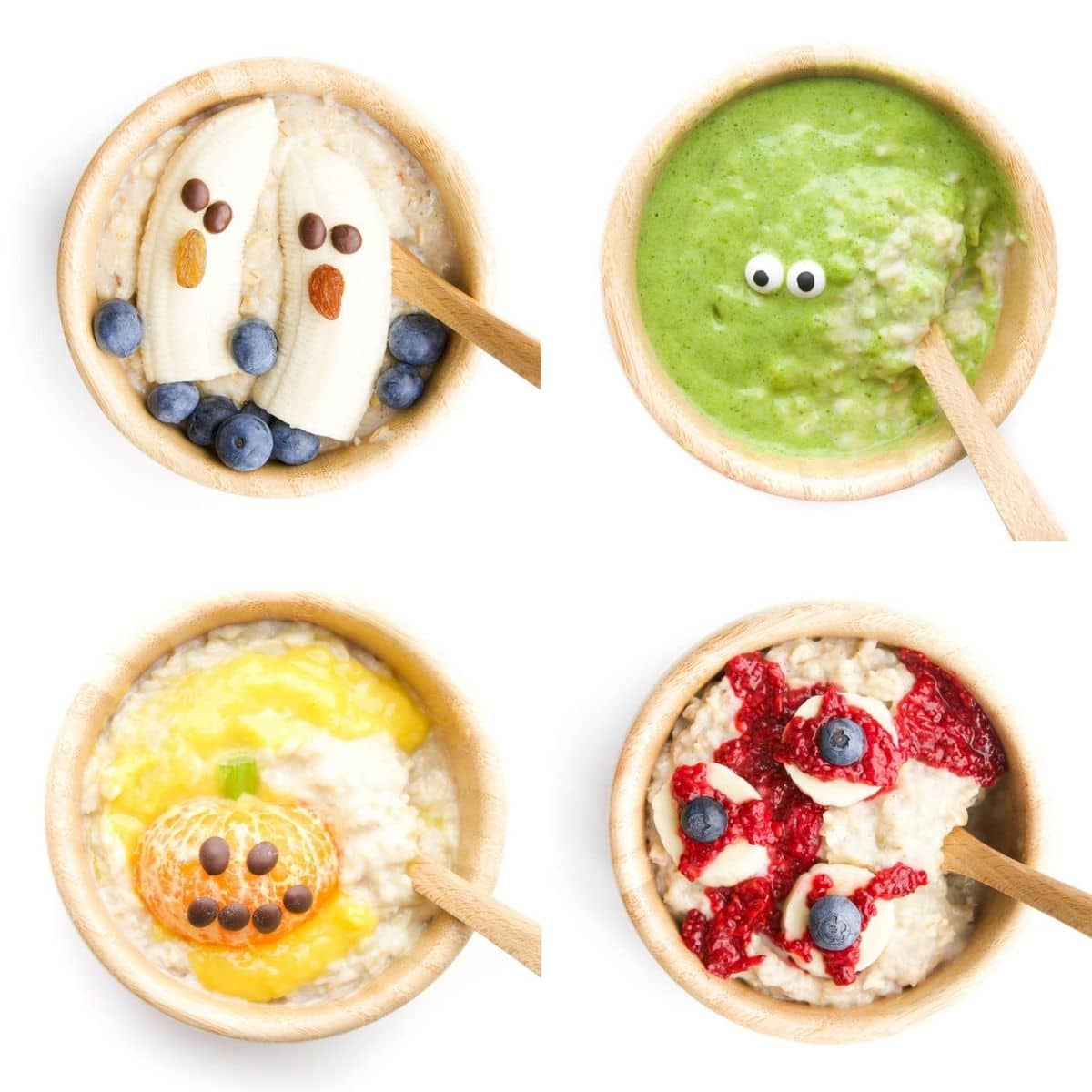 Goulish Toast Creations
Toast, that timeless breakfast favourite, undergoes a bewitching transformation with these Halloween ideas that will add just an extra 5-10 minutes of playful magic.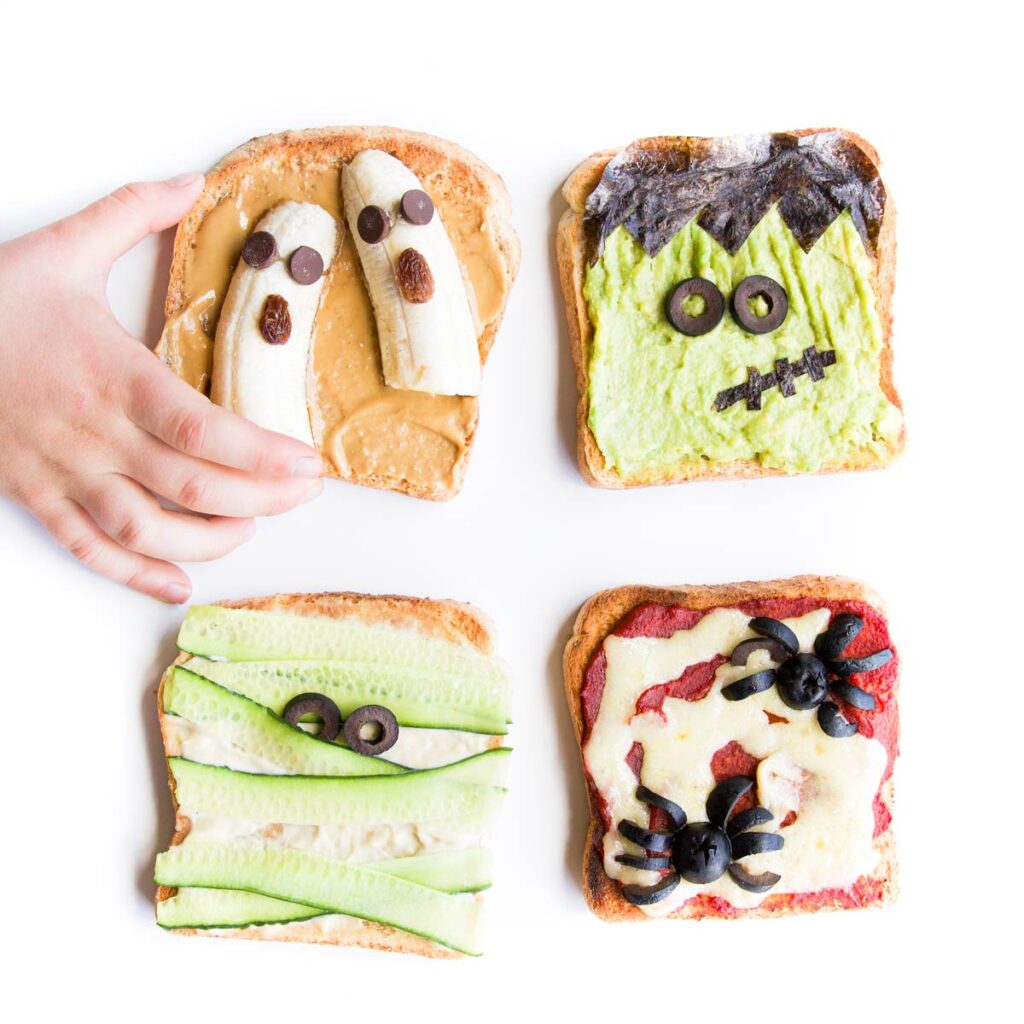 From the whimsical banana ghost toast to the eerie Fankenstein toast, the adorable little mummies and the scary spider web toast. This post on Halloween Toast Ideas includes step-by-step instructions and will have you whipping up these masterpieces in no time.
But that's not all! The possibilities are endless. Here are some other frightfully fun Halloween-themed toast ideas:
Halloween Shape Toast: Get your hands on Halloween cookie cutters to carve out spine-chilling shapes in your toast.
Pumpkin Toast: Spread with cream cheese and top with mini clementine pumpkins.
Halloween Sprinkle Toast: Add a sprinkle of Halloween-themed joy with some spooky sprinkles.
Let's toast to a memorable Halloween brunch or breakfast!
Spine-Tingling Halloween Pancakes
If you've got a little extra time to spare, then these easy Halloween pancakes are the perfect breakfast treat that guarantees big smiles when you serve up a stack of spooky delights.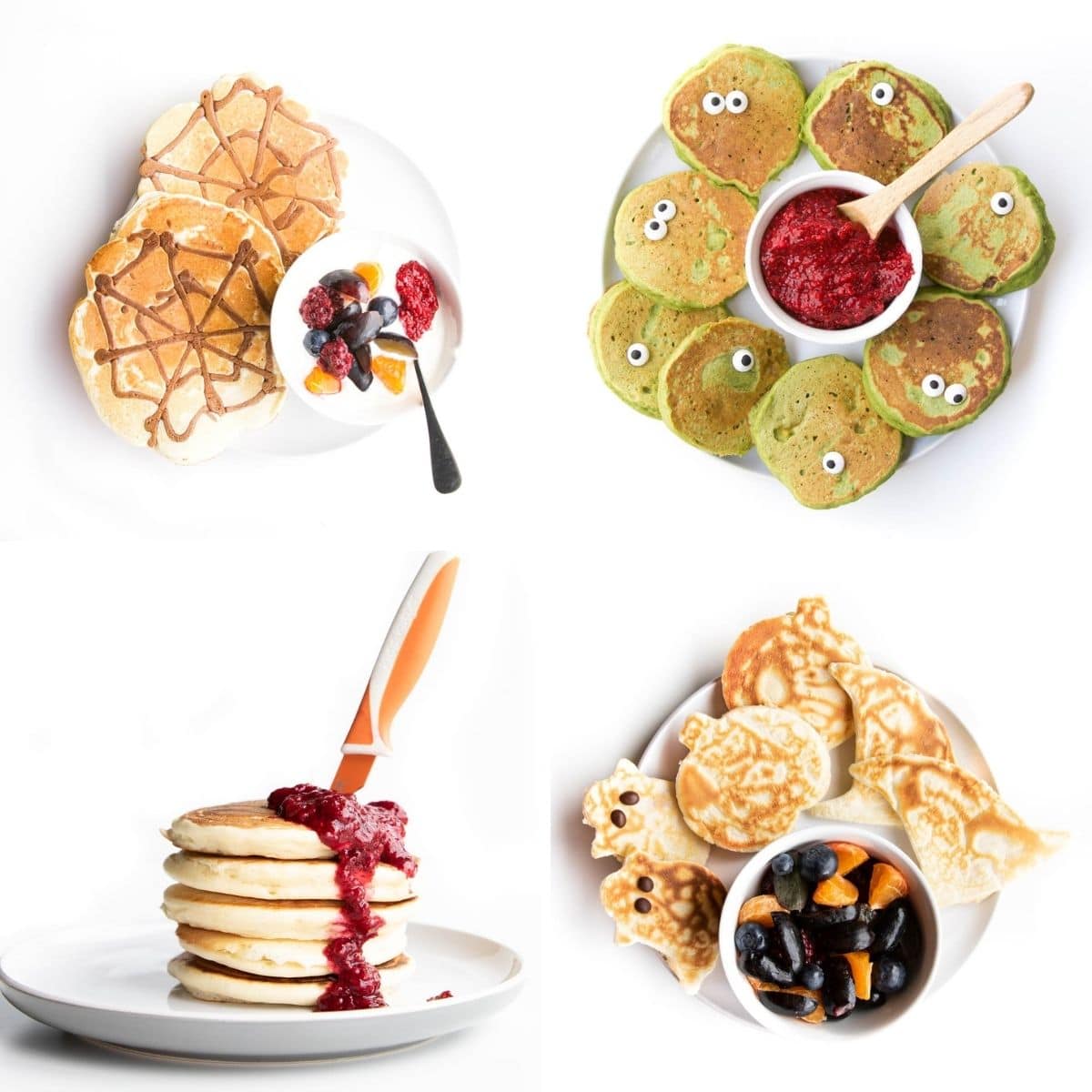 This Halloween Pancakes post, features step-by-step instructions on crafting spider web pancakes using a squeeze bottle, whipping up healthy Halloween monster pancakes with green pancake batter and candy eyes, or concocting a kid-friendly, 'bloody' stack with a playful knife and chia jam. You can also get creative with Halloween cookie cutters to make Halloween shaped pancakes.
And if you're hungry for more pancake inspiration, why not venture into these delectable pancake ideas from around the web:
With these spooky treats, your Halloween breakfast is sure to be a spine-tingling delight!
Haunted Halloween Smoothies
Smoothies not only taste fantastic but are also packed with fruit (or veggies) that kids generally adore. For a fun breakfast idea, add a spooky twist by drawing a haunting face or image on your smoothie jar and filling it with the appropriate coloured smoothie. It's simple, easy, delicious and so much fun!
In this Halloween Smoothies post, you'll discover recipes for a "bloodshot eye" beetroot and berry smoothie a "Frankenstein" green smoothie , a "Pumpkin" orange smoothie, and a "Ghost" banana milkshake smoothie that will surely cast a spell on your taste buds.
But that's not all! Explore other enchanting Halloween smoothies from around the web:
All these Halloween smoothies aren't just perfect for breakfast but would also make a spooktacular addition to any Halloween party for toddlers.
Halloween Egg-Stravaganza
Eggs are a fantastic way to kickstart your day, and these egg creations are not only a fun way to begin but also super easy to prepare. If you're planning to make deviled eggs, consider boiling them the night before to streamline your morning routine.
Spooky Eggs - Hard boil some eggs and use a food safe marker to draw spooky faces on the shell. Let your young children have fun peeling the egg before eating.
Ghostly Hardboiled Eggs - Hard boil and peel your eggs. Using a straw (mine was a metal straw), push into the egg to make small circle holes for the eyes and mouth.
Deviled Eggs- For the pumpkin and spider devilled eggs you can use this base recipe. For the eyeball and devil horn eggs, you can use this avocado devilled egg recipe.
- Pumpkin Eggs - add a little celery as the stalk and sprinkle with smoked paprika.
- Spider Eggs -cut a black olive in half for the body and slice the other half to make legs.
- Eyeball Eggs - top with a slice of stuffed olive stand
- Devil Horn Eggs - add small strips of red bell pepper (capsicum) to make the horns.
And why not complement these Halloween eggs with a side of spooky fresh fruit salad, featuring a medley of black and orange fruits? It's a healthy breakfast with a fun twist that's sure to captivate the whole family. Its an ideal way to kickstart your day on a fun note or enjoy as a delightful snack!
Wishing you a Happy Halloween. What is your favourite Halloween breakfast ideas? Let me know in the comments below!
Looking for more healthy kid recipes?Sign up for my free recipe newsletter to get new family friendly recipes in your inbox each week! Find me sharing more kid-friendly inspiration on Pinterest and Instagram.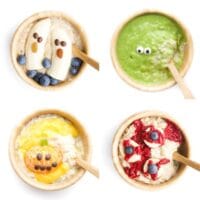 Halloween Breakfast Ideas (Spooktacular Oatmeal)
Oatmeal is a beloved breakfast classic, and these simple Halloween breakfast ideas will only add a pinch of extra time to your morning routine:
Prep Time: 10 minutes
Cook Time: 5 minutes
Total Time: 15 minutes
Serves:1
Hover over "serves" value to reveal recipe scaler
Ingredients
Ghost Oatmeal
½ Banana
4 Chocolate Chips
2 Raisin
¼ cup Blueberries
Monster Oatmeal
¼ cup Green Smoothie
2 Candy eyes
Bloodshot Eye Oatmeal
3 Banana Slices
2 tablespoon Chia Jam
3 Blueberries
Instructions
Ghost Oatmeal
Place cooked oatmeal in a small round bowl.

Slice the half banana lengthwise through the middle, creating two sections, and then position both of them flat side down on top of the oatmeal.

Position two chocolate chips at the top end of each banana to create eyes, and use raisins to form a mouth. Scatter the blueberries at the bottom.
Monster Oatmeal
Fill a small bowl ¾ full of oatmeal and top with the green smoothie.

Add two candy eyes to bring your monster oatmeal to life!
Pumpkin Oatmeal
Place cooked oatmeal in a small round bowl and swirl in the pumkin or mango puree.

Top with the half clementine to resemble a pumpkin. Use the chocolate chips to create eyes and a mouth on the clementine. Finally complete by adding the celery piece as the pumpkin stalk.
Bloodshot eye Oatmeal
Transfer cooked oatmeal to a serving bowl and place the slices of banana on top.

Drizzle the chia jam over the banana and oatmeal in a way that resembles dripping blood. Get creative!

For the pupils of the eyes, arrange the blueberries onto each banana slice.
Recipe Notes
When serving young children, be mindful of choking hazards. Whole blueberries can pose a risk to very young children, and candy eyes are considered dangerous for those under 4 years old. To make a safer choice, consider using a white chocolate drop topped with a dark chocolate chip as a replacement for candy eyes. Click for Step by Step Instructions for more Halloween Breakfast Ideas Servings, timings and nutrition is based on the ghost oatmeal only. I can not add additional information for the other oatmeal varieties.  Nutritional Information is a ROUGH guide only, calculated using an online nutrition calculator. Facts are based on one bowl of the Ghost oatmeal. 
Nutritional facts
Calories: 262kcal | Carbohydrates: 50g | Protein: 7g | Fat: 5g | Saturated Fat: 2g | Polyunsaturated Fat: 1g | Monounsaturated Fat: 1g | Sodium: 11mg | Potassium: 423mg | Fiber: 6g | Sugar: 14g | Vitamin A: 58IU | Vitamin C: 9mg | Calcium: 29mg | Iron: 2mg