Easy Halloween breakfast ideas that your kids will love. These ideas are all easy to make, fun and based on regular breakfasts.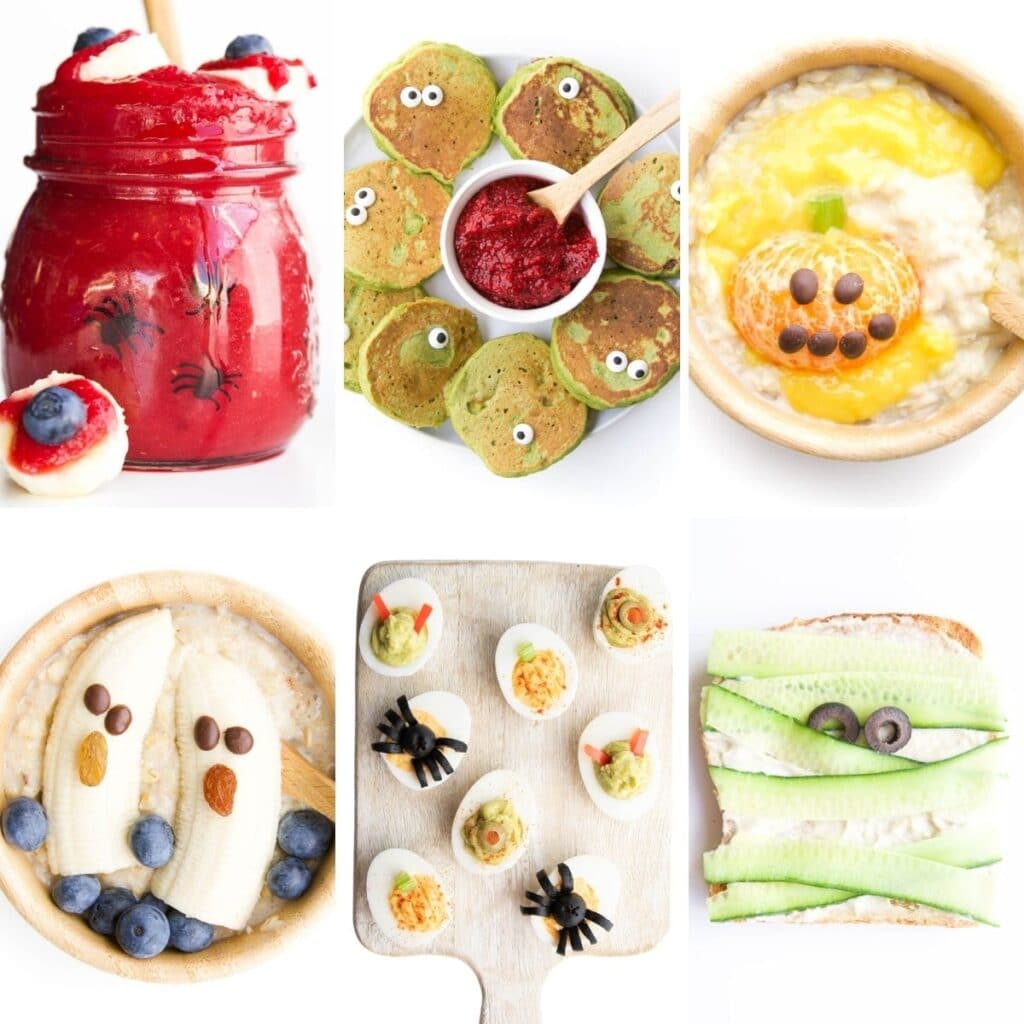 Reasons to Love these Halloween Breakfast Ideas
EASY: I'm in no way a food art expert so all these ideas are easy and don't take too long to make. With very little effort, you will be sure to bring a smile to your little one's face. Even better, get your kids involved and let their creative juices flow.
HEALTHY: I've deliberately chosen healthier ideas based on common, kid friendly, breakfasts (oatmeal, toast, pancakes and eggs)
ALL AGES: All the recipes are appropriate for toddlers and up. Just be mindful of choking hazards/ chewng ability (edible eyes, whole blueberries, olives etc) Remove them / alter them to be toddler friendly)
Halloween Oats / Cereal
Oatmeal is a popular breakfast choice and these fun Halloween ideas will only take you an extra five minutes...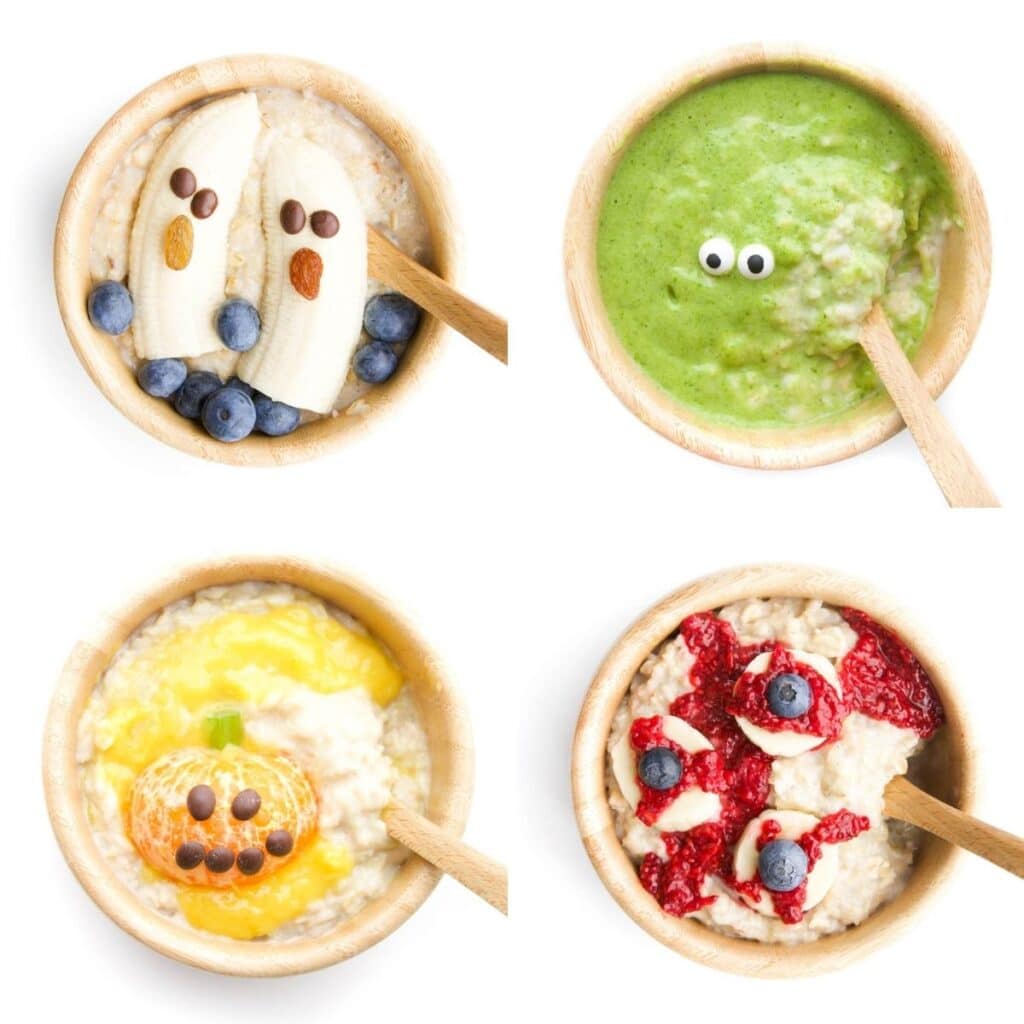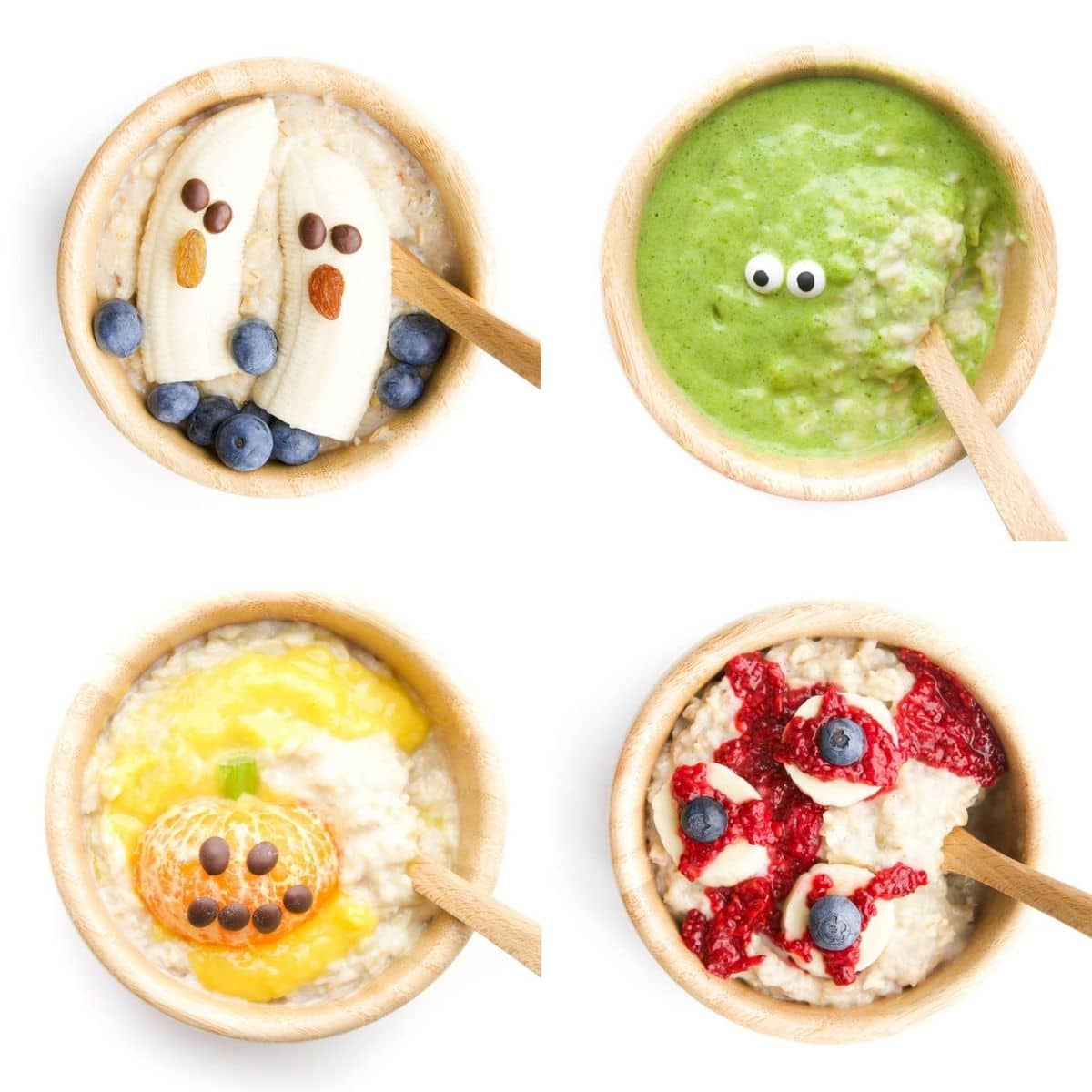 Halloween Toast Ideas
Toast is another popular breakfast choice and these Halloween ideas will only add an extra 5-10 mins.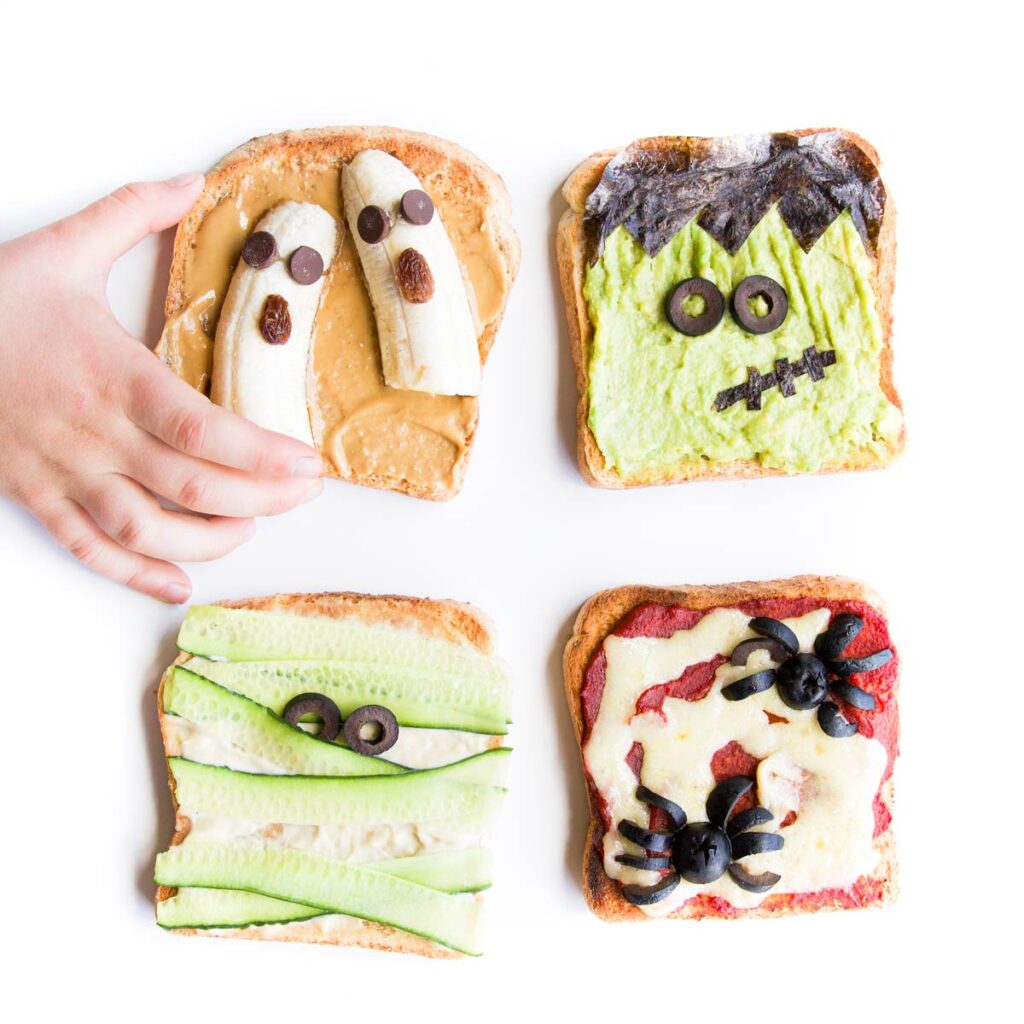 Other toast ideas include...
HALLOWEEN SHAPE TOAST - Use Halloween cookie cutters to cut shapes in the toast.
PUMPKIN TOAST - Spread with cream cheese and add half clementines with a celery stalk to look like mini pumpkins.
HALLOWEEN SPRINKLE TOAST - Sprinkle with some Halloween sprinkles.
Halloween Pancake Ideas
If you have a little more time, then pancakes are perfect for Halloween and you will be guaranteed big smiles when you serve a stack of them.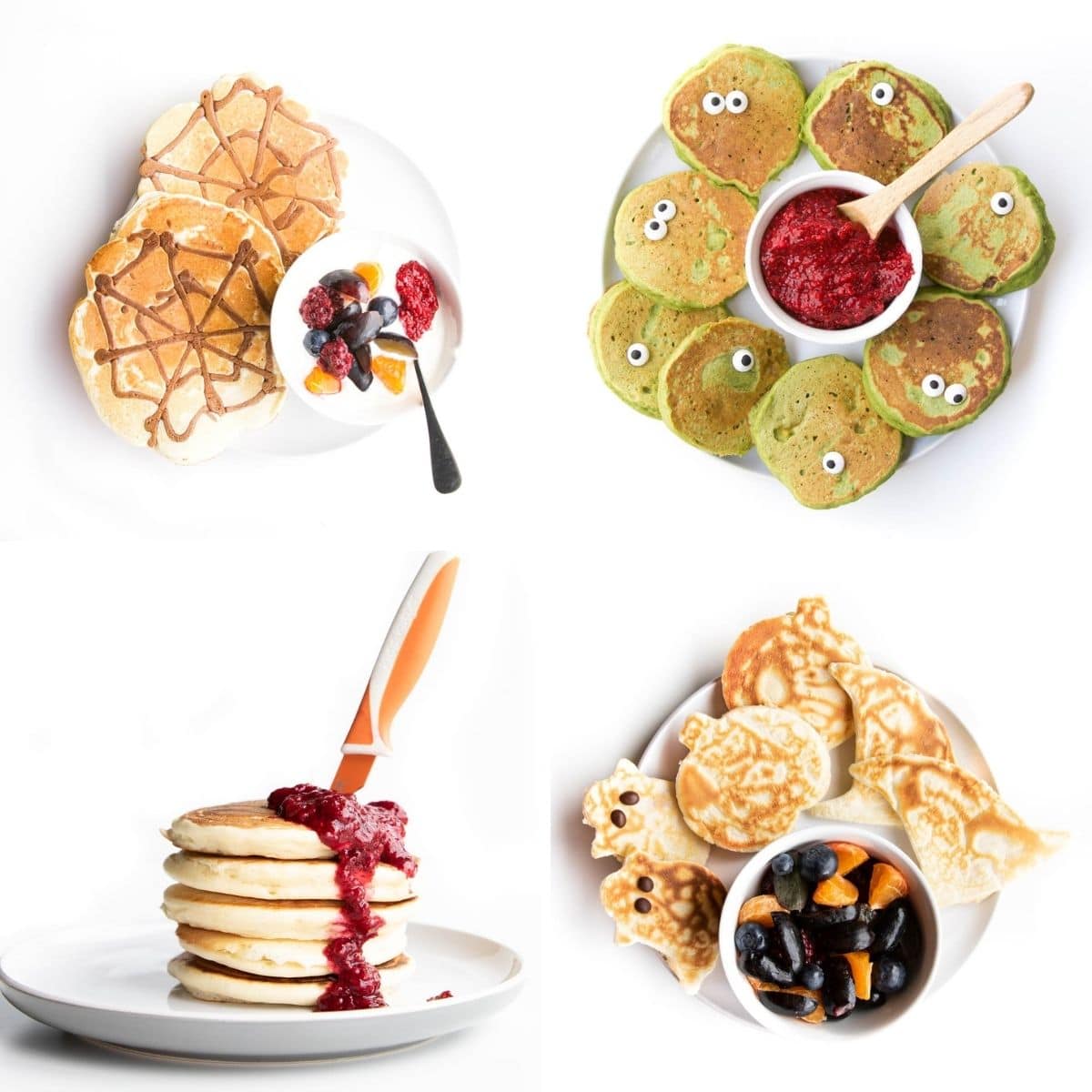 Halloween Pancakes
These Halloween Pancakes are a fun and easy breakfast to enjoy at Halloween. Simply changing the shape or adding a little extra detail can take your regular pancakes to a whole new spooky level!
Check out this recipe
Other Halloween breakfast pancake ideas from around the web...
Halloween Smoothies
Smoothies taste great, are packed with fruit (or veggies) and kids generally love them. Draw a spooky face/image on your smoothie jar and fill it with the appropriate coloured smoothie. Simple, easy and delicious.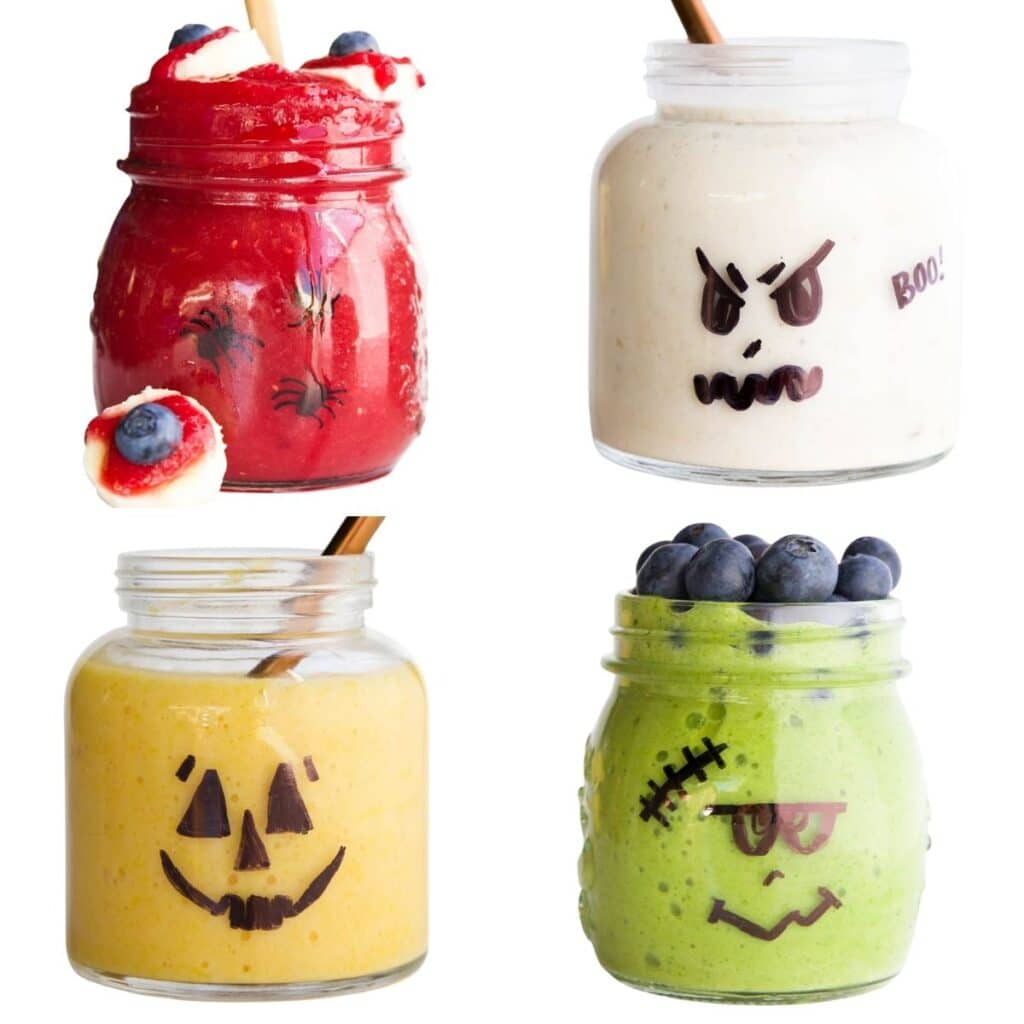 Other fun Halloween smoothies from around the web...
Halloween Eggs
Eggs are a great way to start the day and these eggs are all super easy. If making the deviled eggs you may wish to boil the eggs the night before to make breakfast quicker and easier in the morning.
SPOOKY EGGS - Hard boil some eggs and use a food safe marker to draw spooky faces on the shell. Let your young children have fun peeling the egg before eating.
GHOST EGGS - Hard boil and peel your eggs. Using a straw (mine was a metal straw), push into the egg to make small circle holes for the eyes and mouth.
DEVILLED EGGS - For the pumpkin and spider devilled eggs you can use this base recipe. For the eyeball and devil horn eggs, you can use this avocado devilled egg recipe.
Pumpkin Eggs - add a little celery as the stalk and sprinkle with smoked paprika.
Spider Eggs -cut a black olive in half for the body and slice the other half to make legs.
Eyeball Eggs - top with a slice of stuffed olive stand
Devil Horn Eggs - add small strips of red bell pepper (capsicum) to make the horns.
Why not try serving these Halloween eggs with a side of spooky fruit salad, made up of black and orange fruits.
Love these Halloween Breakfast Ideas? If you try any, I'd love to see your creations. Please tag me on Instagram @healthylittlefoodies