The next time you make a pot of rice add some colour, flavour and nutrition by incorporating a range of veggies. This fluffy vegetable rice is a family favourite; it's quick and simple to make and can easily be customised.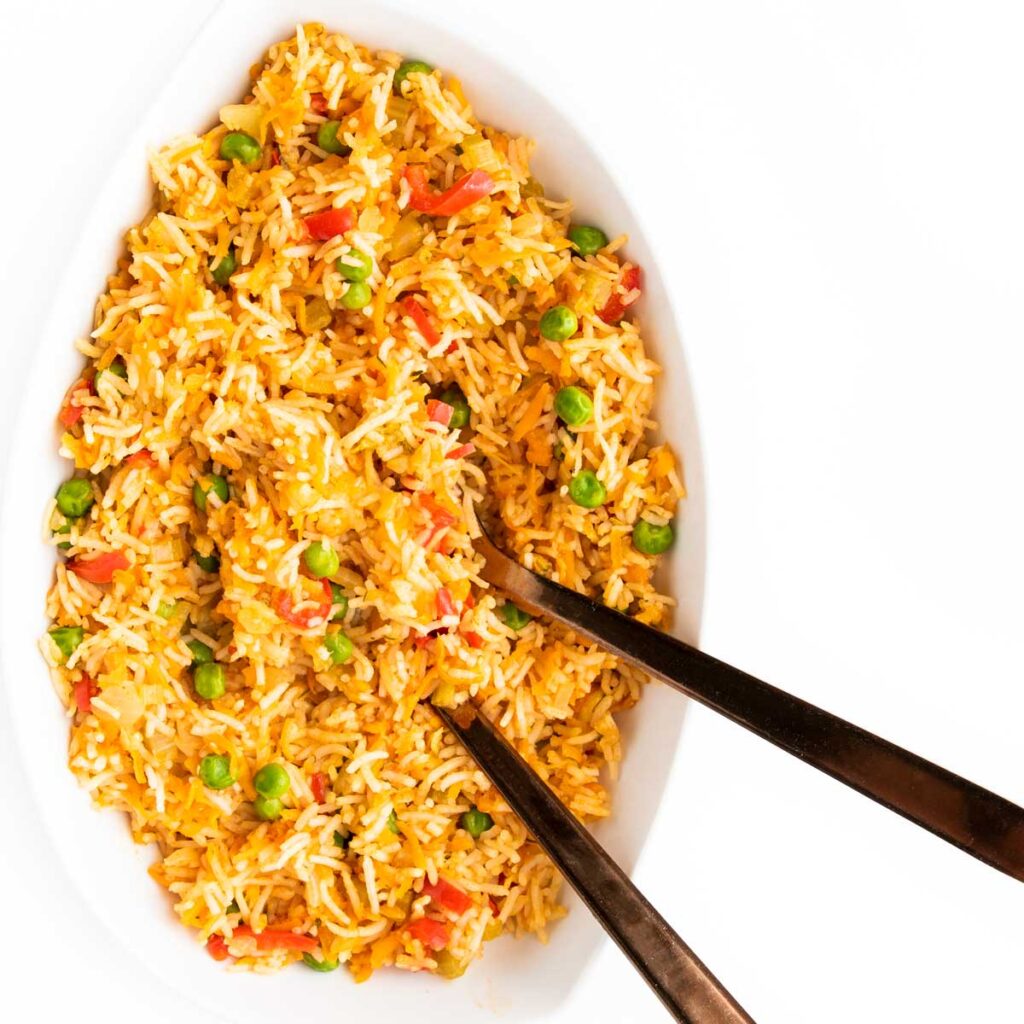 Jump to:
Reasons to Love This Vegetable Rice
One Pot: Cooked in one pot, using the absorption method.
Veggie Boost: Six different fruits and vegetables are included in this recipe. As fruits and vegetables contain different combinations of fibre, vitamins, minerals and other nutrients it is always good to eat a variety to get the most benefit. This vegetable rice certainly gives you variety.
Versatile: This is a pretty flexible recipe. The rice to liquid ratio needs to stay the same but you can easily switch up the veggies based on family taste or what you have to hand.
Make-ahead: Made ahead of time and store in the refrigerator for up to a day. It also freezes well.
Watch How to Make It (Video)
Ingredient Information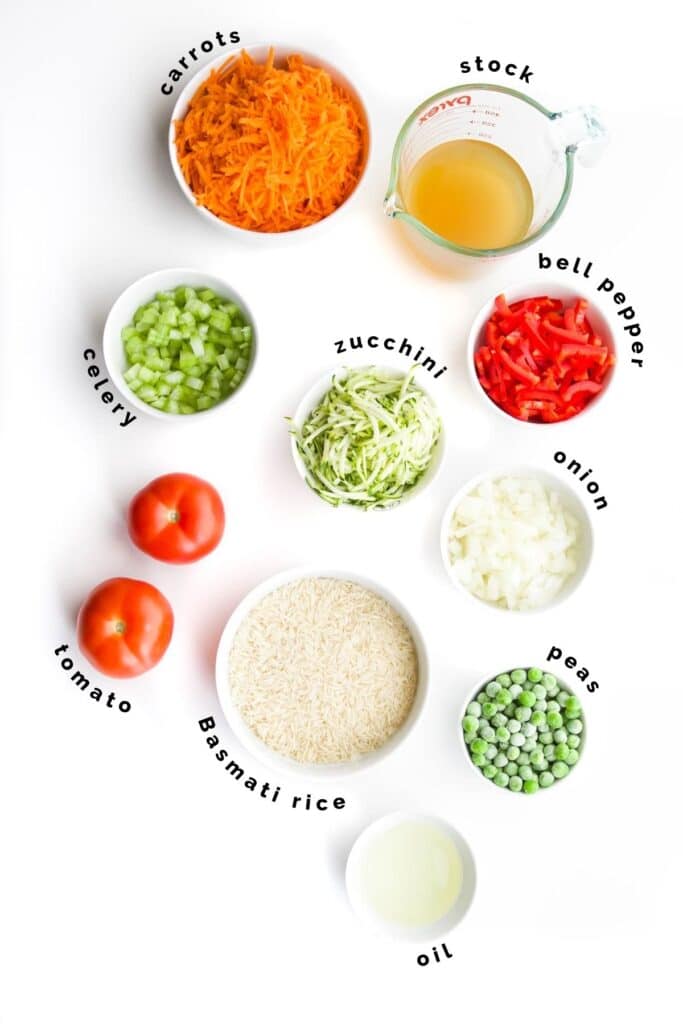 RICE - This recipe is best made with Basmati rice. It results in a lovely fluffy texture with the gorgeous Basmati aroma.
I've tried making it with white long grain rice but it wasn't as good and needed another couple of minutes cooking time. The recipe will NOT work as written for other rice varieties (short grain, brown rice, Jasmine etc). The liquid to rice ratio, as well as cooking time would differ.
ONION/CELERY - The onions and celery provide the flavour base, skipping them will result in a less flavoursome rice.
TOMATOES: The tomato provides liquid, nutrition, flavour and colour. If you do not wish to add tomato you will need to replace with extra stock (¾ cup).
OTHER VEGETABLES - I added capsicum (bell pepper), carrot, zucchini and peas. The carrot and zucchini melt into the rice and are great for pickier eaters. Other vegetables that will work well include grated celeriac and turnip. Spinach and sweetcorn are lovely too but they only need to be added at the end of cooking (with peas).
STOCK/BROTH: Be sure to use low sodium or home-made stock if cooking for baby/young children (or dilute with water). Vegetable or chicken stock can be used.
Process Shots & Cooking Tips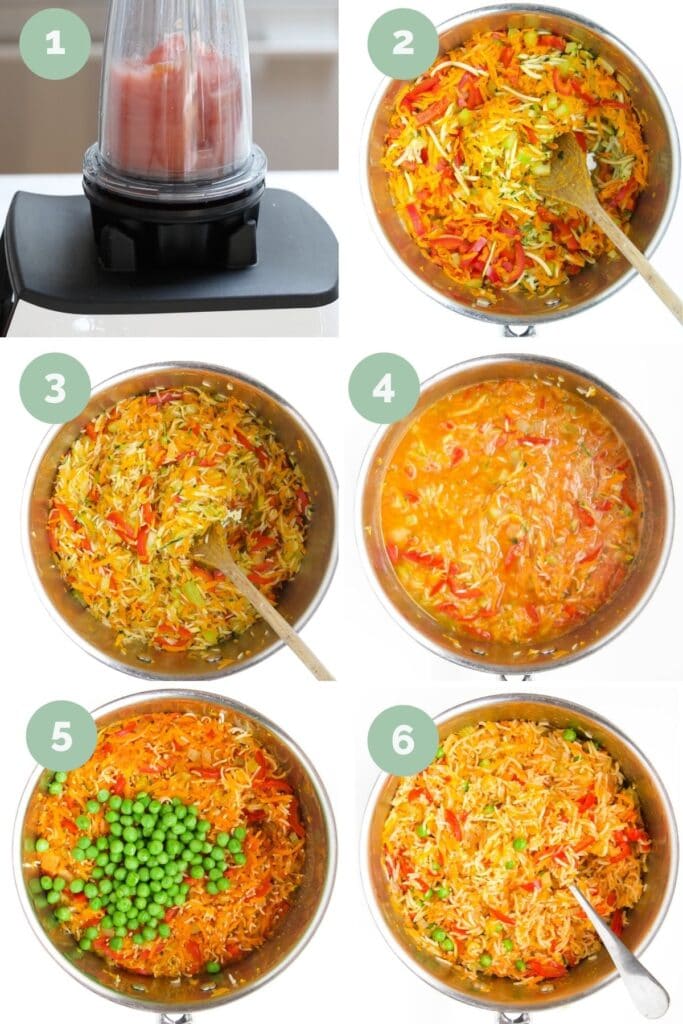 Blend Tomatoes: Chop the tomatoes and blend them until they are a puree consistency. You need a cup full of puree, I find two large tomatoes is perfect.
Saute Vegetables: Saute the onion first, this provides the aromatic flavour base. Then add the celery, carrots, bell pepper (capsicum) and finally the zucchini.
Add the rice and cooking liquid: Once the vegetables have softened stir through the rice. Add the pureed tomato and stock and give a final stir.
Cook: Bring to a boil and then reduce the heat to a simmer, where the surface is bubbling gently. Place the lid on and simmer for 15 minutes.
Don't be tempted to stir when the rice is cooking and don't lift the lid either, you don't want the steam to escape. I find using a clear lid easiest as you can check on the rice without disturbing it.
Add Peas and Rest: Add the peas to the top of the rice and replace the lid immediately. There is no need to stir the peas, you want to replace the lid quickly to minimise the loss of heat. Allow the rice to sit, covered, for 10 mins.
Don't skip this step as it allows the rice to finish cooking and soak up any remaining liquid.
Fluff: Use a fork to fluff the rice.
Serving Suggestions
This tasty rice is great...
as a side dish for chicken or fish
served with tacos, burritos or curries
served as a main meal with added protein (such as sausage, chicken, pork, prawn (shrimp), chickpeas or tofu)
Storage and Reheating Instructions
For food safety reasons, make sure to cool the rice as quickly as possible, do not allow it to sit out at room temperature.
Refrigerate: Transfer to an airtight container and refrigerate for up to 1 day.
Freeze: Transfer to an airtight, freezable container for up to 2 months. Thaw in the refrigerator.
When you reheat the rice, it is important that you ensure that it is piping hot throughout. Cover and reheat in the microwave until it heats all the way through, you can add a little water if needed. Do not reheat the rice more than once.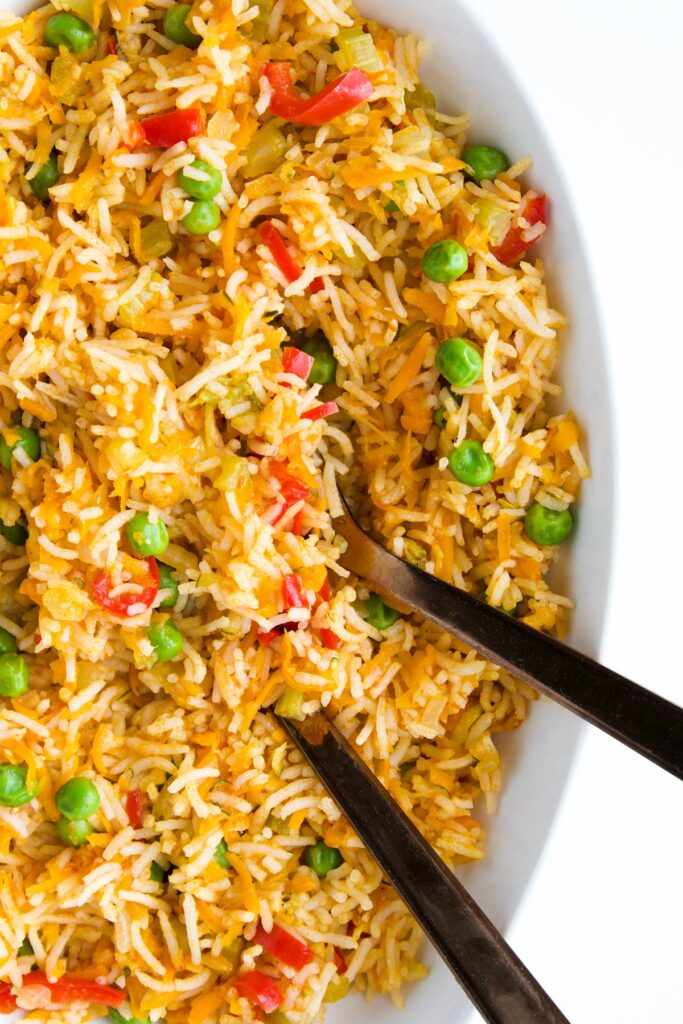 Other Rice Recipes to Try...
Looking for more healthy kid recipes?Sign up for my free recipe newsletter to get new family friendly recipes in your inbox each week! Find me sharing more kid-friendly inspiration on Pinterest and Instagram.
Vegetable Rice
Vegetables add colour, flavour and nutrition to this fluffy rice dish. Made in one pot using the absorption method.
Prep Time: 10 minutes
Resting Time: 10 minutes
Cook Time: 20 minutes
Total Time: 40 minutes
Serves:4
Hover over "serves" value to reveal recipe scaler
Equipment
1 Blender

1 Medium Saucepan
Ingredients
2 tablespoons Vegetable Oil
1 Onion, finely chopped
2 Celery Stalks, finely chopped
2 packed cups (215g) Carrots, grated (roughly 2 medium carrots)
½ Red Bell Pepper (Capsicum), thinly sliced (approx 2cm long)
1 packed cup (135g) Zucchini, grated (roughly 1 small zucchini)
1 cup (180g) Basmati Rice
2 large Tomatoes, pureed (should fill 1 cup once pureed)
1 cup (250g) Chicken / Vegetable Stock *See Notes
½ cup (75g) Frozen Peas, thawed
Instructions
Heat oil in a medium sauce pan over medium heat. Add the onion and saute, stirring frequently, for 3-4 minutes (until starting to turn translucent.)

Stir in the celery and carrots and cook for a further two minutes, until they start to soften. Add the bell pepper and stir for another min. Finally add the zucchini and stir to combine.

Add the rice, stir and then add the stock and pureed tomato. Stir and bring to a boil. Reduce the heat to a simmer, where the surface is bubbling gently. Place the lid on and simmer for 15 minutes.

Remove from the heat. Add the peas and immediately re-cover. Leave the lid on and allow the rice to sit for 10 minutes. This is an important step as it allows any residual liquid to get absorbed. Fluff with a fork and serve.
Recipe Notes
STOCK / BROTH: If cooking for a baby / young child you can reduce the sodium levels by using homemade or low sodium stock.
SIMMERING: Don't be tempted to stir when the rice is cooking and don't lift the lid either, you don't want the steam to escape. (You can tilt the pot to check)
Nutritional Information is a ROUGH guide only, calculated using an online nutrition calculator. Facts will differ depending on the stock and vegetables used. 
Nutritional facts
Calories: 262kcal | Carbohydrates: 54g | Protein: 8g | Fat: 2g | Saturated Fat: 1g | Polyunsaturated Fat: 1g | Monounsaturated Fat: 1g | Cholesterol: 2mg | Sodium: 140mg | Potassium: 714mg | Fiber: 5g | Sugar: 10g | Vitamin A: 10421IU | Vitamin C: 50mg | Calcium: 59mg | Iron: 1mg