These Vegetable Fritters, made with zucchini, carrot, corn and bell pepper, are sure to be a hit with the whole family. Great as a snack, pop them in the lunchbox or serve them as part of the main meal.    
Why Vegetable Fritters are Great for Kids
Exposure to Vegetables: Exposing our children to different vegetables is key. The veggies in these fritters are in plain sight but are perhaps more appealing to children. Vegetable fritters could be a good stepping stone for getting children to accept the same veggies in a different way.
Finger Food: Kids seem to love finger foods, add a dip for extra kid appeal.
Easy To Adapt: Measurements don't have to be precise and you can use different veggies.
Easy to Make: Get the kids to help grate and mix the fritters together.
What You Need
Here are the ingredients you need to make delicious vegetable fritters.
Substitutes
Make it Egg-Free: Swap out the eggs for flax eggs. I found the mixture a little more difficult to handle but it still held together well to make the fritters.
Make it Dairy Free: The Parmesan cheese provides flavour but also helps to crisp up the fritters. If eliminating you may wish to add more flavour through herbs or seasoning. A little more oil, when frying, will help with crisping.
No Chickpea Flour?: You can substitute with plain (all-purpose) flour.
How To Make Vegetable Fritters
The great thing about fritters is how easy they are to make.
Squeeze out the liquid from the Zucchini and Carrot: When making these, you want to make sure you squeeze excess water out of the zucchini (courgette) and carrots. If you skip this step then you will change the consistency of the batter and they won't flip properly.
Mix all the ingredient together
Fry: Heat ½ tablespoon of oil in a frying pan over medium heat. Fill an ice cream scoop with the mixture and drop into the pan. Flatten slightly with a fork/spatula. Fry for 2-3 minutes on each side.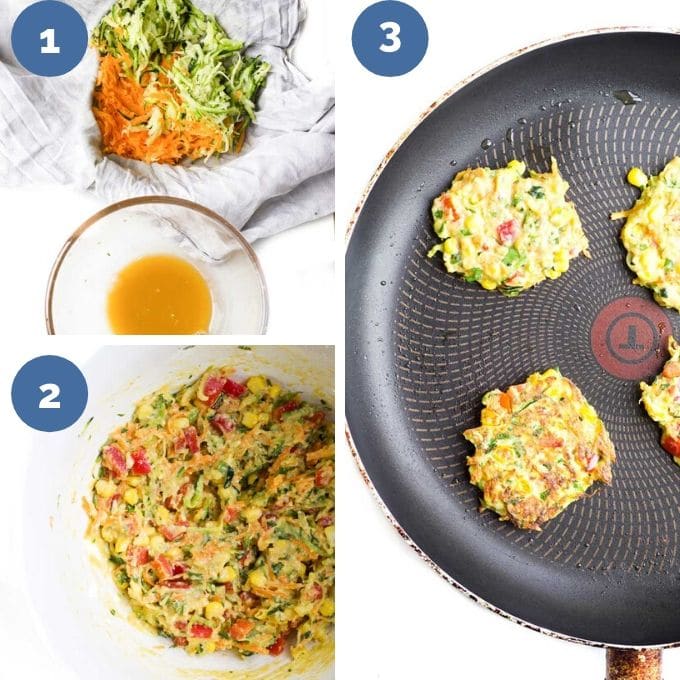 Serving Suggestions
Finger foods always seem to be a winner with kids and these are no different. You can serve them with a dip of choice or as part of a lunch or main meal. If your kids don't mind cold food then you could also pop a couple of these into a lunch box the next day.
Storage Instructions
Refrigerate – Store in an airtight container and refrigerate for 2-3 days.
Freeze – Freeze on a baking tray until frozen, once frozen transfer to a freezable container/ziplock bag and freeze for up to 3 months.
Reheat - Thaw then gently heat them through in a dry frying pan.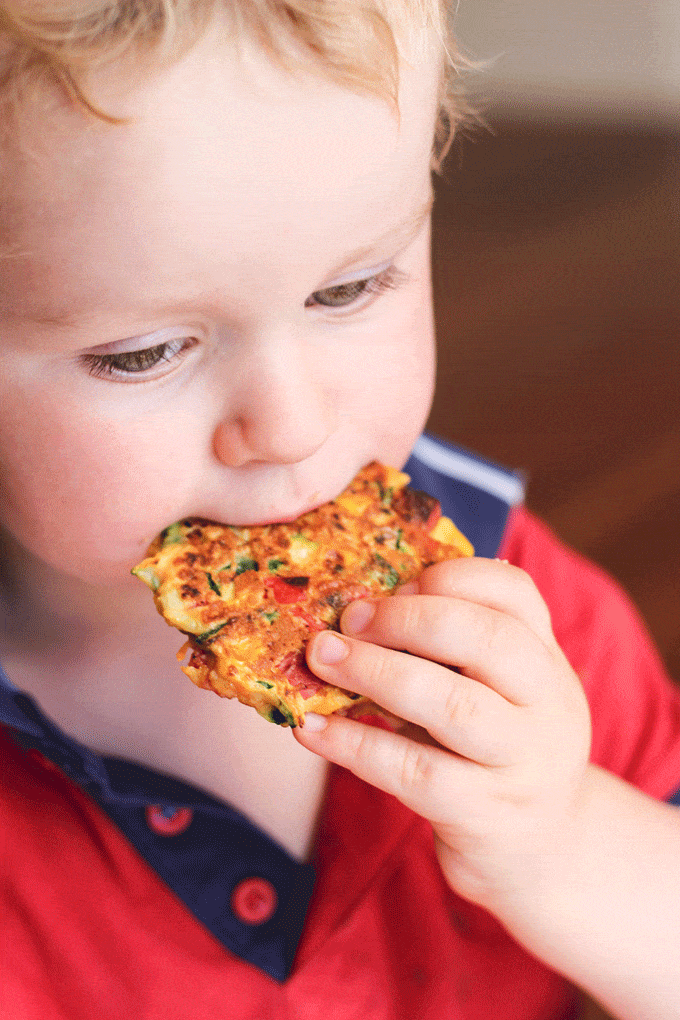 You May Also Like
Looking for more healthy kid recipes?Sign up for my free recipe newsletter to get new family friendly recipes in your inbox each week! Find me sharing more kid-friendly inspiration on Pinterest and Instagram.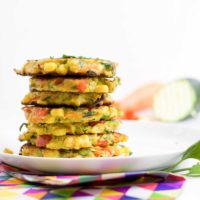 Vegetable Fritters
Fritters packed full of different coloured veggies.
Prep Time: 10 minutes
Cook Time: 8 minutes
Total Time: 18 minutes
Serves:10
Hover over "serves" value to reveal recipe scaler
Ingredients
1 Medium Zucchini (Courgette), grated Approx 1 cup / 130g
1 Small Carrot, grated Approx ½ cup / 60g
½ Red Capsicum (Bell Pepper), finely diced Approx ½ cup / 75g
75g (½ cup) Corn Kernels
30g (¼ cup) Parmesan, grated Can be omitted for dairy free version
1 tablespoon Parsley, finely chopped
2 Eggs
60g (½ cup) Chickpea Flour Can substitute with Plain (all-purpose) flour
1 tablespoon Oil, for frying
Instructions
Place the grated carrots and zucchini on a clean cloth and squeeze as much water out of them. Place in a mixing bowl.

Add the peppers, corn, parsley and parmesan and mix until combined.

Add the egg and stir until mixed. Finally add the flour and mix until combined.

In a large frying pan, heat ½ tablespoon of the oil on medium low heat. Fill up an ice cream scoop with the mixture and drop into the pan. Flatten slightly with a fork / spatula. Fry for about 2 to 3 minutes on each side.
Recipe Notes
Egg Free: I have tested the recipe using flax eggs. They are more fragile to handle but held together to form fritters.  Parmesan: Fresh parmesan should be used, not the ambient product you find in the pasta isle. 🙂 Can be omitted to make dairy free.  Veggie to Flour Ratio: The amount of flour you need may be depended on how much liquid remains in your veggies, size of eggs and also personal preference. You could start with ¼ cup (35g) and add more if needed/wanted.  Nutritional Information is a ROUGH guide only, calculated using an online nutrition calculator. 
Nutritional facts
Calories: 73kcal | Carbohydrates: 6g | Protein: 4g | Fat: 4g | Saturated Fat: 1g | Cholesterol: 35mg | Sodium: 84mg | Potassium: 142mg | Fiber: 1g | Sugar: 2g | Vitamin A: 1368IU | Vitamin C: 13mg | Calcium: 47mg | Iron: 1mg
*This post was originally published Nov 6th 2016. It has been updated to include new images, more recipe information and to answer FAQ.