Enjoy the deliciousness of this Blueberry Yogurt, a fantastic source of protein and calcium for kids, with lower sugar content than most yogurts designed for them.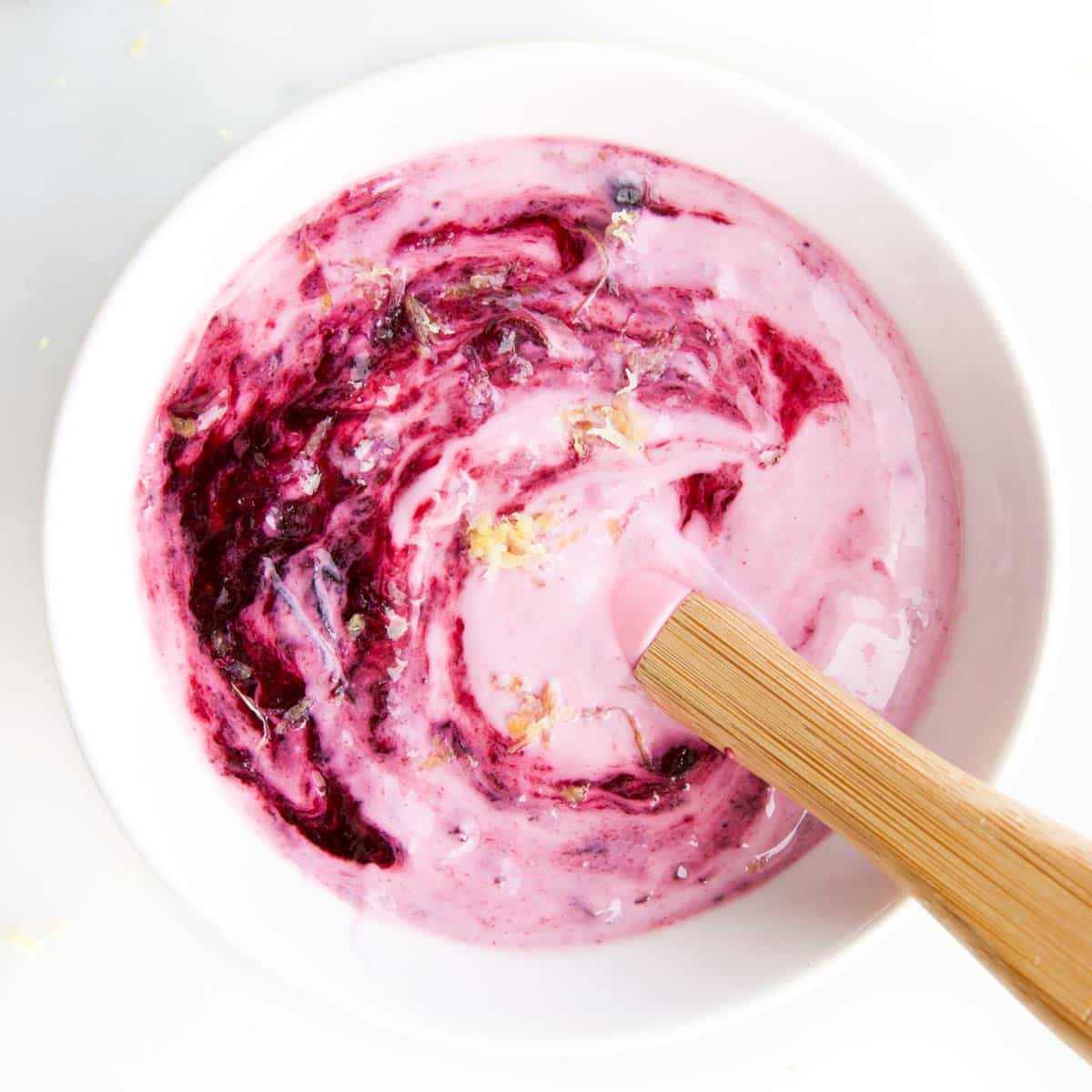 Blueberries are a household favourite here and a versatile ingredient in many of our go-to recipes, such as Blueberry Baby Muffins, Blueberry Breakfast Balls, Banana Blueberry Fritters and Blueberry Puree. If your kids share our love for this superfood, they'll surely enjoy our latest addition - Blueberry Yogurt!
Jump to:
Reasons to Love Blueberry Yogurt
Healthy Snack: Yogurt is a great source of protein, carbohydrates, and fats. It is a good source of calcium for bone development and contains vitamin A, B-vitamins, zinc and potassium
Naturally Sweetened: Many yogurts targeted to children contain a lot of added sugar. Making your own allows you to control and adjust the sweetness levels.
Easy: Heat blueberries with vanilla and lemon until a compote consistency and then stir through the yogurt. Simple.
Ingredient Information & Alternatives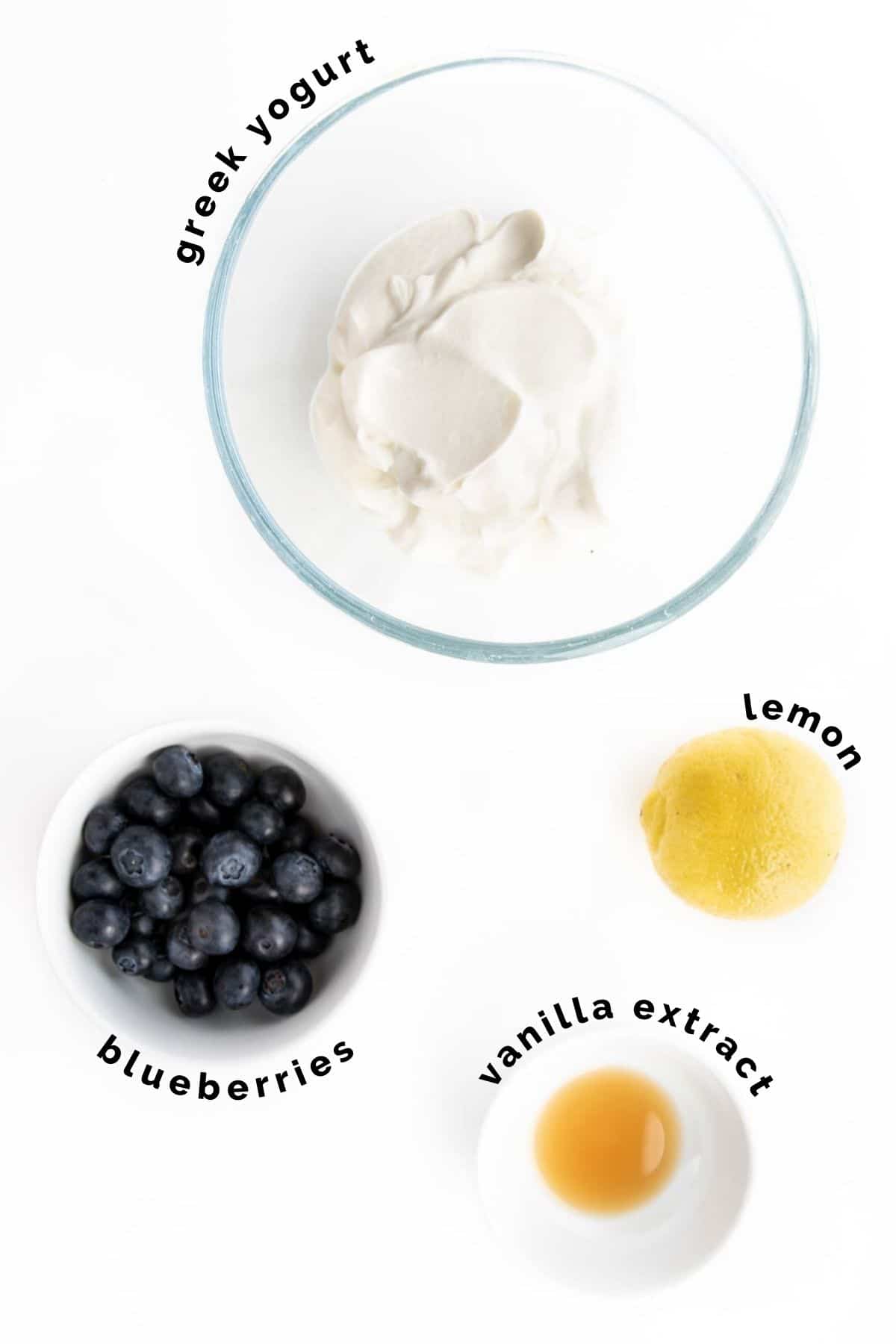 Greek Yogurt: This recipe uses Greek yogurt but any natural yogurt will work. Under twos should have full fat yogurt as babies need a lots of fat at this age to support cell structure, metabolism, brain, gut, immune, and nervous system development
Blueberries: I've used fresh but you can substitute with frozen.
Vanilla Extract: Optional, added for flavour and provides sweetness.
Lemon Juice: For flavour, can be skipped.
Optional Sweetener: If your kids are used to flavoured yogurt then they may find this a little sour and need a bit more sweetness. You could try adding a little honey or maple syrup to start with and each time you serve it, reduce the amount of chosen sweetener until they are happy to eat it without. (Do not add honey is under one, sweeteners not recommended for under 2s) 
Process Shots & Cooking Tips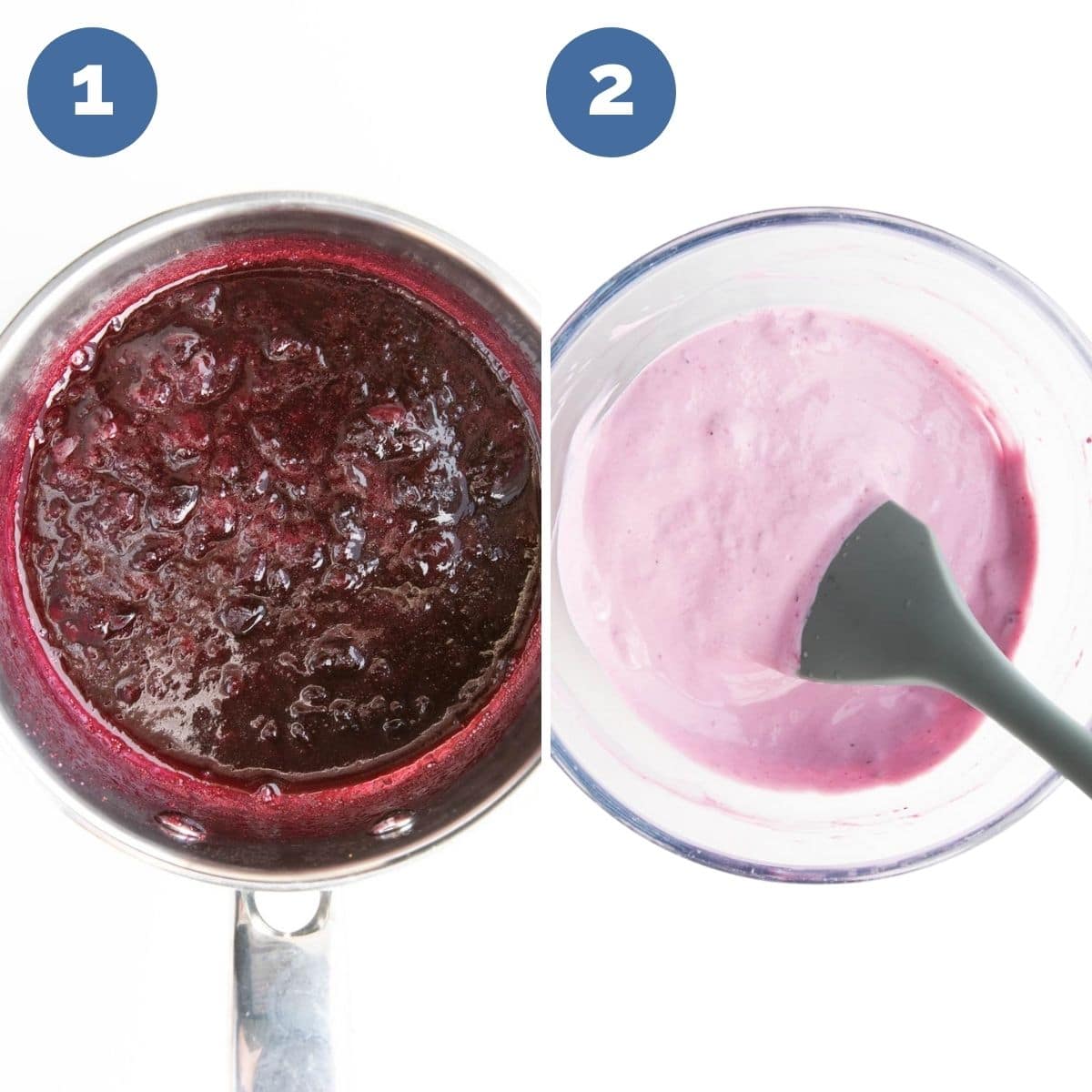 This blueberry yogurt is very simple to make and has only two steps
Heat Blueberries: Add the blueberries, vanilla and lemon juice to a small pot and heat over medium-low. Crush the blueberries as they heat until it is like a fruit compote.
Combine: Stir the blueberry mixture through the yogurt or, alternatively, serve spoonfuls on top of yogurt and let the kids stir their own.
Recipe FAQs
Is This Yogurt Suitable for Babies?
You can serve this yogurt once your baby is ready for solid foods, usually at around 6 months. As cow's milk is a common allergen, introduce it separately first starting with small amounts. Full-fat yogurt is recommended for babies. Skip the vanilla extract or use an alcohol/sugar-free one.
How Long Can I Refrigerate Leftovers?
You can keep this yogurt in the refrigerator for up to three days (depending on the shelf like of the yogurt you used)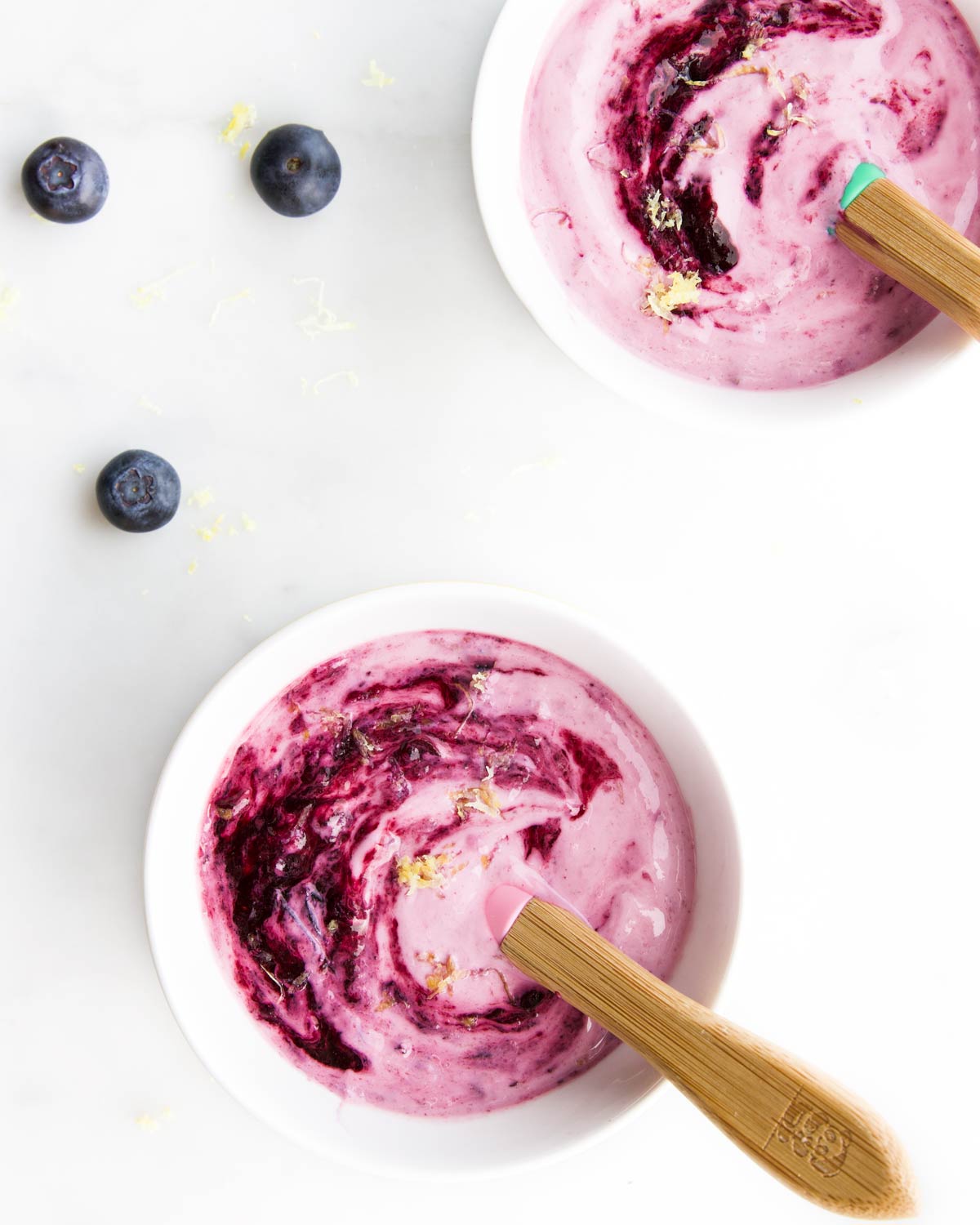 Other Fruit-Sweetened Yogurts
Looking for more healthy kid recipes?Sign up for my free recipe newsletter to get new family friendly recipes in your inbox each week! Find me sharing more kid-friendly inspiration on Pinterest and Instagram.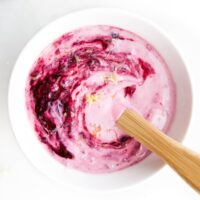 Blueberry Yogurt
Yogurt flavoured with lemon, vanilla and blueberries.
Prep Time: 5 minutes
Cook Time: 2 minutes
Total Time: 7 minutes
Serves:2
Hover over "serves" value to reveal recipe scaler
Ingredients
1 ¼ Cup (310g) Greek Yogurt
1 teaspoon Vanilla Extract
2 teaspoons Lemon juice
½ Cup (85g) Blueberries
Instructions
Add the blueberries, vanilla and lemon juice to a small pot and heat over medium-low. Crush the blueberries as they heat until a compote consistency.

Stir ⅔rds of the blueberry mixture through the yogurt and stir until combined.

Top with the remaining blueberry mixture.
Recipe Notes
If your child is used to sweeter yoghurts then you may have to sweeten with a little honey or maple syrup (not recommended for under 2s). Taste the mixture and stir through 1tsp at a time.  Nutritional information is a ROUGH guide only, calculated using an online nutrition calculator. 
Nutritional facts
Calories: 123kcal | Carbohydrates: 12g | Protein: 16g | Fat: 1g | Saturated Fat: 1g | Polyunsaturated Fat: 1g | Monounsaturated Fat: 1g | Trans Fat: 1g | Cholesterol: 8mg | Sodium: 56mg | Potassium: 259mg | Fiber: 1g | Sugar: 10g | Vitamin A: 29IU | Vitamin C: 6mg | Calcium: 174mg | Iron: 1mg